The Macomber Affair (The Great White Hunter)
(1947)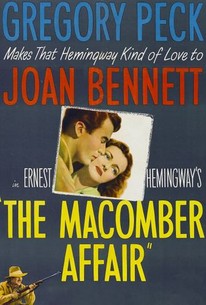 AUDIENCE SCORE
Critic Consensus: No consensus yet.
The Macomber Affair (The Great White Hunter) Photos
Movie Info
When a man dies under suspicious circumstances, the law must decide if it was murder or an accident. Francis Macomber (Robert Preston) is a wealthy, carefree gentleman who hires Robert Wilson (Gregory Peck), an expert hunter, as his guide when he sets off on a safari in Kenya. Francis' wife Margaret (Joan Bennett) regards her husband as a fool and a coward, and before long, she develops a strong attraction to Robert -- which she does not bother to keep secret. However, Robert informs her that as a matter of personal ethics, he would not consider becoming involved with her. After several weeks on the African savannah, Francis feels himself changing; he's developed a new bravery and sense of confidence, and as a test of himself, he one day stands in the path of a charging buffalo as he prepares to shoot. However, shots ring out from behind him, and Francis falls dead. Margaret insists that she was trying to kill the animal before it could trample Francis and missed, but given her well-documented contempt for her husband, the widow finds herself on trial for murder. The Macomber Affair was based on the short story "The Short Happy Life of Francis Macomber" by Ernest Hemingway, though director Zoltan Korda found it necessary to rework the material (with the input of the featured cast) in order to appease the industry censors of the day.
Rating:
NR
Genre:
, ,
Directed By:
Written By:
In Theaters:
Runtime:
Studio:
United Artists
Audience Reviews for The Macomber Affair (The Great White Hunter)
With all my praise on classic movies, you'd think that every old movie would deserve the title "classic". Wrong! Like many films of today's time, there are some classic films that really disappoint. Examples include the very dull and disappointing western Major Dundee, the highly overrated, disgusting musical Gigi, and the boring 1953 version of Titanic. The Macomber Affair, a drama starring Gregory Peck, Robert Preston, and Joan Bennett, joins the list of a disappointing old film. Gregory Peck plays Robert Wilson, a expert big-game hunter who takes fellow hunter Francis Macomber (Robert Preston) and wife Margaret (Joan Bennett) off to Kenya on a hunting expedition. Margaret does not like her husband, believing him to be a cowardly idiot, and after the killing of a ferocious lion, Margaret starts to fall for Robert, which leads to jealousy, competition, and tragedy. The Macomber Affair is a drama, but it can also be viewed as a film noir. There's a score that feels reminiscent of a noir, black-and-white cinematography that feels like a noir, and a story written by the infamous Hemingway that feels like a noir. I've seen some excellent noirs in my life (Key Largo, Sunset Boulevard, The Bad and the Beautiful, The Maltese Falcon), and I've seen some let-down noirs (The Big Sleep, The Postman Always Rings Twice). When it comes to The Macomber Affair, it joins the list of the let-down noirs. To be honest, the beginning really intrigued me. It opens with an aftermath of a tragedy, and then leads to what happened that led to the tragedy. But when the story unfolds, the film starts to bore... and bore... and bore. The ending, which leads up to the aftermath of the said tragedy, leads to heavy confusion and left me puzzled. Normally I like films with these kinds of endings, but when it comes to a film like this, I was heavily let-down. The reason why I don't believe the film worked for me is that the story was made by Ernest Hemmingway, a writer who's known for getting drunk when writing his stories. When it comes to The Macomber Affair, you can clearly tell that Hemmingway was super drunk when writing this cause it leads to dullness to dullness to disappointments. Gregory Peck is one of the most acclaimed actors in Hollywood, winning an Oscar for his role as Atticus Finch in To Kill a Mockingbird. Here, he actually does give a good performance. He was just given a dull screenplay and wasted material. Joan Bennett was nice as well, and I liked her chemistry with Peck. But the performance that really disappointed me was Robert Preston's. He was definitely miscast. Every time I saw Preston on the screen, I kept picturing Harold Hill in The Music Man. His role was also really boring. When your only remembered scene is a racist scene involving the beating of an African-American waiter, then you know how bad the film is going to be. Also, the film is called The Macomber Affair, and there was no affair. There was an implied adulterous relationship between Peck and Bennett, but it just doesn't come out. All that's seen is a kiss in a jeep that all the characters got to see, including Preston. I think the film censors really dumbed the movie down. I'm reminded of The Postman Always Rings Twice, which has a similar problem. It has a wonderful cast, but a dull story and a dumbed-down romance. While I can understand why there were censors in the day (cause audiences then were very over-reacting), in today's time, it's a huge letdown. While there were excellent performances from Gregory Peck and Joan Bennett, plus a wonderful film score and an intriguing opening scene, The Macomber Affair is a very disappointing film noir, with a dumbed-down romance, a horribly miscast performance from Robert "The Music Man" Preston, and a highly racist scene. Alfred Hitchcock managed to get around the film censors, especially in Vertigo, so it would be better to watch his films instead if I were you.
Jacob Martin
½
Taking into account the shortcomings of the period: rear projection and non location filming this is a solid adventure film. Really a three person chamber piece the success or failure of the film rests on the performances of its leads and there it's on solid ground. Both Peck and Preston do good work but the standout is Joan Bennett. As a woman turned into a hard article by a bad marriage though subtle gestures and sly looks she gives the film a tough grounded center and she has rarely looked so beautiful. Not having read the book I'm not sure how closely it follows but the film does have a Hemingway feel.
The Macomber Affair (The Great White Hunter) Quotes
There are no approved quotes yet for this movie.