Macross Plus
(1994)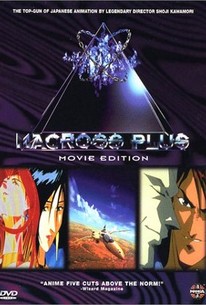 AUDIENCE SCORE
Critic Consensus: No consensus yet.
Movie Info
Two old friends/rivals find themselves rival test pilots in competing projects while a mutual old flame returns to them with her own secrets.
Rating:
NR
Genre:
, ,
Directed By:
In Theaters:
On DVD:
Runtime:
Critic Reviews for Macross Plus
Audience Reviews for Macross Plus
½
First saw this on Sci-fi back when it was called that. They had and anime block for a bit and they first showed Macross Plus, I least I think. I kinda liked it at first since I was a fan of Robotech and Super Dimensional Fortress Macross so I thought it would be good. When it was over I did my research and found out Bryan Craston voiced Dyson. Also that he tried voice acting for anime before his Malcolm in the Middle days too. Some consider this the Top Gun of anime and I think came out in 1995 on Starz, a premium channel. I won't spoil much of it but if your a fan of anime, Top Gun, Robotech, or even Super Dimensional Fortress Macross give it a watch. This is pretty good for the mid 1990's anime and you can get it on the Amazon Instant Video Store. At least that's where I found it but it's also I think on Youtube as well. I also want to say that back then it was hard for anime fans to keep up with there hobby. It was these anime blocks like on Sci-fi and Cartoon Network did people really get into anime. Even before robotech and all that stuff in the 1980's even.
Nick Retzlaff
A four episode OVA series that acts as the first official sequel in the Macross timeline ("Do You Remember Love?" was an abridged version of the series while "Macross II" was quickly retconned by series creator Shoji Kawamori) that boasts groundbreaking combination of traditional cel and computer-generated animation that still looks sublime even by todays standards. A much more small-scale and personal story, its starts out interesting enough with the deadly rivalry between two test pilots that used to be friends but are now bitter enemies (almost like a much more compelling version of "Top Gun"). Unfortunately, as the OVA goes along it starts focusing more on the test pilot's childhood friend Myung, leading to a rather uninteresting love-triangle that is not helped by the fact that Myung is such a joyless stick in the mud. After a surprisingly filler-ish third episode, the anime descends into a boring and trite rogue-AI plot containing a sloppy eleventh hour soap opera twist (creating a significant plot hole) and an ending that just cuts off anticlimactically. It's a shame because the OVA does a good job of getting into the mind-set of a test pilot, the action is cool, and it also boasts a decent supporting cast that end up being under-utilized. On a side note: Macross Plus was one of the earlier works of Shinichiro Watanabe (co-director) and Keiko Nobumoto (screenwriter). Both would collaborate again on the anime series "Samurai Champloo" and the legendary "Cowboy Bebop". Meanwhile, the International dub features the voice-work of pre-Malcolm in the Middle fame Bryan Cranston as the arrogant test pilot Dyson. That's right, the guy who would go on to win Emmy's for his portrayal of Walter White on "Breaking Bad" was dubbing animes as a part-time job in the early nineties. That's just awesome.
Christopher Heim
Super Reviewer
½
Not as powerful as 1982's Macross: Do You Remember Love (or DYRL), but still a fast, fun joyride that really gets into the mind of a fighter jet test pilot. A damn blast. Worthy of the Macross namesake.
Bryan Davis
Super Reviewer
Macross Plus Quotes
There are no approved quotes yet for this movie.