Mad Bastards
(2011)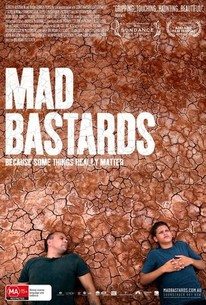 Movie Info
Three generations of men struggle to deal with the violent impulses that have scarred their lives in this drama from director Brendan Fletcher. TJ (Dean Daley-Jones) is a mountain of a man of Aborigine heritage living in Western Australia. TJ has a weakness for alcohol and a habit of getting into fights; years ago, he abandoned his wife and son, and as time passes his conscience tells him it's time he began facing up to his responsibilities as a father. As it happens, TJ's son Bullet (Lucas Yeeda) is nearly as troubled as he is; at the age of thirteen, he's already in trouble with the law for burning down a house and doing time in a juvenile detention home. Bullet isn't eager to get reacquainted with TJ, but both realize they need to settle their scores with one another, and TJ's father Texas (Greg Tait), who has come to understand his own demons and become a peace officer, steps in to help. Mad Bastards was an official selection at the 2011 Sundance Film Festival.
Rating:
NR
Genre:
Directed By:
Written By:
In Theaters:
Runtime:
Studio:
Critic Reviews for Mad Bastards
Audience Reviews for Mad Bastards
While it tackles tough material, the terrific lead performances, stunning cinematography and uplifting score add up to a film that's pretty special.
Lee Mayo
½
This film from down under is a tale of redemption and reconciliation. As the movie opens we see 13-year-old boy, Bullet, set a home on fire while TJ, a burly hulk of a man, is engaged in pool game that leads to a brawl. As the story continues we find TJ is Bullet's absentee father. Part road movie, part domestic drama, the movie tracks TJ's attempt to build a relationship with his son while exploring the ideas of what it means to be a man. The movie drew me in with each frame and the Q&A only heightened my appreciation for it. Director Brandon Fletcher discussed how the story was developed based on real life experiences of the actors and other community members. The majority of the actors had never acted which is amazing given the performances he was able to get from them. Another highlight of the movie was the music by the Pigram Brothers. The music was great and was used effectively to comment on the story. We got an added treat in the Q&A - The Pigram Brothers were there and performed a song, which was terrific. I want the soundtrack!!
Rene Dupre
½
**1/2 (out of four) Yeah! My first film from the 2011 Sundance Film Festival. It is the Australian drama written and directed by Brendan Fletcher. The film has a wonderful visual style and is well directed. It does a good job of capturing a specific place in the wilds of the Kimberly region of Australia. I wish the script was a bit tighter and the lead character of TJ was better fleshed out. He seems a bit like a thug that would be at home in a Steven Seagal movie. In fact that is the films biggest ostacle. It feels like a better than average film from a huge action star. The performance by Ngaire Pigram helps ground the film a lot. He plays the area cop and makes the biggest impression on this audience member. TJ (Dean Daley-Jones) lives a wild and rough life. But that will seem easy compared to the journey he takes to go back to Northwestern Australia to try and help save his son from taking a similiar path in life.
Steve Smith
Mad Bastards Quotes
There are no approved quotes yet for this movie.
Discussion Forum
Discuss Mad Bastards on our Movie forum!