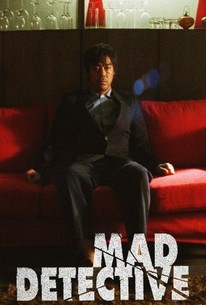 Mad Detective
2007, Crime/Drama, 1h 29m
21 Reviews
2,500+ Ratings
Rate And Review
Movie Info
Chan Kwai Bun (Lau Ching Wan) has the power to see people's "inner personalities," making him a very capable, if unorthodox and unstable, police detective. He is invited back to active duty by Ho Ka On (Andy On), a cop investigating the disappearance of a fellow officer whose weapon has been used in multiple robberies. Ho and Ko Chi Wai (Lam Ka Tung), the missing cop's partner, go after an Indian suspect. Bun, however, can see both men's inner selves and suspects something else at play.
Genre: Crime, Drama

Original Language: Chinese

Director: Johnnie To, Ka-Fai Wai

Producer: Johnnie To, Ka-Fai Wai

Writer: Ka-Fai Wai, Kin Yee Au

Release Date (Theaters): limited

Release Date (Streaming):

Box Office (Gross USA): $4.6K

Runtime:

Distributor: IFC First Take

Production Co: One Hundred Years of Film Co. Ltd., Milky Way Image Company

Sound Mix: Dolby Digital
News & Interviews for Mad Detective
Audience Reviews for Mad Detective
I give a lot praised to director Johnnie To as he personally a favorite of mine for his style, direction, and creative story telling. While I?m familiar with his work in the action genre, he proves once again he can tackle other genre with the same level of greatness. Mad Detective is about rookie cop teams up with a former detective with a supernatural gift to hunt down a serial killer. During the viewing of Mad Detective its protagonist, Inspector Chan, was more interesting than I expected. He`s an unusual detective and unlike anyone I've seen before. He has some unusual methods to solving cases as he has a gift for seeing a person inner personality. This is effectively use throughout the since we see what this character is physically seeing, but it does get tedious and overused throughout its length. The story is well written, though the case is not as interesting characters themselves. As I've come to expect in Johnnie To movies, the female characters don't have a big impact on the story. While it's certainly an improvement that the female characters help us learn about our main character unlike To other movies, they don't have much of an impact on the story. The character themselves are interesting through Chan point of view as we get as it adds another dimension to these character who don't all appear as they look. As much as I liked the character of inspector Chan, some will find him unrealistic. One notable example include Chan cutting his ear and giving it to his retiring boss as a gift. Its story driven by interesting that help move the movie forward. Even if the case is not as interesting as our characters, they help overlook that flaw. To direction is spot on as usual with him always bringing the highest level of direction in his movie. The cast is terrific, especially Sean Lau Ching-Wan as Inspector Chan who brings brings a lot energy into the movie and character he portrays. He's easily, in my opinion, the best and most interesting of the cast. You do get to see some familiar faces if you've seen To other work, but thankfully he worked with other actors to prevent repetition. The climax of Mad Detective has easily has the best cinematography in the whole movie and its impressive in the way it's filmed. Mad Detective has interesting characters that save movie from it boring case and not so interesting case. Mad Detective is certainly not for everyone, but it?s worth a watch for Sean Lau Ching-Wan performance and portrayal of Inspector Chan.

I really liked this movie, I can't quite put my finger on what it is I liked, but I was intrigued by the subject matter. Detective movies, like heist and capers, tend to be really boring movies for me unless, obviously, the movie is outstanding. I just feel that most of these movies are dependent on the reveal of what is actually going on at the end, so you have to wait for two hours of an uninteresting story and hope that the reveal is good enough to where it would redeem the entire movie. This movie is sort of like that but it adds the twist that Bun (yes that is his name) can see a person's inner personality. It's a nice little twist, that could've been used better, but it adds a little bit of intrigue to the story and there's some funny moments as well so that helps. I also liked how the movie built up to the final gunfight and how important it felt within the context of the movie. That's something not a lot of movies can do, where it just feels like they're shooting at each other for the fuck of it. It also helps that Ching Wan Lau is delightfully wacky and loony in his role. Overall this is a really good and unique take on a tired genre.

Though odd, supernatural, and unrealistic, Johnnie To's MAD DETECTIVE is an excellent detective thriller that uniquely delves into the human psyche and touches upon issues of multiple personalities, insanity, and the happenings and reactions of the mind. Although pacing is a bit off-kilter, the film features great performances with wild characters - starring Lau Ching Wan in a brilliant role - in leading up to a gorgeously-crafted climax that complements the film's clever framing and crisp cinematography. To's film is superbly made and enjoyably original, and definitely one that deserves a wider exposure.

An original and intriguing Hong Kong made thriller about a detective who claims to have the supernatural ability to see the inner personalities of people, something he puts to good use in his line of work. It's an interesting idea but I think it deserved a better story to play out the use of its gimmick. It kept my attention though and I was never really sure if the characters' "gift" was real or just in his imagination until all is revealed after the climactic Mexican stand-off. It's a good film but could have been better.
See Details