Mad Detective
(2008)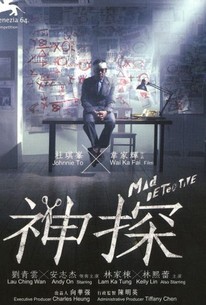 Movie Info
A psychotic ex-policeman with a mysterious supernatural gift proves invaluable in the case of a missing police firearm and its vanished owner in this tense police thriller from co-directors Johnny To (Fulltime Killer) and Wai Ka-fai (Running on Karma). Bun is an outcast detective who always seems to crack the case despite having some rather serious personality flaws. When Bun slices off his ear and offers it up as a gift at a party staged to honor one of his superiors, he is promptly forced into early retirement. Subsequently withdrawn into his own world and tormented by the specters of his former vocation, Bun finds his unique ability to see the hidden personalities and inner demons of everyone he meets nearly driving him to insanity. As a policeman Bun's gift of second sight helped him to solve some of the department's most difficult cases, but now that the visions serve no purpose, they simply serve to erode his already fragile sense of reality. Yet despite Bun's bad reputation, ambitious inspector Ho (Andy On) still believes in him. Recently, Ho has been assigned the difficult case of a locating a missing policeman named Wong (Lee Kwok Lun), who disappeared after pursuing some suspects into the nearby mountains. While Bun is indeed eager to help out with the case, he soon finds his volatile personality clashing with the seven conflicting personalities of Wong's apparently schizophrenic partner Chi-wai (Lam Ka-tung).
News & Interviews for Mad Detective
Critic Reviews for Mad Detective
Audience Reviews for Mad Detective
½
An original and intriguing Hong Kong made thriller about a detective who claims to have the supernatural ability to see the inner personalities of people, something he puts to good use in his line of work. It's an interesting idea but I think it deserved a better story to play out the use of its gimmick. It kept my attention though and I was never really sure if the characters' "gift" was real or just in his imagination until all is revealed after the climactic Mexican stand-off. It's a good film but could have been better.
edge of your seat thriller with an insane and/or psychic lead character keeps u guessing about what's real/not real. stylish and a lot of fun with ending straight out of lady from shanghai!
Stella Dallas
Super Reviewer
Very original character for a police story. Enjoyed, even if I did get extremely confused in places!
Nicki Marie
Super Reviewer
Mad Detective Quotes
There are no approved quotes yet for this movie.