The Mad Magician
(1954)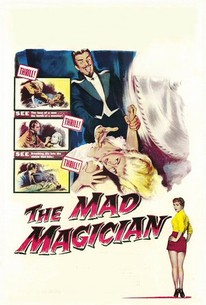 AUDIENCE SCORE
Critic Consensus: No consensus yet.
Movie Info
In this horror film, originally released in 3-D, a magician goes on the rampage after a rival steels his secrets and his wife. His next performance involves the usual magic tricks--and death as he begins killing his quarry in very strange ways.
Rating:
NR
Genre:
, ,
Directed By:
Written By:
In Theaters:
Runtime:
Studio:
Columbia Pictures
Critic Reviews for The Mad Magician
All Critics (2) | Fresh (1) | Rotten (1)
Overly complicated and under-developed, this stock horror has its moments of invention...


Ozus' World Movie Reviews
Audience Reviews for The Mad Magician
½
Vincent Price followed his success in 1953's House of Wax with this horror thriller, reemphasizing his place as the king of hotror as a magician who loses his sanity and finds ingeneous wsys to dispose of those who have held back his career. Nobody in cinematic history does revenge like Vincent Price. This is essentially a variation on the plot presented in House Of Wax. Price is a designer of illusions for stage magicians who aspires to set out on a performing career of his own, only to be frustrated when another illusionist steals his ideas. When you watch it, you feel his anger and frustration, and you cheer him on when he wreaks vengeance on those who have wronged him. The props he devises for his stage act -- a buzz saw and a crematorium -- are used to dispose of his victims with true Hitchcockian irony. Even though he is a murderer, the viewer will find themself rooting for him as he is a sympathetic character who is driven mad by the people who keep taking advantage of him. Moral of the story: don't mess with Vincent Price. Mary Murphy and Patrick O'Neal are good as Price's assistant her police detective boyfriend; again these two are similar to the two young protagonists in House of Wax. Eva Gabor is skanky when she appears in a couple of scenes as Price's ex-wife, a gold digging serial divorcee (talk about type casting). Lenita Lane was very good as the snooping amateur crime novelist landlady who was integral to solving the string of murders. Jay Novello is typecast as her timid husband; he played a similar cameo role in an episode of I Love Lucy. The Mad Magician" is a solid B-movie melodrama; a crime movie more than a horror picture, and is enjoyable providing you're not expecting a masterpiece. Shot in black and white, it is low on gore, but high on irony. Price's fiery demise in his own crematorium is the ultimate irony, again harkens back to House of Wax. It is best seen as melodrama and enjoyed for the presence of Vincent Price giving an idiosyncratic performance.
John Tandlich
This buzz saw trick of ours is a real shock Don Gallico is an aspiring magician that is held back by decisions he made as a youth. He has contractual obligations to an agency that prevents him from accomplishing his goals. Don decides to use his talents to get ahead in life and perhaps bend a few rules, and laws, to accomplish his professional objectives. "You'll go to the chair for this." "I'll get the same voltage for killing four as I would for killing three." John Brahm, director of Hot Rods to Hell, Bengazi, The Diamond Queen, The Thief of Venice, Rio, Escape to Glory, and The Locket, delivers The Magician. The storyline for this picture was fairly interesting and while the plot was predictable there was value in the anticipation of waiting to see how the story unfolded. The acting was solid and the cast includes Vincent Price, Mary Murphy, and Eva Gabor. "I'll find out about that before this act is over." We continue to DVR Vincent Price movies as they air on cable and this was another interesting Price movie that was not as good as some but still entertaining. The film was fairly straightforward but the end was a bit unpredictable and unfolds nicely. Overall, this is an entertaining old school Price horror that is worth your time but not worth adding to your DVD collection. Grade: C+/B- (6.25)
Kevin Robbins
This movie reminded me of House of Wax a bit, but not as creepy. The story is interesting and the movie is exciting. Price gives a good performance as always. I liked it.
The Mad Magician Quotes
There are no approved quotes yet for this movie.