Madagascar: Escape 2 Africa
(2008)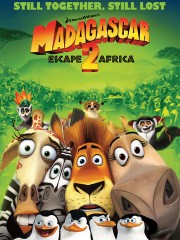 TOMATOMETER
AUDIENCE SCORE
Critic Consensus: Madagascar: Escape 2 Africa is an improvement on the original, with more fleshed-out characters, crisper animation and more consistent humor.
Madagascar: Escape 2 Africa Trailers & Photos
Movie Info
Alex, Marty, Melman, Gloria, King Julien, Maurice and the penguins and the chimps find themselves marooned on the distant shores of Madagascar. In the face of this obstacle, the New Yorkers have hatched a plan so crazy it just might work. With military precision, the penguins have repaired an old crashed plane-sort of. Once aloft, this unlikely crew stays airborne just long enough to make it to the wildest place of all--the vast plains of Africa, where the members of our zoo-raised crew encounter species of their own kind for the very first time. Africa seems like a great place--but is it better than their Central Park home?
more
Cast
News & Interviews for Madagascar: Escape 2 Africa
Critic Reviews for Madagascar: Escape 2 Africa
Audience Reviews for Madagascar: Escape 2 Africa
½
Possibly one of the most uncalled for sequels in history, "Madagascar: Ecape 2 Africa" is a much better film than the first, and not just slightly. The depth of emotions you begin to feel for these animals was a great surprise and I wanted more by the time the film ended. Yes, there is a dumb villain subplot, but what kids film doesn't have that nowadays? This sequel is one that did not need to be made, but I am glad it was. This is an injection film that could spark a franchise of evolving films. I now forsee where the originality can come in future sequels. They dug themselves out of the hole with better characters, better comedy, and a much improved story. While still tired at times, "Madagascar: Escape 2 Africa" is a very fun film!
All the characters are back and all are voiced by the same stars as before so continuity is a go for launch. Starting life as a prequel we get a brief glimpse at the main characters when they were very young in the zoo and how Alex got there.

From there we are back on Madagascar as the mammal team prepare to leave in their homemade plane back to New York. On route the plane crashes in Africa where they all experience the real wild of their dreams and Alex finds his family.

This sequel is a much better story and better executed if you ask me. The idea of seeing how Alex got stuck in the zoo and then accidentally gets back with his family again is a neat idea. The film is still a mix of off the wall madness, emotion and realism in the form of visuals but its a much tighter plot with better visual gags and better characters. Gone are most of the lemurs thank god.

Alas we still have to put up with the Indian accented lemur leader who is painfully unfunny still but we also have some good new additions. Alec Baldwin as Makunga is a really well designed bad guy or creep. Definitely made to look a bit like Baldwin with the thick glossy hair and slick sneering appearance. All the background animals actually add to the fun also, especially the fun idea of all the zebras being identical in every way and all the giraffes being hypochondriacs.

The old lady makes a reappearance I'm afraid, this time even more outlandish than before. Not just kicking animals in the nuts but having martial arts fights with them now and eventually becoming some kind of evil force against all the animals, pretty bad idea methinks.

Animation is still the same style of course but its all sharper and more fluid with some stunning African backgrounds and water work. The whole film feels much brighter, bolder, colourful and more enjoyable than the previous which seemed a bit drab. Still have some dreadful hip hop musical intrusions again, these seem to be a must for modern youth, gotta have plenty of hip hop pop culture in there. Incidentally the hip hop tune 'I Like to Move It' sung by all the lemurs in the first film seems to have become the franchises theme tune as we get it again here...facepalm.

Everything has been improved (almost) and we have a better film. Kinda feels like 'The Lion King'†but with much added lunacy and those cool penguins, the film wouldn't be half as good without those flightless little birds.
Madagascar: Escape 2 Africa Quotes
Mason: [to Marty] He said lets have some fun and take out the dam.
Marty: Skipper, Alex wants to take out the dam!
Skipper: Alright, but its his funeral.
Private: I like this song!
Kowalski: It never gets old!
Skipper: It does have a nice ring to it.
Nana: It's that bad kitty!
King Julien: [to Maurice] Wow, New York looks like a dump. Are sure were not in New Jersey?
Discussion Forum
Discuss Madagascar: Escape 2 Africa on our Movie forum!
News & Features