Madame Sousatzka
(1988)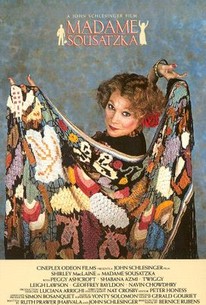 Movie Info
Shirley MacLaine is Madame Sousatzka, an aging piano instructor of Russian extraction. Entrenched in a dilapidated London rooming house, the Madame gives lessons only to the most gifted. She does not stop at mere instruction; Sousatzka insists that her pupils conduct their lives in the same genteel, cultured manner in which she was raised. Her prize student at the moment is an East Indian teenage boy (Navin Chowdhry), who forms a strong and loving bond with the old woman. Director John Schlesinger occasionally cuts away from the Madame and her pupil to allow comic space for the other tenants in Ashcroft's building, including an erstwhile songstress (Twiggy) and a gay osteopath (Geoffrey Baydlon). Navim Chowdhry's mother is played by Shabana Azmi, an important star of Indian films.
Rating:
PG-13
Genre:
,
Directed By:
Written By:
In Theaters:
Runtime:
Studio:
Universal Studios
Critic Reviews for Madame Sousatzka
Audience Reviews for Madame Sousatzka
A piano teacher and a prodigy's mother vie for the pupil's devotion. In the canon of teacher films, this provides a new category, the pedagogy of self-abnegation. Madame Sausatzka has an unfortunate string of pupils who learn from her then leave her. During their instruction she uses the basic tough love methods that we've come to expect from films of this ilk, and like To Sir with Love, which is the ultimate tough-love educator film, she forms an emotional bond with her students. But when she's left, she feels emptier, like a jilted lover. The film doesn't condemn her teaching methods; in fact it celebrates them because she emerges as an educator-hero, one who has sacrificed for the greater good. I don't like the message, but I think it's interesting. Shirley MacLaine gives a very good performance, an abrasive attitude mixed with an inner pain. Navin Chowdhry is also very good, giving one of the better performance I've seen from a child actor. The film's plot unfolds slowly, and it isn't until late in the second act that its pedagogical philosophy becomes clear. I also had no idea what was going on with the house in which Sousatzka was entrenched; I got that it was condemned or something, but the specifics of the problem and its solution failed to be a compelling plotline. Also, the subplot between Manek and Jenny was poorly set up. Overall, I didn't like a lot about how the film was structured, but its basic idea is quite interesting.
Jim Hunter
Super Reviewer
MacLaine's funny, clever and wondrous to behold, and she carries Madame Sousatzka to relative heights that might not readily seem warranted by the script, which is composed of elements that seem overly familiar.
Lee Mayo
½
Very good story with great actors and music. One thing that kept me thinking is that...how in the hell can a 15 yr old boy get with Twiggy? It's just soooo impossible!
Annie Chen
Madame Sousatzka Quotes
There are no approved quotes yet for this movie.
Discussion Forum
Discuss Madame Sousatzka on our Movie forum!