Madangeul Naon Amtak (Leafie, a Hen Into the Wild)
(2012)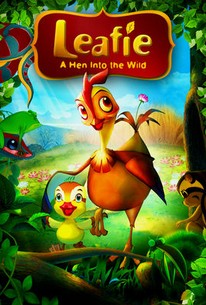 AUDIENCE SCORE
Critic Consensus: No consensus yet.
Audience Reviews for Madangeul Naon Amtak (Leafie, a Hen Into the Wild)
Lucky for you I'm an expert realtor. Leafie as a young hen escapes her chicken coup/egg assembly line and heads into the wild. She eventually runs into an orphaned duck and raises the duck on her own. It quickly becomes apparent that the duck and Leafie are not the same to the wild, but all they know is they love each other. They work together to make both of their lives better, and uncover you can be a mother and son without being the same species. "Some people are never happy." Seong-yuh Oh delivers Leafie, A Hen into the Wild in his directorial debut. The storyline for this picture is more creative than one may anticipate and contains well written and delivered characters. The animation style was very good and I adored the settings and conflicts. "Only crazy birds wear flowers." I randomly came across this on Netflix and added it to the queue to watch with my daughter. We both thoroughly enjoyed it and found it entertaining from beginning to end. This is a bit underrated and a high quality addition to the genre. I strongly recommend seeing this with your child at least once. "It's egg time!" Grade: B
Kevin Robbins
½
oh this was a strange one. i thought it was a happy kids movie, but no way. lots of characters die. Not sure who the audience for this kind of movie is....but not children.
Jessica Whaley-davis
With powerful score, beautiful scenery, outstanding animation, arresting visuals, terrific voice cast and strongly developed characters, Leafie is a devastatingly sad, emotional and epic tale about freedom, will and instinctive motherly love and sacrifice. A modern classic and, without a doubt, one of the best animated films ever made.
David Lazovic
Madangeul Naon Amtak (Leafie, a Hen Into the Wild) Quotes
There are no approved quotes yet for this movie.
Discussion Forum
Discuss Madangeul Naon Amtak (Leafie, a Hen Into the Wild) on our Movie forum!