Mädchen in Uniform (Girls in Uniform) (Maidens in Uniform)
(1931)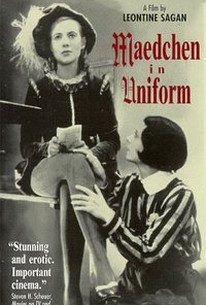 Movie Info
Inspired by Christa Winsloe's play Gestern und Heute, Maedchen in Uniform is one of the most memorable and moving of the pre-Hitler German talkies. Hertha Thiele plays a new student in an exclusive girls' boarding school. Achingly lonely because she feels deserted by her family, Hertha keeps her distance from the rest of the girls. Persecuted for her solitary stance by principal Emilia Unda, Hertha is drawn to her sympathetic teacher Dorothea Wieck. What starts as a friendship blossoms into a romance. While public revelation of this relationship proves disastrous to both student and teacher, it is ultimately the unforgiving principal Unda who suffers most. Maedchen in Uniform was antiseptically remade in 1958, with some of the frankness but little of the honest eroticism of the original. ~ Hal Erickson, Rovi
Rating:
NR
Genre:
, ,
Directed By:
Written By:
In Theaters:
Runtime:
Critic Reviews for Mädchen in Uniform (Girls in Uniform) (Maidens in Uniform)
All Critics (7) | Fresh (7) | Rotten (0)
Decades later, Sagan's German anti-authoritarian tale is still the most significant and provocative lesbian-themed film made.


Ozus' World Movie Reviews
Audience Reviews for Mädchen in Uniform (Girls in Uniform) (Maidens in Uniform)
it's a touching and lovely film and not as explicit as it's reputation might suggest tho it's historical importance probably cannot be overstated. it can be seen on youtube starting here: http://youtu.be/duXOgKt0qO0
Stella Dallas
Super Reviewer
½
Death to Colorization! When I was in high school, the gifted English teacher for sophomores, Mr. Garden, threatened to fail my friend Steven for saying he didn't understand what was wrong with colorization. (The look on Steven's face was priceless; Steven wasn't sure if Mr. Garden was serious or not.) Gwen says she doesn't, either. And it is certainly true that some classic films had hand-tinted sequences. It is also true that the colorization on this is, unique to my experience, actually well done. (Elaine once saw a colorized movie wherein Frank Sinatra had brown eyes. Think about it.) It is certainly possible, too, that directors Leontine Sagan and Carl Froelich would have filmed this in colour had they had the opportunity. The fact, though, is that they didn't, and both were dead long before the film was colorized. We'll never know, for example, if this would have been their chosen colour palette. It's painting someone else's ideas onto the film, and the DVD doesn't permit watching in B&W instead. Manuela von Meinhardis (Hertha Thiele) is being sent to a convent school by her stern aunt (Gertrud de Lalsky). (Manuela says she is like the Moon--cold and pale and, thank God, very far away.) Her mother has just died, and she is in a very bad place. It's about to get worse, too; the school is run by the harsh Fräulein von Nordeck zur Nidden (Emilia Unda), who is determined that the girls be worthy daughters and mothers of soldiers. (She's going to do just fine under the new regime.) She is counterbalanced by sweet young Fräulein von Bernburg (Dorothea Wieck), Manuela's teacher. Manuela is warned not to fall in love with her, because one of the other girls (I missed her name) is jealous of Fräulein von Bernburg's affections. But the teacher is such a relief from the harsh discipline of the school and such a genuinely good and beautiful person that Manuela, who is mourning her loss anyway, can't help it. I wouldn't say this is any great lesbian masterpiece. It's true that Manuela is very much in love with her teacher, but I wouldn't say it's entirely clear that Manuela is actually a lesbian. I don't think it's clear that she would fall in love with another woman. Manuela is fourteen and in a great deal of pain, and Fräulein von Bernburg is kind to her. Manuela has also just lost her mother, and much of how she relates to Fräulein von Bernburg is as a mother figure. She also wants to be held and loved as the woman she is in the process of becoming, and I think the two get all mixed up for her. Note that I am certainly not saying that you can't know your own sexuality at that age, and I do think the other student really is in love. I think it's different for Manuela. This is not a claim of "situational homosexuality." I don't blame the girls' school environment. I just think that Manuela would grasp at anyone is she thought that person would love her just a little. Of course, historically, people have disagreed with me on this one, and I think Hertha Thiele's performance has a lot to do with it. She does portray naked longing and abject despair quite well, and she does very much aim it at Dorothea Wieck. This is a girl in a delicate place, both because she is lonely and because she is fourteen. Fourteen is a rough time, and it's easy to latch onto something, anything, that you think will make you feel better. Even just a little. Fräulein von Bernburg is kind. Fräulein von Bernburg works to soften the harsh Prussian discipline of a school whose goal is not actually what's best for the girls within its walls. The girls form a bond against a common enemy, the headmistress, and toward a common benefactor, the teacher. If there's a single male in the cast, I missed him. This is a female world, and any love shown must logically be between females. Though I hesitate to say women, quite; the students are often very much children. This is the thing no one quite seems to remember, either within the film or without. There is a sharp divide here, because it is a school, between students and teachers. Fräulein von Bernburg comes the closest to crossing the line, but she is still an adult. Manuela is fourteen, and presumably the other girls are about the same age. Wieck was in her early twenties at the time, actually exactly the same age as Hertha Thiele. However, her character is still a child. Yes, the girls are at that uncertain age, the one where they are becoming women. However, the school certainly doesn't teach them what to do about it. Their mail is censored. They actually aren't even allowed to have books. Their womanhood is strictly confined to what the headmistress believes to be proper for Prussian women. This was a movie about a lonely girl who falls in love with her teacher, but it also seems to have a Youth in Rebellion movie tip-toeing around its edges. Manuela's final actions in the film can be seen as a couple of different kinds of escape.
Edith Nelson
This film is not about sex among lesbian schoolgirls. No "hot girl on girl action". It's a touching story of a lonely teenage girl who develops a crush on her older female teacher. Very well-made, as most 1930s German films are, IMHO. Haven't seen it in years, and when/if I get to see it again, I'll write a more complete review.
Mädchen in Uniform (Girls in Uniform) (Maidens in Uniform) Quotes
There are no approved quotes yet for this movie.
Discussion Forum
Discuss Mädchen in Uniform (Girls in Uniform) (Maidens in Uniform) on our Movie forum!