Made-Up
(2004)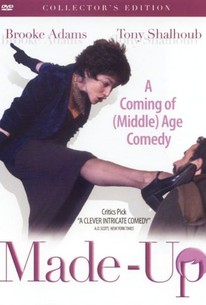 TOMATOMETER
AUDIENCE SCORE
Critic Consensus: No consensus yet.
Movie Info
Award-winning actor Tony Shalhoub adds the "director" hyphenate to his calling card with this labor of love, starring his wife, Brooke Adams, and written by his sister-in-law, Lynne Adams. Made-Up lightly parodies the reality-TV "makeover" craze as it tells the tale of Elizabeth (Brooke Adams), a middle-aged divorcée who agrees to be made over by her daughter Sara (Eva Amurri), a process which will be documented for eternity by her aspiring-filmmaker sister, Kate (Lynne Adams). A former actress still smarting over her long-since faded stardom, Elizabeth is none too pleased at having her transformation videotaped, but she goes along with it, and soon finds that her "new you" is winning over the affections of a new beau, restaurateur Max (Shalhoub). But self-doubt continues to nag at Elizabeth, to the point where she almost undermines her own chances at romance. Lynne Adams based her screenplay on her own one-woman play; Gary Sinise makes an appearance as Elizabeth's ex-husband.
Critic Reviews for Made-Up
Audience Reviews for Made-Up
Tony Shalhoub makes a wondeful directing debut with this incisive look at how our society obsesses over, well, looks. Brooke Adams is wonderful and touching as Elizabeth, a former actress who gave up her career to be a wife and mother in Boston. But Elizabeth as the rug pulled out from under her when her husband (Gary Sinise) leaves her for a younger woman (Light Eternity, seriously that's her name). Elizabeth's teen daughter (Eva Amurri, daughter of Susan Sarandon), an aspiring beautician, thinks dad would have stayed had mom dyed her hair and stayed in shape. With some cosmetic assistance, Elizabeth is transformed, until the rubber band she uses for a makeshift facelift snaps on a date with Max (Tony Shalhoub), a restaurant owner. Things are made more humiliating since Elizabeth's sister Kate (Lynne Adams, Brooke's real sister) is shooting her makeover for a documentary with the help of an amateur crew (Lance Krall, Jim Issa and Kalen Conover, hilarious). So the plot is rather contrived, but the actors make it irresistible. Lynne wrote the screenplay herself, taken from her one-woman stage show, and Shalhoub, her real life husband makes marvelous directing debut, displaying the same keen eye for emotion and nuanced laughs he brings to his acting. He has a flair for laughs, here's hoping he doesn't abandon being behind the camera.
Manny Casillas
½
The film wants to satirize both our fixation on appearances and reality filmmaking, but its strained humor and litany of cliches add little to either topic.
Lee Mayo
[font=Arial Black]So many of you will recall that in June 2002, my friend Dan and I went to the Lake Placid Film Festival on our way home from CPR certification at Camp. Dan was basically dragged since I was driving and I was his ride home. "Dan, you want to check out the Lake Placid Film Festival?" was not as much a question but Steve-speak for "Hey Dan, we're going to the Lake Placid Film Festival!"[/font] [font=Arial Black]The film we saw there (slim pickings since it was one of the last time slots of the festival) was called [u]Made Up[/u]. It was the directorial debut of Tony Shaloub, current Emmy champ for Monk. I always liked him in Wings as Antonio and I liked his supporting work from movies like Men in Black and A Civil Action. So we saw it. We went over to the Hilton, where the screening was happening. When we walked in, I saw a familiar face. Thats right -- Tony Shaloub. He was talking to some people and I didnt want to disturb him. Just to make sure I asked the lady selling tickets, "Thats Tony Shaloub, right?" and she told me "Yeah, he'll be speaking at the screening...you sexy piece of ass." Ok, ok...I was joking about part of that. She didnt really say he'd be speaking at the sceening. [/font] [font=Arial Black]The movie itself was all right. It was done partly in documentary fashion, since one of the characters was an aspiring filmmaker, they showed parts of it through her lens, as she videotaped the process of transforming her mother into someone more physically beautiful. Despite the film's slow pace, it was enjoyable. After about half of it, you know whats going to happen. It just took a while to get to the point. Shaloub himself turns up in a supporting role and he keeps the movie from getting stale. His wife Brooke Adams stars, and she really carries the movie well. All in all it was not a thrilling experience, but it was fine for what it was.[/font] [font=Arial Black]The real thrill came after. Tony answered questions, but I couldn't think of any that pertained to the film. I am not sure that "What was Steven Weber really like?" would have been well-received. So after the Q&A, everyone left and Tony hung back. So I went over and talked to Tony and shook his hand and told him how much I love Wings (still one of my all time favorite sitcoms) and that I was a big fan. We talked about possible distribution deals for [u]Made Up[/u]. He was not even close to a deal and was getting kind of discouraged. But he enjoyed showing it at festivals, people were responding to it. [/font] [font=Arial Black]So the point of this entry is that [u]Made Up[/u] is coming to a theater in the same country as you. It will be a theater near you if you live in NY or LA, and eventually San Francisco, Chicago, and places like that. I dont think it will do big enough box office in those cities to make it to places like Anchorage, AK or (god forbid) Watertown, NY. I can even remember all of this movie, since I saw it nearly 2 years ago. So maybe if it is a hit, and comes to Alaska, I will see it again. But it wont be the same without being able to talk to Antonio...I mean Tony Shaloub....after the show. [/font] [font=Arial Black]So thats my celeb story. If youre good, then maybe sometime I will retell the stories about how I met Mark Jackson, Ananda Lewis, David Hasselhoff, Pamela Anderson....or maybe we could twist Kurt and Nate's arms to tell us the Hanson story again!!!! Actually, lets not twist Nate's arm....it might snap off....[/font]
Steve Michaelson
Made-Up Quotes
There are no approved quotes yet for this movie.
Discussion Forum
Discuss Made-Up on our Movie forum!