Madigan
(1968)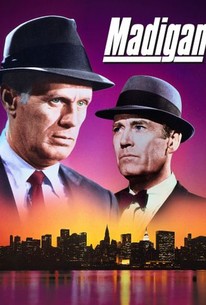 Movie Info
Two New York City detectives are send to capture a killer in Spanish Harlem. Detective Madigan (Richard Widmark) and his partner Bonaro (Harry Guardino) set out to pick up Barney Benesch (Steve Ihnat), who has run out on a murder indictment from Brooklyn. The duo traces Barney to a seedy hotel where the wanted man is in bed with a nude female. Distracted by the female, Barney gets the drop on the two cops, steals Madigan's service revolver and escapes. Police Commissioner Russell (Henry Fonda) is livid, and gives the cops three days to apprehend the criminal, threatening to bust them down to pounding a beat in the Bowery. Madigan has trouble at home with his wife Julia (Ingar Stevens), who despises police work and implore her husband to spend more time with her at home. The Commissioner has trouble of his own by carrying on an adulterous affair. He also discovers his best friend, Chief Inspector Kane (James Whitmore) has been taking bribes to keep mum about a house of prostitution. The hard boiled, overworked Madigan and his faithful partner follow the killer all over town and back to Spanish Harlem. By now Barney has killed two cops with Madigan's revolver, and holes up in another seedy dive for a dangerous standoff with police. Sheree North also stars as Madigan's former flame and croons the tune "You Don't Know What Love Is".
Critic Reviews for Madigan
Audience Reviews for Madigan
½
Widmark and Fonda, can't get much better than that in a cop drama. Fast paced, excellent acting, filming. What's not to like? 1968 I guess. Sadly, anything pre-2000 is what's "not to like" about a film. Madigan is a 1968 American dramatic thriller film directed by Don Siegel and starring Richard Widmark and Henry Fonda. My rating would have been much better were it not for the muscic soundtrack which terribly dates the film. No soundtrack at all would have been preferable to me. Blaring trumpets, trombones every chance it got. Just too retro for me. BTW, the hats are now in style on the 20 set. [img]https://encrypted-tbn1.gstatic.com/images?q=tbn:ANd9GcRKFx1e5_wlZ59ShoRN0Fs6Lf-LdFyR19An4WZYFhtL6GpLXOch[/img] "Reviews for Madigan were among the best of any film director Siegel had directed. Critics praised its urban grittiness and straightforward style, and audiences responded to its excitement and tautness. Siegel would go on to direct other successful cop movies, including Coogan's Bluff (1968) and Dirty Harry (1971)." ---Wikipedia SEE the entire film here: http://www.rottentomatoes.com/m/madigan/ NOTES: 1 Serious clashes between Siegel and producer Frank Rosenberg marred the production. Rosenberg was a studio veteran who considered himself the boss of the project; as far as Siegel was concerned, once the cameras rolled, Siegel was boss. Rosenberg also reportedly interfered in tiny, annoying ways, as in the shooting of Henry Fonda's first scene. The most significant clash came over the location for the action-packed ending. 2 "He [producer Rosenberg] just wouldn't listen to anything," Henry Fonda said. 3 Widmark called [director] Siegel one of the three best directors he ever worked with, along with John Ford and Elia Kazan. "He's efficient, organized, quiet, and in total command. You never feel any loose ends. And he has taste." 4 "It was the end of the picture and we were all tired. But no sir. He fought like a bastard. A director can't operate on the idea that everyone has to like him. If he does, somewhere along the line reality is going to hit."-- Richard Widmark about director Don Siegel in "Madidgan" 5 In 1972, Widmark reprised the title role (literally bringing the character back from the dead) for the NBC television series Madigan. It lasted one season. [img]http://4.bp.blogspot.com/-bKLpao3emwE/T80fEP-EKTI/AAAAAAAAJfE/E7qAae8xswA/s1600/Madigan+Title+Card-1.jpg[/img] Richard Widmark as Det. Daniel Madigan Henry Fonda as Commissioner Anthony X. Russell Inger Stevens as Julia Madigan Harry Guardino as Det. Rocco Bonaro James Whitmore as Chief Insp. Charles Kane Susan Clark as Tricia Bentley Michael Dunn as Midget Castiglione Steve Ihnat as Barney Benesch Don Stroud as Hughie Sheree North as Jonesy [img]http://www.sansebastianfestival.com/admin_img/img/img_450/img_5096.jpg[/img] a color film despite this studio still Directed by Don Siegel Produced by Frank P. Rosenberg Screenplay by Howard Rodman Abraham Polonsky Based on The Commissioner by Richard Dougherty Music by Don Costa Cinematography Russell Metty Editing by Milton Shifman Distributed by Universal Pictures Release date(s) March 29, 1968 Running time 101 min. Language English Box office $1,100,000 [img]http://upload.wikimedia.org/wikipedia/en/thumb/c/c8/Madigan_poster.JPG/220px-Madigan_poster.JPG[/img]
monsieur rick
Great cast, middling script. Widmark is tough but hints at a vunerablity under that facade. Henry Fonda sort of walks through his role but it doesn't really ask much of him. Good period feeling which at the time may have been incidental but now gives you a sense of it's time. Inger looks amazing with some gravity defying hair but she's unfortuantely wasted in the wife role.
½
It does meander through the middle, but this is Segal's game and when Widmark and Fonda are the pawns, it's worth watching regardless. A cool finish caps it off.
J M
Madigan Quotes
There are no approved quotes yet for this movie.
Discussion Forum
Discuss Madigan on our Movie forum!