Madison County
(2011)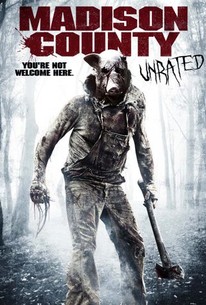 AUDIENCE SCORE
Critic Consensus: No consensus yet.
Madison County Videos
Madison County Photos
Movie Info
Madison County is about a group of college students that travel to a remote, mountain town called Madison County to interview the author of a tell-all book on the accounts of the grisly murders that happened in the town over two decades ago. Upon their arrival, the author is no where to be found and the townspeople state that they've "not seen him in years." They also deny that Damien Ewell, the notorious murderer, ever existed and that the murders never happened. As the kids start to dig around to get their own answers, they come to find that the stories, and Damien, maybe more real than the townspeople are letting on.
Rating:
R (for violence, language and brief nudity)
Genre:
Directed By:
Written By:
On DVD:
Runtime:
Studio:
Cast
Critic Reviews for Madison County
All Critics (3) | Fresh (2) | Rotten (1) | DVD (1)
Takes a while to get where it's going, but the final destination is satisfying enough.

The film should definitely prove to be an enjoyable experience for all the indie horror loving masses out there and makes for a fun little popcorn flick for the slasher film fans as well.
Audience Reviews for Madison County
It takes quite a while to get to the horror aspect of this film, but the eerie build-up and character development is easily watchable due to both being done so well. The performances were so incredible that the characters felt like real people I personally know which made the terror all the more tense when bad things do finally start happening. The death scenes were realistic and bloody and with a few minor tweaks to the story, this could've been a far superior version of the new Texas Chainsaw sequel reboot instead of the weak shot we got for 2013.
Darrin Craig
One sentence summary: Avoid big ratty looking men with pig masks. ------------ Opening sequence: young woman wakes up in the back of a pickup, wearing just bra and panties. She jumps out and runs. The man driving the truck stops, runs after her with a shovel. He knocks her out, carries her back, throws her into the back seat. A local looks on, says nothing, seems unperturbed by it. Three young men (Will, James, Kyle) and two young women (Jenna, Brooke) go for a trip to the sticks to interview an author of a book about a serial killer in Madison County. The author has no phone or computer; hence letters and the current interview. About 24 minutes in, the group reaches Madison County and stops for lunch. They ask about the book, Devil in the Woods, the book's author David Randall, and the main character in the book, Damian Ewell. They eventually get the author's address and go there. They find a nice house on private property, but no one answers the door. Kyle does some more digging for information, while the other four hang out at the address they were given. Kyle looks over a cemetery (looking for headstones), then areas nearby. He sees two girls topless in a stream, and tries to start a conversation. The villain comes up behind him, the girls see him, Kyle turns, and gets stabbed to death. The girls do not react at all even though there is a freshly dead human body in the stream with them. This is like the opening sequence: the lack of affect at outrageous events. The foursome explore near the house. Will and Brooke get separated from James and Jenna. Further James and Jenna get separated. Clever. Will buys his real estate while relieving himself. Brooke sees the body of her boyfriend and runs. Jenna and Brooke find each other. James talks to Erma at the diner again. Erma lets him know his time on earth is limited. The killer goes after the young women first. Jenna runs decoy for Brooke, who neither runs away nor helps her friend. The killer does Jenna in with an axe. James is captured along with a father (David Randall, from an earlier scene) and daughter (the young woman from the first sequence). James and the daughter escape, but the David does not. Brooke makes it back to the diner, which is now deserted. Erma claims she has not seen any of Brooke's friends, then offers to drive Brooke to a doctor. Then Erma (Damian's mother) knifes her to death. -----Scores----- Cinematography: 8/10 Jumpy camera work for perhaps four minutes, but usually quite good. Sound: 6/10 High differences in sound levels. Poor choices of incidental music. Accents? Actors sound like Los Angeles television most of the time. Conversational sound levels were consistently clear. Acting: 6/10 I've seen much worse. Screenplay: 5/10 This was pretty thin. Perhaps the kids might have set a date and a time and a place to meet the author first? That's too much to ask, I guess. The lack of affect by the locals could have used better exposition. Of course, this helps the "by the time you figure it out, it's too late" feeling of helplessness.
Ed Collins
½
Not as good as expected...but I waited over a year for this movie to come out...and I got what I deserved! Very good teen-slasher flick.
Jacob Palacio
Super Reviewer
Discussion Forum
Discuss Madison County on our Movie forum!
News & Features