Mädchen in Uniform (Girls in Uniform) (Maidens in Uniform)
(1931)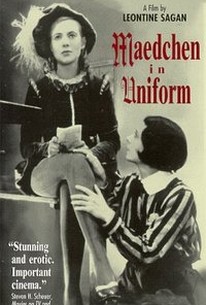 Movie Info
Inspired by Christa Winsloe's play Gestern und Heute, Maedchen in Uniform is one of the most memorable and moving of the pre-Hitler German talkies. Hertha Thiele plays a new student in an exclusive girls' boarding school. Achingly lonely because she feels deserted by her family, Hertha keeps her distance from the rest of the girls. Persecuted for her solitary stance by principal Emilia Unda, Hertha is drawn to her sympathetic teacher Dorothea Wieck. What starts as a friendship blossoms into a romance. While public revelation of this relationship proves disastrous to both student and teacher, it is ultimately the unforgiving principal Unda who suffers most. Maedchen in Uniform was antiseptically remade in 1958, with some of the frankness but little of the honest eroticism of the original. ~ Hal Erickson, Rovi
Critic Reviews for Mädchen in Uniform (Girls in Uniform) (Maidens in Uniform)
Audience Reviews for Mädchen in Uniform (Girls in Uniform) (Maidens in Uniform)
it's a touching and lovely film and not as explicit as it's reputation might suggest tho it's historical importance probably cannot be overstated. it can be seen on youtube starting here: http://youtu.be/duXOgKt0qO0
Stella Dallas
Super Reviewer
This film is not about sex among lesbian schoolgirls. No "hot girl on girl action". It's a touching story of a lonely teenage girl who develops a crush on her older female teacher. Very well-made, as most 1930s German films are, IMHO. Haven't seen it in years, and when/if I get to see it again, I'll write a more complete review.
Mädchen in Uniform (Girls in Uniform) (Maidens in Uniform) Quotes
There are no approved quotes yet for this movie.