Maelstrom
(2000)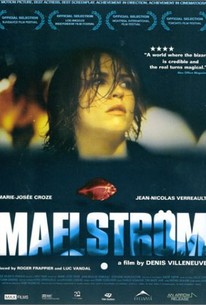 Movie Info
During one rainy summer night, 25-year-old Bibiane Champagne hits a man with her car. The victim, a 53-year-old fishmonger whom Bibiane abandons on the street, manages to get back home to die peacefully in his kitchen. Bibiane's life descends into chaos. Just as she risks her life to erase all proof of her actions, she is given a second chance. The dialogue between life and death, earth and water, reaches its harmonious conclusion when the young woman meets the person who will alter her destiny.
Critic Reviews for Maelstrom
Audience Reviews for Maelstrom
As narrated by a fish with its head on the chopping block, "Maelstrom" starts with Bibi(Marie-Josee Croze) having an abortion. Afterwards, her best friend Claire(Stephanie Morgenstern) cares for her while she prays at the porcelain temple. Bibi's work life is not that much better as the Montreal boutique she owns with her partner Philippe(Bobby Beshro) has been having its share of thefts, causing them to hire security guards. That's not to mention the large amount of money she owes. And if you think she is having a bad day, imagine that of the guy(Klimbo) she hits with her car on the way home from a bar. A short time ago, I mentioned that "Rubber" was the oddest movie I had seen in quite a while. That probably has something to do with the lack of Canadian movies I have seen lately. Because "Maelstrom" has it all, including occasional intertitles, a diverse musical score that leans Scandinavian, and a complex chronal storyline which adds perspective. All of which is not as heavy as it sounds. At first, I was prepared to connect Denis Villeneuve's more recent feature "Incendies" to "Maelstrom" through a common theme of how all life is sacred. However, the truth could not be any more different, as the movie is edgily profound in how it states we are all part of the same cycle of life and death, so relax. Notice for example, how matter of factly the abortion scene is filmed, without any judgment, no less. That fits in well with the movie's intelligent thoughts on guilt and forgiveness, as Bibi has a hard time getting completely clean.
Great creative effort by Denis Villeneuve who has grown steadily since undertaking this picture. Not everyone can pull off narration from a fish on the chopping block.
John Ballantine
Super Reviewer
Maelstrom Quotes
There are no approved quotes yet for this movie.