Magadheera
(2009)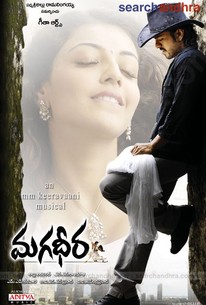 AUDIENCE SCORE
Critic Consensus: No consensus yet.
Movie Info
When Harsha a Bike Stunter from Vishakapatnam accidentally meets Indhu discovers his warrior life KALABHAIRAV in his last birth, the remaining story portrays how Indhu and Kalabhairava are connected.
Cast
Critic Reviews for Magadheera
There are no critic reviews yet for Magadheera. Keep checking Rotten Tomatoes for updates!
Audience Reviews for Magadheera
Magadheera is an unknown gem from India. While it certainly it's not anything spectacular, it's definitely worth your time. Magadheera is about two reincarnated male who settle 400 years old dispute for the love of their life. The story can be funny, but that's what also hurt the movie. Its humor is so over the top that it's hard to take it serious during the more dramatic scenes and the random musical numbers that doesn't help either. How am I supposed take our main character serious when he's defending his love from 100 soldiers when in the same movie he fire a gun shot from his shirt. This movie would have worked better as a comedy, but it does what it does successfully. It set ups this unique rivalry and while it doesn't build it up to it full extent, it's thrilling enough to stay make you want to keep watching. The writing is decent with some great dialogue which is accompanied by the movie failure to decide what it wants to be between goofy comedy or epic drama. Though the story of Magadheera isn't perfect, it's good enough to please almost anyone interested in India movies. What's superb is the production design making everything looks spectacular, though sometime it can look fake and goofy. The CGI is okay, but it doesn't take away from the movie since it's visually appealing. Even though I know little about India movie business and it actors, I did enjoy the chimsitry between Ram Charan Teja and Kajal Agarwal. They're easily one of the most enjoyable couple ever filmed when the movie isn't serious. The musical numbers though unnecessary in my opinion, look great, have amazing dancing, and most importantly are good to listen too. Clearly a lot work and effort was put into this movie and it shows with a great film. Magadheera is a great movie from India that provides great entertainment if you could look past it's decent story. Magadheera might not be a masterpiece by anyone standard, but it's certainly a hidden gem that has to be seen.
Caesar Mendez
Super Reviewer
I never expected the Telugu movie industry to churn out such an amazing movie. It blends the typical Indian masala movie standard with some mystical reincarnation stuff. The hero and heroine are lovers in their previous life, 400 years ago, but circumstances of birth (he's a warrior and bodyguard to the princess, the heroine) and a nasty suitor kept them apart. Now in the present day, the hero must fight the reincarnated suitor to rescue his true love. The songs and story are great.
Nisha Kumar
½
You know what this is like? Watching a train wreck in India. Everyone is screaming and crying, and singing and dancing. Slap together bad CG and green-screen, 300, Romeo and Juliet, musical dance numbers with heavy dance beats, and action that would make a Sy-Fy movie look like Citizen Kane. And yet, like every train wreck, it's impossible to look away. Plus, this this is so stupid it's really funny. Man oh man, all bad movies should aim for this.
Andrew Bjorklund
Magadheera Quotes
There are no approved quotes yet for this movie.
Discussion Forum
Discuss Magadheera on our Movie forum!