Magnifico
(2003)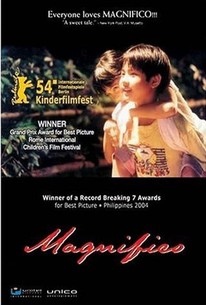 Movie Info
Directed by Maryo de los Reyes, Magnifico is a sentimental family-oriented melodrama from the Philippines, written by Michiko S. Yamamoto as the first prize in a scriptwriting contest. Magnifico (Jiro Manio) is a young boy from the poor town of Lumban, Laguna, who tries to help out his parents (Albert Martinez and Lorna Tolentino) by raising money to bury his grandmother (Gloria Romero), who is dying of cancer. Meanwhile, his older brother (Danilo Barrios) loses his scholarship, and his sister Ellen (Isabella De Leon) suffers from cerebral palsy.
Rating:
NR
Genre:
, ,
Directed By:
Written By:
In Theaters:
On DVD:
Runtime:
Studio:
Violett Films Production
Critic Reviews for Magnifico
Audience Reviews for Magnifico
Aside from presenting the usual scenario in a typical Filipino community, Magnifico is a heartfelt and beautiful tale about a seemingly little and insignificant boy who was able to touch the hearts of the people around him. Well-written screenplay, superb acting and direction, and its ability to appeal to its audience's emotion made this a jewel of Filipino filmmaking.
Maymay Asahan
Super Reviewer
So terribly sweet and saddening. One of the few Philippino films that I have seen and it was a difficult watch at times.
John Ballantine
Super Reviewer
I've watched Filipino movies all my life, and it's safe to say that the majority of them... well suck. They are made up of mediocre stories, corny acting, and cheesy jokes. Although, there are those that are able to differ from the usual cliche Filipino movies, and there is one that stands above even those. "Magnifico" is that movie. This movie is unparalleled in all that it does and is one of the best that I've ever seen. The perfect acting from the cast of characters helps flesh out the well thought out, and deeply moving story. The tale of a boy who aims to help out his family by raising money for his grandmother's burial shows off the greatest aspect of this movie - the character development. As you watch this movie, you literally "connect" with Magnifico himself. You feel his concerns, you understand his decisions, and you "befriend" a character who is totally fictional. Seriously, you end up caring for the kid. This fact alone is what makes this movie worth watching, due to the fact that it does what few movies can do - create a bond from the audience to the movie. Yes, this is a Filipino movie, but even if you aren't Filipino, or don't understand Tagalog, WATCH THIS MOVIE. Turn on those subtitles if you need to. It's seriously one of the best movies I've seen in my life.
Julius Magsino
Magnifico Quotes
There are no approved quotes yet for this movie.