Mahanagar (The Big City) (The Great City)
(1967)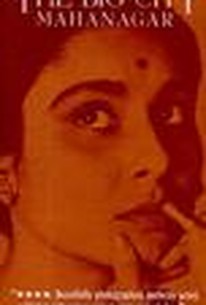 Mahanagar (The Big City) (The Great City) Photos
Movie Info
Satyajit Ray, India's premiere film director, takes a rare foray into social satire with 1963's The Big City. Anil Chaterjee stars as the typically subjugated wife of an Indian bank official. When the banker loses his job, he orders Anil to find work to make ends meet. The wife subsequently runs the household finances so brilliantly that soon she is in the driver's seat, in direct opposition to long-established Indian matrimonial custom. Seen by some critics as a subtle plea for improving the status of Indian womanhood, The Big City was based on a novel by Narbenda Nath Mitra. ~ Hal Erickson, Rovi
Critic Reviews for Mahanagar (The Big City) (The Great City)
Audience Reviews for Mahanagar (The Big City) (The Great City)
½
Yet another triumph for Satyajit Ray who deftly mixes humanistic themes with serene yet punchy cinematography.
Brian Krause-Rivera
Changing Times Change Families The subtitles on this movie are terrible. I don't mean that they're a bad translation; I don't speak Bengali, so I have no idea. (Though it's worth noting that people speaking in English occasionally get subtitled, and the subtitles aren't always what the people are saying.) It's that they don't line up at all with the dialogue. They're usually translating what the previous person said after someone else has begun to talk, so you spend the whole movie playing catchup with what's going on. This was really disappointing, because it was distracting. The characters were trying to have serious conversations about serious things, and all the while, you're waiting for the conversation to catch up to who's speaking now. It's worst when one character is speaking in English, because she's subtitled with what the other character, who is speaking Bengali, has just said. Disconcerting to say the least. Arati Mazumdar (Madhabi Mukherjee) is an ordinary Calcutta housewife. Her husband, Subrata (Anil), works in a bank, but he is not earning enough to support the family--which includes his parents and sister. He is also, I think, trying to go back to school. And so Arati tells him that she will go get a job. He isn't happy about it, but it's better than not being able to pay for the necessities--like his preferred brand of cigarettes--and so she gets a job selling knitting machines door-to-door for a hundred rupees a week. There, she meets the Anglo-Indian Edith (Vicky Redwood). Edith has grown up in a different world with different expectations, and it is she who gets the saleswomen a commission for every machine sold. Though the manager, Himangshu Mukherjee (Haradhan Bannerjee), doesn't like her and would much rather work with Arati. She is good and efficient at her job, but her father-in-law (Haren Chatterjee) won't take money from her and goes out begging for help from his former students instead. Pintu (Prasenjit Sarkar) was a spoiled little brat. He gets promised toys if he'll be good while he's sick, and when he turns out not to be sick, he wants to know if he'll still get a toy. Arati is having a serious conversation with Subrata about her job, and he keeps interrupting the conversation with demands to know what kind of toy she's going to bring him. Bani (Jaya Bhaduri) isn't happy about the extra work Arati's job dumps on her, but she knows that it's her responsibility to the family to do it. Especially since she's having her schooling paid for. But Pintu, I guess, is young enough so that he only sees everything in terms of how it affects him. And it doesn't seem as though they're going out of their way to change that. After all, they do promise him a toy if he'll shut up and let his mother go to work so she can continue to make sure there's enough food for all of them and their medical bills are paid. I'm currently watching season three of [i]In Treatment[/i], and the Monday patient is an elderly Indian man, and I think there's a lot of similarity between him and several of the characters here. Sunil (Irrfan Khan) has essentially based his life around doing what's right for his family as a Brahmin man. He is shocked and horrified by his son's American lifestyle and American wife. Khan, and by extension Sunil, was born two years before this movie was made into a changing India. It wasn't just the continuing issues of independence. It wasn't just the increasing urbanization, something discussed at the end of this movie. It's in large part the changing role of women and the decline of certain traditional values. It's nearly certain that Arati and Subrata were of the same caste, an issue that colours much of Sunil's story, and it's certain that Sunil would still be horrified if his wife had had to work to help support the family. But I think increasing urbanization does tend to lead to an increasing need for two-income households, though not everyone realizes that. Satyajit Ray didn't win any Oscars--wasn't even nominated. Though it's worth noting that only the country appears in the Academy database if you search Foreign Language Film nominees. Still, India has been nominated three times, losing all three, and not one was a Ray film. The Academy has strange rules when it comes to Foreign Language nominations, it's true. But the year this came out, George Cukor won the Best Director Oscar for [i]My Fair Lady[/i]. Don't get me wrong; [i]My Fair Lady[/i] is a fine film. I enjoy it a great deal. Though I'm not sure how much skill it took to get a good performance out of Audrey Hepburn and Rex Harrison. It's also true that this is a different, much more subtle film. Madhabi Mukherjee is required to carry much more emotion on her face than Audrey was, and it's often what shapes a scene. We know that Arati was aware that her boss was all but hitting on her, that she had to face it and move on, but she never says a word.
Edith Nelson
½
Classic early Indian work that is much more important for what it signifies than for the experience of watching it. I felt almost guilty for not enjoying it, but ultimately couldn't be bothered, for it was agonizingly slow, primitive, and myopically conservative. 90% of the filming was uniniteresting interior views of a very cramped apartment. To top it all, the English subtitles of the version I saw were often so poorly translated and unsynchronized that the dialogue because incomprehensible.
David Shazbot
Mahanagar (The Big City) (The Great City) Quotes
There are no approved quotes yet for this movie.
Discussion Forum
Discuss Mahanagar (The Big City) (The Great City) on our Movie forum!