Mai tian (Wheat)
(2009)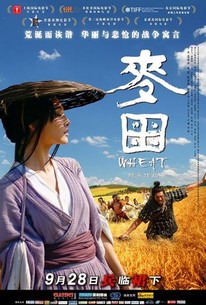 AUDIENCE SCORE
Critic Consensus: No consensus yet.
Movie Info
Two soldiers turn a small town into unwitting accomplices when they run from battle in this historical drama directed by He Ping. In the year 260 B.C., China was mired in a long and bloody war between the Qin and the Zhao that would not be settled for decades. In the Zhao-dominated village of Luyi, nearly all the men have gone off to war, and when the beautiful Lady Li (Fan Bingbing) marries Lord Ju Cong (Wang Xueqi), it's with the knowledge that he will soon join his brothers on the battlefield, with a Zhao victory the best hope for her and her neighbors to be reunited with their husbands and sons. The Battle of Changping proves to be a rout, and nearly 500,000 Zhao fighting men are killed; in the aftermath, two Qin soldiers, Xia (Huang Jue) and Zhe (Du Jiayi), abandon their posts, risking a penalty of death, and after being pursued by Qin raiders they end up in Luyi. To save their own skin, Xia and Zhe claim that they are Zhao soldiers and that the battle was a great success; the women of the village welcome them as heroes, and they earn the admiration of many when they work long hours to bring in the wheat harvest. But a village shaman (Wang Ji) finds Xia and Zhe's story hard to believe, and the deserters put themselves and the women of Luyi in danger when they are found out by the vengeful Lord Chong (Wang Zhiwen). Maitian (aka Wheat) was an official selection at the 2009 Toronto International Film Festival.
Critic Reviews for Mai tian (Wheat)
All Critics (1) | Fresh (0) | Rotten (1)
Another dynastic Chinese historical epic gone awry - this one's even worse than you might expect.

Audience Reviews for Mai tian (Wheat)
½
Watched @ Tokyo International Film Festival 2009. Too far from what I was expecting and too incomplete in many ways. Theme itself is very interesting, for it describes a war not from soldiers' viewpoints but from women left in the castle. It deals with war without featuring bloody violence. However, the direction by Ping He is still as if he is directing an action film with a large scale, and all the characters in the film are not developed and analyzed deeply enough. Guy characters are all shallow, and the dumb guy character is even annoying seriously. Although the heroin's character is stereotypical, Bingbing Fan gives a great and powerful performance. Use of music is quite interesting, but editing sometimes is confusing. The fatal weakness of this film is boring story.
Naoya Kugimiya
Mai tian (Wheat) Quotes
There are no approved quotes yet for this movie.