Maîtresse (Mistress)
(1976)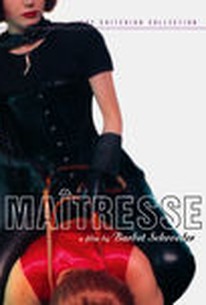 AUDIENCE SCORE
Critic Consensus: No consensus yet.
Maîtresse (Mistress) Photos
Movie Info
For a change, the character portrayed by Gérard Depardieu in Maîtresse is relatively normal; it is the world around him which has gone slightly mad. Looking for a measure of affection and companionship, Olivier (Depardieu) crosses the path of the lovely Ariane (Bulle Ogier). She happens to be a professional dominatrix-and from the evidence we're presented, she's one of the most accomplished of her ilk. How this mismatched (to put it mildly) relationship can possibly work is the core of Maîtresse. ~ Hal Erickson, Rovi
Rating:
NC17
Genre:
, , ,
Directed By:
Written By:
In Theaters:
On DVD:
Runtime:
Critic Reviews for Maîtresse (Mistress)
Audience Reviews for Maîtresse (Mistress)
½
People accustomed to the later, mainstream work of Gerard Depardieu and director Barbet Schroeder will find "Maitresse" shocking. Heck, almost anyone will. This daring blend of romance and sadomasochism was originally rated X in America, and a graphic depiction of penis impaling alone justifies that classification. And would you like a gratuitous shot of a horse slaughtering as a bonus? Depardieu is Olivier, a young (thin!) slacker whose friend Mario takes him along on an implausible door-to-door job selling art books. After a sexy blonde (Bulle Ogier) calls the two inside to stop an overflowing bathtub, she happens to mention that the resident in the lower apartment is away on vacation. Given their middling sales (no surprise there), Olivier and Mario decide to rob the vacant flat. Unfortunately, they discover too late that the woman lied -- she also owns the lower apartment, and uses it as a lair for her secret work as a dominatrix. She reacts to their intrusion nonchalantly and, rather than calling the police, recruits Olivier to help humiliate one of her clients. Naturally, this collaboration can only lead to love. From there, the story explores the couple's curious relationship. Olivier does not feel threatened by girlfriend Ariane's lurid encounters -- they do not involve intercourse, and Ogier never even appears nude -- but he is bothered by all the earnings she passes to her silent partner Gautier. Eventually, his investigation of Gautier threatens to end their unconventional bond. The explicit acts of "Maitresse" are not faked. Ariane's victims are actual masochists, and the whip marks on their bodies are real. The actors reportedly enjoyed the exhibitionism of appearing on film. As for the impaling scene, just try to avoid flinching. There are nails and a block of wood. Enough said. The costumes and set decoration of "Maitresse" are a wonderful time capsule of mid-'70s chic, and Depardieu's likably boyish presence will be an eye-opener to the many Americans who can't understand his contemporary superstardom. Falling somewhere between drama and perverse comedy, this film is definitely worth a peek.
Eric Broome
Super Reviewer
Maitresse may be about a dominatrix, but despite some racy S&M scenes, the movie is both a love story and an example of how the failure to communicate in a relationship is toxic. Gerard Depardieu plays the male half of the love story, a bumbling thief with a ceaseless need to meddle in his interest's business. Bulle Ogier steals the show as Ariane, a dominatrix-for-hire who finds herself falling for a man. Maitresse is a slow-moving story and some of the middle parts could be cut without losing any story.
Jacob Gehman
½
I didn't expect much, but it's kind of interesting in its approach to gender roles and sexual politics, has occasional sly moments of humor, and the cinematography is quite nice. Most of the S&M scenes aren't all that necessary, and they tend to come off like cheesy fetish porn rather than adding any depth to the story or the characters.
Martin Teller
Maîtresse (Mistress) Quotes
There are no approved quotes yet for this movie.