Major Barbara
(1941)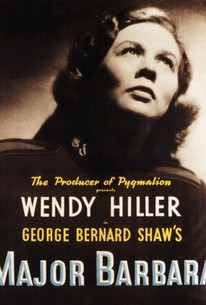 Movie Info
George Bernard Shaw's satiric comedy about wealth and poverty is brought to the screen with wonderful performances by Rex Harrison and Wendy Hiller. Hiller plays Major Barbara Undershaft, a major in the Salvation Army who is also a socialist and stridently attacks capitalists -- in particular her father Andrew (Robert Morley), the head of a munitions plant. In love with Barbara is the young Greek scholar Adolphus Cusins (Rex Harrison), whose attentions go unreturned since Barbara spends all her time on her crusade against wealth. To show up his daughter, Andrew donates 50,000 pounds to the Salvation Army which, to Barbara's horror, the Army's general (Sybil Thorndike) happily accepts. Barbara, in protest, quits her post and it is left to Adolphus to take her on a tour of her father's munitions plant and prove to her the benefits of capitalism.
Critic Reviews for Major Barbara
Audience Reviews for Major Barbara
½
It Doesn't Feel Like Shaw Anyway There is a prelude thingy for this movie which informs you, essentially, that if you're disappointed in the film, you're unpatriotic. Or something. I think it's even in George Bernard Shaw's handwriting. Conveniently for me, it doesn't apply in my case. I'm not British and therefore don't have to be blindly accepting of Shaw's worth. And it's true that I'm not exactly an expert on the man. It's true that there are more plays of his that I don't know than that I do. However, I spent pretty much the entire story unable to believe that this was the same misanthropic Shaw I knew, the one who wrote the snarky epilogue to [i]Pygmalion[/i]. The one who is so rude to Dionysus in Sondheim's [i]The Frogs[/i]. (Not, of course, that Sondheim's exactly a primary source.) But this film, and the play on which it was based, celebrates the glories of capitalism and the nobility of saving souls. And it doesn't feel as though it's kidding. Barbara Undershaft (Wendy Hiller) is a major, all right. In the Salvation Army. And she is, in a way that I feel sure I got wrong, betrothed to Adolphus Cusins (Rex Harrison), a professor of Greek who gives it up to pound a drum alongside his love. She is also the daughter of Andrew Undershaft (Robert Morley), a munitions magnate who walked out on his family so long ago that he's not a hundred percent sure how many children he has. He walks back into their lives, I'm not sure why, and joins Barbara at the Salvation Army, I'm not sure why. He gives the Salvation Army a very large sum of money, which angers Barbara, because he does kind of make a living off war. But it's worse; he mostly gives them the money to get back at a whiskey distiller who's already given them something like five hundred thousand pounds, enough to keep their shelters open. And she won't take the money of war and whiskey, until something tells her she ought. I feel sure this missed something in translation to the screen, but how much could it? George Bernard Shaw was the only credited screenwriter, though there were apparently three others. Which does leave it rather open as to who wrote how much. I just can't see Shaw letting his name stay as sole screenwriter for a movie which completely subverted the point he was trying to make. In the end, everyone is actually happy. They don't even seem to be pretending or deluded. It's not the bright, artificial happiness you get when you're supposed to think its causes are silly. Barbara decides that it's worth more to save the souls of the fed and clothed, and ammunition is keeping people fed and clothed who weren't before. The man who beat his girlfriend really is legitimately a better person now he's got a job paying a little over three pounds a week. It's not that I dispute that these people might have these feelings. It's that I couldn't quite believe they'd have them in a story from Shaw. It isn't helped that I didn't quite know why much of anyone was doing much of anything. I missed how Barbara and Adolphus got engaged. He went into a room to pray with her, and she took him home with her and let him introduce himself to her father as her fiancé. There must have been intervening steps there, but I have no idea what they were. Why did Barbara's father leave his wife, Lady Britomart (Marie Lohr)? No idea. They had some conflict over his factory, which she found disgraceful, but why did she find it disgraceful? Was it along the lines of their son, Stephen (Walter Hudd), and his disparagement of trade? Barbara's sister, Sarah (Penelope Dudley-Ward), had nothing to do with anything, which violated a certain economy of character. She also had an unpleasant fiancé of her own, and the movie cared a lot more about him than I did. These people just seemed to have been thrown together in improbable circumstances. The way they get out of them is every bit as improbable. So I have no idea. To be perfectly honest, I only watched it all the way through for one reason. One of my favourite episodes of [i]Mystery Science Theater 3000[/i] is the movie [i]I Accuse My Parents[/i] (featuring the short "Truck Farming"). At one point, I believe it's Tom Servo who declares that Singing Sensation Kitty Reed (Mary Beth Hughes, who was also in one or two bona fide classics and something called [i]Dig That Uranium[/i]) is dressed like Major Barbara. I had absolutely no idea what that even meant. I'd vaguely heard the name somewhere, but I had a thought that it was maybe some sort of wacky (or WAC-y?) World War II comedy. I pretty quickly worked out that it was not, but by then, I was determined to write a review so that I could mention this particular piece of information. I do this sometimes--there are things I am determined to share, and I will write absolute nonsense for a few paragraphs because it gives me the chance to. Alas for you, this wasn't even a full paragraph's worth of information.
Edith Nelson
Major Barbara Quotes
There are no approved quotes yet for this movie.
Discussion Forum
Discuss Major Barbara on our Movie forum!