The Majorettes
(1986)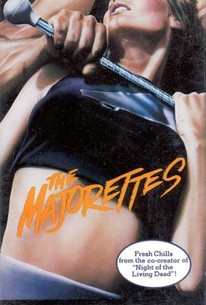 AUDIENCE SCORE
Critic Consensus: No consensus yet.
Movie Info
A high-school murder spree involving majorettes is the focus of this adventure/horror film.
Critic Reviews for The Majorettes
There are no critic reviews yet for The Majorettes. Keep checking Rotten Tomatoes for updates!
Audience Reviews for The Majorettes
Somewhat enjoyable as as a terrible film, The Majorettes is a truly awful slasher film that features copious nudity, which does little to make up for its lack of plot, uninspired death scenes, terrible acting, and total absence of scares. Abominable on every level yet still entertaining for those who love awful slasher flicks.
Al Miller
Okay, so here's my initial feelings on the first time watch: "This gets an extra half star for some assorted nudity, but on the whole it's a rather wasted endeavor, as it wastes most of the death scenes due to poor editing. The plot gets bizarrely complicated with a peeping tom janitor and a gang who are ratted out to the cops by one of our characters, building to a strangely action oriented ending instead of something more akin to the normal horror film." Having given it a second look I would have to bump my rating my a full star on the second viewing, just because it gets so fucking weird in the latter half, which is immensely entertaining. Rental? A cautious rental?
Bill Bryant
½
Based on the book (which is pretty good) by John Russo and directed by none other than Bill Hinzman (the cemetery zombie from the original Night of the Living Dead) who did this film before the ultra-gory, ultra-80's cheesetastic Flesheater movie. The Majorettes is about a small town pep squad filled with a bunch of hot sexy girls who get naked alot and are peeped on by the creepy, retarded janitor. Sure enough, each girl starts dying one-by-one, usually by way of throat slashing and in water in order to cleanse their souls. Oh boy, another religious killer contradicting himself. Gee, thanks God and Jesus. Anyways, what sets this apart from other 80's slasher flicks is the bad acting. Let me be clearer, while most of the classics we know and love have bad acting in them, this one goes WAY beyond bad acting. Still, though, this wound up being a lot of fun, especially in the last 30 minutes when all hell breaks loose including the main villain being revealed early to flesh out a sinister subplot to the story and a huge WTF (!!!) moment when the supporting male lead jock boy goes Rambo and takes out an entire gang via machine gun and shirtless (definitely a laugh-out-loud moment)!!! The film winds up ending on a VERY bleak and grim ending, which was nice. Low on blood, high body count, plenty of titties abound. Overall, if you can get's past the cheese acting, this is actually a pretty damn good flick!
Jason Duron
The Majorettes Quotes
There are no approved quotes yet for this movie.
Discussion Forum
Discuss The Majorettes on our Movie forum!