Make a Wish
(2002)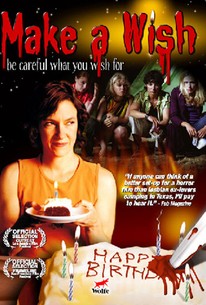 Movie Info
In the tradition of Friday the 13th and other classic horror films, Make A Wish tells the story of a group of women who get together once again for an annual birthday camping trip. The common denominator in this group of gay and straight girls is Susan - all of the campers are exes of hers. All except Andrea, who is Monica's new girlfriend, and not very pleased to be dragged along on this ridiculous outing. Linda, now straight, left her boyfriend Steve pouting at home, annoyed that she wanted to leave him for the weekend for a romp in the woods with the girls. Chloe, the aggressive vegetarian, and Dawn, whom Susan recently dumped, complete the group. Linda and Monica suspect that Susan's been cheating on Dawn, and they're surprised when Dawn opts to come on the trip in the first place.Before the rest of the group arrives, Susan has a run in with Steve, who shows up looking for Linda. Zeke, a rough-looking outdoorsman, convinces Steve with a little physical violence to leave Susan alone, but Steve doesn't go far. Also looking for someone is Detective C.K. McFarland - but for whom - or for what - is he looking?By the time the girls set up camp, tensions between Andrea and Susan are running high, and Linda has her eye on Monica, who doesn't mind looking back. Chloe is mad because there is no vegan food, and Dawn is performing healing rituals that look a lot like witchcraft. Michelle, the final camper, is supposed to be arriving any minute, but god knows she's always late. So when Chloe takes off on her bike to go to shopping, nobody thinks much of it, And when Andrea disappears with the car, well, it's just because she's angry because Monica kissed Linda by the fire - isn't it? But how come Chloe isn't back? And how come Michelle never showed up? And how come people keep disappearing?Shot in the Texas Hill Country, Make a Wish is a sly, sexy, action-packed thriller with more than one surprise in store for horror fans of all persuasions. -- (C) Open Circle Productions
Rating:
NR
Genre:
, ,
Directed By:
Written By:
In Theaters:
On DVD:
Runtime:
Studio:
Wolfe Video
Critic Reviews for Make a Wish
Audience Reviews for Make a Wish
My wish is that I had never watched this movie. This has got to be one of the implausible, ridiculous, stereotypical, idiotic movies ever created, even in the independent genre. I actually spent more than 30 minutes searching for a site to review this, just because it is so awful, and I won't be able to sleep tonight if I don't do my part to warn others about it. The only good thing I can say about this is that it did not resort to the lesbian: bad, man: good lesson, which is where I thought it was headed. But other than that, the acting is the only thing that warrants the "horror" title. The characters are all one-dimensional, the plot is completely unbelievable logistically, the cinematography is mostly just amateur but at one point (the crossbow hunting scene) it is actually hilarious in a "shoot the ducks at the midway at the carnival" kind of way. The trajectories of this particular killing making the JFK assassination look straightforward. ... It's just a bad, bad movie-and not in a good way. You will WISH for that 1 hour and 38 minutes back-plucking out your nose hairs one by one with a pair of tweezers is a better use of your time.
tina de la fe
½
This is a very low budget horror film, but it's quite watchable. It has the usual cliche's but it's all done with a twist. The acting is fair. I've seen a lot of horror films that are worse.
James Higgins
½
Well, I'm seeing movies. I'm just forgetting about updating this thing. My last DVD trip was to Blockbuster, where I saw once again that perception rarely equals reality. I can't speak for every Blockbuster in the United States, but for a mega-chain that supposedly frowns on individual choice, this particular store certainly had a lot of independent and foreign films. There were in particular a lot of Spanish-lanuage and Asian stuff, which should come as no surprise considering how many Latino and Asian people live in this area. The [i]real[/i] surprise was how many gay and lesbian videos were there. Supposedly that's the kind of thing Blockbuster would never, ever carry. Obviously someone's been telling fibs. I got one of the lesbian films, "Make A Wish", which is probably the first lesbian slasher film on record. It was pretty good too allowing for the miniscule budget. The actors were good and the ending didn't insult your intelligence for once. They even left a few subtleties in the plot. And on top of all that there were even a couple of sex scenes.:D
Jerome Wilson
Make a Wish Quotes
There are no approved quotes yet for this movie.