Make Out With Violence
(2009)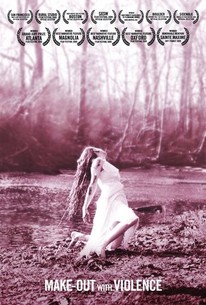 Make Out With Violence Videos
Make Out With Violence Photos
Movie Info
"MAKE-OUT with VIOLENCE," the first feature-length film from the Deagol Brothers, is a genre-bending tale of a boy trying to fulfill his unrequited love for a girl who has risen from the dead. Set against the backdrop of a summer of cicadas and melty milkshakes, the film blends elements of up-beat teenager melodrama with the strange gravity of classic coming of age stories. It tells the story of twin brothers Patrick and Carol Darling, newly graduated from high school and struggling to come to terms with the mysterious disappearance of their friend, the bright and beautiful Wendy Hearst. When a drive through the countryside surrounding their posh suburban community leads to the discovery of Wendy's mysteriously animated corpse, the boys secretly transport the zombie Wendy to an empty house in hopes of somehow bringing her back to life. As the sweltering summer pushes on, they must maintain the appearance of normalcy for their friends and family as they search for ways to revive the Wendy they once knew, or, failing that, to satisfy their own quests for love amonst the living and the dead. At once dark and warm, humorous and tragic, "MAKE-OUT with VIOLENCE" offers a fresh perspective on the supernatural and a sincere and heartfelt look at the sorrow of loss and the pain of growing up. --© Official Site
Rating:
NR
Genre:
Directed By:
Written By:
On DVD:
Runtime:
Studio:
Cast
Critic Reviews for Make Out With Violence
Audience Reviews for Make Out With Violence
The synopsis of this quirky flick is right on. If I had to, I'd call it a coming-of-age film centering around twin brothers who are trying to figure out their direction. One of their friends, and the object of one's infatuation, disappears only to turn up tied between a couple f trees. She's a zombie. She's not particularly dangerous, but she's not particularly alive, either. The film plays out over the course of a summer as one twin tries to win over the dead girl's best friend and the other hides the zombie in the bathroom of an absent friend's house. "Make-Out With Violence" takes a little while to get going, but it's effective and poignant once it does. While there are a couple of tense, mildly scary scenes, it's not about the gore and there's not much violence, either. The violence seems to be more about that done to oneself through dishonesty to oneself and others. The zombie is a device, something to do with lingering too long when it's time to move on. Considering it's the directors' first outing, this is a particularly interesting and oddball flick. Think "Stand By Me" meets "Dead Girl." The pacing drags at points, but very worthwhile in the end.
Brian Seitzman
Make-Out with Violence is proud of its dual genre nature, yet suffers from an identity crisis that it ultimately fails to transcend.
Lee Mayo
One of the best truly independent films ever. It's like if John Hughes directed Deadgirl. It's perfect.
Michael Novick
Discussion Forum
Discuss Make Out With Violence on our Movie forum!
News & Features