Malenka (Fangs of the Living Dead)
(1973)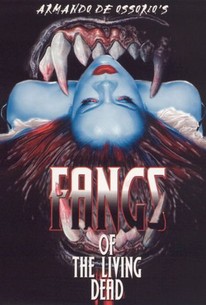 AUDIENCE SCORE
Critic Consensus: No consensus yet.
Malenka (Fangs of the Living Dead) Photos
Movie Info
This low-budget Spanish-Italian co-production was the handiwork of cult filmmaker Amando De Ossorio, best known for his series of Knights Templar zombie films which began with La Noche del Terror Ciego (1971). Faded '50s bombshell Anita Ekberg stars as Silvia, a young woman who travels to the family castle which she will soon inherit. When she arrives, she meets her uncle (Julian Ugarte), who gives her some rather disheartening news. Many years before, a nun named Malenka was burned as a witch in the town square and swore to return for revenge. Silvia looks just like Malenka, and the villagers are terrified that the witch's spirit has been reincarnated in her. Soon, villagers start dying, and Silvia is so sure that she is possessed that she breaks off her engagement, convinced that she is destined to kill her beloved (Gianni Medici). Naturally, as the title already gives away, the blood-drinking attacks are part of a plot by Ugarte to drive Silvia mad and steal her inheritance. ~ Robert Firsching, Rovi
Critic Reviews for Malenka (Fangs of the Living Dead)
There are no critic reviews yet for Malenka (Fangs of the Living Dead). Keep checking Rotten Tomatoes for updates!
Audience Reviews for Malenka (Fangs of the Living Dead)
½
It has a lot of style, a mediocre but intriguing vampire story, and stale characters. It flows decently, but there are time where it gets dull or confusing. Not the most interesting ending, but it is slightly comical. Overall, it's worth a look.
Wes Shad
"I'm allergic to castles" says our star. But she is in one she inherited. Her mother tried to prove life beyond death. So Anita Ekberg, [img]http://t3.gstatic.com/images?q=tbn:ANd9GcQD5Mc50gMEMN6DORh9aZlYFAsoEwm36LpQgqr2SHNeHnLB1H9R8A[/img] a beauty in her own right, arrives to her castle and finds a very weird yet handsome uncle [img]http://t2.gstatic.com/images?q=tbn:ANd9GcT111dB0-4FGU9igSEp7ksAWF_hKCczBFEbOMWI3gV5jZ5ImvRARjwM4SaQ[/img] and numerous beautiful "fang" woman. Fun for the late night set. [img]http://www.horrormovies.com/images/Fangsofthelivingdead-138x200.jpg[/img] SEE the trailer here: www.youtube.com/watch?v=7yTwHyDsovw One hour 9 minutes of rough cut stuff, this film belongs in the crypt of moviedome. But we can still see, with all its period (ie era) soundtrack. The mother researched "necro-biology", a way to be the non-dead. Now we have vampires all over the place, and they suck blood from one another too! [img]http://t3.gstatic.com/images?q=tbn:ANd9GcTiabYH9Acf8Lv4xEMq63OgsqRXH2dmdQGjSNT9NkXCg5TpG77xVg[/img] This one makes you watch it in spite of yourself. I guess its something "evil" going on, something that happened years ago. Garlic prevails even though a doctor tries to treat his patient. Stakes are again, the only answer. [img]http://t3.gstatic.com/images?q=tbn:ANd9GcQQFG0hN2zCWevm5loKMsm_IM5zJZJabZ3hQVSsRqMAmS4_tHyPN6qYiu8[/img] SEE it at: http://www.archive.org/details/FangsOfTheLivingDead_908 [img]http://t1.gstatic.com/images?q=tbn:ANd9GcR19FPLMp9oeY_u0a5yltwvKWVs61qJge_KmVB0l8lrYBVUhlun[/img] The movie ends happily, with our victim jet setting to Rome. Gives new meaning to the words: Bite Me! REVIEWS: 1 This absurd 1969 eurotrash vampire flick (aka "Malenka") was the ... happily, you can find FANGS OF THE LIVING DEAD for about a buck ... 2 30% Someone should have driven a wooden stake through this melange of bad dialogue and acting. [img]http://t2.gstatic.com/images?q=tbn:ANd9GcSHNdtWMe3NkGQZuLQPamh7DSaqUHFQNyDAEnrC6ikweRFrrNAa[/img] Directed by Amando de Ossorio. cast: Anita Ekberg ... Malenka / Sylvia Morel [img]http://t3.gstatic.com/images?q=tbn:ANd9GcSFR-3W-XOqKU6r8gVz_Jmh7oL7_wNqE9JyJkRw-Ntzm5o-rWPl7bvsVRZPHg[/img] Gianni Medici ... Dr. Piero Luciani (as John Hamilton) [img]http://t2.gstatic.com/images?q=tbn:ANd9GcSou0QkZFIZJGKqjZ8gUQAUZ30FYc5_t2Czp45czxQT9reEjDKF[/img] Diana Lorys ... Bertha Zemis Rosanna Yanni ... Freya Zemis César Benet ... Max (as Guy Roberts) Carlos Casaravilla ... Dr. Horbinger Fernando Bilbao ... Vladis the Coachman Paul Muller ... Dr. Albert Adriana Santucci ... The Count's Maid Runtime: 88 min Sound Mix: Mono Color:Color (Eastmancolor) [img]http://t2.gstatic.com/images?q=tbn:ANd9GcQoQQjcbySeml4fnbbmpFTYVttDvgQOKxFuMm3HtWcOr7y1g_zYXA[/img]
monsieur rick
Fangs of the Living Dead (AKA Malenka, The Vampire's Niece) lives up to its corny title. Directed by Amando de Ossorio, the director of Tombs of the Blind Dead, isn't totally responsible for its lack of quality. Apparently the studio had additional sequences filmed that destroyed the plot of the film. It apparently makes much more sense in the longer uncut version, which I haven't seen just yet. What it winds up being here is a very silly vampire tale with terrible acting and a plot that is ultimately is confusing and makes no sense. There's also attempts at comic relief which just sticks out like a sore thumb. Inevitably, there's nothing rewarding or memorable about the film, but it's a good exercise in seeing a poorly constructed film.
Tim Salmons
Super Reviewer
Malenka (Fangs of the Living Dead) Quotes
There are no approved quotes yet for this movie.
Discussion Forum
Discuss Malenka (Fangs of the Living Dead) on our Movie forum!