Malevolence
(1995)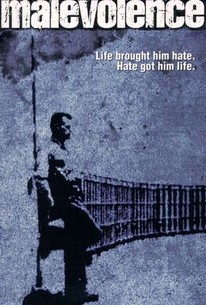 AUDIENCE SCORE
Critic Consensus: No consensus yet.
Movie Info
Joe Cortese ("American History X") gives an intense performance in this crime drama that echoes the assassination of Dr. Martin Luther King Jr. Cortese portrays Billy Bob Jones, a habitual criminal who falls in with the Ku Klux Klan. When an important civil-rights figure (Lou Rawls) is gunned down, all evidence points to the violent racist. Brion James, Michael McGrady, Michael Stone.
Rating:
R
Genre:
Directed By:
On DVD:
Runtime:
Audience Reviews for Malevolence
[size=4]Now that school's out for the summer, I thought that I would have a chance to relax and tend to my journal the way it needs to be tended. Shows how much I know. Between running off to summer seminar after summer seminar and birthday party after birthday party, I barely have time to get my movies [i]watched[/i] let alone written about.[/size] [size=4]It tends to happen from time to time.[/size] [size=4]Thankfully, I have yet to see a film this summer that requires much attention in review. So, to get caught up (and feel like I've actually accomplished something), here's a list of the films I've seen -- in no particular order -- complete with reviews no longer than a paragraph each.[/size] [size=4][color=red][i]Malevolence[/i][/color][/size] [size=4][color=white]Actually, much better than I expected. [i]Malevolence [/i]pays homage to the good slashers of the late 70's and early 80's with gusto. The characters behave believably (something that usually mars a bad slasher), there's plenty of tension-filled thrills, and the setting is sort of [i]Texas Chainsaw [/i]meets [i]Halloween[/i]. Too bad that it [i]is[/i] just another slasher that doesn't offer anything new to the sub-genre.[/color][/size] [img]http://www.horrormovies.com/images/Malevolence.jpg[/img] [size=4]Rating: 6/10 :fresh: [/size] [size=4][color=red][i]Seed of Chucky[/i][/color][/size] [size=4][color=white]Downright crappy. Chucky isn't funny, the script is somewhat funny in that it shamelessly makes fun of its star (Jennifer Tilly), and the film is NOT SCARY AT ALL! Although, there is a nice scene where RedMan gets disemboweled. This series needs to stop, but seems to be as unstoppable as its villain. The horror![/color][/size] [img]http://images.amazon.com/images/P/B0007A94CI.01.LZZZZZZZ.jpg[/img] [size=4][color=white]Rating: 1/10 :rotten: [/color][/size] [size=4][color=red][i]Boogeyman[/i][/color][/size] [size=4][color=white]Looks good, most of the time, but is about as scary as a clogged toilet. The plot makes absolutely no sense in that we don't know what the Boogeyman is, where he comes from, what his powers are, what grudge he has against the protagonist, why he disappears for years on end only to resurface later, etc. Completely boring ... except during some rare moments involving the title monster towards the end. But by then, the movie has fallen too far to salvage any respect from the audience.[/color][/size] [img]http://cinemaclock.sympatico.msn.ca/images/dvd/6625-1-boogeyman__speci.jpg[/img] [size=4]Rating: 4/10 :rotten: [/size] [i][size=4][color=red]Cold & Dark[/color][/size][/i] [size=4][color=white]Definitely the best of my recent views. [i]Cold & Dark [/i]is a British film from director Andrew Goth (B.U.S.T.E.D.), and looks and feels much like many British horror films to have come out in the past 5 years or so ([i]Darkfall[/i] and [i]28 Days Later [/i]to be more precise). [i]Cold & Dark [/i]is the story of two cops who practice their own form of vigilante justice after one of them dies in a bust-gone-bad --- but comes back to life with newfound powers. Of course, the blessing turns to curse and the still-human cop has to decide between loyalty and morality. The characters are a little flat, and the story is too romantic in the classic sense of the word to be really frightening, but it's stylish, fun, and induces a cringe or two.[/color][/size] [img]http://www.brafilm.se/movie_images/h_107842.jpg[/img] [size=4][color=white]Rating: 7/10 :fresh: [/color][/size] [size=4]That'll about do it for now. Should have a list of books up pretty soon (I'm in the middle of reading about 5 or 6 of them right now ... and will start posting as I finish).[/size]
Sean Flynn
Malevolence Quotes
There are no approved quotes yet for this movie.