Malibu's Most Wanted
(2003)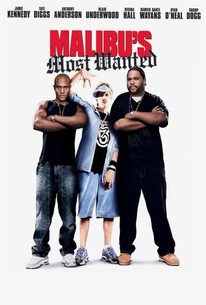 Malibu's Most Wanted Videos
Malibu's Most Wanted Photos
Movie Info
A rich kid who likes to pretend he's from the wrong side of the tracks gets a taste of the real thing in this comedy. Brad Gluckman (Jamie Kennedy) is the son of a wealthy and socially prominent couple (Ryan O'Neal and Bo Derek) and grew up in the lap of luxury in Malibu, CA. However, Brad likes to imagine he's a street-smart gangsta from the mean streets of L.A., and he's been trying to launch a career as a hardcore rapper under the name "B-Rad." Mr. Gluckman is running for Governor of California, and both he and his campaign manager (Blair Underwood) are convinced Brad's antics could have a negative impact on the election, so they come up with a scheme to change his mind about the supposed glamour of street life. Mr. Gluckman hires a pair of African-American actors (Taye Diggs and Anthony Anderson) to impersonate a pair of gang-bangers from Compton who carjack Brad's SUV and take him to the 'hood, where he'll learn just how scary the thug life can be. However, it soon becomes obvious the actors don't know much more about life in Compton than Brad does, and as Brad gets used to his new surroundings, he falls for a girl from the neighborhood (Regina Hall) who has her own plans for moving up in the world. Malibu's Most Wanted was inspired by a character Jamie Kennedy created for his sketch comedy series The Jamie Kennedy Experiment. ~ Mark Deming, Rovi
Rating:
PG-13 (for sexual humor, language and violence)
Genre:
Directed By:
Written By:
In Theaters:
On DVD:
Box Office:
$34,308,901.00
Runtime:
Studio:
News & Interviews for Malibu's Most Wanted
Critic Reviews for Malibu's Most Wanted
Audience Reviews for Malibu's Most Wanted
½
Jaime Kennedy's magnum opus about a white kid/wannabe/ghetto hood makes valid social commentary while garnering a few chuckles. Its point is made by the fact that everyone by now knows a least one somebody "keepin it real!" who really ain't, but don't know it yet.
Kevin M. Williams
Super Reviewer
Sean Gillespie
Super Reviewer
"Don't be hatin'" A senator arranges for his son, a rich white kid who fancies himself black, to be kidnapped by a couple of black actors pretending to be murderers to try and shock him out of his plans to become a rapper.
REVIEW
Great premise, but they managed to muck it up. This flick was big on stereotypes; small on imagination. A lot of the humor was sophomoric and crass; indicating a not- too - mature writing staff. Some adult supervision would have greatly enhanced this predictable bore. The casting was great - all the main characters were quite capable and the movie did have its moments. Jamie Kennedy had the rap-wannabe dialect down. The movie quickly became bogged down with racial stereotyping, however: hostile blacks, lots of guns, women as sex objects. This film had lots of potential - it just needed some direction and, in the end, originality. The word "bitch" was used so frequently as it would indicate that the script writer received royalties for it. "Bitch", "bee-och"; it quickly graduated from offensive to nauseating.
Lorenzo von Matterhorn
Super Reviewer
Malibu's Most Wanted Quotes
| | |
| --- | --- |
| Hadji: | Is that a freaking musket? |
| | |
| --- | --- |
| Hadji: | What are you supposed to be? Robo-bitch? |
| | |
| --- | --- |
| Shondra: | Damn! What happened to you? |
| Brad Gluckman: | Shut up hoe. |
| Shondra: | Hoe! Who you callin' a hoe, hoe? |
| Brad Gluckman: | You hoe! The same hoe that gave that weak ass kiss 5 minutes ago in the bedroom. |
| PJ: | Shondra? |
| Sean: | I told you she liked white boys. |
| | |
| --- | --- |
| Brad Gluckman: | Traffic traffic Looking for my chapstick Feeling kinda carsick There's a ford maverick |
| Brad Gluckman: | Traffic traffic Looking for my chapstick Feeling kinda carsick There's a ford maverick. |