Malice in Wonderland
(1985)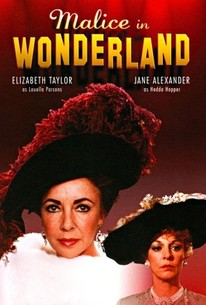 AUDIENCE SCORE
Critic Consensus: No consensus yet.
Malice in Wonderland Photos
Movie Info
When the made-for-TV The Rumor Mill first aired on May 12, 1985, it bore the title Malice in Wonderland. This joyously inaccurate biopic concerns itself with Hollywood's two foremost gossipmongers of the 1930s and 1940s: Louella Parsons and Hedda Hopper. Long involved in the film industry, Parsons used her ironclad relationship with publishing mogul William Randolph Hearst and the "confidential" information gleaned by her physician husband Harry "Docky" Martin to outscoop every other columnist in Tinseltown. Parsons' awesome power remained unchallenged until 1938, when Hedda Hopper, a character actress fallen on hard times, was hired as a gossip reporter by one of Hearst's rivals. Thereafter, it was every woman for herself: the blood feud between Parsons and Hopper raged unabated until the latter's death in 1966. Jane Alexander's on-target portrayal of Hedda Hopper won her an Emmy nomination; no less impressive (though not as accurate in her characterization) is Elizabeth Taylor as Louella Parsons. Other Emmy nominations went to the costume design and sound mixing, while Philip H. Lathrop won the statuette for his '30s-style photography. The "look who that is" supporting cast includes Richard Dysart as Louis B. Mayer, Eric Purcell as Orson Welles, Tim Robbins as Joseph Cotten (who once booted Louella in the derriere), Jason Wingreen as Jack Warner, Gary Wayne as Clark Gable, Denise Crosby as Carole Lombard, and Thomas Byrd as Hedda Hopper's actor-son William. Adapted from George Eels' waspish book Hedda and Louella, Malice in Wonderland is delightful, high-class claptrap.
Critic Reviews for Malice in Wonderland
There are no critic reviews yet for Malice in Wonderland. Keep checking Rotten Tomatoes for updates!
Audience Reviews for Malice in Wonderland
½
Your enjoyment of this will depend on an interest in golden age Hollywood, if you have it than this is an pleasant diversion with a high voltage movie star and an accomplished actress. If you don't than there isn't much here to hold your attention. The real pair of women were far more venal than they are portrayed here but for a TV movie this isn't bad. Liz is fine although her decision to approximate Parson's droning speaking voice while accurate doesn't enhance her performance, it's just distracting. The top performance comes unsurprisingly from Jane Alexander. She gives nuance and meaning to Hopper that surely wasn't in the script. Most of the supporting cast is bland and forgettable, it is surprising to see Tim Robbins pop up in the small role of Joseph Cotton. The production design and in particular the wardrobe is very high quality and adds a nice sheen to the proceedings.
I haven't seen this, but I saw a 'Malice in Wonderland' made in 2009, which has all the characters in Lewis Carroll's book, with a twist. Alice doesn't dream, but suffers from amnesia, because she was hit by a taxi, and wakes up in a confusing underworld. I thought it was a pretty interesting film.
Alice Smith
Super Reviewer
Malice in Wonderland Quotes
There are no approved quotes yet for this movie.
Discussion Forum
Discuss Malice in Wonderland on our Movie forum!