Malos Hábitos (Bad Habits)
(2007)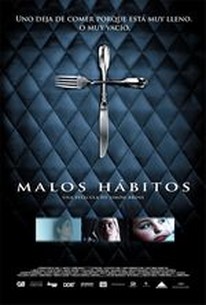 AUDIENCE SCORE
Critic Consensus: No consensus yet.
Malos Hábitos (Bad Habits) Photos
Movie Info
The first feature film from director Simon Bross, the drama Bad Habits shows how a person's approach to food greatly affects one's life. Jimena Ayala plays a nun named Matilde who believes that eating next to nothing will help God stop the suffering of others. She trains pudgy, young Linda (Elisa Vicedo) for her first communion. Linda's mother is an emaciated exercise addict who frets over her daughter's shape. Linda's father, Gustavo, is a libertine who enjoys food as well as a healthy sex life with a mistress. Gustavo, an architect, must figure out why the pipes of a local school are leaking under the strain of a seemingly ceaseless rainstorm. ~ Perry Seibert, Rovi
Rating:
R (for sexuality, nudity and brief language)
Genre:
Directed By:
In Theaters:
On DVD:
Runtime:
Studio:
Distrimax
Critic Reviews for Malos Hábitos (Bad Habits)
All Critics (3) | Top Critics (1) | Fresh (3) | Rotten (0)
In Bad Habits (Malos Habitos), a reporter on TV says, "Mexico is drowning." It rains relentlessly throughout the film, creating a mood of gloom and helplessness. The characters are also drowning, emotionally and psychologically, in this vivi

Another great Mexican director, with a personal vision, emerges.

Audience Reviews for Malos Hábitos (Bad Habits)
½
Question: Why is Bad Habits one of those artroom movies you don't want to see? Answer: It is really bad. Or, to be less concise, the movie has all the mannerisms of an art movie, but lacks the content. With detailed shots of all kinds of delicacies, the film succeeds in making us hungry, and consecutively, the shallowness of its characters makes us equally hungry for a better script. The central fault of the film is that it all comes from above - the storylines are all cerebrally designed to focus on food. In an annoying meddle, the film combines an anorexic wife, a chubby daughter who hides sweets in kangaroo pouches, an adultering husband who loves to eat (various things) in bed, a nun who eats trash and another nun who revels in gluttony. Being defined by food, the characters are painfully two-dimensional, and the potential of the only interesting story (anorexia and family decay) is underdeveloped. Thus, when a riddle appears at one point (why the hell are drainage pipes leaking?), one instinctively knows that even this answer must be related to food. Indeed, it is. To list more of script's faults, the film's constant tempo is definitely a problem. Bad Habits feels considerably longer than its hour and a half, and the viewer drowns in unremitting rain and bluish palette of the scenes. I felt a twang of pity for the person who had to edit that material in postproduction. Among other faults, I also have to mention the confusing and superfluous storyline about nun martyrdom; the sudden sickness of husband's mistress (an overt device for solving the riddle); and the general failure to produce an emotional impact (apart from a gruesome IV scene). Still, acting and casting were well-handled and the anorexic mother made a very believable impression of having a mental disease. Cinematography should be praised as well, the film offers many interesting shots. However, the film ultimately fails as a whole. Not even the occassional spark of brilliance in the script (daughter's inventive use of medicine) can enliven the film enough to save it from its artificial script.
Herbert Hercenstube
Not many movies can have food as their main subject, and bad habits is all about food! Yes, there is rains too... that aren't enough to wash away the sins of overeating and under-eating... Well executed movie, precise, well-cast debut from director Simon Bross. A lot of irony with well balanced humour mixed with different attitudes toward indulgence and deprivation. Watch it...
½
This is NOT a horror film like someone reviewer posted below. Far from it. It is an interesting examination of food in the context of a Mexican town and various women and Mexican families. It basically looks at our love/hate relationship with food, faith, fat, diet, and body image. It is an interesting examination if not a very dark one overall. Something that Westerners need to hear and see what we have exported to other countries. Thin is beautiful. etc. However, the way food also plays into the 7 deadly sins, glutton, faith, and fasting. In this case going a bit too far. Also the symbolism and context of rain plays a big part which is interesting.
Ted Rohe
Malos Hábitos (Bad Habits) Quotes
There are no approved quotes yet for this movie.
Discussion Forum
Discuss Malos Hábitos (Bad Habits) on our Movie forum!