Man Bites Dog
(1992)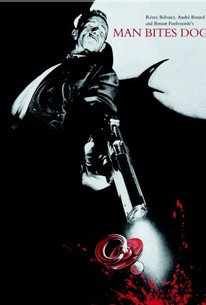 Movie Info
Man Bites Dog is a Belgian faux-documentary and high-concept satire of media violence which follows the lethal exploits of Benoit Benoit Poelvoorde, an affable, and very talkative, serial killer. He kills for money, and he kills for pleasure, and he talks all the while about philosophy and the proper technique for weighing a corpse down underwater. He is followed through his slaughter-fest by the filmmakers, Rémy and André (the actual filmmakers, Rémy Belvaux and André Bonzel), and the line between reporter and subject becomes blurred pretty quickly. The filmmakers become more and more involved in Benoit's actions, starting with the relatively innocent act of holding a flashlight for him. Eventually, when their funding runs out, Benoit hires them to continue making the film, and soon they are accomplices in a gang rape. While this film has the subtlety of a sledgehammer, its message rings true: the media tend to become part of the stories they report upon as surely as a physicist changes a wave by looking at it.
News & Interviews for Man Bites Dog
Critic Reviews for Man Bites Dog
Audience Reviews for Man Bites Dog
½
A shocking and engaging mockumentary that takes a unique and often difficult look at violence in our society. The subject of the film Benoit is disturbingly believable as the maniacal yet oddly likeable sociopath. While Benoit participates in extraordinary acts of violence, the filmmakers do a great job making sure that we are entertained the entire time. In that way we are giving consent for the madness to continue. Even as the camera crew in the film began to become more and more complicit in Benoit's crimes, we as the audience can share in their wonder. It is a well made film and even though it is hard to watch at times, you cannot help but watch. It is violent entertainment critiquing violence as entertainment and it does a very good job at achieving that goal.
"Once I buried two Arabs in a wall over there... Facing Mecca, of course.". Man Bites Dog is a very shocking, disturbing, and darkly funny documentary style film. It's one of the best documentary style films I've seen. The content isn't for everyone and is very graphic. A rape scene in this makes the one from A Clockwork Orange look like PBS television. The themes of this film are interesting in the least. What makes the film terrifying is the fact that there are people like this in the world. They aren't easy to spot. They seem normal, but they are capable of the extreme violence like that of the serial killer in this movie. Although it is graphic, the film is very funny as well. The killer makes a lot of smart cracks and some of the irony of the movie is pretty funny too. Some of the funniest scenes occur when the killer is talking about what he does in a serious manner. Not for everyone, but well worth the watch if you can tolerate the material. Last scene is amazing, and Blair Witch owes a lot to it.
Melvin White
Super Reviewer
½
I remember this movie. I kind of wish I had seen it before I saw the English-language remake from Britain, though (The Last Horror Movie). It's a fairly novel concept for a horror movie: a serial killer gets a documentary film crew to follow him around, and generates the films scares organically and simply through his own behaviour. I kind of feel the way I do when I watch a movie's parody before I see the original: when the first thing you've seen is a reworking, retooling and improvement on an idea, the original source text seems a little pale by comparison. The protagonst-killer in this movie is not nearly as likeable as he was in The Last Horror Movie, and the story isn't as inventive (not by a long shot) as Behind the mask. Still, for the time it was made and what it does, it's a very effective film. It gets extra points for being the first of its type (to my knowledge).
Emily Armstrong
Super Reviewer
Man Bites Dog Quotes
| | |
| --- | --- |
| Ben: | With women you can't always tell if the door's open and if it's time to add seed or get the hell out. I've been hurt because I'd open the door wide and they'd shut it. |