A Man Called Sledge
(1971)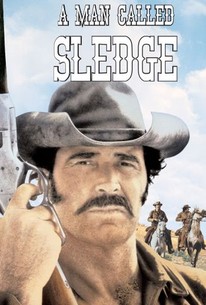 AUDIENCE SCORE
Critic Consensus: No consensus yet.
A Man Called Sledge Photos
Movie Info
In this Italian western, an outlaw enlists the aid of his pal and a robber gang to pull off a gold heist. Later, the gang argues about how the loot should be split. When a treacherous robber gang absconds with the gold, the outlaw and friend set off to capture them.
Critic Reviews for A Man Called Sledge
All Critics (3) | Fresh (0) | Rotten (3) | DVD (1)
Gets the violence part right, but there's not much else to the tired plot line.

Ozus' World Movie Reviews
A slapdash affair cobbled together to cash in on the Leone/Eastwood sensation of the late 1960's.

Audience Reviews for A Man Called Sledge
½
160327: First off, I have never been a big fan of James Garner. Even in this film, he strikes me...wrong? But, this is a pretty damn good movie. Spaghettiesque in its soundtrack, score and filming. And, there is some fantastic cinematography contained within; the most beautiful being a headshot of Laura Antonelli (Ria) about mid-way through. She's beautiful and steals from the amazing landscape. Features some fantastic western stars including Dennis Weaver, Claude Akins and John Marley; most of whom are part of Sledge's gang. The musical score is very reminiscent of Quentin Tarantino's Django Unchained (2012), or should I say, Tarantino may have taken some inspiration from this film. This one surprised me and is well worth watching. A saver.
John Redshaw
½
Somewhat better than I was expecting, Garner gets to play a real mean hombre - who is putting off that decision of finding a new leaf worth turning over.
Christopher Bergan
½
Luther Sledge and gang have just robbed a stagecoach in the old west. But that victory does not come without a cost, as the coach driver is accidentally killed and Sledge's partner soon after dies in a card game. None of which stops Sledge from meeting up with Ward(Dennis Weaver) and Hooker(Claude Akins) to discuss an ambitious new plan to rob a gold shipment. At the same time, there is an old man(John Marley) following them who might have some inside knowledge. "A Man Called Sledge" might not be what would one would normally expect from a typical James Garner vehicle, as this is a Spaghetti western where he plays a much more ruthless character than the charming rogues he was usually known for.(That does partially explain why the forced romantic subplot never quite gels.) That having been said, there is still plenty to admire in this entertaining and violent genre smash-up where death is a constant companion for the characters in a movie made during the sunset of the western. On the other hand, it does take the outlaws a long time to find the obvious, if very daft, solution.
A Man Called Sledge Quotes
Discussion Forum
Discuss A Man Called Sledge on our Movie forum!