The Man from Beyond
(1922)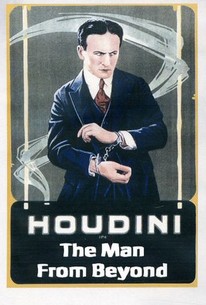 AUDIENCE SCORE
Critic Consensus: No consensus yet.
The Man from Beyond Photos
Movie Info
Legendary escape artist Harry Houdini both produced and starred in The Man From Beyond. Houdini plays a man who has been frozen in an Arctic block of ice for 100 years. Once he's thawed out, Houdini tries to straighten out the lives of the descendants of his old friends and lost loves. The sequence everyone remembers from Man From Beyond involves Houdini's near-plunge over Niagara Falls, which has been excerpted in several silent-film pastiches, notably 1961's Days of Thrills and Laughter. Question: If we know Houdini's prowess for wriggling out of straitjackets, prison cells etc., how can there be the least bit of suspense in Man From Beyond? Never mind: you'll want to see it anyway, just for the chance to glimpse the great Houdini in action.
Critic Reviews for The Man from Beyond
Audience Reviews for The Man from Beyond
High melodrama that did not keep my interest. The acting and camera composition are not very inventive. Houdini's character, Howard Hillary, does a couple escapes and stunts as expected. Two Arctic explorers, Dr. Sinclair and Duval, find Houdini's body frozen and discover he's been there in stasis for 100 years. We gradually hear Hillary's story. He was first mate to a jealous captain on an 1820's ship and Hillary loved a girl named Felice. Hillary is brought back to 1920s society, but his culture shock is never really explored. Dr. Sinclair's brother-in-law Dr. Strange has gone missing. Sinclair's niece and Strange's daughter coincidentally is named Felice. Strange's neighbor, Dr. Trent, wishes to marry Felice, but Hillary mistakes her for his love and interrupts the ceremony. Trent is revealed to be a villain, but Hillary is a surprise variable in his plans. Houdini and Connelly, who plays both versions of Felice do have a couple good scenes. The action is not very thrilling because you can easily see through the camera tricks. Ultimately, the theme is whether those involved believe in reincarnation.
Byron Brubaker
Super Reviewer
This was my favourite of the Houdini movies. Although towards the end it feels longer than it really was for some reason. The movie isn't just about him escaping from some captors in every scene as in his other movies. There's a really good story in this one, it's more fantastic and romantic, and there's suspense and action and everything. I really liked it.
The Man from Beyond Quotes
There are no approved quotes yet for this movie.
Discussion Forum
Discuss The Man from Beyond on our Movie forum!