Man of Aran
(1934)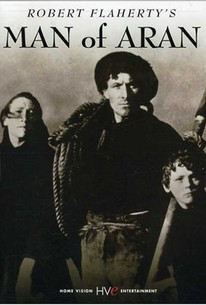 Movie Info
Nonfiction filmmaking pioneer Robert Flaherty's first sound feature elaborates on themes presented in his two previous major works, Nanook of the North and Moana. In all four of his major features, including Louisiana Story, Flaherty explored the relationship of man to his natural environment. This film was shot between 1931 and 1933 on the Aran Islands, west of Ireland's Galway Bay. Flaherty's screen "family" was actually composed of three unrelated islanders chosen for their photogenic appeal: Colman "Tiger" King is the title character, a no-nonsense fisherman, Maggie Dirrane plays his wife, and Michael Dillane his young son. Flaherty is more interested in recording the natural beauty of the islands, which are largely rock, and the surrounding sea than in presenting any formal information on the lives of the islanders. Life here is as elemental as it was for the Eskimos in Nanook and the South Seas islanders in Moana. Though the film came under fire from some critics at the time of its release for not presenting the social conditions that hampered the lives of the islanders -- many of them renting from absentee landlords indifferent to their economic well-being -- it has come to be accepted as work of film poetry rather than a social document. ~ Tom Wiener, Rovi
Rating:
NR
Genre:
,
Directed By:
Written By:
In Theaters:
On DVD:
Runtime:
Critic Reviews for Man of Aran
Audience Reviews for Man of Aran
A very interesting film, it's not quite a documentary, but also not quite a normal narrative film. It reminded me of Herzog's films in many ways, especially Aguirre, where much of the events were staged, but they were also real in a strange way. A very interesting film!
Matt Kendrick
Robert Flaherty is hailed in many circles as being a genius of documentary filmmaking and, in a sense, the O.G. of it too. He's an explorer turned filmmaker, who made some of his bold explorations into some of the most visually satisfying films of the first half of the 20th century. Man of Aran is a film he made in the middle of his life on the islands of Iran, three barren and rocky islands off the coast of Ireland. As time has passed, Flaherty films have become known more for their technical sophistication than for their truthful telling of a story. Man of Aran is more of a drama than a documentary. Flaherty depicts a life of Aran islanders that is for the most part a complete falsification. The family depicted is not related at all, but three random islanders picked for their looks. The actions depicted are not necessarily truthful, as the epic point in the piece is a two day shark hunt, when in reality the Aran islanders hadn't hunted sharks for years. Flaherty inflicts his own personal vision of what it's like to be an Aran islander through the film, without a whole lot of care for the actual life that the people lead. Shameless? Well after the coming of cinema verite, yes. But at the time this was what documentaries were about, it was an artist portraying his own vision through a fictionalized version of the truth. It certainly works as a film. Man of Aran is deeply beautiful, and cut insanely well as a documentary, but the chopping of the film allows you to see through the supposed truthful portrayal. Shot after shot is matched, and you start to be overwhelmed by the fact that you know this was shot very carefully for these cuts on action to work, and that much of this is staged. Flaherty had an eye for how to shoot this vicious, sea-surrounded island, and it comes off looking harsh, violent, and tough. The story of this nuclear family making their way through life in this harsh way because they value their "independence" is also compelling and interesting. Forgetting the impact this film had on its community, and the way it distorts the truth, Man of Aran could be called a masterpiece of documentary filmmaking, and that's certainly part of the reason we remember it today. It's a wonderful drama and a gorgeous film, even if a see-through documentary effort.
Alex Keipper
½
A good documentary, it of course lacks the unique strength of Nanook but it is throughoutly enjoyable. It shows the rough life of a community which, beyond the rather romantic tone of the film suffers in the sternest of environment. I'd say the main problem of the film is that one feels that this time the director does not show us everything. The story is too written. We follow what is obviously the poorest family on this desperate island while not paying any attention to the rest of the population. Besides during what appears to be reenactment, the actors have little else for themselves than their amazing faces. Still worth seeing though.
Ben Gui
Man of Aran Quotes
There are no approved quotes yet for this movie.