Man of Flowers
(1983)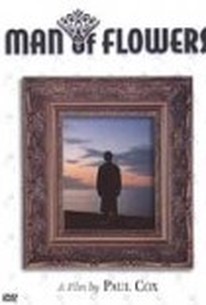 AUDIENCE SCORE
Critic Consensus: No consensus yet.
Movie Info
The Australian Man of Flowers stars Norman Kaye in the title role. A painter, Kaye has earned his nickname from his beautifully rendered flower portraits. He uses his artistic skills as a means of channelling his repressed sexual yearnings, especially his feelings towards nude model Alyson Best. When flowers no longer quench his carnal thirsts, Kaye expresses himself on his pipe organ, hammering out impassioned songs as a sort of musical cold shower. A flashback, which is meant to explain Kaye's hang-ups (but deliberately does not) features German director Werner Herzog in an unbilled cameo as Kaye's father. ~ Hal Erickson, Rovi
Audience Reviews for Man of Flowers
½
Man of Flowers is a strange little film, a product of the eighties, that shows a little skin and hands out a great deal of woo-woo mysticism in the process. The characters are drawn pretty thinly, the problems that each character faces are somewhat formulaic, and the print is dated. But there are a few bright spots. Norman Kaye, plays the eccentric, shy, Charles Bremer with an aristocratic reserve that is almost (almost) believable. Lisa (Alyson Best) is a beautiful young woman torn between this gentle soul and an abusive boyfriend, David (Chris Haywood), who is a tortured, has-been artist with several problems of his own. And Jane (Sarah Walker) is a girlfriend who offers Lisa relationship advice, but has designs on Lisa for herself. What little we know of what led Charles to this is told through flash-backs that appear as dreams, a device that is not entirely effective. It was entertaining, just not very.
Mark Abell
Super Reviewer
This virtually unnoticed drama holds what is certainly among the most captivating opening scenes ever committed to film. A perfectly suited, middle-aged man (Kaye) sits formally in his black leather chair, stoically absorbing the room of sensual pleasure he has crafted: gorgeous floral arrangements, sculptures and paintings, while a lush aria plays and an ingenue (Best) slowly disrobes down to her pearl necklace. Then, with the slightest of glance and touch to his temple, the viewer realizes that, for Kaye, there is a cruel ennui, a certain impotence, in all that he has assembled. The scene is the opening gambit in a character study that slowly slips ever deeper down into the Freudian rabbit hole that is Kaye's asocial psyche, toward the childhood that has brought him to this, his artistic but cloistered, lonely and unsatisfying existence. Soon enough, the relationship deepens and Kaye is confronted with the decision as to whether it will be his own compulsively perfect world - or Best's, saddled with sexual ambiguity and her cokehead wannabe-painter live-in (Haywood) - that he will choose to live. There's a lot of topic on deck here - how adulthood is forged from childhood, what is life's greatest beauty, what May gains from May-December, the torture that middle-aged loneliness can be. Unique, unusual, intellectual, visual, poignant are all more-than-fair adjectives for this film. The film does plod along at points, especially when wading through far too many enigmatic, heavy-handed and redundant childhood flashbacks, and so some patience is required of the viewer. RECOMMENDATION: "Man of Flowers" looks like a Criterion resto job just waiting to happen. True film buffs shouldn't wait.
TonyPolito Polito
Between a 7/10 and 8/10, it's a fascinating concoction, beautifully presented, one that even manages to incorporate some humor to punctuate and surround the peculiar chain of events that make up the film. The end result is a contemplative exercise that's highly engrossing.
Lee Mayo
Man of Flowers Quotes
There are no approved quotes yet for this movie.
Discussion Forum
Discuss Man of Flowers on our Movie forum!