Man of the West
(1958)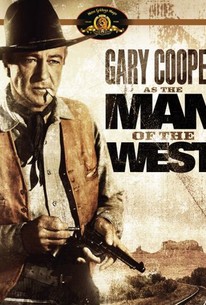 Movie Info
In this western, Link Jones travels to Fort Worth to hire a new schoolteacher there. On the rails, he crosses paths with Sam Beasley, a grifter who plans to rob Jones blind. Instead, Jones and Beasley fall victim to a band of thieves. Left destitute, they set out for revenge.
Rating:
NR
Genre:
, ,
Directed By:
Written By:
In Theaters:
On DVD:
Runtime:
Studio:
United Artists
Cast
Critic Reviews for Man of the West
Audience Reviews for Man of the West
½
Interesting western. We meet Link (Cooper) riding into town to catch the train, he appears innocent, looking to bring back a school teacher for the town he lives in. When the train stops for wood for the steam engine a trio of robbers ambushes the train, along with a fourth on the train they botch the robbery but make off with Links bag. Link gets waylaid while loading wood on the train along with two other people, a gambler and a show-girl. As this trio are walking along the tracks, Link takes them on a slight detour, to the place he says he grew up. In reality the house is an old hideout for the robbers and the ringleader is still alive and knows Link. Lee J. Cobb plays the ringleader in a very sadistic role, a lifetime criminal who would kill anybody at anytime. Julie London plays the showgirl (Billie Ellis), very pretty but very streetwise, who catches on very quick when Link tells a lie that she is his girl the band of criminals buys into his story that he is still a criminal. What gives this story a twist is that Link's horse is still on the train, his guns are in the bag the crooks stole, and he is a changed man who needs to get the money back for the teacher and he needs to protect the two people who are with him. Link shows great restraint when Billie wakes up and shows a wonderful sunrise view and he shows his change in character when he refuses her advances. It is a violent movie that gives us an ending that satisfies us in the revenge department but also has us question how the characters lives end because we have a relationship between Link and Billie but we never meet his wife so the assumption is perhaps these two lost souls make a life together, but we never know.
Mike L
1958 sprawling western about a man's past catching up with him. Cooper's last big film too. While the very end was a sappy "riding into the sunset" ending, and I mean literally, we knew exactly why it came to this. Very recommendable film and worth watching more than once. Felt much longer than its length due to the slow pace, but very watchable nonetheless. Tense, suspensful, thoughtful and above all a Lee J. Cobb Oscar performance. http://www.youtube.com/watch?v=vRR1cFytGS4 see this above small action fight scene. Don't judge the film by this fight scene however. It comes off a bit tame by today's standards. OR, see this for a good background of the film with photos: http://twentyfourframes.wordpress.com/2010/08/20/man-of-the-west-1958-anthony-mann/ The veteran actors, the direction, the script, the shooting of it... all first class. In Cinemascope this widescreen movie is glorious, even on a television. In 1958 this film was dismissed, no doubt due to its slow pace and all too realistic, shadowy characters. It wasn't your Roy Rodgers or Lone Ranger type of show, if you know what I mean. Reformed "Link" Jones meets his past and relatives, the Tobins, a long riding gang of robbers in the West. That's about the sum of it. Can Link get free of his past and return to his town? First, he has to survive a planned bank robbery in Lassoo, a town where he is forced to deal with his past and cooperate with his lawless relatives. Cooper, as old as he is in 1958, still could act. Much like a silent film actor, Cooper is as stiff and wooden as they came. Actually, it came to be his trademark, the few words, the less than smooth reactions. For a long time his style befuddled me, but now I recognize that silent film type of acting. How many times do Westerns begin with the star riding into town? That just amazes me how many times that happens. We have the chance meeting of the lead actress Julie London and our lead star Gary Cooper in the same street scene too. After a while you pick up on these things. As luck would have it, Cooper ("Link" Jones, an odd name) is going to ride a train (no explaination right away, but later we learn he is a hard earned respectable and trusted school official going to Ft. Worth to hire a teacher) with saloon singer and ex-teacher London. I suppose if they didn't ride the same train we wouldn't have the movie. They become introduced on the train by an untypical sociable Mr. Beasley, another veteran supporting actor. We don't know much about Link (Cooper) except that in the first seconds of the movie he is getting on in years and is fresh off the trail, riding into town to catch a train. Much later we learn he is a man living down his awful, lawless past. To sum up, this western is about a settled down and married with children Link (Cooper) stumbling by pure chance on his old uncle Dock (not doctor however) played in typical outstanding fashion by Lee J. Cobb. The current gang of robbers Dock heads is a disappointment to him. Link (Cooper) left Dock long ago to a more lawful life. Cobb is excellent and a gold standard actor in this, so watch him. Dock's gang includes many veteran actors including a young Jack Lord (not anything like the mature Jack Lord of Hawaii Five-O by the way). Coaley (Lord) plays his role to the 10's as a ruthless killer. You'll recognize other veteran supporting actors such as Claude (dozens of movie and television roles to his credit). Mr.Beasley, the fast talking but tenderfoot townsperson, is a veteren actor as well, one of those we know by sight by not by real name. Julie London plays the saloon entertainer early into the film in a scene that is as tense and fantastic with all these actors in the scene. Funny how these westerns always makes these gals to be hot dressers and with no morals. Watch for when she is told to undress by Coaley (Jack Lord) in front of all these wretched men. Luckily, and not terribly realistically but predictably, Dock (Cobb) steps in and stops the insanity. He says it shows he can still handle the gang he leads. I wondered if that would end at some time, a "foreshadowing" event as we like to say in classic literature. The plot thickens as Link (Gary Cooper) pretends to rejoin the gang for a robbery Dock has been planning for years. This reluctant but always quick thinking Link can tell a lie, like his name or past, to anyone on the spot. You can tell there is a plan of escape in his mind. But just when it will happen, we don't know. He plays along with the old relatives, the Tobins, to survive. A defining moment in the film comes when a fight ensues between Coaley (Jack Lord) and Link (Cooper). Now, this is where to me the film has a credibility problem. An aged, potbellied Cooper fights for roughly 5 minutes with stud Jack Lord, half his age. And he half undresses the fatigued Coaley after those 5 minutes. This was symbolic as Coaley held at gun point Julie London to undress in an earlier scene. Well, I guess we owe that fight to poetic justice. The town, if we can call it that, of Lassoo (a comical reference no doubt) is by now no town at all. What a twist of an ending. The Man of the West. A less than compelling title, I would have renamed it: My Past, My Future, That Bag of Money. The town's bag of money to hire a teacher was entrusted to Cooper and he ceasley looks for it to re-establish his town's respect. Lets just leave it at that. Watch the film yourself. I learned of it from friends on RT. Now you have learned of this little known epic from me. Cast Gary Cooper as Link Jones Julie London as Billie Ellis Lee J. Cobb as Dock Tobin Arthur O'Connell as Sam Beasley Jack Lord as Coaley Royal Dano as Trout John Dehner as Claude Robert J. Wilke as Ponch J. Williams as Alcutt Chief Tahachee as Pio Directed by Anthony Mann Produced by Walter Mirisch Written by Will C. Brown (novel) Music by Leigh Harline Cinematography Ernest Haller Editing by Victor Heerman Richard V. Heerman Distributed by United Artists Release date(s) October 1, 1958 (1958-10-01) Running time 100 min NOTES about the film: 1 Man of the West is a 1958 western film starring Gary Cooper, directed by Anthony Mann in his last film in the genre. 2 When first released, the film was largely ignored by American critics, though renowned French critic Jean-Luc Godard regarded it as the best one released that year. In the decades since the film's release, it has garnered a cult following as well as considerably greater acclaim. 3 Some, such as The Guardian's Derek Malcolm consider the film Mann's best[1] and a landmark in the western genre's canon. Malcolm included the film in his 2000 list The Century of Film. 4 James Stewart eagerly sought the role played by Gary Cooper, but since Stewart had fallen out with director Anthony Mann he did not get the part. 5 The movie was a critical and commercial failure on its release in 1958. This was largely blamed on the casting of Gary Cooper, who was considered to have been badly miscast due to his age. 6 The world of Cinema voted this the best action scene EVER filmed. Cooper & Lord were friends long before Lord was an actor. Cooper advised Lord on how to be a movie actor. Lord wore make-up in public at Cooper's advice to never let his fans see him less than a star.  They remained friends until Cooper passed away. ...
monsieur rick
½
Entertaining Gary Cooper western that does a great job telling the story of a man of wants to leave his deadly past behind him. Intellectual western is a good watch, despite an overly dark tone.
Zack Butson
Discussion Forum
Discuss Man of the West on our Movie forum!
News & Features