Man on Wire
(2008)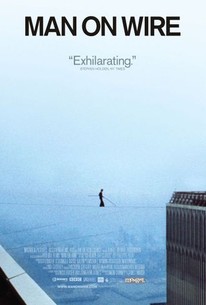 TOMATOMETER
AUDIENCE SCORE
Critic Consensus: James Marsh's doc about artist Phililppe Petit's artful caper brings you every ounce of suspense that can be wrung from a man on a (suspended) wire.
Movie Info
August 7, 1974. A young French man named Philippe Petit stepped out on a wire suspended between the Twin Towers of the World Trade Center. He danced on this wire for an hour with no safety net before he was arrested for what has become to be known as the "artistic crime of the century."
News & Interviews for Man on Wire
Critic Reviews for Man on Wire
Audience Reviews for Man on Wire
A magnificent feat told by its own participants. Emotionally engaging and exhilarating.
Pierluigi Puccini
Super Reviewer
A stuntman/performer dreams up a stunt impossible to ignore in the modern day world full of been there, done that. True enough, I wondered what's the big deal, "a guy on a tightrope", blah, blah, blah, yada, yada. Fueling these thoughts, the man himself, Monsieur Petit, seems a shameless attention hog, one whom it inadvertently pleases one to ignor. But then, the stunt itself ... jaw droppingly, utterly un-friggen-believable! See it.
Kevin M. Williams
Super Reviewer
½
A beatific documentary about a sole subject, this film was basically all about the feat that Petite pulled off, which comes off as sentimental and assured. Still, I would have liked to see a broader view of the accomplishment, one that possibly exaggerated Petite's abilities, showed more backstory, and the way he became a wire walker. Not much is shown on Petite's abilities other than his illegal yet masterful attempts at walking across some of the most famous locations in the world. The subject of the entire documentary wasn't given credence to showcase himself, except in interviews. In said interviews he comes off as childish, imaginative, and has a memory like a steel trap. Instead of truly looking into the depth of the subject the film uses interviews, and those dowdy recreations that pop up on episodes of America's Most Wanted. Though I found the footage of him walking on the wire truly ingratiating and just as feel good as they were purposing it to be, it didn't reel me in with anything all too interesting or new. Beside that the aftermath of the event wasn't shown in a true light and was further romanticized by Petite's ex, who viewed his infidelity as kismet rather than the delusions of a newly made icon. Most of the film covers the buildup to the event, assembling the crew, getting past security, and rigging the equipment up on the top floors of the newly created World Trade Center towers. It varies between flashbacks and interviews and that becomes quite confusing and annoying to boot. Really, it has its moments and was touching at times, but otherwise it was just wishy washy and slightly unpleasant.
Spencer S.
Super Reviewer
Man on Wire Quotes
There are no approved quotes yet for this movie.