The Man They Could Not Hang
(1939)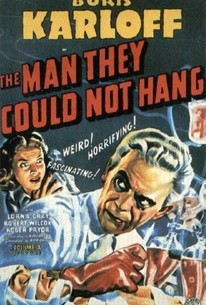 The Man They Could Not Hang Photos
Movie Info
A scientist's greatest invention proves to be his darkest curse in this thriller that was part of Columbia and star Boris Karloff's "mad doctor" series. Karloff stars as Dr. Henryk Savaard, a brilliant heart expert who has created a pump that will allow him to place a patient in a state of death so that vital organs can be replaced with few problems. His first experiment on a human quickly goes awry when his nurse Betty (Ann Doran) sends for the police. The experiment is interrupted leaving the young man dead and Savaard in jail. He is sentenced to hang, but unleashes a bitter diatribe against his executioners promising to avenge his death. After his hanging, Savaard's assistant, Stoddard (Joseph DeStefani), hooks up the corpse to the heart pump and resurrects his boss. Several months pass and a local reporter (Robert Wilcox) discovers that six of the jurors in the case have mysteriously committed suicide -- all by hanging. The newsman's investigation leads him to follow the judge, the prosecutor, nurse Betty, and the surviving jurors to a specially arranged meeting at Savaard's former home. There, they are stunned to discover that Savaard is not only alive, but planning to execute them one by one every 15 minutes. As the bodies quickly begin to pile up, it is through the one person close to Savaard's heart that they can hope to make it out alive. ~ Patrick Legare, Rovi
Rating:
NR
Genre:
Directed By:
Written By:
In Theaters:
Runtime:
Studio:
Sony Pictures Entertainment
Critic Reviews for The Man They Could Not Hang
Audience Reviews for The Man They Could Not Hang
Boris Karloff is awesome as usual, even if some of his supporting cast isn't the best he's worked with. The script, especially the dialogue, is the shining star of this movie, though it seems to end far earlier than it should've. The aesthetics are classy and reminiscent of the wave of flicks that this film is grouped in. It's not a perfect film, but it IS the inspiration for Abominable Dr. Phibes, House on Haunted Hill, Saw, Psycho and more. Definitely give it a watch. B
Bheema Da Cashman
This movie is unbelievable and kind of silly, but I liked it, it was a fun mad scientist movie with Karloff. There was really good suspense and a good actors.
borris carlov is again great but besides him this film is only descent its not a masterpiece because it lags alot but its still a descent movie 6.5\10
cody rothenbucher
The Man They Could Not Hang Quotes
There are no approved quotes yet for this movie.