Manakamana
(2014)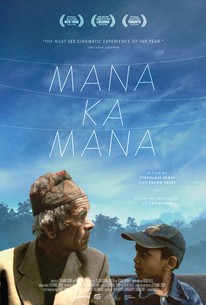 TOMATOMETER
AUDIENCE SCORE
Critic Consensus: Its tranquil pace will prove jarring for the blockbuster-inclined, but Manakamana rewards patient viewers with a singularly haunting experience.
Movie Info
Breathtaking, poignant and mesmerizing, MANAKAMANA is a documentary shot entirely inside the narrow bubble of a cable car, high above a jungle in Nepal, as it transports villagers and tourists to an ancient mountaintop temple. Filmed in 16mm and comprised of 11 rides (each a single take corresponds to the length of a roll of film), MANAKAMANA is a tender, ephemeral character study of its passengers and a window onto the lush, rolling landscape of a country in transition from ancient tradition to modernity. This evocative and rigorously structured documentary presents a rich sensory experience that ignites the viewer's imagination to fill in the past, present and future of each moment as they watch. The New York Film Festival calls it, "...an airborne version of an Andy Warhol screen test...an endlessly suggestive film that both describes and transcends the bounds of time and space." (c) Cinema Guild
Rating:
NR
Genre:
,
Directed By:
In Theaters:
On DVD:
Runtime:
Studio:
News & Interviews for Manakamana
Critic Reviews for Manakamana
Audience Reviews for Manakamana
½
Not really sure what the critic consensus means by "haunting." The film is what it is, a series of people riding a cable car for a little under ten minutes each. People's experiences will vary. To say it's boring or not boring would be false. To say it's important or unimportant would be false. The experience is entirely subjective. Objectively, there is only a little we can say for the film. It doesn't cut from the top to the bottom of the car ride, so we are forced to endure the ride as the subjects do. We can say that the film aims at some sort of truth by refusing to cut, even when one car is just full of goats (which to me felt like it was toying with the audience, like "you think this is interesting? well what do you think about staring at these goats' assholes for ten minutes?"). The setup of the project provides at once a portrait of the individuals that enter the car and a pleasant scrolling landscape whose beauty the subjects often comment upon. That it is a portrait of Nepal society, I don't know... not really sure how people came to that. But the filmmakers did edit it in such a way that the riders and sequence of riders are not random. I identified a juxtaposition between three old ladies in the car referencing briefly the hardships of their childhood and three young rockstar guys taking pictures with their digital cameras. As for my personal viewing experience, I found it to be boring and ridiculous at times, like when the goats came on and it seemed the film was mocking us. But I wasn't completely bored and was at times intrigued. I liked that I had time to contemplate the images but after a while it lost its appeal and was kind of like an endurance test for myself. But it was enjoyable to see who would get in the cart next and at one point I was so transfixed that when the car went over a series of wheels I expected to feel it jiggle me. Would the film have been better if the riders did more? If the filmmakers hadn't included those single riders that barely did anything? I don't know. There certainly isn't a lot of information in the film which creates a desire to search for some which I assume makes people like it because they are looking where they normally wouldn't. I can't say your experience will be good or bad. If you think the trailer looks stupid don't watch it, there is nothing for you. Is there really that much to gawk at here? It all depends on how you see it. But I honestly some people are going overboard in calling this a masterpiece or a portrait of society.
Justin Jaeger
½
You'll either embrace it or you won't. Personally I found it oddly fascinating. Maybe not as much as Leviathan but Manakamana is a totally different mind of film. Human , insightful and oddly emotional. If the idea of simply watching passengers ride a cable car up to a temple intrigues you then give this documentary a go.
Michael Stuhlman
½
Manakamana isn't a movie in most of the normal senses, and it isn't worth judging in comparison to other movies. As an ethnography, I'm not really sure it does much more than give a brief snapshot into a few individuals' lives. I guess the whole thing is vaguely framed as a spiritual thing, and theoretically everyone on the cable car is going to or coming from a temple, but it really just feels like commuting footage, watching people take a bus or a train. This is essentially as boring and prosaic as you'd expect it to be, and the philosophical points to take away from it are not especially interesting - it's an inversion of narrative, focusing on the majority of time in our lives when we're not really "doing" the things we define ourselves by. The people in the art theatre where I saw it made a bunch of suuuuuper bland insights about tradition and modernity and spirituality that I really think were so obvious that they only seemed worth mentioning because those are our narratives about Nepal. The interesting and redeeming thing about Manakamana is its hypnotic quality. The gentle swaying of the cable car, the steady scrolling of the landscape, and the subtle drone noise soundtrack lull you into a state of placid receptiveness. The film is so sparse that, grasping for some relatable moments, small human interactions that wouldn't even be noteworthy in any other context become hilarious, touching, unbearably awkward. The sense of humor translates pretty well through that filter, especially the three metal kids. I'm not sure I'd recommend Manakamana to anyone who wasn't explicitly interested in experimental filmmaking and with a pretty good patience for slow-paced art films, but I enjoyed it.
Adam Kranz
Manakamana Quotes
There are no approved quotes yet for this movie.