The Manchurian Candidate
(2004)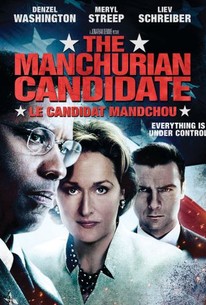 The Manchurian Candidate Videos
The Manchurian Candidate Photos
Movie Info
A psychological thriller in which a career soldier, Army Major Bennett Marco, grows suspicious about his experiences in Desert Storm after Squad Sergeant Raymond Shaw, son of the powerful Senator Eleanor Shaw, becomes a candidate for Vice President.
People Who Like this movie also like
News & Interviews for The Manchurian Candidate
Critic Reviews for The Manchurian Candidate
Audience Reviews for The Manchurian Candidate
It's an enjoyable, thrilling-enough watch, but it's not entirely memorable and suffers from an intriguing but convoluted premise.
Matthew Samuel Mirliani
Super Reviewer
A superbly acted and skillfully scripted story. Denzel, as always is terrific, but the big surprise is Liev Schreiber's awesome performance as a confused politician puppetered by his rich mother. The ending is appropriate and the story is rich in character color.
Dan Schultz
Super Reviewer
The Manchurian Candidate for me is an average thriller that works well enough because of a good cast. I enjoyed the film, but did feel it lacked something to really make it something excellent. If it wasn't for the cast, the film definitely wouldn't have the same effect, as the cast here are well chosen in their respective roles and are perfect in the parts they play. This is a good thriller, but is nothing really excellent. The film does have an entertaining story, which is engaging, however it lacks something really special to make this film memorable. The performances, like I stated is what really makes this film worth seeing, and above all makes the film interesting for the viewer. The Manchurian Candidate is better than what most people may think, and is a good remake for what it is, but of course it does not beat the original. Director Jonathan Demme delivers a good thriller with this remake even though it's not perfect, the film does deliver and entertaining two hours. I think that the film is underrated and was quite good considering that this is a remake. The cast like I said were great, and is one of the key aspects as to why the film works. There are things that could have been improved upon, but for the most part, this remake of the classic Manchurian Candidate is good enough entertainment for anyone looking for a good thriller. I really enjoyed this film and thought it was very good, but it was of course at times uneven.
The Manchurian Candidate Quotes
| | |
| --- | --- |
| Sgt. Raymond Shaw: | sgt. shaw, raymond shaw......raymond printess shaw |
| Eleanor Prentiss Shaw: | Sergeant Raymond Shaw. |
| | |
| --- | --- |
| Eleanor Prentiss Shaw: | But... but when you smile... oh darling, when you smile, that's what I live for. When you smile. |
| | |
| --- | --- |
| Major Bennett Marco: | This isn't an election, this is a coup. |