The Mandarin Mystery
(1936)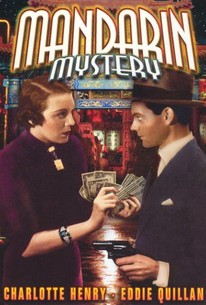 AUDIENCE SCORE
Critic Consensus: No consensus yet.
The Mandarin Mystery Photos
Movie Info
In this mystery, Ellery Queen must look into the theft of a rare Mandarin postage stamp. En route, Queen exposes a counterfeiting ring.
Critic Reviews for The Mandarin Mystery
There are no critic reviews yet for The Mandarin Mystery. Keep checking Rotten Tomatoes for updates!
Audience Reviews for The Mandarin Mystery
½
I got this film on DVD from Mill Creek Dark Crimes 50 Movie Collection. I love the Mill Creek Collection and I seem to enjoy the other movir collections that are out there after all 50 movies for under 18 US dollars how can you go wrong, yes most are public domain and of really horrible film quality but what the heck, these lost treasures in most cases are worth seeing. There's just something about a locked-room murder mystery that appeals to me, and that is exactly what lies at the heart of the 1936 Republic film Mandarin Mystery. Well, not exactly, as the "impenetrably locked room" has two doors, one of which is clearly unlocked (although no one in the film seems to notice this obvious fact). That's not the only odd thing about the film. It's adapted from Ellery Queen's "The Chinese Orange Mystery," but the story here is much different from the book. Mandarin Mystery is as much a comedy as it is a mystery. It's just one quip after another from most of the central characters, especially the character of Ellery Queen himself, who's basically just trying to make time with Josephine Temple (Charlotte Henry), the "dame" who has the stamp stolen and becomes the prime suspect for the murder of a counterfeiter in the aforementioned locked room. All kinds of evidence point suspiciously at Temple, but young Ellery keeps covering up the young lady's suspicious activities from his father, Inspector Queen (Wade Boteler), and the two Queens basically engage in a battle of wits until the mystery is finally solved - which only takes place after a second murder. The Chinese Mandarin is the world's most valuable postage stamp. In what must have been an extremely slow news week, members of the New York press descend on Miss Temple and her unique stamp as soon as she arrives in town. She's on her way to meet a buyer, Dr. Kirk (George Irving), but Ellery Queen latches on to her after accidentally hitting her in the face with a bouquet of flowers. Now maybe it's just me, but if I were a woman, I don't think I would be carrying the world's most valuable stamp around in my purse. It should really come as no surprise that the precious stamp is soon stolen. Miss Temple runs up to see Dr. Kirk, but we see her turn around and go back downstairs - with the stamp - after entering the room adjacent to Dr. Kirk's Stamp Room. When a dead body is then discovered in that locked room, it's only natural that Miss Temple would fall under a cloud of suspicion. The fast-talking, love-smitten Ellery Queen has absolute faith in her innocence, however, and he makes haste to insinuate himself into his father's investigation. The whole story is really just played for laughs. It's impossible to take Eddie Quillan seriously as Ellery Queen, and the dialogue of the film gets more comedic with every passing moment. The somewhat complicated solution to the whole mystery works, but it doesn't generate a whole lot of suspense along the way. The real mystery here is the missing 9 minutes of what was originally a 63-minute film, as the only copies available top out at only 54 minutes. Mandarin Mystery, despite its oddball comedic casting of Ellery Queen, does manage to be entertaining and quite witty in spots, and the mystery itself isn't all that bad, but serious Ellery Queen fans will no doubt come away from this flighty film shaking their heads and telling anyone who will listen that this movie tells quite a different story than the novel it was based on 3 1/2 stars 3-2-13
Bruce Bruce
Super Reviewer
The Mandarin Mystery Quotes
There are no approved quotes yet for this movie.
Discussion Forum
Discuss The Mandarin Mystery on our Movie forum!