Mandela and Deklerk
(1997)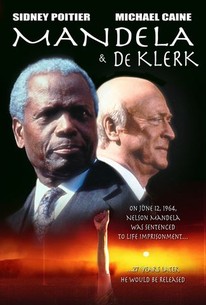 AUDIENCE SCORE
Critic Consensus: No consensus yet.
Mandela and Deklerk Videos
Mandela and Deklerk Photos
Movie Info
In an historical docudrama that was made for television, Sidney Poitier performs the role of Nelson Mandela, while Michael Caine plays the South African president Frederick Willem De Klerk, the man who instituted the reforms that would abolish apartheid, who released Nelson Mandela from nearly 30 years in prison, and who jointly received the Nobel Peace Prize in 1992 with Mandela for creating the transition to a nonracial democracy in South Africa. The negotiations between Mandela and De Klerk for an ordered, legal, and peaceful transition to a full democracy are the bulk of this film's content.
Audience Reviews for Mandela and Deklerk
Tries to Capture Too Much in Too Little Time There are moments which resonate in history. Today, for example, is one of them. As I write this, I am still attempting to process the information that Osama Bin Laden (whose first name still confounds spellcheck, and not in the Osama/Usama debate) has been killed by US forces in Pakistan. We can't yet know how this moment will shape the world, but I think we can all agree it's going to. Similarly, the film ends with footage--both filmed for the movie and "newsreel"--off South Africans voting in the first election where black people could vote. Including Archbishop Desmond Tutu doing the cutest little dance after he dropped his ballot in the box. It's always been kind of disheartening to me that Susan B. Anthony and Elizabeth Cady Stanton never got the chance to vote, though I'll admit I have a hard time picturing either woman doing a happy little voting dance. But even though I imagine everyone in the world knew who was going to win that first South African election wherein colour didn't matter, no one could quite be sure what would happen next. In 1962, Nelson Mandela (Sidney Poitier) was sentenced to life in prison for a whole list of things. Mostly for being a black African who spoke out against the white South African government and had a bunch of followers. Only of course the conflict in South Africa didn't go away no matter how many leaders of the African National Congress got put in jail. With the help of his wife, Winnie (Tina Lifford), he was still able to keep up with what was going on in the outside world and have messages delivered. Meanwhile, South African President P. W. Botha (Gerry Maritz) is having to deal with all of this, not to mention an international community increasingly disinclined to the South African policy of apartheid. (Hint: When only Margaret Thatcher and Ronald Reagan are on your side, you might consider that you're doing the wrong thing.) And eventually, he even loses the support of Ronald Reagan, who signs the American trade embargo into law. And through all of this, F. W. de Klerk (Michael Caine) is slowly gaining influence in the South African government and slowly moderating his views. What has interested me about South Africa for some time now is that they appear to be attempting to get ahead of the curve in human rights. Their policies on AIDS tend to leave something to be desired, but the South African Constitution's Bill of Rights is really an astonishing document. I mean, child labour laws are enshrined in their Constitution. It's in there that people can't be discriminated against for reasons of sexual orientation. Everyone in South Africa is stated to have the right to decent housing, even. And of course the rights which were explicitly taken away from blacks during apartheid are now exhaustively detailed as being guaranteed for all. The rights of the accused are extremely specific. "Never again" is a popular rallying cry, especially after we've just failed to protect someone from something, but South Africa is quite clear on their never again. It even specifically says that you can't be forced into a trade. Everyone in South Africa has the legal right to speak whatever language they please, though there are several official languages. Most of the Constitution, as with the US Bill of Rights, is a tale of lessons learned. There's a certain grim history behind the choice of Michael Caine as de Klerk. It isn't much remembered now, but the British went to war against Afrikaners in what is now South Africa about a hundred years ago. One of the first uses of concentration camps in modern warfare was in the Boer Wars. And of course a mere hundred years isn't anything to speak of when it comes to holding grudges, especially among nations. And I mean, Michael Caine is rightly now Sir Maurice Micklewhite. A British knight, ye Gods. I mean, yeah, Sidney Poitier's British, too, and when the men talk, it's pretty obvious. Neither man manages to hold on to an accent through the entire course of the film, though I'll admit that the average American doesn't have a terribly clear perception of what a South African accent sounds like. But I have read that various white South Africans are less than happy about the casting on this one. Though you figure Nelson Mandela isn't exactly sorry he was played by Sidney Poitier. Sir Sidney Poitier, in fact, though he doesn't call himself that. All in all, this is a pretty workmanlike production. There's very little new information here, and it feels as though they've tried to cram too much of what we already know into a fairly short piece. I mean, I'm not trying to say that the stuff about Winnie isn't a valid subject of examination. In fact, I'd quite like to see more about it, because it's a subject I don't remember very well at all. I spent most of the Mandela administration not really aware of what was going on in the world, in fact. I knew that Nelson and Winnie got divorced, but I assumed that was because they had come to terms with the obvious fact that people can grow apart when they only get to visit a little over the course of twenty-seven years. I think Nelson Mandela probably spent a lot of time pushing his own wants and needs into the background and living for his people and his country. Honestly, that's the Nelson Mandela I'm interested in, and he won't get filmed until the actual man is dead. If then.
Edith Nelson
not a great film, but some good performances by sidney poitier and micheal caine. worth watching if you want to know more about south africa.
Dan OlderMusicGeek
½
the film offers mildly good performances by poitier and caine, both of whom offer more in the realm of emotion than in the realm of accuracy. but the film itself is not emotionally tuned, leaving the charismatic leads out of place and making the film look like a dry history lesson, merely summarizing the events that lead to the end of apartheid. this movie's biggest flaw is the lack of imagination in the script and in its direction. if this film had focused more on the emotional timbre of its subject matter, it would have been a lasting success.
Jason Dennis
Mandela and Deklerk Quotes
Discussion Forum
Discuss Mandela and Deklerk on our Movie forum!