Mandroid
(1993)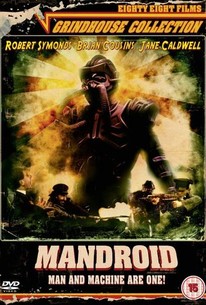 AUDIENCE SCORE
Critic Consensus: No consensus yet.
Movie Info
When a super elixir (capable of either curing all diseases or being used as an all-powerful destructive weapon) is discovered in eastern Europe, a scientist (Curt Lowens) tries to hijack the formula. To prevent the elixir's safe return, he invents an android controlled by the use of thought-power alone.
Rating:
R
Genre:
,
Directed By:
Written By:
In Theaters:
On DVD:
Runtime:
Studio:
Full Moon
Critic Reviews for Mandroid
All Critics (1) | Fresh (0) | Rotten (1)
The film disappoints because the story is slight, the acting is wooden, the cheap special effects are not special and there's no pay-off.

Ozus' World Movie Reviews
Audience Reviews for Mandroid
½
Mandroid... really? Can we get a more geeky, silly title than that? They couldn't come up with a better name? Well I guess Mandorid is rather fitting as it lets the audience know exactly what type of film they are getting into: a cheap, bad, direct-to-video quickie that only the likes of Full Moon Entertainment could make. Our typical science fiction story opens with a group of scientists test running their new creation which is called...oh here we go again... Mandroid (I can't help but laugh every time I type that ridiculous word!). The Mandroid is an ANDROID that is controlled by a human wearing what looks like a virtual boy helmet. Test run goes well until our head scientist lets his partner know that he's selling the work to the American's which in turn pushes his partner over the edge and he flakes out. He decides to steal the Mandorid and in the process, he gets a canister of mushrooms shot that he was holding (more on that interesting story element later!) which contents splatter on his face and disfigures him. Know even more psychotic, ala The Joker, he gets a mute sidekick to take revenge and by-the-numbers plot devices ensue. There is absolutely nothing original in this science fiction drivel of a film. It's your same basic scientific research partner feels cheated, turns evil, and tries to steal creation bullshit. Knowing the story is the same run-of-the-mill crap, our filmmakers add this odd subplot about mushrooms. Apparently these ancient mushrooms were discovered preserved in rock and they have the ability to cure human diseases when exposed to radiation. The "Mandroid" seems to have been created as it can handle the mushrooms as it can take the radiation. What? They take a tired sci fi plot and add this ridiculous mushroom turn to it? The acting is surprisingly decent but that doesn't make up for the fact the plot is ridiculous, cliché, and uninteresting. The film just meanders along without pulling the audience into the plot and by half way into the film I really didn't care anymore. The Mandroid costume also looks cheap and hokey and I almost burst out in laughter ever time it made an appearance onscreen, no matter how hard director Jack Ersgard tries to make it threatening. You can tell Full Moon was desperately trying to make their own comic book inspired film but it doesn't come near the cheesy funness of their other comic inspired film Doctor Mordrid. It just lacks that likeable cheesy goodness of their other films from their classic era (1989-1995). Though Mandroid is forgettable Full Moon material, it somehow inspired a sequel entitled The Chronicles of Benjamin Knight which was promised to us at the beginning of the end credits giving me the impression it was filmed back-to-back with Mandroid. Was Full Moon really that confident that Mandroid would be that big of a hit on the home video market to bank a sequel? Hard to believe...
Eric Reifschneider
½
As the Soviet Union collapses, Dr. Zimmer (Symonds) decides to sell his remote-controlled, industructable robot--the Mandroid--and the wonder-materials that power it to the United States of American. But, as an American CIA agent (Ersgaard) and a dashing young scientist (Cousins) arrive to close the deal, Zimmer's collegue Dr. Drago (Lowens) decides to seize the robot in order to forge a deal of his own. "Mandroid" is basically a live action comic book. It's full of one-dimensional characters, nonsensical science, and violence of a sort you only find in cartoon and comic books. (A car slams into a wall high speed and the occupant is barely dazed, a character is shot in the chest at point blank range is he barely bleeds, and the villain is horribly burned by experimental chemicals and all that appears to happen is that he developes a horrible rash and weird facial features. Oh... and an experimental treatment doesn't heal a character but instead turns him invisible.) It may be nonsense, but it's fun nonsense. It's a film that reminds us of the Golden Age of Full Moon and B-movie mogul Charles Band. It also moves along at a fast pace, with the 71 minute running time zipping by like no time at all. You'll have to park your brain at the door, but if you like old style mad scientist movies, you'll like this one. It's the sort of thing Bela Lugosi, Boris Karloff, George Zucco, Heather Angel and Lionel Atwill would have been featured in if it had been made 50-60 years earlier, or if they had been acting in the 1990s. ("Mandroid" is one of five low-budget sci-fi and horror flicks shot in Romania during the early to mid-1990s that are included in the "Full Moon Classics, Vol 2" boxed set. [url="http://www.amazon.com/gp/product/B0011POHMK?ie=UTF8&tag=stevemillesdo-20&linkCode=as2&camp=1789&creative=9325&creativeASIN=B0011POHMK"]Click here to visit Amazon.com[/url] and learn more about the set and other films in it.) [center][img]http://www.geocities.com/nuelow/movmandroid.jpg[/img][/center] [center][i]Poster art for "Mandroid", featuring a concept not [/i][i]in the movie. [/i][/center] [center][i](But it's probably illustrative of the last-minute [/i][i]script changes [/i][/center] [center][i]that are referenced in the making-of documentary [/i][i]on the DVD [/i][/center] [center][i]release included in the "Full Moon Classics Vol. 2" set.)[/i][/center] Mandroid Starring: Brian Symonds, Jane Caldwell, Brian Cousins, Patrik Ersgaard, Michael Della Femina, Curt Lowens and Ion Haiduc Director: Jack Ersgaard
Steve Miller
[center][img]http://i17.photobucket.com/albums/b98/videodronner/Horror/Fullmoon/Mandroid.jpg[/img] [left][font=Courier New][size=2]I'm continuing my viewing of the films featured in Full Moon Classics Vol. Two, a set that consists of 5 films I haven't seen from Full Moon before, and the terrible trend continues. [i]Mandroid[/i] easily has one of the lamest movie titles ever, and one that doesn't make sense to the film. And it is one of the worst projects I have ever seen from Full Moon. When I hear [i]Mandroid[/i], I think part man, part robot. Kind of like how mermaid is part fish and part woman. The actual "Mandroid" in the film isn't part man, but a full on robot that has to be controlled by a man. So in other words, it is a remote controlled robot. But I guess pasting [i]Remote Controlled Robot[/i] on the cover of the film wouldn't have sparked much interest. I know [i]Mandroid[/i]'s title tricked me into thinking it would be a fun movie. The biggest problem with [i]Mandroid[/i] is that it has zero action and no thrills. The pacing is all off, and the movie doesn't build up to much in the end. The film's villain, Karl Zimmer (Robert Symonds), isn't much of a threat. I would have at least figured his disfigurement in the film would have made him interesting, but it didn't. And for some reason he reminds me a lot of Dr. Doom from the "Fantastic Four" comics. I wish [i]Mandroid[/i] could have had better casting for its heroes, Wade (Brian Cousins) and Zanna (Jane Caldwell) both are lifeless, and sparked no interest from me. Like [i]Robot Wars[/i]' heroes, this might have been due to the fact that the screenplay doesn't do anything to make Wade and Zanna into interesting characters. Not even the deaths of friends and family, or any sort of bodily harm they came across made me care about them. And that makes me feel like a monster admitting that. The film ends rather abruptly, but was quickly followed by a sequel (which I will review tomorrow). Both films could have been part of one movie, but I don't think that would have helped much anyway. I'm hoping that there is something from this box-set of films that will reassure my love of Full Moon's movies.[/size][/font] [/left] [/center]
Bryan Gomez
Mandroid Quotes
There are no approved quotes yet for this movie.
Discussion Forum
Discuss Mandroid on our Movie forum!