Manhunt
(2013)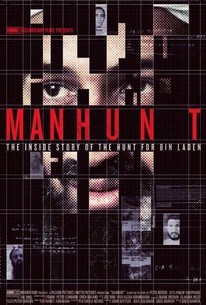 Movie Info
This documentary from director Greg Baker explains how the CIA hunted Osama Bin Laden for nearly a decade after the attacks on 9/11, eventually locating him in a hideout in Pakistan that was raided by Navy Seals, resulting in the death of the wanted terrorist.
Rating:
NR
Genre:
,
Directed By:
In Theaters:
Runtime:
Studio:
Motto Pictures
Critic Reviews for Manhunt
Audience Reviews for Manhunt
Manhunt is an incredible documentary about the hunt for Osama Bin Laden, a terrorist who murdered thousands of innocent men, women and children. The film takes a look at the beginnings of the hunt for Bin Laden from the year's he was fighting against the Russians to the year he was finally killed by US Navy Seals. The hunt for Bin Laden took two decades and a lot of hard work, and Manhunt is a compelling, in depth documentary about this interesting subject. This is one of the most thrilling documentaries that I have seen and anyone interested in the subject owes it to themselves to see this film. Featuring captivating interviews by those involved in the hunt for the world's most wanted terrorist, Manhunt is thrilling from beginning to end. This is a well executed documentary that should be seen by anyone looking for a good documentary to watch. This is among the finest films on the hunt for Bin Laden that I have seen, and it is quite in depth in its subject matter. I've seen plenty of documentaries on the subject, and this is by far the best one. This is a thrilling, exciting and above all important, because the hunt for Bin Laden and his ultimate demise was probably the most significant Military and espionage operation since 9/11. I really loved the documentary, and it is an entertaining ride from the first frame to the climactic end to the Manhunt of the most wanted man in U.S history. In terms of documentary filmmaking, this one accomplishes what it sets out to do, and gives the viewer something truly something great to watch.
Informative and deep account of the two decade hunt for Osama bin Laden. This should be required viewing for all American citizens.
Ryan Voss
It's deeply moving, informative and important. There are even a few laughs. I had a very good sense of the people who worked vigilantly and diligently in the CIA to provide information that was misused, abused, and correctly used and I felt all those people's frustrations and joys. The very last line in the film sums up the whole experience for me but since it's spoilery (not a word I know), I won't share. Thank you HBO for letting it be shown at the Full Frame Documentary Film Festival circa 2013.
Barbara Collins
Discussion Forum
Discuss Manhunt on our Movie forum!