The Manitou
(1978)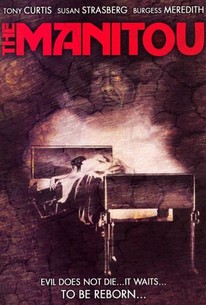 Movie Info
A psychic's girlfriend finds out that a lump on her back is a growing reincarnation of a 400 year-old demonic Native American spirit.
Critic Reviews for The Manitou
Audience Reviews for The Manitou
A woman goes into the hospital to have a tumor on her neck looked at, it turns out that the growth is in fact a 400-year-old Indian Shaman. Tony Curtis, Burgess Meredith and a Medicine Man team up to prevent it from from taking over the world. Strange hokiness ensues...
Ken Stachnik
Super Reviewer
½
A 400-year old Indian shaman reincarnates himself as a tumor in a woman's back, and a fortune telling charlatan (Tony Curtis) must harness the power of ancient Indian medicine and the modern electric typewriter to stop him from bringing Satan into the world. The movie-star cast mostly plays the ridiculous premise straight-faced, and along with the cheap but colorful sfx (dig that cosmic climax!) they keep this entertaining throughout, something "better" written and directed movies often can't seem to do.
½
I always reminise on this film and so I decided to watch it after 20 or so years and well its not so bad. Its a sci fi / horror/ occult film based in San Fransisco. Its kind of funny and not scary but its not bad.
Alexander Wilson
Super Reviewer