The Manitou
(1978)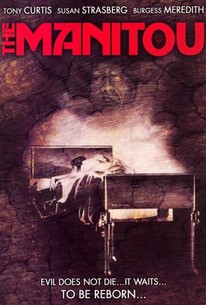 Movie Info
A psychic's girlfriend finds out that a lump on her back is a growing reincarnation of a 400 year-old demonic Native American spirit.
Critic Reviews for The Manitou
Audience Reviews for The Manitou
"The Manitou" is about an evil 400-year-old Native American medicine man whose reincarnated fetus is rapidly gestating inside the neck skin of Susan Strasberg, a woman whose mystic tarot card reader is played by Tony Curtis (!). Needless to say, unintentional hilarity ensues. Wait 'til you see this creepy little medicine man (no, I'm not kidding - and, unfortunately, neither were they) crawl out from between her shoulder blades, waddle around the hospital floor, grimacing and making stereotypical "Indian" chanting noises. Oh! And marvel at the "Star Wars"-inspired finale (yes, once again, I am not kidding). It's a real gas, this one. "The Manitou" is absolutely, positively one of the worst films I have ever seen, and yet I found some enjoyment in its seemingly endless 104 minutes of ridiculousness. Go figure.
Christopher Lozier
A woman goes into the hospital to have a tumor on her neck looked at, it turns out that the growth is in fact a 400-year-old Indian Shaman. Tony Curtis, Burgess Meredith and a Medicine Man team up to prevent it from from taking over the world. Strange hokiness ensues...
Ken Stachnik
Super Reviewer
½
A 400-year old Indian shaman reincarnates himself as a tumor in a woman's back, and a fortune telling charlatan (Tony Curtis) must harness the power of ancient Indian medicine and the modern electric typewriter to stop him from bringing Satan into the world. The movie-star cast mostly plays the ridiculous premise straight-faced, and along with the cheap but colorful sfx (dig that cosmic climax!) they keep this entertaining throughout, something "better" written and directed movies often can't seem to do.
Discussion Forum
Discuss The Manitou on our Movie forum!