Mannequin
(1937)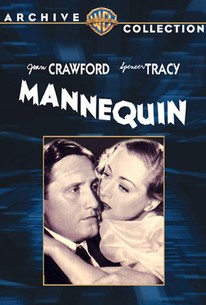 AUDIENCE SCORE
Critic Consensus: No consensus yet.
Movie Info
A poor young girl (Joan Crawford) marries a con artist (Alan Curtis), but then falls for a shipping magnate (Spencer Tracy) after leaving her husband to enter the work-a-day world as a store-window model. The two are happy together, but must face a scheme from the con man, who resurfaces with plans for blackmail. The song "Always and Always" received an Oscar-nomination.
Critic Reviews for Mannequin
All Critics (3) | Fresh (0) | Rotten (3)
Uneven look at a woman trying to climb out of poverty in the Depression.
Classic Film and Television
A woman's pic that takes her point of view on marriage as if it were gospel.

Ozus' World Movie Reviews
Audience Reviews for Mannequin
Not an instant classic, but fine performances from Joan Crawford and Spencer Tracy. Being a pre-code film, it also has some fun zingers and one-liners that would quickly disappear from later classic films.
Vadim Dyment
[IMG]http://i18.photobucket.com/albums/b106/hereinmyhead/manoman.jpg[/IMG] Director Frank Borzage takes a typical rags to riches Crawford vehicle and amazingly makes it feel fresh and new. While it is not one of her greatest films. It is the only to pair her with Spencer Tracy. They make fireworks ignite. In order to escape the life she hates Jessie marrie good for nothing Eddie Miller (a very hot actor named Alan Curtis) in hopes of a simple happy future. She eventually meets tugboat tycoon John Hennessey. The film belongs to its star's chemistry and Joan gives a touching performance that is never over acted. I really enjoyed the film despite some (not alot) silly dialogue. Oh and we simply cannot forget the lovely Adrian wardrobe. Adrian worked for Crawford in nearly all her films for MGM. As well as working with de Garbo.
Randy Emerson
½
[img]http://classicmoviefavorites.com/crawford/mannequin5.jpg[/img] I was SO excited about seeing this movie. Joan Crawford? Spencer Tracy? FRANK BORZAGE?! What could got wrong? Well, as I found out, quite a bit. Crawford plays a poor shopgirl in love with a gambler. They seem very in love, and hastily get married. Things seem okay at first, she works in the chorus line, he has a contract on a fighter who's supposed to make it big. But soon she finds he's just a liar and a cheater, especially when he asks her to divorce him so she can marry wealthy Spencer Tracy, then divorce him and remarry. Crawford leaves him, and soon finds herself in love with Tracy. Crawford's love blind, vulnerable shopgirl is simply unbelievable. Not only is she a complete martyr, but she's also a pretty pathetic pushover, for the most part. When she walks out on her husband, it actually seems out of character. Alan Curtis is good as her husband, but his character just inexplicably crosses the line between bad husband to bad guy. Spencer Tracy is the real highlight of the film. He's convincing as the really good rich guy, and his turnaround from practically being a hermit to throwing raging parties, all because of his love for Crawfords, is completely natural. He and Crawford also have amazing chemistry. But overall, the characters (aside from Tracy's) are just unbelievable. They make ridiculous choices and changes that just don't make sense. Any poor performances come both from the absolute ludicrousness of the script, and miscasting. [b]Final Grade: [/b]C+
Katie Richardson
Mannequin Quotes
There are no approved quotes yet for this movie.
Discussion Forum
Discuss Mannequin on our Movie forum!