Manos: The Hands of Fate
(1966)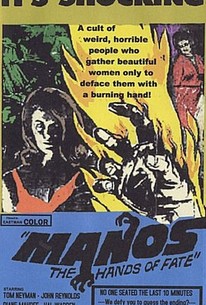 Movie Info
While on a desert excursion, a family encounters cultists who use human hands as sacrificial offerings to their god.
News & Interviews for Manos: The Hands of Fate
Critic Reviews for Manos: The Hands of Fate
Audience Reviews for Manos: The Hands of Fate
Why Ed Wood is the worst director of all time if cinema had Harold Warren creator of one of the worst movies ever (and of me the worst film in the world beside Hobogoblins). Manos an indulgent error and a very funny involuntary comedy.
Lucas Martins
Super Reviewer
The less said about this film, the better. It's one of the worst films of all time, a reputation it deserves completely. It goes above and beyond to be terrible, a film that can only be watched with world class comedians around to make fun of it. Simply put, it's awful.
Jacob Ethington
Super Reviewer
This movie has changed my perspective on bad movies forever. This is coming from a guy whose seen 'Plan 9 from Outer Space' and 'The Beast of Yucca Flats'. Plan 9 may be a very ineptly made film but is very entertaining and charming in it's badness. Beast of Yucca Flats was sincerely terrible but it had some surreal qualities to it. 'Manos: The Hands of Fate' is neither entertaining in it's badness nor intriguing in it's ineptitude. Watching this movie is an endurance test, it is so atrociously made in every sense. Words cannot begin to describe it. There are moments were the cast members literally look at the camera and the editing is sloppy as hell (seriously, it's like Edward Scissorhands did the editing). The script is literally non-existent and the characters make every single dumb decision that is usually made fun of in horror film parodies. The acting is also extremely poor. These actors are so bad that they make actors like Jean Claude Van Damme look like Orson Welles in comparison. The guy who played Torgo (the film's creepy hotel owner) shivers constantly, almost like he is having a seizure throughout. The film may be only 74 minutes, but it will feel like a decade was taken out of your life. I am frankly amazed that I got through this film in one go (somebody should probably give me a medal for that). Plus the soundtrack is also terribly boring, with it mostly consisting of elevator-like jazz music. I have seen plenty of bad movies in my lifetime (Transformers 2, The Cat in the Hat. The Last Airbender, Disaster Movie), but this piece of super-shlock takes the cake as far as awfulness goes. This movie is called one of the worst movies ever made and after watching this awful dreck, I am fully inclined to agree.
Christopher Heim
Super Reviewer
Manos: The Hands of Fate Quotes
| | |
| --- | --- |
| The Master: | [Change character to Torgo.] There is nothing to fear, Maddam. The Master likes you! Nothing will happen to you! He likes you! |
| The Master: | There is nothing to fear, Maddam. The Master likes you! Nothing will happen to you! He likes you! |
| Margaret: | Likes me? I thought you said he was dead. |
| | |
| --- | --- |
| The Master: | I am permanent! Manos has made me permanent! |
| | |
| --- | --- |
| The Master: | Kill! Kill! KILL! |
| The Master: | Kill! Kill! Kill! |
| | |
| --- | --- |
| The Master: | The will of Manos shall be served! |