Man's Favorite Sport?
(1964)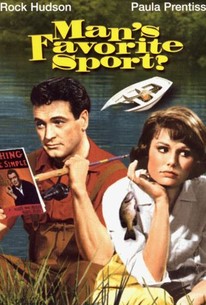 Man's Favorite Sport? Videos
Man's Favorite Sport? Photos
Movie Info
Roger Willoughby (Rock Hudson) is a super salesman of sporting goods who sells fishing equipment but knows nothing about the sport. Roger's boss Cadwalader (John McGiver) gets an idea from publicity director Abigail (Paula Prentiss) to enter him in a fishing contest, and the inept angler has a series of comic consequences before he wins the contest with some help from a bear. When Roger admits that his winning the event was merely luck, he turns in the prize and loses his job. Roger eventually wins Abigail's heart and gets his job back. Howard Hawks directs this slapstick comedy with his typical flair -- witty dialogue and effective sight gags included.
Rating:
G
Genre:
,
Directed By:
Written By:
In Theaters:
On DVD:
Runtime:
Studio:
MCA Universal Home Video
Critic Reviews for Man's Favorite Sport?
Audience Reviews for Man's Favorite Sport?
½
Amazing study in sexual symbolism Howard Hawks's screwball comedy starring Rock Hudson as a supposed professional expert on sports fishing who actually knows nothing about it, and Paula Prentiss as the woman who helps him get through a fishing contest despite his ignorance, is perhaps the most amazing cinematic study in symbolic sex I can think of, though the symbolism is so naturally integrated into the action that the censors can't touch it. Almost every scene involves a woman or women getting a man (Rock Hudson) into something he can't get out of. It begins with Hudson inserting himself into Prentiss's car and almost not getting out of it, incidentally dropping his ID into the car next to her ID (!), and it turns out she's also gotten him into getting a ticket, which he can't get out of. Then he finds she's gotten him into entering the fishing tournament, which he can't get out of. Later she makes him fall into the lake, which he can't get out of, and then she tells him to inflate the gaiters, which he does but they inflate up too much (!) and he can't get out of them. And she puts his arm into a cast which he can't get out of, so he has to walk around with his arm sticking stiffly up (!) until she finally cuts off the cast (yes, there's a lot of castration imagery too.) And she causes him to sleep on the couch in a sleeping bag, which he subsequently can't get out of, causing him to get in trouble with his fiancee Tex, which he can't get out of. These are only a few of the more memorable scenes of "female traps male," which are all symbolic of male ambivalence towards the sex act: desire to consummate and dread of being consumed. I haven't even mentioned the male sexual imagery associated with fish, but if you watch the film with that in mind, you'll see it everywhere. Just one example is the fishing contest, in which men are judged by the size of their "trophies": "Mine is bigger than yours: I'm the better man!" And there's some fascinating symbolism in the early scenes in the Abercrombie and Fitch offices, where Hudson and the other men are positioned in front of the various antlered hunting trophies on the walls in such a way that they seem to have horns themselves, foreshadowing, I think, the motif of women manipulating men through male "animal impulses." (I probably can't even explain the symbolism of Hudson getting his tie caught in the zipper of another woman's dress and then being led all around by it without getting this review censored.) About now many reading this are saying, This is a joke, right? and are preparing to post mocking replies saying "Yeah, sure, and I suppose all those fishing rods are also sex symbols ..." (Well, yes, actually.) My only defense is to remind everyone that Hawks was one of cinema's supreme geniuses: not even Hitchcock makes his sexual symbolism (which is universally agreed to be there) so natural and unobtrusive. The ultimate test will be to watch the movie again with some of these things in mind: even if you're skeptical now, I bet you won't be able to help feeling there's something to this. Meanwhile, feel free to post your scorn. (And I'm not saying everything in this movie is a sexual symbol. Probably not the credits, for instance ...) So far as I know, available in region 1 DVD only in the old 2003 Universal standard DVD; this really needs to be remastered and put on Blu-Ray.
Jon Corelis
½
***Due to the recent RT changes that have basically ruined my past reviews, I am mostly only giving a rating rather than a full review.***
Steve Smith
½
I'm still filling in my Paula Prentiss viewing with stuff like this, in which she plays a real go-getter who foists a fraud of a sporting goods salesman into a fishing contest that he can't win, then tries desperately to teach him the ropes on the fly. She's charming and fun as always, and I guess this being my first exposure to Rock Hudson was decent enough, though I don't know if I need to run out and track down anything else he's done anytime soon. Worth a rental.
Bill Bryant
Man's Favorite Sport? Quotes
There are no approved quotes yet for this movie.