Mansfield Park
(1986)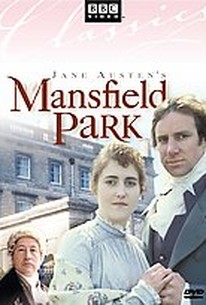 AUDIENCE SCORE
Critic Consensus: No consensus yet.
Critic Reviews for Mansfield Park
There are no critic reviews yet for Mansfield Park. Keep checking Rotten Tomatoes for updates!
Audience Reviews for Mansfield Park
:rotten: Library [url="http://www.rottentomatoes.com/m/1013266-mansfield_park/"][img]http://images.rottentomatoes.com/images/movie/coverv/46/227446.jpg[/img][/url] [b]My Review:[/b] I surprise myself when I say I didn't enjoy Mansfield Park. I haven't read the book, but if it in any way resembles this film, I doubt I would like to read it. I found the character of Fanny Price to be so utterly boring and unappealing that I couldn't imagine any of the men in this story being drawn to her, and certainly not the dashing Mr. Crawford. Even Edmond, although handsome, was insufferable.I also watched 5/6 episodes before I really became interested in any of these characters. I only watched to the end to see what finally happened, but I felt little satisfaction. It seemed the author took six hours to tell a story that could have been told in one. Very long and very boring. And what was the deal with Mrs. Bertram? I never did figure her out. One minute she's practically swooning all evening (I thought she might actually die) and the next minute she's racing down the stairs to tend to Tom. The entire production was uneven and disappointing. [b]SYNOPSIS:[/b] Jane Austen's novel, filmed entirely on location, accurately captures the atmosphere of eighteenth century rural England. It is here that Fanny Price is raised and comes to grips with adverse circumstances.
XXX --------
Mansfield Park Quotes
There are no approved quotes yet for this movie.
Discussion Forum
Discuss Mansfield Park on our Movie forum!