Manson Family Vacation
(2015)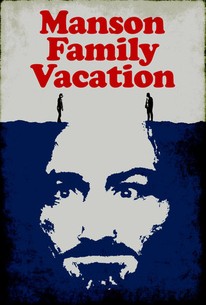 Manson Family Vacation Videos
Manson Family Vacation Photos
Movie Info
Nick Morgan (Jay Duplass) has it all: a loving family, a beautiful home and a successful law practice in Los Angeles. His estranged brother Conrad (Linas Phillips) has nothing but a backpack. When Conrad shows up for a surprise visit, all he wants to do in town is go to the infamous Manson Family murder sites. Reluctantly, Nick joins him and ends up on a road trip that leads the brothers into the modern-day world of Charles Manson.
Critic Reviews for Manson Family Vacation
Audience Reviews for Manson Family Vacation
½
We all have our different hobbies. Different tastes. Whether it's from books, to movies, to video games, comic books, even down to phones/tablets/computers, etc. That's what makes us all different, what we're into and how that relates to other people who may have completely different tastes to yours. As an example, when I was a teenager, for a little while at least, I was really into serial killers and true crime stuff. So I bought a shit-ton of books on serial killers, mass murderers, etc. I was completely fascinated by that world and I immersed myself in it. You gotta understand that I was, maybe, 15 or 16 when this was going on. And I predominantly listened to heavy metal. I still do, even to this day, even though my tastes have widened as I have gotten older. So you can imagine how my mother (and aunt) reacted. They were worried, of course, but I always assured them that it was a subject I was fascinated by and nothing that I ever intended on actually doing. I'm pretty much a pacifist, except when it comes to nazis (punch all the nazis), so I would be morally repulsed by it. But, the point is, that I can sort of understand Conrad's point of view in feeling that his brother is quite judgmental about his obsession and, need, to visit the Manson Family crime sites. Then again, I was never obsessed with actually going to the murder sites and being in awe at the horrible things that took place there. I think that's taking it one step too far, but to each their own. But this sets up the film's narrative that focuses on Conrad's, who's adopted, relationship with his brother, Nick. Conrad never felt like he belonged in his family. Conrad's adoptive mother and father were told they couldn't conceive. Later, surprise surprise, Nick was born. Conrad feels that the moment that Nick was born he was sort of thrown to the wayside and forgotten about, since now their mother and father had what they really wanted. So it explores that dynamic of Conrad feeling left out of the only family he has ever known. Which is what drives Conrad's journey to find this environmental group, who support Manson's ideas for the environment, because it is the only group where he truly feels like he'd be at home and where no one will judge him for his tastes. It sounds simple, but I feel that the chemistry between Linas Phillips and Jay Duplass gives the film its strength. They are excellent together and the script gives them more than enough to sink their teeth into. As short as the film may be, it runs barely 80 minutes (without credits), the character development is really strong. The film definitely hits some familiar notes with this type of indie-comedy, but I think it's a really damn good movie that sort of flew under everybody's radar. At least it flew by my radar for a while. I wanted to see it, but there's movies that I see pop up on Netflix (or Amazon) and I watch them the same night I discover them. This one's been on Netflix for quite a bit and I just never gave it a second thought. Until, of course, yesterday when I did watch it. I don't wanna say I'm ashamed it took me this long, but I should have definitely watched it sooner. It's one of those sleepers. It's not gonna change the world, or even come remotely close to it, but it does offer a strong, character-driven indie comedy with a focus on one of the darker periods of American history (we're going through one of those right now). It's not the funniest indie movie you will ever see, but it's one of those movies that doesn't really need to be hilarious to be enjoyable. Don't really have much else to say, this is an easy recommendation if you love these types of movies. If you're favorite movie is Grown Ups 2, then this won't do anything whatsoever for you. Strong characters, actors and narrative make this a very good movie.
Jesse Ortega
Super Reviewer
Manson Family Vacation Quotes
| | |
| --- | --- |
| Conrad: | I'm going to see my father, and when I get back we'll talk. And you'll still be my brother.... |