Manuela y Manuel
(2010)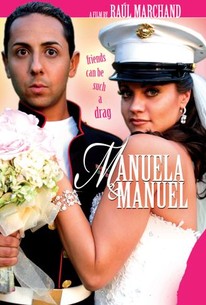 AUDIENCE SCORE
Critic Consensus: No consensus yet.
Movie Info
A transgendered cabaret artist switches gender again to help out a friend in this comedy of errors from Puerto Rico. Manuela (Humberto Busto) was born a man but has always felt more comfortable as a woman, and has been living as a female for years. Manuela makes her living singing in a San Juan nightspot, but lately she hasn't felt very celebratory since a bad breakup with her boyfriend. One day Manuela gets a visit from her good friend Coca (Elena Iguina), who is in a panic -- she's just discovered she's pregnant, which will enrage her father (Emmanuel "Sunshine" Logroño), a staunchly conservative member of the military. Coco needs someone to pose as her fiancé as she breaks the news to her dad, and she begs Manuela to put on her former male persona and pretend to be the father of her child. Despite her deep misgivings, Manuela agrees, but finds that switching back and forth between her masculine and feminine sides is far more difficult than she expected. Manuela y Manuel received its American premiere at the 2007 American Film Institute Festival, where it was screened as part of the "Latin Showcase" program.
Critic Reviews for Manuela y Manuel
All Critics (3) | Top Critics (2) | Fresh (2) | Rotten (1)
Though its tone wavers, telenovela-style, between farcical and sentimental, and it's at least 15 minutes too long, the film is easy enough to sit through.
Overstuffed with crudely drawn, broadly acted secondary characters (and tricked out with flat drag musical numbers), Manuela aspires to be about love, friendship, and good hearts triumphing. But it's actually a grim reminder that formulaic queer cinema is
Hysterical...(the filmmakers) milk their comedic scenario for all that it's worth, but it never feels strained.
Audience Reviews for Manuela y Manuel
Charming screwball comedy about a flamboyant drag queen who has to find a way to man up after his best friend gets pregnant and asks him to pose as her fiance to her strict traditional family. Plays like second rate Almodovar, but its crowd pleasing effectiveness is hard to deny.
Matthew Lucas
Super Reviewer
Manuela y Manuel Quotes
There are no approved quotes yet for this movie.