Manufacturing Dissent
(2007)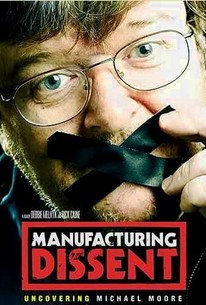 Manufacturing Dissent Photos
Movie Info
In an era where fact, fiction, and legend have become increasingly difficult to distinguish, Debbie Melnyk and Rick Caine set out to explore the politically charged climate in America and find out just how documentary director Michael Moore has evolved from a simple filmmaker into an icon of left-leaning politics.
Rating:
R (for some language)
Genre:
, ,
Directed By:
Written By:
In Theaters:
On DVD:
Runtime:
Studio:
Films Transit International
Cast
Critic Reviews for Manufacturing Dissent
Audience Reviews for Manufacturing Dissent
Manufacturing Dissent is an interesting documentary that looks at controversial filmmaker Michael Moore. Canadian documentarian Debbie Melnyk follows Moore's 2004 Slacker Uprising tour while discussing his divisive career, and interviewing his former friends and associates. The film makes an interesting point of how Moore has a pattern of burning his bridges, and alienating or betraying his supporters. To that end, Melnyk begins sympathetic toward Moore but ends up becoming a victim of his tactics of deception and manipulation. Unfortunately, the picture quality is rather low end and there are several times that the narrative appears to lack direction. Yet despite its flaws, Manufacturing Dissent provides an intriguing perspective on Michael Moore's journey.
Dann Michalski
Super Reviewer
This movie about the complications and manipulations of Michael Moore is a useful companion piece to Roger and Me and Fahrenheit 9/11. Even if you don't agree with its politics, the film will at least get you thinking
Gordon Briggs
First, I have to make an announcement. As of this week, the library's hold policy has changed. They're only allowing people to have twenty-five items on hold at a time. Now, I checked eleven items out yesterday, and only maybe two of them are movies; most are PBS or History Channel items or other things that are an hour or shorter. What's more, there's only three or four on the list where I'm in the front of the line. For the most part, there's five or more people in front of me. Sometimes twenty or more. I have thirty items on hold right now; they haven't removed any from the list, but I can't add any more until I get down to under twenty-five again. In practical terms, what this means is that my movie project is about to slow way, way down. Now, I have my Netflix still, but I'm on three at a time, so there's a limit to how many we'll get there. I've got a fair number of movies that I own that we haven't done. However, I may have to write a few not-review essays here and there to fill out space. Yeah, all right, I could just stop doing this every day, but it's generally agreed that it's important to me to have some sort of structure to my day, and this is it. So that's what's going on, for future reference. Michael Moore is a polarizing man. People on either end of the political spectrum feel very passionately on the subject. And Canadian filmmakers Rick Caine and Debbie Melnyk decided to see what validity each viewpoint had. As tends to be the case, they weren't able to actually interview Michael Moore. From what I can tell, he's generally eager to avoid that if he can. Unlike some, they didn't dig much until the actual facts behind things. They leave that to others. Instead, they look into Moore the man and Moore the editor. They follow him around on tour. (Where their credentials are questioned and their cameras damaged.) They also have footage where Moore freely admits to editing film to prove his point; he seems surprised that anyone would have a problem with that. The filmmakers seem, based on what they say early in the piece, to agree with a lot of his political stances, though they do try to stay objective. They are also pretty good about getting both pro- and anti-Moore voices, which is pretty unusual for any documentary about politics of any slant. And I have to say, although I was already less than thrilled with Moore in the first place, I really don't like the guy as he's shown here. I think in many ways that Michael Moore is the Ann Coulter of the left. A [i]lot[/i] of liberals don't like him. I'm one of them. I don't think he helps win people over to his perspective, [i]even when he's right[/i]. He comes across as smug, self-righteous, and unpleasant. Oh, and hypocritical. At the beginning of this story, he tells the filmmakers that he loves the Canadians and wishes to help their film as much as possible. He then spends the entire film avoiding them. He even prescreens people entering his press conference, a technique he criticizes in others. They pretty much rolled 212 on him there and throughout the film. They show him complaining about Bush's fearmongering, then they show him saying that, if Bush is reelected, he'll reinstitute the draft. They show him stumping for Nader, then they show him comparing voting for Nader to masturbation. In fact, my favourite moment is a clip from [i]TV Nation[/i] featuring women dressed up as Puritans, imitating the girls from the Salem Witch Trials outside Ken Starr's house. Not office, mind--house. (One of them might be my former coworker Erica, who was on the show for a while.) He asks a woman whom I assume to be Mrs. Starr if she knows what a witch hunt is, and she says dryly that she's quite aware. Now, again, this film isn't really looking at whether they agree with Moore or not. Just his techniques. They do talk a little bit about his accuracy of fact, though not much. And don't get me wrong--I don't think anyone's life comes up as completely free of hypocrisy when scrutinized. I'm sure mine does, though I'd really like it if my friends would refrain from pointing out examples! There are also a lot of people who know Moore personally who are clearly quite fond of him. However, there are also people who feel kind of cast aside by him. (And, in the deleted scenes, you can see a very annoyed Ray Bradbury.) It almost seems that he polarizes the people he knows, too. It also seems that he's been doing it on purpose for a very long time. I think Michael Moore believes he's helping; I don't believe that to be hypocrisy. I think he thinks that making a giant fuss and being a gadfly in the American scene helps get his message across and helps convert people to his side. He really thinks he's convincing a lot of people, and he really thinks he's doing good work. I have never disputed that. However, I don't think extreme viewpoints being shouted really convinces much of anyone. Again, even if they're right. I also think it helps to practice what you preach at least as much as you can. We all laughed when we found out about Rush Limbaugh's drug habit (and, I've heard speculation, dealing), because he has so consistently been such a big voice against drugs and drug users. We laugh when we hear about vocally anti-gay politicians being caught propositioning people in bathrooms or paying hookers with meth or whatever. And when we catch Michael Moore censoring people, that's funny, too. He wants to be funny, but I don't think he wants to be a laughingstock.
Edith Nelson
Discussion Forum
Discuss Manufacturing Dissent on our Movie forum!
News & Features