Manufacturing Dissent
(2007)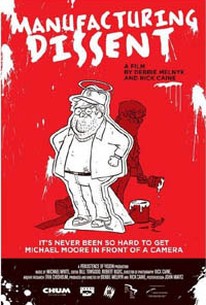 Manufacturing Dissent Photos
Movie Info
In an era where fact, fiction, and legend have become increasingly difficult to distinguish, Debbie Melnyk and Rick Caine set out to explore the politically charged climate in America and find out just how documentary director Michael Moore has evolved from a simple filmmaker into an icon of left-leaning politics.
Films Transit International
People Who Like this movie also like
Cast
News & Interviews for Manufacturing Dissent
Critic Reviews for Manufacturing Dissent
Audience Reviews for Manufacturing Dissent
Dann Michalski
This movie about the complications and manipulations of Michael Moore is a useful companion piece to Roger and Me and Fahrenheit 9/11. Even if you don't agree with its politics, the film will at least get you thinking
Gordon Briggs
First, I have to make an announcement. As of this week, the library's hold policy has changed. They're only allowing people to have twenty-five items on hold at a time. Now, I checked eleven items out yesterday, and only maybe two of them are movies; most are PBS or History Channel items or other things that are an hour or shorter. What's more, there's only three or four on the list where I'm in the front of the line. For the most part, there's five or more people in front of me. Sometimes twenty or more. I have thirty items on hold right now; they haven't removed any from the list, but I can't add any more until I get down to under twenty-five again. In practical terms, what this means is that my movie project is about to slow way, way down. Now, I have my Netflix still, but I'm on three at a time, so there's a limit to how many we'll get there. I've got a fair number of movies that I own that we haven't done. However, I may have to write a few not-review essays here and there to fill out space. Yeah, all right, I could just stop doing this every day, but it's generally agreed that it's important to me to have some sort of structure to my day, and this is it. So that's what's going on, for future reference. Michael Moore is a polarizing man. People on either end of the political spectrum feel very passionately on the subject. And Canadian filmmakers Rick Caine and Debbie Melnyk decided to see what validity each viewpoint had. As tends to be the case, they weren't able to actually interview Michael Moore. From what I can tell, he's generally eager to avoid that if he can. Unlike some, they didn't dig much until the actual facts behind things. They leave that to others. Instead, they look into Moore the man and Moore the editor. They follow him around on tour. (Where their credentials are questioned and their cameras damaged.) They also have footage where Moore freely admits to editing film to prove his point; he seems surprised that anyone would have a problem with that. The filmmakers seem, based on what they say early in the piece, to agree with a lot of his political stances, though they do try to stay objective. They are also pretty good about getting both pro- and anti-Moore voices, which is pretty unusual for any documentary about politics of any slant. And I have to say, although I was already less than thrilled with Moore in the first place, I really don't like the guy as he's shown here. I think in many ways that Michael Moore is the Ann Coulter of the left. A [i]lot[/i] of liberals don't like him. I'm one of them. I don't think he helps win people over to his perspective, [i]even when he's right[/i]. He comes across as smug, self-righteous, and unpleasant. Oh, and hypocritical. At the beginning of this story, he tells the filmmakers that he loves the Canadians and wishes to help their film as much as possible. He then spends the entire film avoiding them. He even prescreens people entering his press conference, a technique he criticizes in others. They pretty much rolled 212 on him there and throughout the film. They show him complaining about Bush's fearmongering, then they show him saying that, if Bush is reelected, he'll reinstitute the draft. They show him stumping for Nader, then they show him comparing voting for Nader to masturbation. In fact, my favourite moment is a clip from [i]TV Nation[/i] featuring women dressed up as Puritans, imitating the girls from the Salem Witch Trials outside Ken Starr's house. Not office, mind--house. (One of them might be my former coworker Erica, who was on the show for a while.) He asks a woman whom I assume to be Mrs. Starr if she knows what a witch hunt is, and she says dryly that she's quite aware. Now, again, this film isn't really looking at whether they agree with Moore or not. Just his techniques. They do talk a little bit about his accuracy of fact, though not much. And don't get me wrong--I don't think anyone's life comes up as completely free of hypocrisy when scrutinized. I'm sure mine does, though I'd really like it if my friends would refrain from pointing out examples! There are also a lot of people who know Moore personally who are clearly quite fond of him. However, there are also people who feel kind of cast aside by him. (And, in the deleted scenes, you can see a very annoyed Ray Bradbury.) It almost seems that he polarizes the people he knows, too. It also seems that he's been doing it on purpose for a very long time. I think Michael Moore believes he's helping; I don't believe that to be hypocrisy. I think he thinks that making a giant fuss and being a gadfly in the American scene helps get his message across and helps convert people to his side. He really thinks he's convincing a lot of people, and he really thinks he's doing good work. I have never disputed that. However, I don't think extreme viewpoints being shouted really convinces much of anyone. Again, even if they're right. I also think it helps to practice what you preach at least as much as you can. We all laughed when we found out about Rush Limbaugh's drug habit (and, I've heard speculation, dealing), because he has so consistently been such a big voice against drugs and drug users. We laugh when we hear about vocally anti-gay politicians being caught propositioning people in bathrooms or paying hookers with meth or whatever. And when we catch Michael Moore censoring people, that's funny, too. He wants to be funny, but I don't think he wants to be a laughingstock.
Edith Nelson
After seeing the terrible Farenhype 911 doc that was clearly anit-Moore, but did have a few interesting things to say I had no intention of ever watching this one. However, sitting on a plane and not wanting to watch a fictional movie where I'm just not going to get to pay as much attention to as I'd like to, I chose this one. And much to my surprise, even though the video system went down, I went out and rented it the next day to finish it because I found it pretty interesting. Not the best doc ever made, more like the TV special I think it was intended as, this is a great look into Moore's manipulation of facts and media to make himself into what he is today. Politics aside, it's an interesting look at a self made celebrity and the lengths he will go to retain that. Also, it's truly scary watching his brainwashed followers AKA young democrats. Eg: Moore: Look at those Republicans over there! Crowd: BoooooO! Moore: No, let's not boo them. Unlike them we like to hear other opinions! Crowd: Yaaaaay. Yikes! I definitely lean more to the left (maybe it's my shoes), but a lot of Moore's speeches remind me of Bob Roberts. I remember feeling tricked when I found out about the untruths in his documentaries, I always considered myself not to follow people blindly, but I seriously feel kinda stupid for buying some of the crap he was dishing out. Did I really think a bank would just hand someone a gun? What the hell is wrong with me? Anyway, because of Moore I now question all documentaries more than I should and take everything said in any "editorial" documentary with a grain of salt, because not only is the view possibly one-sided, but now it could just be a downright lie.
Christopher Brown
Discussion Forum
Discuss Manufacturing Dissent on our Movie forum!
News & Features
debug
http://movie-api-2.aws.prod.flixster.com/movie/770673191?include=%5B%22images%22%2C%22reviews%22%2C%22movieCast%22%2C%22movieCast.person%22%2C%22videoClips%22%2C%22criticSummary%22%2C%22reviews.critic%22%2C%22reviews.publication%22%2C%22genres%22%2C%22franchise%22%2C%22affiliates%22%2C%22affiliates.amazonInfo%22%2C%22affiliates.vuduInfo%22%2C%22affiliates.itunesInfo%22%2C%22audienceSummary%22%2C%22audienceReviews%22%5D&filter=%7B%22videoClipsLimit%22%3A20%2C%22reviewsLimit%22%3A24%2C%22movieCastLimit%22%3A1000%2C%22imagesLimit%22%3A20%7D
{
  "id" : "770673191",
  "type" : "movie",
  "advisory" : "for some language",
  "lastModifiedDate" : "2016-06-25T07:51:03-07:00",
  "tomatometer" : {
    "state" : "rotten",
    "value" : 54
  },
  "year" : 2007,
  "releaseScope" : "wide",
  "studioName" : "Films Transit International",
  "dvdWindow" : "on-dvd",
  "heroImage" : null,
  "synopsis" : "In an era where fact, fiction, and legend have become increasingly difficult to distinguish, Debbie Melnyk and Rick Caine set out to explore the politically charged climate in America and find out just how documentary director Michael Moore has evolved from a simple filmmaker into an icon of left-leaning politics.",
  "releaseDates" : {
    "dvd" : "2007-11-06",
    "theater" : "2007-07-12"
  },
  "runningTime" : 96,
  "title" : "Manufacturing Dissent",
  "creationDate" : "2007-07-20T17:32:11-07:00",
  "posterImage" : {
    "id" : "m-12025429",
    "thumborId" : "v1.bTsxMjAyNTQyOTtqOzE3MDE0OzEyMDA7MjAwOzMwMA",
    "height" : 300,
    "width" : 200,
    "format" : "JPG"
  },
  "vanity" : "manufacturing-dissent",
  "officialUrl" : null,
  "cummulativeBoxOffice" : null,
  "mainTrailer" : null,
  "boxOffice" : null,
  "openingWindow" : "NA",
  "mpaaRating" : "R",
  "movieCast" : [ {
    "id" : "770690786",
    "type" : "movieCast",
    "characters" : [ ],
    "role" : "DIR",
    "person" : {
      "id" : "770675884",
      "type" : "person",
      "mainImage" : null,
      "name" : "Rick Caine",
      "vanity" : "rick_caine"
    }
  }, {
    "id" : "770690787",
    "type" : "movieCast",
    "characters" : [ ],
    "role" : "DIR",
    "person" : {
      "id" : "770675885",
      "type" : "person",
      "mainImage" : null,
      "name" : "Debbie Melnyk",
      "vanity" : "debbie_melnyk"
    }
  }, {
    "id" : "770690788",
    "type" : "movieCast",
    "characters" : [ ],
    "role" : "PRO",
    "person" : {
      "id" : "770675884",
      "type" : "person",
      "mainImage" : null,
      "name" : "Rick Caine",
      "vanity" : "rick_caine"
    }
  }, {
    "id" : "770690789",
    "type" : "movieCast",
    "characters" : [ ],
    "role" : "PRO",
    "person" : {
      "id" : "770675885",
      "type" : "person",
      "mainImage" : null,
      "name" : "Debbie Melnyk",
      "vanity" : "debbie_melnyk"
    }
  }, {
    "id" : "774183487",
    "type" : "movieCast",
    "characters" : [ ],
    "role" : "SCR",
    "person" : {
      "id" : "770675884",
      "type" : "person",
      "mainImage" : null,
      "name" : "Rick Caine",
      "vanity" : "rick_caine"
    }
  }, {
    "id" : "774183488",
    "type" : "movieCast",
    "characters" : [ ],
    "role" : "SCR",
    "person" : {
      "id" : "770675885",
      "type" : "person",
      "mainImage" : null,
      "name" : "Debbie Melnyk",
      "vanity" : "debbie_melnyk"
    }
  }, {
    "id" : "771867580",
    "type" : "movieCast",
    "characters" : [ ],
    "role" : "ACT",
    "person" : {
      "id" : "162653290",
      "type" : "person",
      "mainImage" : null,
      "name" : "John Pierson",
      "vanity" : "john_pierson"
    }
  }, {
    "id" : "771867576",
    "type" : "movieCast",
    "characters" : [ ],
    "role" : "ACT",
    "person" : {
      "id" : "335716545",
      "type" : "person",
      "mainImage" : {
        "id" : "n-3810",
        "thumborId" : "v1.bjszODEwO2o7MTcwMTA7MTIwMDsxOTIwOzEwODA",
        "height" : 1080,
        "width" : 1920,
        "format" : "JPG"
      },
      "name" : "Noam Chomsky",
      "vanity" : "noam_chomsky"
    }
  }, {
    "id" : "774470223",
    "type" : "movieCast",
    "characters" : [ ],
    "role" : "ACT",
    "person" : {
      "id" : "771771344",
      "type" : "person",
      "mainImage" : null,
      "name" : "Dave Marsh",
      "vanity" : "dave_marsh_6"
    }
  }, {
    "id" : "771867577",
    "type" : "movieCast",
    "characters" : [ ],
    "role" : "ACT",
    "person" : {
      "id" : "399395969",
      "type" : "person",
      "mainImage" : {
        "id" : "n-285855",
        "thumborId" : "v1.bjsyODU4NTU7ajsxNzAxMzsxMjAwOzExNTI7NjQ4",
        "height" : 648,
        "width" : 1152,
        "format" : "JPG"
      },
      "name" : "Ralph Nader",
      "vanity" : "ralph_nader"
    }
  }, {
    "id" : "771867579",
    "type" : "movieCast",
    "characters" : [ ],
    "role" : "ACT",
    "person" : {
      "id" : "162666743",
      "type" : "person",
      "mainImage" : {
        "id" : "r-36992",
        "thumborId" : "v1.cjszNjk5MjtqOzE3MDEwOzEyMDA7NjAwOzQyNw",
        "height" : 427,
        "width" : 600,
        "format" : "JPG"
      },
      "name" : "Albert Maysles",
      "vanity" : "albert_maysles"
    }
  }, {
    "id" : "771867578",
    "type" : "movieCast",
    "characters" : [ ],
    "role" : "ACT",
    "person" : {
      "id" : "162660353",
      "type" : "person",
      "mainImage" : {
        "id" : "n-64813",
        "thumborId" : "v1.bjs2NDgxMztqOzE3MDEwOzEyMDA7MTIwMDs5MDA",
        "height" : 900,
        "width" : 1200,
        "format" : "JPG"
      },
      "name" : "Errol Morris",
      "vanity" : "errol_morris"
    }
  }, {
    "id" : "772765795",
    "type" : "movieCast",
    "characters" : [ ],
    "role" : "ACT",
    "person" : {
      "id" : "770918908",
      "type" : "person",
      "mainImage" : null,
      "name" : "Dave Marsh",
      "vanity" : "dave_marsh"
    }
  } ],
  "meta" : {
    "totalCount" : 0
  },
  "genres" : [ {
    "id" : "8",
    "type" : "genre",
    "name" : "Documentary",
    "tag" : "documentary"
  }, {
    "id" : "15",
    "type" : "genre",
    "name" : "Special Interest",
    "tag" : "special-interest"
  }, {
    "id" : "16",
    "type" : "genre",
    "name" : "Television",
    "tag" : "television"
  } ],
  "reviews" : [ {
    "id" : "2025931",
    "type" : "review",
    "score" : "fresh",
    "topCritic" : true,
    "quote" : null,
    "movieId" : 770673191,
    "scoreOri" : "3/5",
    "creationDate" : "2011-11-16T21:15:45-08:00",
    "url" : "http://www.timeout.com/film/chicago/reviews/84585/manufacturing_dissent-uncovering_michael_moore.html",
    "critic" : {
      "id" : "5978",
      "type" : "critic",
      "mainImage" : null,
      "name" : "Ben Kenigsberg",
      "vanity" : "ben-kenigsberg"
    },
    "publication" : {
      "id" : "1651",
      "type" : "publication",
      "name" : "Time Out"
    }
  }, {
    "id" : "1679555",
    "type" : "review",
    "score" : "fresh",
    "topCritic" : true,
    "quote" : "A solid, well-done and seemingly balanced look at Moore's work, his celebrity, his methods and the ethical problems in his reporting.",
    "movieId" : 770673191,
    "scoreOri" : "3.5/4",
    "creationDate" : "2007-10-12T07:55:03-07:00",
    "url" : "http://www.sfgate.com/cgi-bin/article.cgi?file=/c/a/2007/10/11/DDP1SNPCP.DTL#flick2",
    "critic" : {
      "id" : "1109",
      "type" : "critic",
      "mainImage" : null,
      "name" : "G. Allen Johnson",
      "vanity" : "g-allen-johnson"
    },
    "publication" : {
      "id" : "402",
      "type" : "publication",
      "name" : "San Francisco Chronicle"
    }
  }, {
    "id" : "1679061",
    "type" : "review",
    "score" : "fresh",
    "topCritic" : true,
    "quote" : "There's little to disagree with in the thumbnail portrait of Moore that emerges from this entertaining doc.",
    "movieId" : 770673191,
    "scoreOri" : null,
    "creationDate" : "2007-10-11T05:34:31-07:00",
    "url" : "http://www.laweekly.com/film+tv/film-reviews/movie-reviews-berkeley-the-heartbreak-kid-lust-caution/17457/?page=3",
    "critic" : {
      "id" : "2904",
      "type" : "critic",
      "mainImage" : null,
      "name" : "Ella Taylor",
      "vanity" : "ella-taylor"
    },
    "publication" : {
      "id" : "251",
      "type" : "publication",
      "name" : "L.A. Weekly"
    }
  }, {
    "id" : "1677261",
    "type" : "review",
    "score" : "fresh",
    "topCritic" : true,
    "quote" : "Some of the accusations in this documentary by a pair of Canadian filmmakers who initially set out to make a positive portrait, will make your eyes water.",
    "movieId" : 770673191,
    "scoreOri" : "4/6",
    "creationDate" : "2007-10-04T20:34:53-07:00",
    "url" : "http://www.timeout.com/film/reviews/84585/manufacturing_dissent-uncovering_michael_moore.html",
    "critic" : {
      "id" : "12291",
      "type" : "critic",
      "mainImage" : {
        "id" : "c-2441",
        "thumborId" : "v1.YzsyNDQxO2c7MTcwMTA7MTIwMDszODs0Mg",
        "height" : 42,
        "width" : 38,
        "format" : "GIF"
      },
      "name" : "Dave Calhoun",
      "vanity" : "dave-calhoun"
    },
    "publication" : {
      "id" : "1651",
      "type" : "publication",
      "name" : "Time Out"
    }
  }, {
    "id" : "1667519",
    "type" : "review",
    "score" : "rotten",
    "topCritic" : true,
    "quote" : "Too bad co-writers/co-directors Debbie Melnyk and Rick Caine don't investigate -- and ingratiate -- the way their target does in his own films.",
    "movieId" : 770673191,
    "scoreOri" : "2/4",
    "creationDate" : "2007-08-31T07:25:01-07:00",
    "url" : "http://www.suntimes.com/entertainment/movies/535394,CNT-News-dissent31.article",
    "critic" : {
      "id" : "4742",
      "type" : "critic",
      "mainImage" : null,
      "name" : "Bill Stamets",
      "vanity" : "bill-stamets"
    },
    "publication" : {
      "id" : "67",
      "type" : "publication",
      "name" : "Chicago Sun-Times"
    }
  }, {
    "id" : "1667516",
    "type" : "review",
    "score" : "rotten",
    "topCritic" : true,
    "quote" : "Useful but limited muckraking.",
    "movieId" : 770673191,
    "scoreOri" : null,
    "creationDate" : "2007-08-31T07:21:18-07:00",
    "url" : "http://onfilm.chicagoreader.com/movies/briefs/32017_MANUFACTURING_DISSENT.html",
    "critic" : {
      "id" : "18",
      "type" : "critic",
      "mainImage" : {
        "id" : "c-1583",
        "thumborId" : "v1.YzsxNTgzO2c7MTcwMTA7MTIwMDszODs1NA",
        "height" : 54,
        "width" : 38,
        "format" : "GIF"
      },
      "name" : "Jonathan Rosenbaum",
      "vanity" : "jonathan-rosenbaum"
    },
    "publication" : {
      "id" : "66",
      "type" : "publication",
      "name" : "Chicago Reader"
    }
  }, {
    "id" : "1769331",
    "type" : "review",
    "score" : "NA",
    "topCritic" : false,
    "quote" : null,
    "movieId" : 770673191,
    "scoreOri" : null,
    "creationDate" : "2008-10-17T23:08:10-07:00",
    "url" : "http://www.urbancinefile.com.au/home/view.asp?a=13487&s=DVD",
    "critic" : {
      "id" : "5",
      "type" : "critic",
      "mainImage" : null,
      "name" : "Urban Cinefile Critics",
      "vanity" : "urban-cinefile-critics"
    },
    "publication" : {
      "id" : "462",
      "type" : "publication",
      "name" : "Urban Cinefile"
    }
  }, {
    "id" : "1683625",
    "type" : "review",
    "score" : "rotten",
    "topCritic" : false,
    "quote" : "This even-handed effort simply doesn't probe deep enough.",
    "movieId" : 770673191,
    "scoreOri" : "2/5",
    "creationDate" : "2007-10-25T20:15:22-07:00",
    "url" : "http://www.empireonline.com/reviews/ReviewComplete.asp?FID=135190",
    "critic" : {
      "id" : "12788",
      "type" : "critic",
      "mainImage" : null,
      "name" : "Glen Ferris",
      "vanity" : "glen-ferris"
    },
    "publication" : {
      "id" : "148",
      "type" : "publication",
      "name" : "Empire Magazine"
    }
  }, {
    "id" : "1682019",
    "type" : "review",
    "score" : "rotten",
    "topCritic" : false,
    "quote" : null,
    "movieId" : 770673191,
    "scoreOri" : "2/5",
    "creationDate" : "2007-10-19T21:50:36-07:00",
    "url" : "http://www.empireonline.com/reviews/review.asp?dvdid=117726",
    "publication" : {
      "id" : "148",
      "type" : "publication",
      "name" : "Empire Magazine"
    }
  }, {
    "id" : "1677378",
    "type" : "review",
    "score" : "fresh",
    "topCritic" : false,
    "quote" : "With a wide-ranging array of interviewees and an amusingly Moore-like approach to its subject, Manufacturing Dissent is an enjoyable documentary, whether you're pro-Moore, anti-Moore or indifferent.",
    "movieId" : 770673191,
    "scoreOri" : "3/5",
    "creationDate" : "2007-10-05T02:19:51-07:00",
    "url" : "http://www.viewlondon.co.uk/films/manufacturing-dissent-uncovering-michael-moore-film-review-20550.html",
    "critic" : {
      "id" : "2102",
      "type" : "critic",
      "mainImage" : {
        "id" : "c-2669",
        "thumborId" : "v1.YzsyNjY5O2c7MTcwMTA7MTIwMDsxNTA7MTUw",
        "height" : 150,
        "width" : 150,
        "format" : "GIF"
      },
      "name" : "Matthew Turner",
      "vanity" : "matthew-turner"
    },
    "publication" : {
      "id" : "1190",
      "type" : "publication",
      "name" : "ViewLondon"
    }
  }, {
    "id" : "1677358",
    "type" : "review",
    "score" : "fresh",
    "topCritic" : false,
    "quote" : "Exposes a paranoid personality, testy with his critics and bullish about his methodology.",
    "movieId" : 770673191,
    "scoreOri" : null,
    "creationDate" : "2007-10-05T01:46:57-07:00",
    "url" : "http://www.telegraph.co.uk/arts/main.jhtml?view=DETAILS&grid=&xml=/arts/2007/10/05/bfkingdom105.xml",
    "critic" : {
      "id" : "5619",
      "type" : "critic",
      "mainImage" : null,
      "name" : "Tim Robey",
      "vanity" : "tim-robey"
    },
    "publication" : {
      "id" : "921",
      "type" : "publication",
      "name" : "Daily Telegraph (UK)"
    }
  }, {
    "id" : "1677345",
    "type" : "review",
    "score" : "rotten",
    "topCritic" : false,
    "quote" : "Moore's reputation as a brilliant polemicist takes a knock or two, here. But it's still very much upright.",
    "movieId" : 770673191,
    "scoreOri" : "2/5",
    "creationDate" : "2007-10-05T01:26:12-07:00",
    "url" : "http://film.guardian.co.uk/News_Story/Critic_Review/Guardian_review/0,,2183654,00.html",
    "critic" : {
      "id" : "408",
      "type" : "critic",
      "mainImage" : null,
      "name" : "Peter Bradshaw",
      "vanity" : "peter-bradshaw"
    },
    "publication" : {
      "id" : "205",
      "type" : "publication",
      "name" : "Guardian"
    }
  }, {
    "id" : "1677318",
    "type" : "review",
    "score" : "rotten",
    "topCritic" : false,
    "quote" : "A few serious points against Moore's credibility are overshadowed by a lot of dull posturing, unconvincing argument and unpleasant interviews. It's nothing like as good as the films made by the man it maligns.",
    "movieId" : 770673191,
    "scoreOri" : "2/5",
    "creationDate" : "2007-10-05T00:35:46-07:00",
    "url" : "http://www.channel4.com/film/reviews/film.jsp?id=163043",
    "critic" : {
      "id" : "12366",
      "type" : "critic",
      "mainImage" : null,
      "name" : "Sam Jordison",
      "vanity" : "sam-jordison"
    },
    "publication" : {
      "id" : "1396",
      "type" : "publication",
      "name" : "Film4"
    }
  }, {
    "id" : "1677271",
    "type" : "review",
    "score" : "fresh",
    "topCritic" : false,
    "quote" : "The problem in making a documentary about Moore, though, is that it probably won't be as interesting as a documentary made by him, even if his techniques are used.",
    "movieId" : 770673191,
    "scoreOri" : "3/5",
    "creationDate" : "2007-10-04T21:16:52-07:00",
    "url" : "http://www.bbc.co.uk/films/2007/10/01/manufacturing_dissent_uncovering_michael_moore_2007_review.shtml",
    "critic" : {
      "id" : "5512",
      "type" : "critic",
      "mainImage" : null,
      "name" : "Laura Bushell",
      "vanity" : "laura-bushell"
    },
    "publication" : {
      "id" : "52",
      "type" : "publication",
      "name" : "BBC.com"
    }
  }, {
    "id" : "1677216",
    "type" : "review",
    "score" : "rotten",
    "topCritic" : false,
    "quote" : "The big question you have to ask yourself is: do these dishonest work practices actually undermine the message he's trying get across? The answer is probably not... because Moore is already preaching to the converted.",
    "movieId" : 770673191,
    "scoreOri" : null,
    "creationDate" : "2007-10-04T20:06:05-07:00",
    "url" : "http://www.skymovies.com/skymovies/article/0,,80007-1280916,00.html",
    "critic" : {
      "id" : "9278",
      "type" : "critic",
      "mainImage" : null,
      "name" : "Tim Evans",
      "vanity" : "tim-evans"
    },
    "publication" : {
      "id" : "1897",
      "type" : "publication",
      "name" : "Sky Movies"
    }
  }, {
    "id" : "1667045",
    "type" : "review",
    "score" : "rotten",
    "topCritic" : true,
    "quote" : "Manufacturing Dissent comes across less as an expose of a polarizing public figure than as the realization of a personal and not especially interesting grudge against a once-admired colleague who has moved on to bigger things.",
    "movieId" : 770673191,
    "scoreOri" : "1.5/4",
    "creationDate" : "2007-08-30T05:20:13-07:00",
    "url" : "http://metromix.chicagotribune.com/movies/mmx-070831-movies-review-dissent,0,4783286.story?coll=mmx-movies_top_heds",
    "critic" : {
      "id" : "11243",
      "type" : "critic",
      "mainImage" : {
        "id" : "c-1535",
        "thumborId" : "v1.YzsxNTM1O2o7MTcwMTA7MTIwMDszODs0NA",
        "height" : 44,
        "width" : 38,
        "format" : "JPG"
      },
      "name" : "Jessica Reaves",
      "vanity" : "jessica-reaves"
    },
    "publication" : {
      "id" : "68",
      "type" : "publication",
      "name" : "Chicago Tribune"
    }
  }, {
    "id" : "1666936",
    "type" : "review",
    "score" : "fresh",
    "topCritic" : false,
    "quote" : "Though much of what's in the film isn't new information, seeing it all compiled in one place and building to its damning argument against Moore is effective and disturbing.",
    "movieId" : 770673191,
    "scoreOri" : "3.5/5",
    "creationDate" : "2007-08-29T20:15:46-07:00",
    "url" : "http://boxoffice.com/reviews/2008/08/hot-docs-2007-manufacturing-di.php",
    "critic" : {
      "id" : "1260",
      "type" : "critic",
      "mainImage" : null,
      "name" : "Shlomo Schwartzberg",
      "vanity" : "shlomo-schwartzberg"
    },
    "publication" : {
      "id" : "49",
      "type" : "publication",
      "name" : "Boxoffice Magazine"
    }
  }, {
    "id" : "1666937",
    "type" : "review",
    "score" : "fresh",
    "topCritic" : false,
    "quote" : "This hugely entertaining documentary turns Michael Moore's filmmaking style back on himself to separate the facts from the rumours. It's not a hatchet job, but Moore doesn't emerge unscathed.",
    "movieId" : 770673191,
    "scoreOri" : "4/5",
    "creationDate" : "2007-08-29T20:15:46-07:00",
    "url" : "http://www.shadowsonthewall.co.uk/07/d-e.htm#manu",
    "critic" : {
      "id" : "4649",
      "type" : "critic",
      "mainImage" : {
        "id" : "c-1719",
        "thumborId" : "v1.YzsxNzE5O2c7MTcwMTA7MTIwMDszODs0Mg",
        "height" : 42,
        "width" : 38,
        "format" : "GIF"
      },
      "name" : "Rich Cline",
      "vanity" : "rich-cline"
    },
    "publication" : {
      "id" : "929",
      "type" : "publication",
      "name" : "Shadows on the Wall"
    }
  }, {
    "id" : "1664687",
    "type" : "review",
    "score" : "rotten",
    "topCritic" : false,
    "quote" : "Rarely acknowledges the basic transparency of Moore's films . . . only when [this doc] takes on [Moore's] work does it land its hardest blows. The disc's best special feature is a ten-minute 'Documentary Discussion.'",
    "movieId" : 770673191,
    "scoreOri" : null,
    "creationDate" : "2007-08-20T08:30:52-07:00",
    "url" : null,
    "critic" : {
      "id" : "9667",
      "type" : "critic",
      "mainImage" : null,
      "name" : "Brian Gibson",
      "vanity" : "brian-gibson"
    },
    "publication" : {
      "id" : "1132",
      "type" : "publication",
      "name" : "Vue Weekly (Edmonton, Canada)"
    }
  }, {
    "id" : "1654479",
    "type" : "review",
    "score" : "fresh",
    "topCritic" : true,
    "quote" : "While Manufacturing Dissent provides little that is new, it does place the controversy in the larger context of the contradictory relationship between the pursuit of fame and journalistic integrity.",
    "movieId" : 770673191,
    "scoreOri" : "2.5/4",
    "creationDate" : "2007-07-20T07:17:57-07:00",
    "url" : "http://www.thestar.com/entertainment/article/237936",
    "critic" : {
      "id" : "954",
      "type" : "critic",
      "mainImage" : {
        "id" : "c-1627",
        "thumborId" : "v1.YzsxNjI3O2c7MTcwMTA7MTIwMDszODs0NQ",
        "height" : 45,
        "width" : 38,
        "format" : "GIF"
      },
      "name" : "Geoff Pevere",
      "vanity" : "geoff-pevere"
    },
    "publication" : {
      "id" : "450",
      "type" : "publication",
      "name" : "Toronto Star"
    }
  }, {
    "id" : "1654477",
    "type" : "review",
    "score" : "rotten",
    "topCritic" : false,
    "quote" : "Manufacturing Dissent seems disingenuous at times and just plain stupid at others.",
    "movieId" : 770673191,
    "scoreOri" : "1/5",
    "creationDate" : "2007-07-20T07:15:26-07:00",
    "url" : "http://jam.canoe.ca/Movies/Reviews/M/Manufacturing_Dissent",
    "critic" : {
      "id" : "161",
      "type" : "critic",
      "mainImage" : null,
      "name" : "Liz Braun",
      "vanity" : "liz-braun"
    },
    "publication" : {
      "id" : "234",
      "type" : "publication",
      "name" : "Jam! Movies"
    }
  }, {
    "id" : "1611509",
    "type" : "review",
    "score" : "fresh",
    "topCritic" : false,
    "quote" : "A Michael Moore-style documentary about Moore himself.",
    "movieId" : 770673191,
    "scoreOri" : "3/5",
    "creationDate" : "2007-04-04T03:33:41-07:00",
    "url" : "http://www.cinematical.com/2007/03/13/sxsw-review-manufacturing-dissent/",
    "critic" : {
      "id" : "12011",
      "type" : "critic",
      "mainImage" : null,
      "name" : "Jette Kernion",
      "vanity" : "jette-kernion"
    },
    "publication" : {
      "id" : "1723",
      "type" : "publication",
      "name" : "Cinematical"
    }
  }, {
    "id" : "1607866",
    "type" : "review",
    "score" : "rotten",
    "topCritic" : false,
    "quote" : "Caine and Melnyk's film is intent in questioning such legitimacies, which it does well; it's just as propagandistic as a Michael Moore film, but not as entertaining.",
    "movieId" : 770673191,
    "scoreOri" : null,
    "creationDate" : "2007-03-19T20:16:57-07:00",
    "url" : "http://www.notcoming.com/reviews/manufacturingdissent/",
    "critic" : {
      "id" : "5500",
      "type" : "critic",
      "mainImage" : {
        "id" : "c-2238",
        "thumborId" : "v1.YzsyMjM4O2c7MTcwMTA7MTIwMDsxNDQ7MjEz",
        "height" : 213,
        "width" : 144,
        "format" : "GIF"
      },
      "name" : "Rumsey Taylor",
      "vanity" : "rumsey-taylor"
    },
    "publication" : {
      "id" : "974",
      "type" : "publication",
      "name" : "Not Coming to a Theater Near You"
    }
  }, {
    "id" : "1607865",
    "type" : "review",
    "score" : "rotten",
    "topCritic" : false,
    "quote" : "Manufacturing Dissent seeks to criticize Michael Moore's documentary tactics, while simultaneously using those same tactics unsuccessfully in the creation of the film.",
    "movieId" : 770673191,
    "scoreOri" : "1.5/5",
    "creationDate" : "2007-03-19T20:16:56-07:00",
    "url" : "http://www.filmthreat.com/index.php?section=reviews&Id=9876",
    "critic" : {
      "id" : "11946",
      "type" : "critic",
      "mainImage" : null,
      "name" : "Sally Foster",
      "vanity" : "sally-foster"
    },
    "publication" : {
      "id" : "174",
      "type" : "publication",
      "name" : "Film Threat"
    }
  } ],
  "audienceReviews" : [ {
    "id" : "98180",
    "type" : "audienceReview",
    "score" : 6.0,
    "ratingDate" : "2012-08-01T04:00:13-07:00",
    "userImage" : {
      "thumbnailUrl" : "graph.facebook.com/v2.2/100000440772572/picture"
    },
    "superReviewer" : true,
    "movieId" : 770673191,
    "comment" : "Manufacturing Dissent is an interesting documentary that looks at controversial filmmaker Michael Moore.  Canadian documentarian Debbie Melnyk follows Moore's 2004 Slacker Uprising tour while discussing his divisive career, and interviewing his former friends and associates.  The film makes an interesting point of how Moore has a pattern of burning his bridges, and alienating or betraying his supporters.  To that end, Melnyk begins sympathetic toward Moore but ends up becoming a victim of his tactics of deception and manipulation.  Unfortunately, the picture quality is rather low end and there are several times that the narrative appears to lack direction.  Yet despite its flaws, Manufacturing Dissent provides an intriguing perspective on Michael Moore's journey.",
    "ratingSource" : null,
    "userName" : "Dann Michalski",
    "userId" : null
  }, {
    "id" : "98182",
    "type" : "audienceReview",
    "score" : 6.0,
    "ratingDate" : "2012-03-24T04:53:02-07:00",
    "userImage" : {
      "thumbnailUrl" : "graph.facebook.com/v2.2/507938654/picture"
    },
    "superReviewer" : false,
    "movieId" : 770673191,
    "comment" : "This movie about the complications and manipulations of Michael Moore is a useful companion piece to Roger and Me and Fahrenheit 9/11.  Even if you don't agree with its politics, the film  will at least get you thinking",
    "ratingSource" : null,
    "userName" : "Gordon Briggs",
    "userId" : null
  }, {
    "id" : "98183",
    "type" : "audienceReview",
    "score" : 8.0,
    "ratingDate" : "2009-06-02T13:31:00-07:00",
    "userImage" : null,
    "superReviewer" : false,
    "movieId" : 770673191,
    "comment" : "First, I have to make an announcement.  As of this week, the library's hold policy has changed.  They're only allowing people to have twenty-five items on hold at a time.  Now, I checked eleven items out yesterday, and only maybe two of them are movies; most are PBS or History Channel items or other things that are an hour or shorter.  What's more, there's only three or four on the list where I'm in the front of the line.  For the most part, there's five or more people in front of me.  Sometimes twenty or more.  I have thirty items on hold right now; they haven't removed any from the list, but I can't add any more until I get down to under twenty-five again.  In practical terms, what this means is that my movie project is about to slow way, way down.  Now, I have my Netflix still, but I'm on three at a time, so there's a limit to how many we'll get there.  I've got a fair number of movies that I own that we haven't done.  However, I may have to write a few not-review essays here and there to fill out space.  Yeah, all right, I could just stop doing this every day, but it's generally agreed that it's important to me to have some sort of structure to my day, and this is it.  So that's what's going on, for future reference.\r\n\r\nMichael Moore is a polarizing man.  People on either end of the political spectrum feel very passionately on the subject.  And Canadian filmmakers Rick Caine and Debbie Melnyk decided to see what validity each viewpoint had.  As tends to be the case, they weren't able to actually interview Michael Moore.  From what I can tell, he's generally eager to avoid that if he can.  Unlike some, they didn't dig much until the actual facts behind things.  They leave that to others.  Instead, they look into Moore the man and Moore the editor.  They follow him around on tour.  (Where their credentials are questioned and their cameras damaged.)  They also have footage where Moore freely admits to editing film to prove his point; he seems surprised that anyone would have a problem with that.  The filmmakers seem, based on what they say early in the piece, to agree with a lot of his political stances, though they do try to stay objective.  They are also pretty good about getting both pro- and anti-Moore voices, which is pretty unusual for any documentary about politics of any slant.  And I have to say, although I was already less than thrilled with Moore in the first place, I really don't like the guy as he's shown here.\r\n\r\nI think in many ways that Michael Moore is the Ann Coulter of the left.  A [i]lot[/i] of liberals don't like him.  I'm one of them.  I don't think he helps win people over to his perspective, [i]even when he's right[/i].  He comes across as smug, self-righteous, and unpleasant.  Oh, and hypocritical.  At the beginning of this story, he tells the filmmakers that he loves the Canadians and wishes to help their film as much as possible.  He then spends the entire film avoiding them.  He even prescreens people entering his press conference, a technique he criticizes in others.  They pretty much rolled 212 on him there and throughout the film.  They show him complaining about Bush's fearmongering, then they show him saying that, if Bush is reelected, he'll reinstitute the draft.  They show him stumping for Nader, then they show him comparing voting for Nader to masturbation.  In fact, my favourite moment is a clip from [i]TV Nation[/i] featuring women dressed up as Puritans, imitating the girls from the Salem Witch Trials outside Ken Starr's house.  Not office, mind--house.  (One of them might be my former coworker Erica, who was on the show for a while.)  He asks a woman whom I assume to be Mrs. Starr if she knows what a witch hunt is, and she says dryly that she's quite aware.\r\n\r\nNow, again, this film isn't really looking at whether they agree with Moore or not.  Just his techniques.  They do talk a little bit about his accuracy of fact, though not much.  And don't get me wrong--I don't think anyone's life comes up as completely free of hypocrisy when scrutinized.  I'm sure mine does, though I'd really like it if my friends would refrain from pointing out examples!  There are also a lot of people who know Moore personally who are clearly quite fond of him.  However, there are also people who feel kind of cast aside by him.  (And, in the deleted scenes, you can see a very annoyed Ray Bradbury.)  It almost seems that he polarizes the people he knows, too.  It also seems that he's been doing it on purpose for a very long time.\r\n\r\nI think Michael Moore believes he's helping; I don't believe that to be hypocrisy.  I think he thinks that making a giant fuss and being a gadfly in the American scene helps get his message across and helps convert people to his side.  He really thinks he's convincing a lot of people, and he really thinks he's doing good work.  I have never disputed that.  However, I don't think extreme viewpoints being shouted really convinces much of anyone.  Again, even if they're right.  I also think it helps to practice what you preach at least as much as you can.  We all laughed when we found out about Rush Limbaugh's drug habit (and, I've heard speculation, dealing), because he has so consistently been such a big voice against drugs and drug users.  We laugh when we hear about vocally anti-gay politicians being caught propositioning people in bathrooms or paying hookers with meth or whatever.  And when we catch Michael Moore censoring people, that's funny, too.  He wants to be funny, but I don't think he wants to be a laughingstock.",
    "ratingSource" : null,
    "userName" : "Edith Nelson",
    "userId" : null
  }, {
    "id" : "98181",
    "type" : "audienceReview",
    "score" : 7.0,
    "ratingDate" : "2007-12-23T11:26:32-08:00",
    "userImage" : {
      "thumbnailUrl" : "graph.facebook.com/v2.2/731865985/picture"
    },
    "superReviewer" : true,
    "movieId" : 770673191,
    "comment" : "After seeing the terrible Farenhype 911 doc that was clearly anit-Moore, but did have a few interesting things to say I had no intention of ever watching this one.  However, sitting on a plane and not wanting to watch a fictional movie where I'm just not going to get to pay as much attention to as I'd like to, I chose this one.  And much to my surprise, even though the video system went down, I went out and rented it the next day to finish it because I found it pretty interesting.  Not the best doc ever made, more like the TV special I think it was intended as, this is a great look into Moore's manipulation of facts and media to make himself into what he is today.  Politics aside, it's an interesting look at a self made celebrity and the lengths he will go to retain that.  Also, it's truly scary watching his brainwashed followers AKA young democrats.  Eg:  \nMoore:  Look at those Republicans over there!\nCrowd:  BoooooO!\nMoore:  No, let's not boo them.  Unlike them we like to hear other opinions!\nCrowd:  Yaaaaay.\n\nYikes!  I definitely lean more to the left (maybe it's my shoes), but a lot of Moore's speeches remind me of Bob Roberts.  I remember feeling tricked when I found out about the untruths in his documentaries, I always considered myself not to follow people blindly, but I seriously feel kinda stupid for buying some of the crap he was dishing out.  Did I really think a bank would just hand someone a gun?  What the hell is wrong with me?  Anyway, because of Moore I now question all documentaries more than I should and take everything said in any \"editorial\" documentary with a grain of salt, because not only is the view possibly one-sided, but now it could just be a downright lie.",
    "ratingSource" : null,
    "userName" : "Christopher  Brown",
    "userId" : null
  } ],
  "images" : [ {
    "id" : "n-324017",
    "type" : "image",
    "width" : 2439,
    "format" : "JPG",
    "thumborId" : "v1.bjszMjQwMTc7ajsxNzAxMzsxMjAwOzI0Mzk7MzAwMQ",
    "height" : 3001
  }, {
    "id" : "n-324018",
    "type" : "image",
    "width" : 2400,
    "format" : "JPG",
    "thumborId" : "v1.bjszMjQwMTg7ajsxNzAxMzsxMjAwOzI0MDA7MzYxOA",
    "height" : 3618
  } ],
  "videoClips" : [ ],
  "criticSummary" : {
    "id" : "7598",
    "type" : "criticSummary",
    "consensus" : null,
    "topCritics" : {
      "totalCount" : 11,
      "freshCount" : 7,
      "rottenCount" : 4,
      "dvdCount" : 0,
      "averageRating" : 5.81,
      "topCriticsTomatometer" : {
        "value" : 64,
        "state" : "fresh"
      }
    },
    "allCritics" : {
      "totalCount" : 24,
      "freshCount" : 13,
      "rottenCount" : 11,
      "dvdCount" : 5,
      "averageRating" : 5.27
    }
  },
  "audienceSummary" : {
    "id" : "770673191",
    "type" : "audienceSummary",
    "avgScore" : 3.0,
    "popcornMeter" : {
      "state" : "spilled",
      "value" : 39
    },
    "audienceCount" : 2243
  },
  "affiliates" : {
    "id" : "770673191",
    "type" : "affiliates",
    "itunesInfo" : [ ],
    "amazonInfo" : [ ],
    "vuduInfo" : [ ],
    "sonicInfo" : [ ]
  }
}
{
  "title" : "Manufacturing Dissent",
  "id" : "770673191",
  "year" : 2007,
  "advisory" : "for some language",
  "tomatometer" : {
    "state" : "rotten",
    "value" : 54
  },
  "studio" : "Films Transit International",
  "synopsis" : "In an era where fact, fiction, and legend have become increasingly difficult to distinguish, Debbie Melnyk and Rick Caine set out to explore the politically charged climate in America and find out just how documentary director Michael Moore has evolved from a simple filmmaker into an icon of left-leaning politics.",
  "runningTime" : 96,
  "releaseDates" : {
    "dvd" : "2007-11-06",
    "theater" : "2007-07-12"
  },
  "lastModifiedDate" : "2016-06-25T07:51:03-07:00",
  "creationDate" : "2007-07-20T17:32:11-07:00",
  "vanity" : "manufacturing-dissent",
  "mpaaRating" : "R",
  "genres" : [ {
    "id" : "8",
    "type" : "genre",
    "name" : "Documentary",
    "tag" : "documentary"
  }, {
    "id" : "15",
    "type" : "genre",
    "name" : "Special Interest",
    "tag" : "special-interest"
  }, {
    "id" : "16",
    "type" : "genre",
    "name" : "Television",
    "tag" : "television"
  } ],
  "castItems" : [ {
    "id" : "771867580",
    "type" : "movieCast",
    "characters" : [ ],
    "role" : "ACT",
    "person" : {
      "id" : "162653290",
      "type" : "person",
      "mainImage" : null,
      "name" : "John Pierson",
      "vanity" : "john_pierson"
    }
  }, {
    "id" : "771867576",
    "type" : "movieCast",
    "characters" : [ ],
    "role" : "ACT",
    "person" : {
      "id" : "335716545",
      "type" : "person",
      "mainImage" : {
        "id" : "n-3810",
        "thumborId" : "v1.bjszODEwO2o7MTcwMTA7MTIwMDsxOTIwOzEwODA",
        "height" : 1080,
        "width" : 1920,
        "format" : "JPG"
      },
      "name" : "Noam Chomsky",
      "vanity" : "noam_chomsky"
    }
  }, {
    "id" : "774470223",
    "type" : "movieCast",
    "characters" : [ ],
    "role" : "ACT",
    "person" : {
      "id" : "771771344",
      "type" : "person",
      "mainImage" : null,
      "name" : "Dave Marsh",
      "vanity" : "dave_marsh_6"
    }
  }, {
    "id" : "771867577",
    "type" : "movieCast",
    "characters" : [ ],
    "role" : "ACT",
    "person" : {
      "id" : "399395969",
      "type" : "person",
      "mainImage" : {
        "id" : "n-285855",
        "thumborId" : "v1.bjsyODU4NTU7ajsxNzAxMzsxMjAwOzExNTI7NjQ4",
        "height" : 648,
        "width" : 1152,
        "format" : "JPG"
      },
      "name" : "Ralph Nader",
      "vanity" : "ralph_nader"
    }
  }, {
    "id" : "771867579",
    "type" : "movieCast",
    "characters" : [ ],
    "role" : "ACT",
    "person" : {
      "id" : "162666743",
      "type" : "person",
      "mainImage" : {
        "id" : "r-36992",
        "thumborId" : "v1.cjszNjk5MjtqOzE3MDEwOzEyMDA7NjAwOzQyNw",
        "height" : 427,
        "width" : 600,
        "format" : "JPG"
      },
      "name" : "Albert Maysles",
      "vanity" : "albert_maysles"
    }
  }, {
    "id" : "771867578",
    "type" : "movieCast",
    "characters" : [ ],
    "role" : "ACT",
    "person" : {
      "id" : "162660353",
      "type" : "person",
      "mainImage" : {
        "id" : "n-64813",
        "thumborId" : "v1.bjs2NDgxMztqOzE3MDEwOzEyMDA7MTIwMDs5MDA",
        "height" : 900,
        "width" : 1200,
        "format" : "JPG"
      },
      "name" : "Errol Morris",
      "vanity" : "errol_morris"
    }
  }, {
    "id" : "772765795",
    "type" : "movieCast",
    "characters" : [ ],
    "role" : "ACT",
    "person" : {
      "id" : "770918908",
      "type" : "person",
      "mainImage" : null,
      "name" : "Dave Marsh",
      "vanity" : "dave_marsh"
    }
  } ],
  "screenwriterItems" : [ {
    "id" : "774183487",
    "type" : "movieCast",
    "characters" : [ ],
    "role" : "SCR",
    "person" : {
      "id" : "770675884",
      "type" : "person",
      "mainImage" : null,
      "name" : "Rick Caine",
      "vanity" : "rick_caine"
    }
  }, {
    "id" : "774183488",
    "type" : "movieCast",
    "characters" : [ ],
    "role" : "SCR",
    "person" : {
      "id" : "770675885",
      "type" : "person",
      "mainImage" : null,
      "name" : "Debbie Melnyk",
      "vanity" : "debbie_melnyk"
    }
  } ],
  "directorItems" : [ {
    "id" : "770690786",
    "type" : "movieCast",
    "characters" : [ ],
    "role" : "DIR",
    "person" : {
      "id" : "770675884",
      "type" : "person",
      "mainImage" : null,
      "name" : "Rick Caine",
      "vanity" : "rick_caine"
    }
  }, {
    "id" : "770690787",
    "type" : "movieCast",
    "characters" : [ ],
    "role" : "DIR",
    "person" : {
      "id" : "770675885",
      "type" : "person",
      "mainImage" : null,
      "name" : "Debbie Melnyk",
      "vanity" : "debbie_melnyk"
    }
  } ],
  "criticSummary" : {
    "topCritics" : {
      "tomatometer" : {
        "value" : 64,
        "state" : "fresh"
      },
      "totalCount" : 11,
      "freshCount" : 7,
      "rottenCount" : 4,
      "dvdCount" : 0,
      "averageRating" : 5.81
    },
    "allCritics" : {
      "tomatometer" : {
        "state" : "rotten",
        "value" : 54
      },
      "totalCount" : 24,
      "freshCount" : 13,
      "rottenCount" : 11,
      "dvdCount" : 5,
      "averageRating" : 5.27
    }
  },
  "audienceSummary" : {
    "id" : "770673191",
    "type" : "audienceSummary",
    "avgScore" : 3.0,
    "popcornMeter" : {
      "state" : "spilled",
      "value" : 39
    },
    "audienceCount" : 2243
  },
  "reviews" : [ {
    "id" : "2025931",
    "type" : "review",
    "score" : "fresh",
    "topCritic" : true,
    "quote" : null,
    "movieId" : 770673191,
    "scoreOri" : "3/5",
    "creationDate" : "2011-11-16T21:15:45-08:00",
    "url" : "http://www.timeout.com/film/chicago/reviews/84585/manufacturing_dissent-uncovering_michael_moore.html",
    "critic" : {
      "id" : "5978",
      "type" : "critic",
      "mainImage" : null,
      "name" : "Ben Kenigsberg",
      "vanity" : "ben-kenigsberg"
    },
    "publication" : {
      "id" : "1651",
      "type" : "publication",
      "name" : "Time Out"
    }
  }, {
    "id" : "1679555",
    "type" : "review",
    "score" : "fresh",
    "topCritic" : true,
    "quote" : "A solid, well-done and seemingly balanced look at Moore's work, his celebrity, his methods and the ethical problems in his reporting.",
    "movieId" : 770673191,
    "scoreOri" : "3.5/4",
    "creationDate" : "2007-10-12T07:55:03-07:00",
    "url" : "http://www.sfgate.com/cgi-bin/article.cgi?file=/c/a/2007/10/11/DDP1SNPCP.DTL#flick2",
    "critic" : {
      "id" : "1109",
      "type" : "critic",
      "mainImage" : null,
      "name" : "G. Allen Johnson",
      "vanity" : "g-allen-johnson"
    },
    "publication" : {
      "id" : "402",
      "type" : "publication",
      "name" : "San Francisco Chronicle"
    }
  }, {
    "id" : "1679061",
    "type" : "review",
    "score" : "fresh",
    "topCritic" : true,
    "quote" : "There's little to disagree with in the thumbnail portrait of Moore that emerges from this entertaining doc.",
    "movieId" : 770673191,
    "scoreOri" : null,
    "creationDate" : "2007-10-11T05:34:31-07:00",
    "url" : "http://www.laweekly.com/film+tv/film-reviews/movie-reviews-berkeley-the-heartbreak-kid-lust-caution/17457/?page=3",
    "critic" : {
      "id" : "2904",
      "type" : "critic",
      "mainImage" : null,
      "name" : "Ella Taylor",
      "vanity" : "ella-taylor"
    },
    "publication" : {
      "id" : "251",
      "type" : "publication",
      "name" : "L.A. Weekly"
    }
  }, {
    "id" : "1677261",
    "type" : "review",
    "score" : "fresh",
    "topCritic" : true,
    "quote" : "Some of the accusations in this documentary by a pair of Canadian filmmakers who initially set out to make a positive portrait, will make your eyes water.",
    "movieId" : 770673191,
    "scoreOri" : "4/6",
    "creationDate" : "2007-10-04T20:34:53-07:00",
    "url" : "http://www.timeout.com/film/reviews/84585/manufacturing_dissent-uncovering_michael_moore.html",
    "critic" : {
      "id" : "12291",
      "type" : "critic",
      "mainImage" : {
        "id" : "c-2441",
        "thumborId" : "v1.YzsyNDQxO2c7MTcwMTA7MTIwMDszODs0Mg",
        "height" : 42,
        "width" : 38,
        "format" : "GIF"
      },
      "name" : "Dave Calhoun",
      "vanity" : "dave-calhoun"
    },
    "publication" : {
      "id" : "1651",
      "type" : "publication",
      "name" : "Time Out"
    }
  }, {
    "id" : "1667519",
    "type" : "review",
    "score" : "rotten",
    "topCritic" : true,
    "quote" : "Too bad co-writers/co-directors Debbie Melnyk and Rick Caine don't investigate -- and ingratiate -- the way their target does in his own films.",
    "movieId" : 770673191,
    "scoreOri" : "2/4",
    "creationDate" : "2007-08-31T07:25:01-07:00",
    "url" : "http://www.suntimes.com/entertainment/movies/535394,CNT-News-dissent31.article",
    "critic" : {
      "id" : "4742",
      "type" : "critic",
      "mainImage" : null,
      "name" : "Bill Stamets",
      "vanity" : "bill-stamets"
    },
    "publication" : {
      "id" : "67",
      "type" : "publication",
      "name" : "Chicago Sun-Times"
    }
  }, {
    "id" : "1667516",
    "type" : "review",
    "score" : "rotten",
    "topCritic" : true,
    "quote" : "Useful but limited muckraking.",
    "movieId" : 770673191,
    "scoreOri" : null,
    "creationDate" : "2007-08-31T07:21:18-07:00",
    "url" : "http://onfilm.chicagoreader.com/movies/briefs/32017_MANUFACTURING_DISSENT.html",
    "critic" : {
      "id" : "18",
      "type" : "critic",
      "mainImage" : {
        "id" : "c-1583",
        "thumborId" : "v1.YzsxNTgzO2c7MTcwMTA7MTIwMDszODs1NA",
        "height" : 54,
        "width" : 38,
        "format" : "GIF"
      },
      "name" : "Jonathan Rosenbaum",
      "vanity" : "jonathan-rosenbaum"
    },
    "publication" : {
      "id" : "66",
      "type" : "publication",
      "name" : "Chicago Reader"
    }
  }, {
    "id" : "1769331",
    "type" : "review",
    "score" : "NA",
    "topCritic" : false,
    "quote" : null,
    "movieId" : 770673191,
    "scoreOri" : null,
    "creationDate" : "2008-10-17T23:08:10-07:00",
    "url" : "http://www.urbancinefile.com.au/home/view.asp?a=13487&s=DVD",
    "critic" : {
      "id" : "5",
      "type" : "critic",
      "mainImage" : null,
      "name" : "Urban Cinefile Critics",
      "vanity" : "urban-cinefile-critics"
    },
    "publication" : {
      "id" : "462",
      "type" : "publication",
      "name" : "Urban Cinefile"
    }
  }, {
    "id" : "1683625",
    "type" : "review",
    "score" : "rotten",
    "topCritic" : false,
    "quote" : "This even-handed effort simply doesn't probe deep enough.",
    "movieId" : 770673191,
    "scoreOri" : "2/5",
    "creationDate" : "2007-10-25T20:15:22-07:00",
    "url" : "http://www.empireonline.com/reviews/ReviewComplete.asp?FID=135190",
    "critic" : {
      "id" : "12788",
      "type" : "critic",
      "mainImage" : null,
      "name" : "Glen Ferris",
      "vanity" : "glen-ferris"
    },
    "publication" : {
      "id" : "148",
      "type" : "publication",
      "name" : "Empire Magazine"
    }
  }, {
    "id" : "1682019",
    "type" : "review",
    "score" : "rotten",
    "topCritic" : false,
    "quote" : null,
    "movieId" : 770673191,
    "scoreOri" : "2/5",
    "creationDate" : "2007-10-19T21:50:36-07:00",
    "url" : "http://www.empireonline.com/reviews/review.asp?dvdid=117726",
    "publication" : {
      "id" : "148",
      "type" : "publication",
      "name" : "Empire Magazine"
    }
  }, {
    "id" : "1677378",
    "type" : "review",
    "score" : "fresh",
    "topCritic" : false,
    "quote" : "With a wide-ranging array of interviewees and an amusingly Moore-like approach to its subject, Manufacturing Dissent is an enjoyable documentary, whether you're pro-Moore, anti-Moore or indifferent.",
    "movieId" : 770673191,
    "scoreOri" : "3/5",
    "creationDate" : "2007-10-05T02:19:51-07:00",
    "url" : "http://www.viewlondon.co.uk/films/manufacturing-dissent-uncovering-michael-moore-film-review-20550.html",
    "critic" : {
      "id" : "2102",
      "type" : "critic",
      "mainImage" : {
        "id" : "c-2669",
        "thumborId" : "v1.YzsyNjY5O2c7MTcwMTA7MTIwMDsxNTA7MTUw",
        "height" : 150,
        "width" : 150,
        "format" : "GIF"
      },
      "name" : "Matthew Turner",
      "vanity" : "matthew-turner"
    },
    "publication" : {
      "id" : "1190",
      "type" : "publication",
      "name" : "ViewLondon"
    }
  }, {
    "id" : "1677358",
    "type" : "review",
    "score" : "fresh",
    "topCritic" : false,
    "quote" : "Exposes a paranoid personality, testy with his critics and bullish about his methodology.",
    "movieId" : 770673191,
    "scoreOri" : null,
    "creationDate" : "2007-10-05T01:46:57-07:00",
    "url" : "http://www.telegraph.co.uk/arts/main.jhtml?view=DETAILS&grid=&xml=/arts/2007/10/05/bfkingdom105.xml",
    "critic" : {
      "id" : "5619",
      "type" : "critic",
      "mainImage" : null,
      "name" : "Tim Robey",
      "vanity" : "tim-robey"
    },
    "publication" : {
      "id" : "921",
      "type" : "publication",
      "name" : "Daily Telegraph (UK)"
    }
  }, {
    "id" : "1677345",
    "type" : "review",
    "score" : "rotten",
    "topCritic" : false,
    "quote" : "Moore's reputation as a brilliant polemicist takes a knock or two, here. But it's still very much upright.",
    "movieId" : 770673191,
    "scoreOri" : "2/5",
    "creationDate" : "2007-10-05T01:26:12-07:00",
    "url" : "http://film.guardian.co.uk/News_Story/Critic_Review/Guardian_review/0,,2183654,00.html",
    "critic" : {
      "id" : "408",
      "type" : "critic",
      "mainImage" : null,
      "name" : "Peter Bradshaw",
      "vanity" : "peter-bradshaw"
    },
    "publication" : {
      "id" : "205",
      "type" : "publication",
      "name" : "Guardian"
    }
  }, {
    "id" : "1677318",
    "type" : "review",
    "score" : "rotten",
    "topCritic" : false,
    "quote" : "A few serious points against Moore's credibility are overshadowed by a lot of dull posturing, unconvincing argument and unpleasant interviews. It's nothing like as good as the films made by the man it maligns.",
    "movieId" : 770673191,
    "scoreOri" : "2/5",
    "creationDate" : "2007-10-05T00:35:46-07:00",
    "url" : "http://www.channel4.com/film/reviews/film.jsp?id=163043",
    "critic" : {
      "id" : "12366",
      "type" : "critic",
      "mainImage" : null,
      "name" : "Sam Jordison",
      "vanity" : "sam-jordison"
    },
    "publication" : {
      "id" : "1396",
      "type" : "publication",
      "name" : "Film4"
    }
  }, {
    "id" : "1677271",
    "type" : "review",
    "score" : "fresh",
    "topCritic" : false,
    "quote" : "The problem in making a documentary about Moore, though, is that it probably won't be as interesting as a documentary made by him, even if his techniques are used.",
    "movieId" : 770673191,
    "scoreOri" : "3/5",
    "creationDate" : "2007-10-04T21:16:52-07:00",
    "url" : "http://www.bbc.co.uk/films/2007/10/01/manufacturing_dissent_uncovering_michael_moore_2007_review.shtml",
    "critic" : {
      "id" : "5512",
      "type" : "critic",
      "mainImage" : null,
      "name" : "Laura Bushell",
      "vanity" : "laura-bushell"
    },
    "publication" : {
      "id" : "52",
      "type" : "publication",
      "name" : "BBC.com"
    }
  }, {
    "id" : "1677216",
    "type" : "review",
    "score" : "rotten",
    "topCritic" : false,
    "quote" : "The big question you have to ask yourself is: do these dishonest work practices actually undermine the message he's trying get across? The answer is probably not... because Moore is already preaching to the converted.",
    "movieId" : 770673191,
    "scoreOri" : null,
    "creationDate" : "2007-10-04T20:06:05-07:00",
    "url" : "http://www.skymovies.com/skymovies/article/0,,80007-1280916,00.html",
    "critic" : {
      "id" : "9278",
      "type" : "critic",
      "mainImage" : null,
      "name" : "Tim Evans",
      "vanity" : "tim-evans"
    },
    "publication" : {
      "id" : "1897",
      "type" : "publication",
      "name" : "Sky Movies"
    }
  }, {
    "id" : "1667045",
    "type" : "review",
    "score" : "rotten",
    "topCritic" : true,
    "quote" : "Manufacturing Dissent comes across less as an expose of a polarizing public figure than as the realization of a personal and not especially interesting grudge against a once-admired colleague who has moved on to bigger things.",
    "movieId" : 770673191,
    "scoreOri" : "1.5/4",
    "creationDate" : "2007-08-30T05:20:13-07:00",
    "url" : "http://metromix.chicagotribune.com/movies/mmx-070831-movies-review-dissent,0,4783286.story?coll=mmx-movies_top_heds",
    "critic" : {
      "id" : "11243",
      "type" : "critic",
      "mainImage" : {
        "id" : "c-1535",
        "thumborId" : "v1.YzsxNTM1O2o7MTcwMTA7MTIwMDszODs0NA",
        "height" : 44,
        "width" : 38,
        "format" : "JPG"
      },
      "name" : "Jessica Reaves",
      "vanity" : "jessica-reaves"
    },
    "publication" : {
      "id" : "68",
      "type" : "publication",
      "name" : "Chicago Tribune"
    }
  }, {
    "id" : "1666936",
    "type" : "review",
    "score" : "fresh",
    "topCritic" : false,
    "quote" : "Though much of what's in the film isn't new information, seeing it all compiled in one place and building to its damning argument against Moore is effective and disturbing.",
    "movieId" : 770673191,
    "scoreOri" : "3.5/5",
    "creationDate" : "2007-08-29T20:15:46-07:00",
    "url" : "http://boxoffice.com/reviews/2008/08/hot-docs-2007-manufacturing-di.php",
    "critic" : {
      "id" : "1260",
      "type" : "critic",
      "mainImage" : null,
      "name" : "Shlomo Schwartzberg",
      "vanity" : "shlomo-schwartzberg"
    },
    "publication" : {
      "id" : "49",
      "type" : "publication",
      "name" : "Boxoffice Magazine"
    }
  }, {
    "id" : "1666937",
    "type" : "review",
    "score" : "fresh",
    "topCritic" : false,
    "quote" : "This hugely entertaining documentary turns Michael Moore's filmmaking style back on himself to separate the facts from the rumours. It's not a hatchet job, but Moore doesn't emerge unscathed.",
    "movieId" : 770673191,
    "scoreOri" : "4/5",
    "creationDate" : "2007-08-29T20:15:46-07:00",
    "url" : "http://www.shadowsonthewall.co.uk/07/d-e.htm#manu",
    "critic" : {
      "id" : "4649",
      "type" : "critic",
      "mainImage" : {
        "id" : "c-1719",
        "thumborId" : "v1.YzsxNzE5O2c7MTcwMTA7MTIwMDszODs0Mg",
        "height" : 42,
        "width" : 38,
        "format" : "GIF"
      },
      "name" : "Rich Cline",
      "vanity" : "rich-cline"
    },
    "publication" : {
      "id" : "929",
      "type" : "publication",
      "name" : "Shadows on the Wall"
    }
  }, {
    "id" : "1664687",
    "type" : "review",
    "score" : "rotten",
    "topCritic" : false,
    "quote" : "Rarely acknowledges the basic transparency of Moore's films . . . only when [this doc] takes on [Moore's] work does it land its hardest blows. The disc's best special feature is a ten-minute 'Documentary Discussion.'",
    "movieId" : 770673191,
    "scoreOri" : null,
    "creationDate" : "2007-08-20T08:30:52-07:00",
    "url" : null,
    "critic" : {
      "id" : "9667",
      "type" : "critic",
      "mainImage" : null,
      "name" : "Brian Gibson",
      "vanity" : "brian-gibson"
    },
    "publication" : {
      "id" : "1132",
      "type" : "publication",
      "name" : "Vue Weekly (Edmonton, Canada)"
    }
  }, {
    "id" : "1654479",
    "type" : "review",
    "score" : "fresh",
    "topCritic" : true,
    "quote" : "While Manufacturing Dissent provides little that is new, it does place the controversy in the larger context of the contradictory relationship between the pursuit of fame and journalistic integrity.",
    "movieId" : 770673191,
    "scoreOri" : "2.5/4",
    "creationDate" : "2007-07-20T07:17:57-07:00",
    "url" : "http://www.thestar.com/entertainment/article/237936",
    "critic" : {
      "id" : "954",
      "type" : "critic",
      "mainImage" : {
        "id" : "c-1627",
        "thumborId" : "v1.YzsxNjI3O2c7MTcwMTA7MTIwMDszODs0NQ",
        "height" : 45,
        "width" : 38,
        "format" : "GIF"
      },
      "name" : "Geoff Pevere",
      "vanity" : "geoff-pevere"
    },
    "publication" : {
      "id" : "450",
      "type" : "publication",
      "name" : "Toronto Star"
    }
  }, {
    "id" : "1654477",
    "type" : "review",
    "score" : "rotten",
    "topCritic" : false,
    "quote" : "Manufacturing Dissent seems disingenuous at times and just plain stupid at others.",
    "movieId" : 770673191,
    "scoreOri" : "1/5",
    "creationDate" : "2007-07-20T07:15:26-07:00",
    "url" : "http://jam.canoe.ca/Movies/Reviews/M/Manufacturing_Dissent",
    "critic" : {
      "id" : "161",
      "type" : "critic",
      "mainImage" : null,
      "name" : "Liz Braun",
      "vanity" : "liz-braun"
    },
    "publication" : {
      "id" : "234",
      "type" : "publication",
      "name" : "Jam! Movies"
    }
  }, {
    "id" : "1611509",
    "type" : "review",
    "score" : "fresh",
    "topCritic" : false,
    "quote" : "A Michael Moore-style documentary about Moore himself.",
    "movieId" : 770673191,
    "scoreOri" : "3/5",
    "creationDate" : "2007-04-04T03:33:41-07:00",
    "url" : "http://www.cinematical.com/2007/03/13/sxsw-review-manufacturing-dissent/",
    "critic" : {
      "id" : "12011",
      "type" : "critic",
      "mainImage" : null,
      "name" : "Jette Kernion",
      "vanity" : "jette-kernion"
    },
    "publication" : {
      "id" : "1723",
      "type" : "publication",
      "name" : "Cinematical"
    }
  }, {
    "id" : "1607866",
    "type" : "review",
    "score" : "rotten",
    "topCritic" : false,
    "quote" : "Caine and Melnyk's film is intent in questioning such legitimacies, which it does well; it's just as propagandistic as a Michael Moore film, but not as entertaining.",
    "movieId" : 770673191,
    "scoreOri" : null,
    "creationDate" : "2007-03-19T20:16:57-07:00",
    "url" : "http://www.notcoming.com/reviews/manufacturingdissent/",
    "critic" : {
      "id" : "5500",
      "type" : "critic",
      "mainImage" : {
        "id" : "c-2238",
        "thumborId" : "v1.YzsyMjM4O2c7MTcwMTA7MTIwMDsxNDQ7MjEz",
        "height" : 213,
        "width" : 144,
        "format" : "GIF"
      },
      "name" : "Rumsey Taylor",
      "vanity" : "rumsey-taylor"
    },
    "publication" : {
      "id" : "974",
      "type" : "publication",
      "name" : "Not Coming to a Theater Near You"
    }
  }, {
    "id" : "1607865",
    "type" : "review",
    "score" : "rotten",
    "topCritic" : false,
    "quote" : "Manufacturing Dissent seeks to criticize Michael Moore's documentary tactics, while simultaneously using those same tactics unsuccessfully in the creation of the film.",
    "movieId" : 770673191,
    "scoreOri" : "1.5/5",
    "creationDate" : "2007-03-19T20:16:56-07:00",
    "url" : "http://www.filmthreat.com/index.php?section=reviews&Id=9876",
    "critic" : {
      "id" : "11946",
      "type" : "critic",
      "mainImage" : null,
      "name" : "Sally Foster",
      "vanity" : "sally-foster"
    },
    "publication" : {
      "id" : "174",
      "type" : "publication",
      "name" : "Film Threat"
    }
  } ],
  "audienceReviews" : [ {
    "id" : "98180",
    "type" : "audienceReview",
    "score" : 6.0,
    "ratingDate" : "2012-08-01T04:00:13-07:00",
    "userImage" : {
      "thumbnailUrl" : "graph.facebook.com/v2.2/100000440772572/picture"
    },
    "superReviewer" : true,
    "movieId" : 770673191,
    "comment" : "Manufacturing Dissent is an interesting documentary that looks at controversial filmmaker Michael Moore.  Canadian documentarian Debbie Melnyk follows Moore's 2004 Slacker Uprising tour while discussing his divisive career, and interviewing his former friends and associates.  The film makes an interesting point of how Moore has a pattern of burning his bridges, and alienating or betraying his supporters.  To that end, Melnyk begins sympathetic toward Moore but ends up becoming a victim of his tactics of deception and manipulation.  Unfortunately, the picture quality is rather low end and there are several times that the narrative appears to lack direction.  Yet despite its flaws, Manufacturing Dissent provides an intriguing perspective on Michael Moore's journey.",
    "ratingSource" : null,
    "userName" : "Dann Michalski",
    "userId" : null
  }, {
    "id" : "98182",
    "type" : "audienceReview",
    "score" : 6.0,
    "ratingDate" : "2012-03-24T04:53:02-07:00",
    "userImage" : {
      "thumbnailUrl" : "graph.facebook.com/v2.2/507938654/picture"
    },
    "superReviewer" : false,
    "movieId" : 770673191,
    "comment" : "This movie about the complications and manipulations of Michael Moore is a useful companion piece to Roger and Me and Fahrenheit 9/11.  Even if you don't agree with its politics, the film  will at least get you thinking",
    "ratingSource" : null,
    "userName" : "Gordon Briggs",
    "userId" : null
  }, {
    "id" : "98183",
    "type" : "audienceReview",
    "score" : 8.0,
    "ratingDate" : "2009-06-02T13:31:00-07:00",
    "userImage" : null,
    "superReviewer" : false,
    "movieId" : 770673191,
    "comment" : "First, I have to make an announcement.  As of this week, the library's hold policy has changed.  They're only allowing people to have twenty-five items on hold at a time.  Now, I checked eleven items out yesterday, and only maybe two of them are movies; most are PBS or History Channel items or other things that are an hour or shorter.  What's more, there's only three or four on the list where I'm in the front of the line.  For the most part, there's five or more people in front of me.  Sometimes twenty or more.  I have thirty items on hold right now; they haven't removed any from the list, but I can't add any more until I get down to under twenty-five again.  In practical terms, what this means is that my movie project is about to slow way, way down.  Now, I have my Netflix still, but I'm on three at a time, so there's a limit to how many we'll get there.  I've got a fair number of movies that I own that we haven't done.  However, I may have to write a few not-review essays here and there to fill out space.  Yeah, all right, I could just stop doing this every day, but it's generally agreed that it's important to me to have some sort of structure to my day, and this is it.  So that's what's going on, for future reference.\r\n\r\nMichael Moore is a polarizing man.  People on either end of the political spectrum feel very passionately on the subject.  And Canadian filmmakers Rick Caine and Debbie Melnyk decided to see what validity each viewpoint had.  As tends to be the case, they weren't able to actually interview Michael Moore.  From what I can tell, he's generally eager to avoid that if he can.  Unlike some, they didn't dig much until the actual facts behind things.  They leave that to others.  Instead, they look into Moore the man and Moore the editor.  They follow him around on tour.  (Where their credentials are questioned and their cameras damaged.)  They also have footage where Moore freely admits to editing film to prove his point; he seems surprised that anyone would have a problem with that.  The filmmakers seem, based on what they say early in the piece, to agree with a lot of his political stances, though they do try to stay objective.  They are also pretty good about getting both pro- and anti-Moore voices, which is pretty unusual for any documentary about politics of any slant.  And I have to say, although I was already less than thrilled with Moore in the first place, I really don't like the guy as he's shown here.\r\n\r\nI think in many ways that Michael Moore is the Ann Coulter of the left.  A [i]lot[/i] of liberals don't like him.  I'm one of them.  I don't think he helps win people over to his perspective, [i]even when he's right[/i].  He comes across as smug, self-righteous, and unpleasant.  Oh, and hypocritical.  At the beginning of this story, he tells the filmmakers that he loves the Canadians and wishes to help their film as much as possible.  He then spends the entire film avoiding them.  He even prescreens people entering his press conference, a technique he criticizes in others.  They pretty much rolled 212 on him there and throughout the film.  They show him complaining about Bush's fearmongering, then they show him saying that, if Bush is reelected, he'll reinstitute the draft.  They show him stumping for Nader, then they show him comparing voting for Nader to masturbation.  In fact, my favourite moment is a clip from [i]TV Nation[/i] featuring women dressed up as Puritans, imitating the girls from the Salem Witch Trials outside Ken Starr's house.  Not office, mind--house.  (One of them might be my former coworker Erica, who was on the show for a while.)  He asks a woman whom I assume to be Mrs. Starr if she knows what a witch hunt is, and she says dryly that she's quite aware.\r\n\r\nNow, again, this film isn't really looking at whether they agree with Moore or not.  Just his techniques.  They do talk a little bit about his accuracy of fact, though not much.  And don't get me wrong--I don't think anyone's life comes up as completely free of hypocrisy when scrutinized.  I'm sure mine does, though I'd really like it if my friends would refrain from pointing out examples!  There are also a lot of people who know Moore personally who are clearly quite fond of him.  However, there are also people who feel kind of cast aside by him.  (And, in the deleted scenes, you can see a very annoyed Ray Bradbury.)  It almost seems that he polarizes the people he knows, too.  It also seems that he's been doing it on purpose for a very long time.\r\n\r\nI think Michael Moore believes he's helping; I don't believe that to be hypocrisy.  I think he thinks that making a giant fuss and being a gadfly in the American scene helps get his message across and helps convert people to his side.  He really thinks he's convincing a lot of people, and he really thinks he's doing good work.  I have never disputed that.  However, I don't think extreme viewpoints being shouted really convinces much of anyone.  Again, even if they're right.  I also think it helps to practice what you preach at least as much as you can.  We all laughed when we found out about Rush Limbaugh's drug habit (and, I've heard speculation, dealing), because he has so consistently been such a big voice against drugs and drug users.  We laugh when we hear about vocally anti-gay politicians being caught propositioning people in bathrooms or paying hookers with meth or whatever.  And when we catch Michael Moore censoring people, that's funny, too.  He wants to be funny, but I don't think he wants to be a laughingstock.",
    "ratingSource" : null,
    "userName" : "Edith Nelson",
    "userId" : null
  }, {
    "id" : "98181",
    "type" : "audienceReview",
    "score" : 7.0,
    "ratingDate" : "2007-12-23T11:26:32-08:00",
    "userImage" : {
      "thumbnailUrl" : "graph.facebook.com/v2.2/731865985/picture"
    },
    "superReviewer" : true,
    "movieId" : 770673191,
    "comment" : "After seeing the terrible Farenhype 911 doc that was clearly anit-Moore, but did have a few interesting things to say I had no intention of ever watching this one.  However, sitting on a plane and not wanting to watch a fictional movie where I'm just not going to get to pay as much attention to as I'd like to, I chose this one.  And much to my surprise, even though the video system went down, I went out and rented it the next day to finish it because I found it pretty interesting.  Not the best doc ever made, more like the TV special I think it was intended as, this is a great look into Moore's manipulation of facts and media to make himself into what he is today.  Politics aside, it's an interesting look at a self made celebrity and the lengths he will go to retain that.  Also, it's truly scary watching his brainwashed followers AKA young democrats.  Eg:  \nMoore:  Look at those Republicans over there!\nCrowd:  BoooooO!\nMoore:  No, let's not boo them.  Unlike them we like to hear other opinions!\nCrowd:  Yaaaaay.\n\nYikes!  I definitely lean more to the left (maybe it's my shoes), but a lot of Moore's speeches remind me of Bob Roberts.  I remember feeling tricked when I found out about the untruths in his documentaries, I always considered myself not to follow people blindly, but I seriously feel kinda stupid for buying some of the crap he was dishing out.  Did I really think a bank would just hand someone a gun?  What the hell is wrong with me?  Anyway, because of Moore I now question all documentaries more than I should and take everything said in any \"editorial\" documentary with a grain of salt, because not only is the view possibly one-sided, but now it could just be a downright lie.",
    "ratingSource" : null,
    "userName" : "Christopher  Brown",
    "userId" : null
  } ],
  "posterImage" : {
    "id" : "m-12025429",
    "thumborId" : "v1.bTsxMjAyNTQyOTtqOzE3MDE0OzEyMDA7MjAwOzMwMA",
    "height" : 300,
    "width" : 200,
    "format" : "JPG"
  },
  "videoClips" : [ ],
  "images" : [ {
    "id" : "n-324017",
    "type" : "image",
    "width" : 2439,
    "format" : "JPG",
    "thumborId" : "v1.bjszMjQwMTc7ajsxNzAxMzsxMjAwOzI0Mzk7MzAwMQ",
    "height" : 3001
  }, {
    "id" : "n-324018",
    "type" : "image",
    "width" : 2400,
    "format" : "JPG",
    "thumborId" : "v1.bjszMjQwMTg7ajsxNzAxMzsxMjAwOzI0MDA7MzYxOA",
    "height" : 3618
  } ],
  "openingWindow" : "NA",
  "releaseScope" : "wide"
}
{
  "@context" : "http://schema.org",
  "@type" : "Movie",
  "name" : "Manufacturing Dissent",
  "description" : "In an era where fact, fiction, and legend have become increasingly difficult to distinguish, Debbie Melnyk and Rick Caine set out to explore the politically charged climate in America and find out just how documentary director Michael Moore has evolved from a simple filmmaker into an icon of left-leaning politics.",
  "actor" : [ {
    "@type" : "Person",
    "name" : "John Pierson"
  }, {
    "@type" : "Person",
    "name" : "Noam Chomsky"
  }, {
    "@type" : "Person",
    "name" : "Dave Marsh"
  }, {
    "@type" : "Person",
    "name" : "Ralph Nader"
  }, {
    "@type" : "Person",
    "name" : "Albert Maysles"
  }, {
    "@type" : "Person",
    "name" : "Errol Morris"
  }, {
    "@type" : "Person",
    "name" : "Dave Marsh"
  } ],
  "director" : [ {
    "@type" : "Person",
    "name" : "Rick Caine"
  }, {
    "@type" : "Person",
    "name" : "Debbie Melnyk"
  } ],
  "author" : [ {
    "@type" : "Person",
    "name" : "Rick Caine"
  }, {
    "@type" : "Person",
    "name" : "Debbie Melnyk"
  } ],
  "productionCompany" : {
    "@type" : "Organization",
    "name" : "Films Transit International"
  },
  "aggregateRating" : {
    "@type" : "AggregateRating",
    "ratingValue" : 54,
    "bestRating" : "100",
    "worstRating" : "0",
    "reviewCount" : 24,
    "name" : "Tomatometer",
    "description" : "The Tomatometer rating – based on the published opinions of hundreds of film and television critics – is a trusted measurement of movie and TV programming quality for millions of moviegoers. It represents the percentage of professional critic reviews that are positive for a given film or television show."
  },
  "contentRating" : "R",
  "dateModified" : "2016-06-25T07:51:03-07:00",
  "dateCreated" : "2007-07-20T17:32:11-07:00",
  "datePublished" : 2007,
  "genre" : [ "Documentary", "Special Interest", "Television" ],
  "review" : [ {
    "@type" : "Review",
    "url" : "http://www.timeout.com/film/chicago/reviews/84585/manufacturing_dissent-uncovering_michael_moore.html",
    "dateCreated" : "2011-11-16T21:15:45-08:00",
    "author" : {
      "@type" : "Person",
      "url" : "www.rottentomatoes.com/critic/ben-kenigsberg",
      "name" : "Ben Kenigsberg"
    },
    "publisher" : {
      "@type" : "Organization",
      "name" : "Time Out"
    },
    "reviewRating" : {
      "@type" : "Rating",
      "bestRating" : "1",
      "worstRating" : "-1",
      "ratingValue" : 1
    }
  }, {
    "@type" : "Review",
    "reviewBody" : "A solid, well-done and seemingly balanced look at Moore's work, his celebrity, his methods and the ethical problems in his reporting.",
    "url" : "http://www.sfgate.com/cgi-bin/article.cgi?file=/c/a/2007/10/11/DDP1SNPCP.DTL#flick2",
    "dateCreated" : "2007-10-12T07:55:03-07:00",
    "author" : {
      "@type" : "Person",
      "url" : "www.rottentomatoes.com/critic/g-allen-johnson",
      "name" : "G. Allen Johnson"
    },
    "publisher" : {
      "@type" : "Organization",
      "name" : "San Francisco Chronicle"
    },
    "reviewRating" : {
      "@type" : "Rating",
      "bestRating" : "1",
      "worstRating" : "-1",
      "ratingValue" : 1
    }
  }, {
    "@type" : "Review",
    "reviewBody" : "There's little to disagree with in the thumbnail portrait of Moore that emerges from this entertaining doc.",
    "url" : "http://www.laweekly.com/film+tv/film-reviews/movie-reviews-berkeley-the-heartbreak-kid-lust-caution/17457/?page=3",
    "dateCreated" : "2007-10-11T05:34:31-07:00",
    "author" : {
      "@type" : "Person",
      "url" : "www.rottentomatoes.com/critic/ella-taylor",
      "name" : "Ella Taylor"
    },
    "publisher" : {
      "@type" : "Organization",
      "name" : "L.A. Weekly"
    },
    "reviewRating" : {
      "@type" : "Rating",
      "bestRating" : "1",
      "worstRating" : "-1",
      "ratingValue" : 1
    }
  }, {
    "@type" : "Review",
    "reviewBody" : "Some of the accusations in this documentary by a pair of Canadian filmmakers who initially set out to make a positive portrait, will make your eyes water.",
    "url" : "http://www.timeout.com/film/reviews/84585/manufacturing_dissent-uncovering_michael_moore.html",
    "dateCreated" : "2007-10-04T20:34:53-07:00",
    "author" : {
      "@type" : "Person",
      "url" : "www.rottentomatoes.com/critic/dave-calhoun",
      "name" : "Dave Calhoun"
    },
    "publisher" : {
      "@type" : "Organization",
      "name" : "Time Out"
    },
    "reviewRating" : {
      "@type" : "Rating",
      "bestRating" : "1",
      "worstRating" : "-1",
      "ratingValue" : 1
    }
  }, {
    "@type" : "Review",
    "reviewBody" : "Too bad co-writers/co-directors Debbie Melnyk and Rick Caine don't investigate -- and ingratiate -- the way their target does in his own films.",
    "url" : "http://www.suntimes.com/entertainment/movies/535394,CNT-News-dissent31.article",
    "dateCreated" : "2007-08-31T07:25:01-07:00",
    "author" : {
      "@type" : "Person",
      "url" : "www.rottentomatoes.com/critic/bill-stamets",
      "name" : "Bill Stamets"
    },
    "publisher" : {
      "@type" : "Organization",
      "name" : "Chicago Sun-Times"
    },
    "reviewRating" : {
      "@type" : "Rating",
      "bestRating" : "1",
      "worstRating" : "-1",
      "ratingValue" : -1
    }
  }, {
    "@type" : "Review",
    "reviewBody" : "Useful but limited muckraking.",
    "url" : "http://onfilm.chicagoreader.com/movies/briefs/32017_MANUFACTURING_DISSENT.html",
    "dateCreated" : "2007-08-31T07:21:18-07:00",
    "author" : {
      "@type" : "Person",
      "url" : "www.rottentomatoes.com/critic/jonathan-rosenbaum",
      "name" : "Jonathan Rosenbaum"
    },
    "publisher" : {
      "@type" : "Organization",
      "name" : "Chicago Reader"
    },
    "reviewRating" : {
      "@type" : "Rating",
      "bestRating" : "1",
      "worstRating" : "-1",
      "ratingValue" : -1
    }
  }, {
    "@type" : "Review",
    "url" : "http://www.urbancinefile.com.au/home/view.asp?a=13487&s=DVD",
    "dateCreated" : "2008-10-17T23:08:10-07:00",
    "author" : {
      "@type" : "Person",
      "url" : "www.rottentomatoes.com/critic/urban-cinefile-critics",
      "name" : "Urban Cinefile Critics"
    },
    "publisher" : {
      "@type" : "Organization",
      "name" : "Urban Cinefile"
    },
    "reviewRating" : {
      "@type" : "Rating",
      "bestRating" : "1",
      "worstRating" : "-1",
      "ratingValue" : 0
    }
  }, {
    "@type" : "Review",
    "reviewBody" : "This even-handed effort simply doesn't probe deep enough.",
    "url" : "http://www.empireonline.com/reviews/ReviewComplete.asp?FID=135190",
    "dateCreated" : "2007-10-25T20:15:22-07:00",
    "author" : {
      "@type" : "Person",
      "url" : "www.rottentomatoes.com/critic/glen-ferris",
      "name" : "Glen Ferris"
    },
    "publisher" : {
      "@type" : "Organization",
      "name" : "Empire Magazine"
    },
    "reviewRating" : {
      "@type" : "Rating",
      "bestRating" : "1",
      "worstRating" : "-1",
      "ratingValue" : -1
    }
  }, {
    "@type" : "Review",
    "url" : "http://www.empireonline.com/reviews/review.asp?dvdid=117726",
    "dateCreated" : "2007-10-19T21:50:36-07:00",
    "author" : {
      "@type" : "Person",
      "url" : "www.rottentomatoes.com/critic/"
    },
    "publisher" : {
      "@type" : "Organization",
      "name" : "Empire Magazine"
    },
    "reviewRating" : {
      "@type" : "Rating",
      "bestRating" : "1",
      "worstRating" : "-1",
      "ratingValue" : -1
    }
  }, {
    "@type" : "Review",
    "reviewBody" : "With a wide-ranging array of interviewees and an amusingly Moore-like approach to its subject, Manufacturing Dissent is an enjoyable documentary, whether you're pro-Moore, anti-Moore or indifferent.",
    "url" : "http://www.viewlondon.co.uk/films/manufacturing-dissent-uncovering-michael-moore-film-review-20550.html",
    "dateCreated" : "2007-10-05T02:19:51-07:00",
    "author" : {
      "@type" : "Person",
      "url" : "www.rottentomatoes.com/critic/matthew-turner",
      "name" : "Matthew Turner"
    },
    "publisher" : {
      "@type" : "Organization",
      "name" : "ViewLondon"
    },
    "reviewRating" : {
      "@type" : "Rating",
      "bestRating" : "1",
      "worstRating" : "-1",
      "ratingValue" : 1
    }
  }, {
    "@type" : "Review",
    "reviewBody" : "Exposes a paranoid personality, testy with his critics and bullish about his methodology.",
    "url" : "http://www.telegraph.co.uk/arts/main.jhtml?view=DETAILS&grid=&xml=/arts/2007/10/05/bfkingdom105.xml",
    "dateCreated" : "2007-10-05T01:46:57-07:00",
    "author" : {
      "@type" : "Person",
      "url" : "www.rottentomatoes.com/critic/tim-robey",
      "name" : "Tim Robey"
    },
    "publisher" : {
      "@type" : "Organization",
      "name" : "Daily Telegraph (UK)"
    },
    "reviewRating" : {
      "@type" : "Rating",
      "bestRating" : "1",
      "worstRating" : "-1",
      "ratingValue" : 1
    }
  }, {
    "@type" : "Review",
    "reviewBody" : "Moore's reputation as a brilliant polemicist takes a knock or two, here. But it's still very much upright.",
    "url" : "http://film.guardian.co.uk/News_Story/Critic_Review/Guardian_review/0,,2183654,00.html",
    "dateCreated" : "2007-10-05T01:26:12-07:00",
    "author" : {
      "@type" : "Person",
      "url" : "www.rottentomatoes.com/critic/peter-bradshaw",
      "name" : "Peter Bradshaw"
    },
    "publisher" : {
      "@type" : "Organization",
      "name" : "Guardian"
    },
    "reviewRating" : {
      "@type" : "Rating",
      "bestRating" : "1",
      "worstRating" : "-1",
      "ratingValue" : -1
    }
  }, {
    "@type" : "Review",
    "reviewBody" : "A few serious points against Moore's credibility are overshadowed by a lot of dull posturing, unconvincing argument and unpleasant interviews. It's nothing like as good as the films made by the man it maligns.",
    "url" : "http://www.channel4.com/film/reviews/film.jsp?id=163043",
    "dateCreated" : "2007-10-05T00:35:46-07:00",
    "author" : {
      "@type" : "Person",
      "url" : "www.rottentomatoes.com/critic/sam-jordison",
      "name" : "Sam Jordison"
    },
    "publisher" : {
      "@type" : "Organization",
      "name" : "Film4"
    },
    "reviewRating" : {
      "@type" : "Rating",
      "bestRating" : "1",
      "worstRating" : "-1",
      "ratingValue" : -1
    }
  }, {
    "@type" : "Review",
    "reviewBody" : "The problem in making a documentary about Moore, though, is that it probably won't be as interesting as a documentary made by him, even if his techniques are used.",
    "url" : "http://www.bbc.co.uk/films/2007/10/01/manufacturing_dissent_uncovering_michael_moore_2007_review.shtml",
    "dateCreated" : "2007-10-04T21:16:52-07:00",
    "author" : {
      "@type" : "Person",
      "url" : "www.rottentomatoes.com/critic/laura-bushell",
      "name" : "Laura Bushell"
    },
    "publisher" : {
      "@type" : "Organization",
      "name" : "BBC.com"
    },
    "reviewRating" : {
      "@type" : "Rating",
      "bestRating" : "1",
      "worstRating" : "-1",
      "ratingValue" : 1
    }
  }, {
    "@type" : "Review",
    "reviewBody" : "The big question you have to ask yourself is: do these dishonest work practices actually undermine the message he's trying get across? The answer is probably not... because Moore is already preaching to the converted.",
    "url" : "http://www.skymovies.com/skymovies/article/0,,80007-1280916,00.html",
    "dateCreated" : "2007-10-04T20:06:05-07:00",
    "author" : {
      "@type" : "Person",
      "url" : "www.rottentomatoes.com/critic/tim-evans",
      "name" : "Tim Evans"
    },
    "publisher" : {
      "@type" : "Organization",
      "name" : "Sky Movies"
    },
    "reviewRating" : {
      "@type" : "Rating",
      "bestRating" : "1",
      "worstRating" : "-1",
      "ratingValue" : -1
    }
  }, {
    "@type" : "Review",
    "reviewBody" : "Manufacturing Dissent comes across less as an expose of a polarizing public figure than as the realization of a personal and not especially interesting grudge against a once-admired colleague who has moved on to bigger things.",
    "url" : "http://metromix.chicagotribune.com/movies/mmx-070831-movies-review-dissent,0,4783286.story?coll=mmx-movies_top_heds",
    "dateCreated" : "2007-08-30T05:20:13-07:00",
    "author" : {
      "@type" : "Person",
      "url" : "www.rottentomatoes.com/critic/jessica-reaves",
      "name" : "Jessica Reaves"
    },
    "publisher" : {
      "@type" : "Organization",
      "name" : "Chicago Tribune"
    },
    "reviewRating" : {
      "@type" : "Rating",
      "bestRating" : "1",
      "worstRating" : "-1",
      "ratingValue" : -1
    }
  }, {
    "@type" : "Review",
    "reviewBody" : "Though much of what's in the film isn't new information, seeing it all compiled in one place and building to its damning argument against Moore is effective and disturbing.",
    "url" : "http://boxoffice.com/reviews/2008/08/hot-docs-2007-manufacturing-di.php",
    "dateCreated" : "2007-08-29T20:15:46-07:00",
    "author" : {
      "@type" : "Person",
      "url" : "www.rottentomatoes.com/critic/shlomo-schwartzberg",
      "name" : "Shlomo Schwartzberg"
    },
    "publisher" : {
      "@type" : "Organization",
      "name" : "Boxoffice Magazine"
    },
    "reviewRating" : {
      "@type" : "Rating",
      "bestRating" : "1",
      "worstRating" : "-1",
      "ratingValue" : 1
    }
  }, {
    "@type" : "Review",
    "reviewBody" : "This hugely entertaining documentary turns Michael Moore's filmmaking style back on himself to separate the facts from the rumours. It's not a hatchet job, but Moore doesn't emerge unscathed.",
    "url" : "http://www.shadowsonthewall.co.uk/07/d-e.htm#manu",
    "dateCreated" : "2007-08-29T20:15:46-07:00",
    "author" : {
      "@type" : "Person",
      "url" : "www.rottentomatoes.com/critic/rich-cline",
      "name" : "Rich Cline"
    },
    "publisher" : {
      "@type" : "Organization",
      "name" : "Shadows on the Wall"
    },
    "reviewRating" : {
      "@type" : "Rating",
      "bestRating" : "1",
      "worstRating" : "-1",
      "ratingValue" : 1
    }
  }, {
    "@type" : "Review",
    "reviewBody" : "Rarely acknowledges the basic transparency of Moore's films . . . only when [this doc] takes on [Moore's] work does it land its hardest blows. The disc's best special feature is a ten-minute 'Documentary Discussion.'",
    "dateCreated" : "2007-08-20T08:30:52-07:00",
    "author" : {
      "@type" : "Person",
      "url" : "www.rottentomatoes.com/critic/brian-gibson",
      "name" : "Brian Gibson"
    },
    "publisher" : {
      "@type" : "Organization",
      "name" : "Vue Weekly (Edmonton, Canada)"
    },
    "reviewRating" : {
      "@type" : "Rating",
      "bestRating" : "1",
      "worstRating" : "-1",
      "ratingValue" : -1
    }
  }, {
    "@type" : "Review",
    "reviewBody" : "While Manufacturing Dissent provides little that is new, it does place the controversy in the larger context of the contradictory relationship between the pursuit of fame and journalistic integrity.",
    "url" : "http://www.thestar.com/entertainment/article/237936",
    "dateCreated" : "2007-07-20T07:17:57-07:00",
    "author" : {
      "@type" : "Person",
      "url" : "www.rottentomatoes.com/critic/geoff-pevere",
      "name" : "Geoff Pevere"
    },
    "publisher" : {
      "@type" : "Organization",
      "name" : "Toronto Star"
    },
    "reviewRating" : {
      "@type" : "Rating",
      "bestRating" : "1",
      "worstRating" : "-1",
      "ratingValue" : 1
    }
  } ],
  "image" : {
    "@type" : "ImageObject",
    "width" : 200,
    "height" : 300,
    "url" : "https://resizing.flixster.com/2MeC0scY6MVIBF-Ya5hqjpumey4=/fit-in/200x300/v1.bTsxMjAyNTQyOTtqOzE3MDE0OzEyMDA7MjAwOzMwMA"
  },
  "duration" : "PT96M",
  "url" : "www.rottentomatoes.com/m/manufacturing-dissent",
  "releasedEvent" : [ {
    "@type" : "PublicationEvent",
    "startDate" : "2007-07-12",
    "name" : "Theater"
  }, {
    "@type" : "PublicationEvent",
    "startDate" : "2007-11-06",
    "name" : "DVD"
  } ],
  "character" : [ ]
}
{
  "boxOffice" : [ {
    "id" : "771403192",
    "type" : "movie",
    "advisory" : "for crude and suggestive humor, some nudity, action violence and brief strong language",
    "lastModifiedDate" : "2016-06-25T06:20:08-07:00",
    "tomatometer" : {
      "state" : "fresh",
      "value" : 65
    },
    "year" : 2016,
    "releaseScope" : "wide",
    "studioName" : "Warner Bros. Pictures",
    "dvdWindow" : "NA",
    "heroImage" : {
      "id" : "n-1000445",
      "thumborId" : "v1.bjsxMDAwNDQ1O2o7MTcwMjE7MTIwMDszMDAwOzIwMDA",
      "height" : 2000,
      "width" : 3000,
      "format" : "JPG"
    },
    "synopsis" : "The story follows a one-time bullied geek, Bob, who grew up to be a lethal CIA agent, coming home for his high school reunion. Claiming to be on a top-secret case, he enlists the help of former \"big man on campus,\" Calvin, now an accountant who misses his glory days. But before the staid numbers-cruncher realizes what he's getting into, it's too late to get out, as his increasingly unpredictable new friend drags him through a world of shoot-outs, double-crosses and espionage that could get them both killed in more ways than Calvin can count.",
    "releaseDates" : {
      "theater" : "2016-06-17"
    },
    "runningTime" : 114,
    "title" : "Central Intelligence",
    "creationDate" : "2014-11-12T23:16:29-08:00",
    "posterImage" : {
      "id" : "m-11946483",
      "thumborId" : "v1.bTsxMTk0NjQ4MztqOzE3MDEzOzEyMDA7ODAwOzExODY",
      "height" : 1186,
      "width" : 800,
      "format" : "JPG"
    },
    "vanity" : "central_intelligence",
    "officialUrl" : "http://www.centralintelligencemovie.com/",
    "cummulativeBoxOffice" : 35535250,
    "mainTrailer" : {
      "id" : "11232634",
      "title" : "Central Intelligence",
      "sourceId" : "866156",
      "thumbUrl" : "https://content.internetvideoarchive.com/content/photos/10122/866156_081.jpg",
      "duration" : 156,
      "clipType" : "TRL",
      "source" : "VDD"
    },
    "boxOffice" : 35535250,
    "openingWindow" : "in-theaters",
    "mpaaRating" : "PG13"
  }, {
    "id" : "771375842",
    "type" : "movie",
    "advisory" : "for terror and horror violence",
    "lastModifiedDate" : "2016-06-25T06:19:34-07:00",
    "tomatometer" : {
      "state" : "certified_fresh",
      "value" : 79
    },
    "year" : 2016,
    "releaseScope" : "wide",
    "studioName" : "Warner Bros. Pictures",
    "dvdWindow" : "NA",
    "heroImage" : {
      "id" : "n-1124575",
      "thumborId" : "v1.bjsxMTI0NTc1O2o7MTcwMjM7MTIwMDsyMTMzOzEyMDA",
      "height" : 1200,
      "width" : 2133,
      "format" : "JPG"
    },
    "synopsis" : "Reprising their roles, Oscar nominee Vera Farmiga (\"Up In the Air,\" TV's \"Bates Motel\") and Patrick Wilson (the \"Insidious\" films), star as Lorraine and Ed Warren, who, in one of their most terrifying paranormal investigations, travel to north London to help a single mother raising four children alone in a house plagued by malicious spirits.",
    "releaseDates" : {
      "theater" : "2016-06-10"
    },
    "runningTime" : 133,
    "title" : "The Conjuring 2",
    "creationDate" : "2014-02-27T21:34:33-08:00",
    "posterImage" : {
      "id" : "m-11882329",
      "thumborId" : "v1.bTsxMTg4MjMyOTtqOzE3MDEyOzEyMDA7MTQxNzsyMTAw",
      "height" : 2100,
      "width" : 1417,
      "format" : "JPG"
    },
    "vanity" : "the_conjuring_2",
    "officialUrl" : "http://www.theconjuring2.com/",
    "cummulativeBoxOffice" : 0,
    "mainTrailer" : {
      "id" : "11234499",
      "title" : "The Conjuring 2",
      "sourceId" : "62422",
      "thumbUrl" : "https://content.internetvideoarchive.com/content/photos/10160/62422_072.jpg",
      "duration" : 159,
      "clipType" : "TRL",
      "source" : "VDD"
    },
    "boxOffice" : 14880050,
    "openingWindow" : "in-theaters",
    "mpaaRating" : "R"
  }, {
    "id" : "771353630",
    "type" : "movie",
    "advisory" : "for mild thematic elements",
    "lastModifiedDate" : "2016-06-25T06:20:08-07:00",
    "tomatometer" : {
      "state" : "certified_fresh",
      "value" : 94
    },
    "year" : 2016,
    "releaseScope" : "wide",
    "studioName" : "Walt Disney Pictures/PIXAR",
    "dvdWindow" : "NA",
    "heroImage" : {
      "id" : "n-1129082",
      "thumborId" : "v1.bjsxMTI5MDgyO2o7MTcwMjM7MTIwMDsxODAwOzg0MA",
      "height" : 840,
      "width" : 1800,
      "format" : "JPG"
    },
    "synopsis" : "\"Finding Dory\" reunites the friendly-but-forgetful blue tang fish with her loved ones, and everyone learns a few things about the true meaning of family along the way. The all-new big-screen adventure dives into theaters in 2016, taking moviegoers back to the extraordinary underwater world from the original film.",
    "releaseDates" : {
      "theater" : "2016-06-17"
    },
    "runningTime" : 100,
    "title" : "Finding Dory",
    "creationDate" : "2013-04-02T07:00:46-07:00",
    "posterImage" : {
      "id" : "m-11685530",
      "thumborId" : "v1.bTsxMTY4NTUzMDtwOzE3MDEwOzEyMDA7NDMyOzYzNw",
      "height" : 637,
      "width" : 432,
      "format" : "PNG"
    },
    "vanity" : "finding_dory",
    "officialUrl" : "http://movies.disney.com/finding-dory",
    "cummulativeBoxOffice" : null,
    "mainTrailer" : {
      "id" : "11232306",
      "title" : "Finding Dory",
      "sourceId" : "480095",
      "thumbUrl" : "https://content.internetvideoarchive.com/content/photos/10345/480095_100.jpg",
      "duration" : 155,
      "clipType" : "TRL",
      "source" : "VDD"
    },
    "boxOffice" : 10238270,
    "openingWindow" : "in-theaters",
    "mpaaRating" : "PG"
  }, {
    "id" : "771362372",
    "type" : "movie",
    "advisory" : "for violence and some language",
    "lastModifiedDate" : "2016-06-25T02:49:04-07:00",
    "tomatometer" : {
      "state" : "rotten",
      "value" : 34
    },
    "year" : 2016,
    "releaseScope" : "wide",
    "studioName" : "Lionsgate",
    "dvdWindow" : "NA",
    "heroImage" : {
      "id" : "n-1122109",
      "thumborId" : "v1.bjsxMTIyMTA5O2o7MTcwMjI7MTIwMDszNjAwOzI1MTg",
      "height" : 2518,
      "width" : 3600,
      "format" : "JPG"
    },
    "synopsis" : "THE FOUR HORSEMEN (Jesse Eisenberg, Woody Harrelson, Dave Franco, Lizzy Caplan) return for a second mind-bending adventure, elevating the limits of stage illusion to new heights and taking them around the globe. One year after outwitting the FBI and winning the public's adulation with their Robin Hood-style magic spectacles, the illusionists resurface for a comeback performance in hopes of exposing the unethical practices of a tech magnate. The man behind their vanishing act is none other than WALTER MABRY (Daniel Radcliffe), a tech prodigy who threatens the Horsemen into pulling off their most impossible heist yet. Their only hope is to perform one last unprecedented stunt to clear their names and reveal the mastermind behind it all.",
    "releaseDates" : {
      "theater" : "2016-06-10"
    },
    "runningTime" : 115,
    "title" : "Now You See Me 2",
    "creationDate" : "2013-08-14T01:40:49-07:00",
    "posterImage" : {
      "id" : "m-11863097",
      "thumborId" : "v1.bTsxMTg2MzA5NztqOzE3MDEyOzEyMDA7NTAwMDs3NjAw",
      "height" : 7600,
      "width" : 5000,
      "format" : "JPG"
    },
    "vanity" : "now_you_see_me_2",
    "officialUrl" : "http://www.nowyouseeme.movie/",
    "cummulativeBoxOffice" : 41085908,
    "mainTrailer" : {
      "id" : "11236858",
      "title" : "Now You See Me 2 (International Trailer 1)",
      "sourceId" : "929812",
      "thumbUrl" : "https://content.internetvideoarchive.com/content/photos/10037/929812_018.jpg",
      "duration" : 60,
      "clipType" : "TRL",
      "source" : "VDD"
    },
    "boxOffice" : 9373379,
    "openingWindow" : "in-theaters",
    "mpaaRating" : "PG13"
  }, {
    "id" : "771371217",
    "type" : "movie",
    "advisory" : "for sequences of violence, action and destruction, brief strong language and some suggestive images",
    "lastModifiedDate" : "2016-06-25T06:18:03-07:00",
    "tomatometer" : {
      "state" : "rotten",
      "value" : 48
    },
    "year" : 2016,
    "releaseScope" : "wide",
    "studioName" : "20th Century Fox",
    "dvdWindow" : "NA",
    "heroImage" : {
      "id" : "n-1117775",
      "thumborId" : "v1.bjsxMTE3Nzc1O2o7MTcwMjI7MTIwMDsyMTg0OzExNTI",
      "height" : 1152,
      "width" : 2184,
      "format" : "JPG"
    },
    "synopsis" : "Following the critically acclaimed global smash hit X-Men: Days of Future Past, director Bryan Singer returns with X-MEN: APOCALYPSE. Since the dawn of civilization, he was worshipped as a god. Apocalypse, the first and most powerful mutant from Marvel's X-Men universe, amassed the powers of many other mutants, becoming immortal and invincible. Upon awakening after thousands of years, he is disillusioned with the world as he finds it and recruits a team of powerful mutants, including a disheartened Magneto (Michael Fassbender), to cleanse mankind and create a new world order, over which he will reign. As the fate of the Earth hangs in the balance, Raven (Jennifer Lawrence) with the help of Professor X (James McAvoy) must lead a team of young X-Men to stop their greatest nemesis and save mankind from complete destruction.",
    "releaseDates" : {
      "theater" : "2016-05-27"
    },
    "runningTime" : 136,
    "title" : "X-Men: Apocalypse",
    "creationDate" : "2013-12-05T21:44:25-08:00",
    "posterImage" : {
      "id" : "m-11949610",
      "thumborId" : "v1.bTsxMTk0OTYxMDtqOzE3MDEzOzEyMDA7MjAyNTszMDAw",
      "height" : 3000,
      "width" : 2025,
      "format" : "JPG"
    },
    "vanity" : "x_men_apocalypse",
    "officialUrl" : "https://www.facebook.com/xmenmovies",
    "cummulativeBoxOffice" : null,
    "mainTrailer" : {
      "id" : "11233434",
      "title" : "X-Men: Apocalypse",
      "sourceId" : "58483",
      "thumbUrl" : "https://content.internetvideoarchive.com/content/photos/10257/58483_206.jpg",
      "duration" : 154,
      "clipType" : "TRL",
      "source" : "VDD"
    },
    "boxOffice" : 5309290,
    "openingWindow" : "in-theaters",
    "mpaaRating" : "PG13"
  }, {
    "id" : "771377017",
    "type" : "movie",
    "advisory" : "for extended sequences of violence, action and mayhem",
    "lastModifiedDate" : "2016-06-25T06:12:06-07:00",
    "tomatometer" : {
      "state" : "certified_fresh",
      "value" : 90
    },
    "year" : 2016,
    "releaseScope" : "wide",
    "studioName" : "Walt Disney Pictures",
    "dvdWindow" : "NA",
    "heroImage" : {
      "id" : "n-1062070",
      "thumborId" : "v1.bjsxMDYyMDcwO2o7MTcwMjI7MTIwMDsyMDAwOzEzMzM",
      "height" : 1333,
      "width" : 2000,
      "format" : "JPG"
    },
    "synopsis" : "Marvel's \"Captain America: Civil War\" finds Steve Rogers leading the newly formed team of Avengers in their continued efforts to safeguard humanity. But after another incident involving the Avengers results in collateral damage, political pressure mounts to install a system of accountability, headed by a governing body to oversee and direct the team. The new status quo fractures the Avengers, resulting in two camps-one led by Steve Rogers and his desire for the Avengers to remain free to defend humanity without government interference, and the other following Tony Stark's surprising decision to support government oversight and accountability.",
    "releaseDates" : {
      "theater" : "2016-05-06"
    },
    "runningTime" : 146,
    "title" : "Captain America: Civil War",
    "creationDate" : "2014-03-18T01:52:19-07:00",
    "posterImage" : {
      "id" : "m-11690070",
      "thumborId" : "v1.bTsxMTY5MDA3MDtwOzE3MDEwOzEyMDA7NDg4OzcyMA",
      "height" : 720,
      "width" : 488,
      "format" : "PNG"
    },
    "vanity" : "captain_america_civil_war",
    "officialUrl" : "http://marvel.com/captainamerica#/home",
    "cummulativeBoxOffice" : 401312591,
    "mainTrailer" : {
      "id" : "11232773",
      "title" : "Captain America: Civil War",
      "sourceId" : "472058",
      "thumbUrl" : "https://content.internetvideoarchive.com/content/photos/10102/472058_074.jpg",
      "duration" : 152,
      "clipType" : "TRL",
      "source" : "VDD"
    },
    "boxOffice" : 2331622,
    "openingWindow" : "in-theaters",
    "mpaaRating" : "PG13"
  }, {
    "id" : "771356127",
    "type" : "movie",
    "advisory" : "for rude humor and action",
    "lastModifiedDate" : "2016-06-25T06:19:54-07:00",
    "tomatometer" : {
      "state" : "rotten",
      "value" : 43
    },
    "year" : 2016,
    "releaseScope" : "wide",
    "studioName" : "Sony Pictures",
    "dvdWindow" : "NA",
    "heroImage" : {
      "id" : "n-1035344",
      "thumborId" : "v1.bjsxMDM1MzQ0O2o7MTcwMjE7MTIwMDsxMjgwOzcyMA",
      "height" : 720,
      "width" : 1280,
      "format" : "JPG"
    },
    "synopsis" : "In the 3D animated comedy, The Angry Birds Movie, we'll finally find out why the birds are so angry. The movie takes us to an island populated entirely by happy, flightless birds--or almost entirely. In this paradise, Red (Jason Sudeikis), a bird with a temper problem, speedy Chuck (Josh Gad), and the volatile Bomb (Danny McBride) have always been outsiders. But when the island is visited by mysterious green piggies, it's up to these unlikely outcasts to figure out what the pigs are up to.",
    "releaseDates" : {
      "theater" : "2016-05-20"
    },
    "runningTime" : 95,
    "title" : "The Angry Birds Movie",
    "creationDate" : "2013-05-16T07:00:20-07:00",
    "posterImage" : {
      "id" : "m-11842203",
      "thumborId" : "v1.bTsxMTg0MjIwMztqOzE3MDEyOzEyMDA7MjAyNTszMDAw",
      "height" : 3000,
      "width" : 2025,
      "format" : "JPG"
    },
    "vanity" : "the_angry_birds_movie",
    "officialUrl" : "http://www.angrybirds-movie.com/en/",
    "cummulativeBoxOffice" : 103183943,
    "mainTrailer" : {
      "id" : "11230629",
      "title" : "The Angry Birds Movie",
      "sourceId" : "611198",
      "thumbUrl" : "https://content.internetvideoarchive.com/content/photos/10220/611198_063.jpg",
      "duration" : 160,
      "clipType" : "TRL",
      "source" : "VDD"
    },
    "boxOffice" : 1693096,
    "openingWindow" : "in-theaters",
    "mpaaRating" : "PG"
  }, {
    "id" : "771370507",
    "type" : "movie",
    "advisory" : "for some sequences of scary action and peril",
    "lastModifiedDate" : "2016-06-25T08:37:58-07:00",
    "tomatometer" : {
      "state" : "certified_fresh",
      "value" : 94
    },
    "year" : 2016,
    "releaseScope" : "wide",
    "studioName" : "Walt Disney Pictures",
    "dvdWindow" : "NA",
    "heroImage" : {
      "id" : "n-1053414",
      "thumborId" : "v1.bjsxMDUzNDE0O2o7MTcwMjI7MTIwMDsyMDk4OzExNzQ",
      "height" : 1174,
      "width" : 2098,
      "format" : "JPG"
    },
    "synopsis" : "In this reimagining of the classic collection of stories by Rudyard Kipling, director Jon Favreau uses visually stunning CGI to create the community of animals surrounding Mowgli (Neel Sethi), a human boy adopted by a pack of wolves. The appearance of a villainous tiger named Shere Khan (voiced byIdris Elba) forces Mowgli's guardian, the panther Bagheera (Ben Kingsley), to shepherd the child to safety in the \"man village.\" Along the way, the boy meets an affable, lazy bear named Baloo (Bill Murray), as well as a snake with hypnotic powers (Scarlett Johansson) and an orangutan (Christopher Walken) who wants to harness the power of fire. Lupita Nyong'o, Giancarlo Esposito, and Garry Shandling also lend their voices to this adventure tale.",
    "releaseDates" : {
      "theater" : "2016-04-15"
    },
    "runningTime" : 111,
    "title" : "The Jungle Book",
    "creationDate" : "2013-11-23T13:49:11-08:00",
    "posterImage" : {
      "id" : "m-11653963",
      "thumborId" : "v1.bTsxMTY1Mzk2MztqOzE3MDk5OzEyMDA7MTAxNDsxNTAw",
      "height" : 1500,
      "width" : 1014,
      "format" : "JPG"
    },
    "vanity" : "the_jungle_book_2016",
    "officialUrl" : "http://movies.disney.com/the-jungle-book-2016",
    "cummulativeBoxOffice" : 355909308,
    "mainTrailer" : {
      "id" : "11230421",
      "title" : "The Jungle Book",
      "sourceId" : "102727",
      "thumbUrl" : "https://content.internetvideoarchive.com/content/photos/10004/102727_030.jpg",
      "duration" : 145,
      "clipType" : "TRL",
      "source" : "VDD"
    },
    "boxOffice" : 1488657,
    "openingWindow" : "in-theaters",
    "mpaaRating" : "PG"
  }, {
    "id" : "771385244",
    "type" : "movie",
    "advisory" : "for thematic elements and some suggestive material",
    "lastModifiedDate" : "2016-06-25T07:58:42-07:00",
    "tomatometer" : {
      "state" : "rotten",
      "value" : 58
    },
    "year" : 2016,
    "releaseScope" : "wide",
    "studioName" : "Warner Bros. Pictures",
    "dvdWindow" : "NA",
    "heroImage" : {
      "id" : "n-1038538",
      "thumborId" : "v1.bjsxMDM4NTM4O2o7MTcwMjI7MTIwMDsxMjgwOzg1MQ",
      "height" : 851,
      "width" : 1280,
      "format" : "JPG"
    },
    "synopsis" : "Adapted from the bestselling novel by Jo Jo Moyes, Me Before You tells the story of the unexpected relationship that blossoms between a contented small town Englishwoman and the wealthy, paralyzed Londoner who hires her as his caretaker. Theater director Thea Sharrock makes her feature directorial debut with this MGM/New Line Cinema co-production. ~ Jason Buchanan, Rovi",
    "releaseDates" : {
      "theater" : "2016-06-03"
    },
    "runningTime" : 110,
    "title" : "Me Before You",
    "creationDate" : "2014-07-17T23:40:31-07:00",
    "posterImage" : {
      "id" : "m-11543773",
      "thumborId" : "v1.bTsxMTU0Mzc3MztqOzE3MDk4OzEyMDA7NDA1OzYwMA",
      "height" : 600,
      "width" : 405,
      "format" : "JPG"
    },
    "vanity" : "me_before_you",
    "officialUrl" : "http://mebeforeyoumovie.com",
    "cummulativeBoxOffice" : 46112029,
    "mainTrailer" : {
      "id" : "11235957",
      "title" : "Me Before You",
      "sourceId" : "949915",
      "thumbUrl" : "https://content.internetvideoarchive.com/content/photos/10325/949915_227_1.jpg",
      "duration" : 153,
      "clipType" : "TRL",
      "source" : "VDD"
    },
    "boxOffice" : 1453859,
    "openingWindow" : "in-theaters",
    "mpaaRating" : "PG13"
  }, {
    "id" : "771362371",
    "type" : "movie",
    "advisory" : "for some thematic elements, rude humor and action",
    "lastModifiedDate" : "2016-06-25T08:31:57-07:00",
    "tomatometer" : {
      "state" : "certified_fresh",
      "value" : 98
    },
    "year" : 2016,
    "releaseScope" : "wide",
    "studioName" : "Walt Disney Animation Studios",
    "dvdWindow" : "new-on-dvd",
    "heroImage" : {
      "id" : "n-1049456",
      "thumborId" : "v1.bjsxMDQ5NDU2O2o7MTcwMjI7MTIwMDsyMDQ4OzEzMjU",
      "height" : 1325,
      "width" : 2048,
      "format" : "JPG"
    },
    "synopsis" : "The modern mammal metropolis of Zootopia is a city like no other. Comprised of habitat neighborhoods like ritzy Sahara Square and frigid Tundratown, it's a melting pot where animals from every environment live together-a place where no matter what you are, from the biggest elephant to the smallest shrew, you can be anything. But when rookie Officer Judy Hopps (voice of Ginnifer Goodwin) arrives, she discovers that being the first bunny on a police force of big, tough animals isn't so easy. Determined to prove herself, she jumps at the opportunity to crack a case, even if it means partnering with a fast-talking, scam-artist fox, Nick Wilde (voice of Jason Bateman), to solve the mystery. Walt Disney Animation Studios' \"Zootopia,\" a comedy-adventure directed by Byron Howard (\"Tangled,\" \"Bolt\") and Rich Moore (\"Wreck-It Ralph,\" \"The Simpsons\") and co-directed by Jared Bush (\"Penn Zero: Part-Time Hero\"), opens in theaters on March 4, 2016. Officer Judy Hopps (voice of Ginnifer Goodwin), the very first bunny on Zootopia's police force, jumps at the opportunity to crack her first case-even if it means partnering with fast-talking, scam-artist fox Nick Wilde (voice of Jason Bateman) to solve the mystery.",
    "releaseDates" : {
      "dvd" : "2016-06-07",
      "theater" : "2016-03-04"
    },
    "runningTime" : 108,
    "title" : "Zootopia",
    "creationDate" : "2013-08-14T01:40:49-07:00",
    "posterImage" : {
      "id" : "m-11318068",
      "thumborId" : "v1.bTsxMTMxODA2ODtwOzE3MDk1OzEyMDA7NDk5Ozc0MQ",
      "height" : 741,
      "width" : 499,
      "format" : "PNG"
    },
    "vanity" : "zootopia",
    "officialUrl" : "http://movies.disney.com/zootopia",
    "cummulativeBoxOffice" : 0,
    "mainTrailer" : {
      "id" : "11227222",
      "title" : "Zootopia",
      "sourceId" : "658596",
      "thumbUrl" : "https://content.internetvideoarchive.com/content/photos/9930/658596_028.jpg",
      "duration" : 155,
      "clipType" : "TRL",
      "source" : "VDD"
    },
    "boxOffice" : 947753,
    "openingWindow" : "NA",
    "mpaaRating" : "PG"
  } ],
  "opening" : [ {
    "id" : "771359352",
    "type" : "movie",
    "advisory" : "for sequences of sci-fi action and destruction, and for some language",
    "lastModifiedDate" : "2016-06-25T08:34:24-07:00",
    "tomatometer" : {
      "state" : "rotten",
      "value" : 33
    },
    "year" : 2016,
    "releaseScope" : "wide",
    "studioName" : "20th Century Fox",
    "dvdWindow" : "NA",
    "heroImage" : {
      "id" : "n-1129912",
      "thumborId" : "v1.bjsxMTI5OTEyO2o7MTcwMjM7MTIwMDszMDAwOzEyNTA",
      "height" : 1250,
      "width" : 3000,
      "format" : "JPG"
    },
    "synopsis" : "We always knew they were coming back. After INDEPENDENCE DAY redefined the event movie genre, the next epic chapter delivers global catastrophe on an unimaginable scale. Using recovered alien technology, the nations of Earth have collaborated on an immense defense program to protect the planet. But nothing can prepare us for the aliens' advanced and unprecedented force. Only the ingenuity of a few brave men and women can bring our world back from the brink of extinction. (C) Fox",
    "releaseDates" : {
      "theater" : "2016-06-24"
    },
    "runningTime" : 119,
    "title" : "Independence Day: Resurgence",
    "creationDate" : "2013-06-20T22:10:16-07:00",
    "posterImage" : {
      "id" : "m-11573414",
      "thumborId" : "v1.bTsxMTU3MzQxNDtqOzE3MDk4OzEyMDA7MjAyNTszMDAw",
      "height" : 3000,
      "width" : 2025,
      "format" : "JPG"
    },
    "vanity" : "independence_day_resurgence",
    "officialUrl" : "http://www.foxmovies.com/movies/independence-day-resurgence",
    "cummulativeBoxOffice" : null,
    "mainTrailer" : {
      "id" : "11233502",
      "title" : "Independence Day: Resurgence",
      "sourceId" : "614920",
      "thumbUrl" : "https://content.internetvideoarchive.com/content/photos/10252/614920_526.jpg",
      "duration" : 151,
      "clipType" : "TRL",
      "source" : "VDD"
    },
    "boxOffice" : 50000000,
    "openingWindow" : "in-theaters",
    "mpaaRating" : "PG13"
  }, {
    "id" : "771414367",
    "type" : "movie",
    "advisory" : "for brutal battle scenes and disturbing graphic images",
    "lastModifiedDate" : "2016-06-25T05:52:08-07:00",
    "tomatometer" : {
      "state" : "rotten",
      "value" : 40
    },
    "year" : 2016,
    "releaseScope" : "wide",
    "studioName" : "STX Entertainment",
    "dvdWindow" : "NA",
    "heroImage" : {
      "id" : "n-1133355",
      "thumborId" : "v1.bjsxMTMzMzU1O2o7MTcwMjM7MTIwMDs1NzYwOzM4NDA",
      "height" : 3840,
      "width" : 5760,
      "format" : "JPG"
    },
    "synopsis" : "Directed by four-time Oscar (R) nominee Gary Ross and starring Oscar (R) winner Matthew McConaughey, Free State of Jones is an epic action-drama set during the Civil War, and tells the story of defiant Southern farmer, Newt Knight, and his extraordinary armed rebellion against the Confederacy. Banding together with other small farmers and local slaves, Knight launched an uprising that led Jones County, Mississippi to secede from the Confederacy, creating a Free State of Jones. Knight continued his struggle into Reconstruction, distinguishing him as a compelling, if controversial, figure of defiance long beyond the War.",
    "releaseDates" : {
      "theater" : "2016-06-24"
    },
    "runningTime" : 139,
    "title" : "Free State of Jones",
    "creationDate" : "2015-03-01T22:03:45-08:00",
    "posterImage" : {
      "id" : "m-12036570",
      "thumborId" : "v1.bTsxMjAzNjU3MDtqOzE3MDE0OzEyMDA7MTk2MjsyODI2",
      "height" : 2826,
      "width" : 1962,
      "format" : "JPG"
    },
    "vanity" : "free_state_of_jones",
    "officialUrl" : "http://stxmovies.com/freestateofjones/",
    "cummulativeBoxOffice" : null,
    "mainTrailer" : {
      "id" : "11234809",
      "title" : "Free State Of Jones",
      "sourceId" : "431647",
      "thumbUrl" : "https://content.internetvideoarchive.com/content/photos/10342/431647_102.jpg",
      "duration" : 68,
      "clipType" : "TRL",
      "source" : "VDD"
    },
    "boxOffice" : 15000000,
    "openingWindow" : "in-theaters",
    "mpaaRating" : "R"
  }, {
    "id" : "771422973",
    "type" : "movie",
    "advisory" : "for bloody images, intense sequences of peril, and brief strong language",
    "lastModifiedDate" : "2016-06-25T13:22:49-07:00",
    "tomatometer" : {
      "state" : "fresh",
      "value" : 74
    },
    "year" : 2016,
    "releaseScope" : "wide",
    "studioName" : "Ombra Films",
    "dvdWindow" : "NA",
    "heroImage" : {
      "id" : "n-1065578",
      "thumborId" : "v1.bjsxMDY1NTc4O2o7MTcwMjI7MTIwMDsxMjgwOzcyMA",
      "height" : 720,
      "width" : 1280,
      "format" : "JPG"
    },
    "synopsis" : "In the taut thriller The Shallows, when Nancy (Blake Lively) is surfing on a secluded beach, she finds herself on the feeding ground of a great white shark. Though she is stranded only 200 yards from shore, survival proves to be the ultimate test of wills, requiring all of Nancy's ingenuity, resourcefulness, and fortitude.",
    "releaseDates" : {
      "theater" : "2016-06-24"
    },
    "runningTime" : 87,
    "title" : "The Shallows",
    "creationDate" : "2015-08-07T03:01:53-07:00",
    "posterImage" : {
      "id" : "m-11730097",
      "thumborId" : "v1.bTsxMTczMDA5NztqOzE3MDEwOzEyMDA7MjAyNTszMDAw",
      "height" : 3000,
      "width" : 2025,
      "format" : "JPG"
    },
    "vanity" : "the_shallows",
    "officialUrl" : "http://www.theshallows-movie.com/site/",
    "cummulativeBoxOffice" : null,
    "mainTrailer" : {
      "id" : "11238393",
      "title" : "The Shallows",
      "sourceId" : "139669",
      "thumbUrl" : "https://content.internetvideoarchive.com/content/photos/10373/139669_057.jpg",
      "duration" : 108,
      "clipType" : "TRL",
      "source" : "VDD"
    },
    "boxOffice" : 12000000,
    "openingWindow" : "in-theaters",
    "mpaaRating" : "PG13"
  }, {
    "id" : "771416387",
    "type" : "movie",
    "advisory" : "for disturbing violent content, bloody images, graphic nudity, a scene of aberrant sexuality, and language",
    "lastModifiedDate" : "2016-06-25T06:15:11-07:00",
    "tomatometer" : {
      "state" : "rotten",
      "value" : 48
    },
    "year" : 2016,
    "releaseScope" : "wide",
    "studioName" : "Space Rocket Nation",
    "dvdWindow" : "NA",
    "heroImage" : {
      "id" : "n-1129927",
      "thumborId" : "v1.bjsxMTI5OTI3O2o7MTcwMjM7MTIwMDs4MDA7NTM0",
      "height" : 534,
      "width" : 800,
      "format" : "JPG"
    },
    "synopsis" : "When aspiring model Jesse moves to Los Angeles, her youth and vitality are devoured by a group of beauty-obsessed women who will take any means necessary to get what she has.",
    "releaseDates" : {
      "theater" : "2016-06-24"
    },
    "runningTime" : 110,
    "title" : "The Neon Demon",
    "creationDate" : "2015-04-01T23:57:23-07:00",
    "posterImage" : {
      "id" : "m-11899948",
      "thumborId" : "v1.bTsxMTg5OTk0ODtwOzE3MDEyOzEyMDA7MzAwOzQ2Mw",
      "height" : 463,
      "width" : 300,
      "format" : "PNG"
    },
    "vanity" : "the_neon_demon",
    "officialUrl" : "http://theneondemon.com/",
    "cummulativeBoxOffice" : null,
    "mainTrailer" : {
      "id" : "11239980",
      "title" : "The Neon Demon",
      "sourceId" : "346480",
      "thumbUrl" : "https://content.internetvideoarchive.com/content/photos/9400/346480_083.jpg",
      "duration" : 93,
      "clipType" : "TRL",
      "source" : "VDD"
    },
    "boxOffice" : null,
    "openingWindow" : "in-theaters",
    "mpaaRating" : "R"
  }, {
    "id" : "771435762",
    "type" : "movie",
    "advisory" : "for language and sexual material",
    "lastModifiedDate" : "2016-06-25T06:26:22-07:00",
    "tomatometer" : {
      "state" : "fresh",
      "value" : 63
    },
    "year" : 2016,
    "releaseScope" : "limited",
    "studioName" : "Blackbird Films",
    "dvdWindow" : "NA",
    "heroImage" : {
      "id" : "n-1076853",
      "thumborId" : "v1.bjsxMDc2ODUzO2o7MTcwMjI7MTIwMDsyMDAwOzExMjU",
      "height" : 1125,
      "width" : 2000,
      "format" : "JPG"
    },
    "synopsis" : "Outrageously fun and deeply affecting, Swiss Army Man is a gonzo buddy comedy that is the feature film debut of acclaimed music video directors Daniel Scheinert and Daniel Kwan (collectively known as DANIELS, and responsible for the visionary \"Turn Down For What\" video, among many others). Bursting with limitless creativity in both form and content, Swiss Army Man goes from the absurd to the emotional to the whimsical to the profound and back again. Hank (Paul Dano) is stranded on a deserted island, having given up all hope of ever making it home again. But one day everything changes when a corpse named Manny (Daniel Radcliffe) washes up on shore; the two become fast friends, and ultimately go on an epic adventure that will bring Hank back to the woman of his dreams. Swiss Army Man creates a world like no other-a place of pure fantastical imagination, brimming with magical realism yet featuring two characters whose dreams and fears are entirely relatable. Dano and Radcliffe both fully commit to their directors' audacious vision, and their work is exceptional, finding the perfect balance of humor and heart that drives the whole film. A celebration of all the wonders cinema has to offer, Swiss Army Man is a cultural phenomenon in the making; a surreal and wholly original examination of human vulnerability and connection that must be experienced.",
    "releaseDates" : {
      "theater" : "2016-06-24"
    },
    "runningTime" : 95,
    "title" : "Swiss Army Man",
    "creationDate" : "2015-12-25T19:10:31-08:00",
    "posterImage" : {
      "id" : "m-11899941",
      "thumborId" : "v1.bTsxMTg5OTk0MTtqOzE3MDEyOzEyMDA7NDA1MDs2MDAw",
      "height" : 6000,
      "width" : 4050,
      "format" : "JPG"
    },
    "vanity" : "swiss_army_man",
    "officialUrl" : "http://swissarmyman.com/",
    "cummulativeBoxOffice" : null,
    "mainTrailer" : {
      "id" : "11239359",
      "title" : "Swiss Army Man",
      "sourceId" : "165478",
      "thumbUrl" : "https://content.internetvideoarchive.com/content/photos/9976/165478_126.jpg",
      "duration" : 114,
      "clipType" : "TRL",
      "source" : "VDD"
    },
    "boxOffice" : null,
    "openingWindow" : "in-theaters",
    "mpaaRating" : "R"
  }, {
    "id" : "771436876",
    "type" : "movie",
    "advisory" : "for thematic elements including violent content, and for some language",
    "lastModifiedDate" : "2016-06-25T06:23:16-07:00",
    "tomatometer" : {
      "state" : "certified_fresh",
      "value" : 100
    },
    "year" : 2016,
    "releaseScope" : "limited",
    "studioName" : "Piki Films",
    "dvdWindow" : "NA",
    "heroImage" : {
      "id" : "n-1092612",
      "thumborId" : "v1.bjsxMDkyNjEyO2o7MTcwMjI7MTIwMDsyMDQ4OzEzNjM",
      "height" : 1363,
      "width" : 2048,
      "format" : "JPG"
    },
    "synopsis" : "Raised on hip-hop and foster care, defiant city kid Ricky gets a fresh start in the New Zealand countryside. He quickly finds himself at home with his new foster family: the loving Aunt Bella, the cantankerous Uncle Hec, and dog Tupac. When a tragedy strikes that threatens to ship Ricky to another home, both he and Hec go on the run in the bush. As a national manhunt ensues, the newly branded outlaws must face their options: go out in a blaze of glory or overcome their differences and survive as a family. Equal parts road comedy and rousing adventure story, director Taika Waititi (WHAT WE DO IN THE SHADOWS, upcoming THOR: RAGNORAK) masterfully weaves lively humor with emotionally honest performances by Sam Neill and Julian Dennison. A hilarious, touching crowd-pleaser, HUNT FOR THE WILDERPEOPLE reminds us about the journey that growing up is (at any age) and those who help us along the way.",
    "releaseDates" : {
      "theater" : "2016-06-24"
    },
    "runningTime" : 101,
    "title" : "Hunt for the Wilderpeople",
    "creationDate" : "2016-01-25T01:17:27-08:00",
    "posterImage" : {
      "id" : "m-11939842",
      "thumborId" : "v1.bTsxMTkzOTg0MjtwOzE3MDEzOzEyMDA7NDc4OzcwOA",
      "height" : 708,
      "width" : 478,
      "format" : "PNG"
    },
    "vanity" : "hunt_for_the_wilderpeople",
    "officialUrl" : "http://wilderpeople.film/",
    "cummulativeBoxOffice" : null,
    "mainTrailer" : {
      "id" : "11245753",
      "title" : "Hunt For The Wilderpeople",
      "sourceId" : "545243",
      "thumbUrl" : "https://content.internetvideoarchive.com/content/photos/10269/545243_199.jpg",
      "duration" : 151,
      "clipType" : "TRL",
      "source" : "VDD"
    },
    "boxOffice" : null,
    "openingWindow" : "in-theaters",
    "mpaaRating" : "PG13"
  }, {
    "id" : "771421214",
    "type" : "movie",
    "advisory" : "for language and some disturbing content",
    "lastModifiedDate" : "2016-06-25T06:26:11-07:00",
    "tomatometer" : {
      "state" : "fresh",
      "value" : 68
    },
    "year" : 2016,
    "releaseScope" : "limited",
    "studioName" : "Annapurna Pictures",
    "dvdWindow" : "NA",
    "heroImage" : {
      "id" : "n-1128514",
      "thumborId" : "v1.bjsxMTI4NTE0O2o7MTcwMjM7MTIwMDszMDAwOzIwMDA",
      "height" : 2000,
      "width" : 3000,
      "format" : "JPG"
    },
    "synopsis" : "A dachshund is taken in by a veterinary technician named Dawn Wiener (Greta Gerwig), who soon sets off on a road trip. The lovable dog also encounters a young boy, a film professor, and a troubled grandmother and granddaughter. The character of Dawn Wiener first appeared in the 1995 coming-of-age film Welcome to the Dollhouse, which was also written and directed by Todd Solondz. Wiener-Dog made its world premiere at the 2016 Sundance Film Festival.",
    "releaseDates" : {
      "theater" : "2016-06-24"
    },
    "runningTime" : 90,
    "title" : "Wiener-Dog",
    "creationDate" : "2015-06-27T03:18:56-07:00",
    "posterImage" : {
      "id" : "m-12052769",
      "thumborId" : "v1.bTsxMjA1Mjc2OTtqOzE3MDE0OzEyMDA7MjAyNTszMDAw",
      "height" : 3000,
      "width" : 2025,
      "format" : "JPG"
    },
    "vanity" : "wiener_dog",
    "officialUrl" : null,
    "cummulativeBoxOffice" : null,
    "mainTrailer" : {
      "id" : "11250233",
      "title" : "Wiener-Dog",
      "sourceId" : "226744",
      "thumbUrl" : "https://content.internetvideoarchive.com/content/photos/10350/226744_131.jpg",
      "duration" : 96,
      "clipType" : "TRL",
      "source" : "VDD"
    },
    "boxOffice" : null,
    "openingWindow" : "in-theaters",
    "mpaaRating" : "R"
  }, {
    "id" : "771442118",
    "type" : "movie",
    "advisory" : "for strong violence and language.",
    "lastModifiedDate" : "2016-06-25T06:35:42-07:00",
    "tomatometer" : {
      "state" : "rotten",
      "value" : 17
    },
    "year" : 2016,
    "releaseScope" : "limited",
    "studioName" : "Lionsgate Premiere",
    "dvdWindow" : "new-on-dvd",
    "heroImage" : {
      "id" : "n-1133604",
      "thumborId" : "v1.bjsxMTMzNjA0O2o7MTcwMjM7MTIwMDsxMjU4OzUyNQ",
      "height" : 525,
      "width" : 1258,
      "format" : "JPG"
    },
    "synopsis" : "THE DUEL stars Liam Hemsworth as a Texas Ranger who investigates a series of murders in a small town led by a charismatic preacher played by Woody Harrelson. However, the routine undercover investigation soon turns personal for the ranger who must solve the case before he loses everything to the mysterious town.",
    "releaseDates" : {
      "dvd" : "2016-06-24",
      "theater" : "2016-06-24"
    },
    "runningTime" : 110,
    "title" : "The Duel",
    "creationDate" : "2016-04-27T02:39:12-07:00",
    "posterImage" : {
      "id" : "m-11869259",
      "thumborId" : "v1.bTsxMTg2OTI1OTtwOzE3MDEyOzEyMDA7NDY4OzY5NQ",
      "height" : 695,
      "width" : 468,
      "format" : "PNG"
    },
    "vanity" : "the_duel_2016",
    "officialUrl" : null,
    "cummulativeBoxOffice" : null,
    "mainTrailer" : {
      "id" : "11245275",
      "title" : "The Duel",
      "sourceId" : "860754",
      "thumbUrl" : "https://content.internetvideoarchive.com/content/photos/10268/860754_005.jpg",
      "duration" : 115,
      "clipType" : "TRL",
      "source" : "VDD"
    },
    "boxOffice" : null,
    "openingWindow" : "in-theaters",
    "mpaaRating" : "R"
  }, {
    "id" : "771441659",
    "type" : "movie",
    "advisory" : null,
    "lastModifiedDate" : "2016-06-25T06:33:48-07:00",
    "tomatometer" : {
      "state" : "fresh",
      "value" : 86
    },
    "year" : 2016,
    "releaseScope" : "limited",
    "studioName" : "Bron Capital Partners",
    "dvdWindow" : "new-on-dvd",
    "heroImage" : {
      "id" : "n-1134247",
      "thumborId" : "v1.bjsxMTM0MjQ3O2o7MTcwMjM7MTIwMDs1MzkwOzM2MDA",
      "height" : 3600,
      "width" : 5390,
      "format" : "JPG"
    },
    "synopsis" : "When major-league rookie pitcher Hopper Gibson (Johnny Simmons) can't find the plate, he's sent down to the minor leagues and begins sessions with an unorthodox sports psychologist (Paul Giamatti). In the process, hidden conflicts with his overbearing father (Ethan Hawke) are brought to light.",
    "releaseDates" : {
      "dvd" : "2016-06-24",
      "theater" : "2016-06-24"
    },
    "runningTime" : 88,
    "title" : "The Phenom",
    "creationDate" : "2016-04-22T08:25:52-07:00",
    "posterImage" : {
      "id" : "m-11922523",
      "thumborId" : "v1.bTsxMTkyMjUyMztqOzE3MDEyOzEyMDA7NTcwOzg0MA",
      "height" : 840,
      "width" : 570,
      "format" : "JPG"
    },
    "vanity" : "the_phenom_2016",
    "officialUrl" : "",
    "cummulativeBoxOffice" : null,
    "mainTrailer" : {
      "id" : "11248690",
      "title" : "The Phenom",
      "sourceId" : "190086",
      "thumbUrl" : "https://content.internetvideoarchive.com/content/photos/10318/190086_165.jpg",
      "duration" : 148,
      "clipType" : "TRL",
      "source" : "VDD"
    },
    "boxOffice" : null,
    "openingWindow" : "in-theaters",
    "mpaaRating" : "NR"
  }, {
    "id" : "771437164",
    "type" : "movie",
    "advisory" : "for language, some sexual references and brief nudity",
    "lastModifiedDate" : "2016-06-25T06:23:30-07:00",
    "tomatometer" : {
      "state" : "fresh",
      "value" : 95
    },
    "year" : 2016,
    "releaseScope" : "limited",
    "studioName" : "Les Films du Poisson",
    "dvdWindow" : "NA",
    "heroImage" : {
      "id" : "n-1121913",
      "thumborId" : "v1.bjsxMTIxOTEzO2o7MTcwMjI7MTIwMDsxMjgwOzcyMA",
      "height" : 720,
      "width" : 1280,
      "format" : "JPG"
    },
    "synopsis" : "This documentary explores the life and career of avant-garde musician Frank Zappa entirely via archival footage of the man, including interviews and concert performances. Directed by Thorsten Schütte.",
    "releaseDates" : {
      "theater" : "2016-06-24"
    },
    "runningTime" : 90,
    "title" : "Eat That Question: Frank Zappa in His Own Words",
    "creationDate" : "2016-02-02T00:55:10-08:00",
    "posterImage" : {
      "id" : "m-11980625",
      "thumborId" : "v1.bTsxMTk4MDYyNTtqOzE3MDEzOzEyMDA7ODI3NTsxMjE3NQ",
      "height" : 12175,
      "width" : 8275,
      "format" : "JPG"
    },
    "vanity" : "eat_that_question_frank_zappa_in_his_own_words",
    "officialUrl" : "",
    "cummulativeBoxOffice" : null,
    "mainTrailer" : {
      "id" : "11250313",
      "title" : "Eat That Question: Frank Zappa In His Own Words",
      "sourceId" : "613455",
      "thumbUrl" : "https://content.internetvideoarchive.com/content/photos/10352/613455_089.jpg",
      "duration" : 126,
      "clipType" : "TRL",
      "source" : "VDD"
    },
    "boxOffice" : null,
    "openingWindow" : "in-theaters",
    "mpaaRating" : "R"
  } ],
  "upcoming" : [ {
    "id" : "771443829",
    "type" : "movie",
    "advisory" : null,
    "lastModifiedDate" : "2016-06-24T23:05:29-07:00",
    "tomatometer" : {
      "state" : "NA"
    },
    "year" : 2016,
    "releaseScope" : "limited",
    "studioName" : null,
    "dvdWindow" : "NA",
    "heroImage" : {
      "id" : "n-1119612",
      "thumborId" : "v1.bjsxMTE5NjEyO2o7MTcwMjI7MTIwMDsxOTIwOzEwODA",
      "height" : 1080,
      "width" : 1920,
      "format" : "JPG"
    },
    "synopsis" : "When David is left by his fiancé just days before the wedding, Flula, his relentlessly upbeat best man, insists that the pair go on David's previously planned honeymoon together: a seven-day backpacking trip through the breathtaking mountains of Oregon. On the trail, the two friends cross paths with a conspiracy theorist, a friendly backpacker, and a bloodthirsty predator (an actual wolf), while the unrelenting trek tests their friendship and their lives.",
    "releaseDates" : {
      "theater" : "2016-06-30"
    },
    "runningTime" : 80,
    "creationDate" : "2016-05-23T02:48:38-07:00",
    "title" : "Buddymoon",
    "posterImage" : {
      "id" : "m-11955541",
      "thumborId" : "v1.bTsxMTk1NTU0MTtqOzE3MDEzOzEyMDA7MjUwOzM3MA",
      "height" : 370,
      "width" : 250,
      "format" : "JPG"
    },
    "vanity" : "buddymoon",
    "officialUrl" : "http://buddymoonthemovie.com/",
    "cummulativeBoxOffice" : null,
    "mainTrailer" : null,
    "boxOffice" : null,
    "mpaaRating" : "NR",
    "openingWindow" : "opening"
  }, {
    "id" : "771444976",
    "type" : "movie",
    "advisory" : null,
    "lastModifiedDate" : "2016-06-24T23:05:55-07:00",
    "tomatometer" : {
      "state" : "NA"
    },
    "year" : 2016,
    "releaseScope" : "limited",
    "studioName" : "Cinegalaxy",
    "dvdWindow" : "NA",
    "heroImage" : null,
    "synopsis" : null,
    "releaseDates" : {
      "theater" : "2016-06-30"
    },
    "runningTime" : null,
    "creationDate" : "2016-06-14T06:48:59-07:00",
    "title" : "Kabali",
    "posterImage" : null,
    "vanity" : "kabali",
    "officialUrl" : null,
    "cummulativeBoxOffice" : null,
    "mainTrailer" : null,
    "boxOffice" : null,
    "mpaaRating" : "NR",
    "openingWindow" : "opening"
  }, {
    "id" : "771374700",
    "type" : "movie",
    "advisory" : "for sequences of action and violence, some sensuality and brief rude dialogue",
    "lastModifiedDate" : "2016-06-25T06:20:53-07:00",
    "tomatometer" : {
      "state" : "NA"
    },
    "year" : 2016,
    "releaseScope" : "wide",
    "studioName" : "Lionsgate Pictures",
    "dvdWindow" : "NA",
    "heroImage" : {
      "id" : "n-1133635",
      "thumborId" : "v1.bjsxMTMzNjM1O2o7MTcwMjM7MTIwMDsyMzUwOzEyMDA",
      "height" : 1200,
      "width" : 2350,
      "format" : "JPG"
    },
    "synopsis" : "It has been years since the man once known as Tarzan (Alexander Skarsgård) left the jungles of Africa behind for a gentrified life as John Clayton III, Lord Greystoke, with his beloved wife, Jane (Margot Robbie) at his side. Now, he has been invited back to the Congo to serve as a trade emissary of Parliament, unaware that he is a pawn in a deadly convergence of greed and revenge, masterminded by the Belgian, Captain Leon Rom (Christoph Waltz). But those behind the murderous plot have no idea what they are about to unleash.",
    "releaseDates" : {
      "theater" : "2016-07-01"
    },
    "runningTime" : 109,
    "creationDate" : "2014-02-12T03:30:39-08:00",
    "title" : "The Legend of Tarzan",
    "posterImage" : {
      "id" : "m-11954606",
      "thumborId" : "v1.bTsxMTk1NDYwNjtqOzE3MDEzOzEyMDA7NTc0Ozg1MQ",
      "height" : 851,
      "width" : 574,
      "format" : "JPG"
    },
    "vanity" : "the_legend_of_tarzan",
    "officialUrl" : "http://legendoftarzan.com/",
    "cummulativeBoxOffice" : null,
    "mainTrailer" : {
      "id" : "11233392",
      "title" : "The Legend Of Tarzan",
      "sourceId" : "39102",
      "thumbUrl" : "https://content.internetvideoarchive.com/content/photos/10127/39102_061.jpg",
      "duration" : 147,
      "clipType" : "TRL",
      "source" : "VDD"
    },
    "boxOffice" : 17000000,
    "mpaaRating" : "PG13",
    "openingWindow" : "opening"
  }, {
    "id" : "771411544",
    "type" : "movie",
    "advisory" : "for disturbing bloody violence and strong language",
    "lastModifiedDate" : "2016-06-24T23:06:11-07:00",
    "tomatometer" : {
      "state" : "NA"
    },
    "year" : 2016,
    "releaseScope" : "wide",
    "studioName" : "Universal Pictures",
    "dvdWindow" : "NA",
    "heroImage" : {
      "id" : "n-1133400",
      "thumborId" : "v1.bjsxMTMzNDAwO2o7MTcwMjM7MTIwMDsxOTIwOzEwODA",
      "height" : 1080,
      "width" : 1920,
      "format" : "JPG"
    },
    "synopsis" : "Writer/director James DeMonaco returns for the third installment of the franchise starring Frank Grillo.",
    "releaseDates" : {
      "theater" : "2016-07-01"
    },
    "runningTime" : 105,
    "creationDate" : "2015-01-12T03:00:11-08:00",
    "title" : "The Purge: Election Year",
    "posterImage" : {
      "id" : "m-12007674",
      "thumborId" : "v1.bTsxMjAwNzY3NDtqOzE3MDEzOzEyMDA7NTAwMDs3OTE3",
      "height" : 7917,
      "width" : 5000,
      "format" : "JPG"
    },
    "vanity" : "the_purge_election_year",
    "officialUrl" : "http://www.thepurgeelectionyear.com/",
    "cummulativeBoxOffice" : null,
    "mainTrailer" : {
      "id" : "11236361",
      "title" : "The Purge: Election Year (Australia Trailer 1)",
      "sourceId" : "483765",
      "thumbUrl" : "https://content.internetvideoarchive.com/content/photos/10015/483765_008.jpg",
      "duration" : 142,
      "clipType" : "TRL",
      "source" : "VDD"
    },
    "boxOffice" : 22000000,
    "mpaaRating" : "R",
    "openingWindow" : "opening"
  }, {
    "id" : "771382797",
    "type" : "movie",
    "advisory" : "for action/peril, some scary moments and brief rude humor",
    "lastModifiedDate" : "2016-06-25T06:20:15-07:00",
    "tomatometer" : {
      "state" : "fresh",
      "value" : 69
    },
    "year" : 2016,
    "releaseScope" : "wide",
    "studioName" : "Walt Disney Pictures",
    "dvdWindow" : "NA",
    "heroImage" : {
      "id" : "n-1134422",
      "thumborId" : "v1.bjsxMTM0NDIyO2o7MTcwMjM7MTIwMDsyMTgwOzExNTI",
      "height" : 1152,
      "width" : 2180,
      "format" : "JPG"
    },
    "synopsis" : "This film tells the tale of a young girl, the Queen of England and a benevolent giant known as the BFG, who set out on an adventure to capture the evil, man-eating giants who have been invading the human world.",
    "releaseDates" : {
      "theater" : "2016-07-01"
    },
    "runningTime" : 115,
    "creationDate" : "2014-06-19T08:16:48-07:00",
    "title" : "The BFG",
    "posterImage" : {
      "id" : "m-11931565",
      "thumborId" : "v1.bTsxMTkzMTU2NTtqOzE3MDEzOzEyMDA7MTY4ODsyNTAw",
      "height" : 2500,
      "width" : 1688,
      "format" : "JPG"
    },
    "vanity" : "the_bfg_2016",
    "officialUrl" : "http://movies.disney.com/the-bfg",
    "cummulativeBoxOffice" : null,
    "mainTrailer" : {
      "id" : "11233325",
      "title" : "The BFG",
      "sourceId" : "823354",
      "thumbUrl" : "https://content.internetvideoarchive.com/content/photos/10323/823354_142.jpg",
      "duration" : 133,
      "clipType" : "TRL",
      "source" : "VDD"
    },
    "boxOffice" : 14000000,
    "mpaaRating" : "PG",
    "openingWindow" : "opening"
  }, {
    "id" : "771434474",
    "type" : "movie",
    "advisory" : "for violence, language throughout, some sexuality, nudity and brief drug use",
    "lastModifiedDate" : "2016-06-25T06:17:02-07:00",
    "tomatometer" : {
      "state" : "fresh",
      "value" : 81
    },
    "year" : 2016,
    "releaseScope" : "limited",
    "studioName" : null,
    "dvdWindow" : "NA",
    "heroImage" : {
      "id" : "n-1139109",
      "thumborId" : "v1.bjsxMTM5MTA5O2o7MTcwMjM7MTIwMDsxMjgwOzg1Mw",
      "height" : 853,
      "width" : 1280,
      "format" : "JPG"
    },
    "synopsis" : "While on holiday in Marrakech, an ordinary English couple, Perry and Gail, befriend a flamboyant and charismatic Russian, Dima, who unbeknownst to them is a kingpin money launderer for the Russian mafia. When Dima asks for their help to deliver classified information to the British Secret Services, Perry and Gail get caught in a dangerous world of international espionage and dirty politics. The couple is propelled on a perilous journey through Paris and Bern, a safe house in the French Alps, to the murky corners of the City of London and an alliance with the British Government via a ruthless and determined MI6 agent.",
    "releaseDates" : {
      "theater" : "2016-07-01"
    },
    "runningTime" : 107,
    "creationDate" : "2015-11-19T06:23:54-08:00",
    "title" : "Our Kind of Traitor",
    "posterImage" : {
      "id" : "m-11837687",
      "thumborId" : "v1.bTsxMTgzNzY4NztqOzE3MDEyOzEyMDA7NDA1OzYwMA",
      "height" : 600,
      "width" : 405,
      "format" : "JPG"
    },
    "vanity" : "our_kind_of_traitor_2016",
    "officialUrl" : "",
    "cummulativeBoxOffice" : null,
    "mainTrailer" : {
      "id" : "11239427",
      "title" : "Our Kind Of Traitor (US)",
      "sourceId" : "507605",
      "thumbUrl" : "https://content.internetvideoarchive.com/content/photos/10217/507605_098.jpg",
      "duration" : 142,
      "clipType" : "TRL",
      "source" : "VDD"
    },
    "boxOffice" : null,
    "mpaaRating" : "R",
    "openingWindow" : "opening"
  }, {
    "id" : "771442391",
    "type" : "movie",
    "advisory" : "for strong violence, language, brief drug use and nudity",
    "lastModifiedDate" : "2016-06-25T06:43:04-07:00",
    "tomatometer" : {
      "state" : "NA"
    },
    "year" : 2016,
    "releaseScope" : "limited",
    "studioName" : "Emmett/Furla Films",
    "dvdWindow" : "NA",
    "heroImage" : {
      "id" : "n-1122133",
      "thumborId" : "v1.bjsxMTIyMTMzO2o7MTcwMjI7MTIwMDsxMjgwOzcyMA",
      "height" : 720,
      "width" : 1280,
      "format" : "JPG"
    },
    "synopsis" : "When a bank is hit by a brutal heist, all evidence points to the owner (Bruce Willis) and his high-powered clients. But as a group of FBI agents (Christopher Meloni, Dave Bautista and Adrian Grenier) dig deeper into the case - and the deadly heists continue - it becomes clear that a larger conspiracy is at play.",
    "releaseDates" : {
      "theater" : "2016-07-01"
    },
    "runningTime" : 107,
    "creationDate" : "2016-04-30T23:03:32-07:00",
    "title" : "Marauders",
    "posterImage" : {
      "id" : "m-11985117",
      "thumborId" : "v1.bTsxMTk4NTExNztqOzE3MDEzOzEyMDA7NTQwOzgwMA",
      "height" : 800,
      "width" : 540,
      "format" : "JPG"
    },
    "vanity" : "marauders_2016",
    "officialUrl" : "",
    "cummulativeBoxOffice" : null,
    "mainTrailer" : {
      "id" : "11250369",
      "title" : "Marauders",
      "sourceId" : "250804",
      "thumbUrl" : "https://content.internetvideoarchive.com/content/photos/10356/250804_169.jpg",
      "duration" : 125,
      "clipType" : "TRL",
      "source" : "VDD"
    },
    "boxOffice" : null,
    "mpaaRating" : "R",
    "openingWindow" : "opening"
  }, {
    "id" : "771435756",
    "type" : "movie",
    "advisory" : "for thematic elements, and language including a suggestive reference",
    "lastModifiedDate" : "2016-06-25T06:23:33-07:00",
    "tomatometer" : {
      "state" : "fresh",
      "value" : 86
    },
    "year" : 2016,
    "releaseScope" : "limited",
    "studioName" : "A&E IndieFilms",
    "dvdWindow" : "NA",
    "heroImage" : {
      "id" : "n-1129870",
      "thumborId" : "v1.bjsxMTI5ODcwO2o7MTcwMjM7MTIwMDsxMjgwOzcyMA",
      "height" : 720,
      "width" : 1280,
      "format" : "JPG"
    },
    "synopsis" : "The inspirational story of Owen Suskind, a young man who was unable to speak as a child until he and his family discovered a unique way to communicate by immersing themselves in the world of classic Disney animated films. This emotional coming-of-age story follows Owen as he graduates to adulthood and takes his first steps toward independence.",
    "releaseDates" : {
      "theater" : "2016-07-01"
    },
    "runningTime" : 89,
    "creationDate" : "2015-12-25T19:10:23-08:00",
    "title" : "Life, Animated",
    "posterImage" : {
      "id" : "m-11989625",
      "thumborId" : "v1.bTsxMTk4OTYyNTtqOzE3MDEzOzEyMDA7NTcxOzgyNQ",
      "height" : 825,
      "width" : 571,
      "format" : "JPG"
    },
    "vanity" : "life_animated",
    "officialUrl" : "http://www.lifeanimateddoc.com/",
    "cummulativeBoxOffice" : null,
    "mainTrailer" : {
      "id" : "11250753",
      "title" : "Life, Animated",
      "sourceId" : "188514",
      "thumbUrl" : "https://content.internetvideoarchive.com/content/photos/10195/188514_154.jpg",
      "duration" : 142,
      "clipType" : "TRL",
      "source" : "VDD"
    },
    "boxOffice" : null,
    "mpaaRating" : "PG",
    "openingWindow" : "opening"
  }, {
    "id" : "771421943",
    "type" : "movie",
    "advisory" : "for some sex-related material involving young teens",
    "lastModifiedDate" : "2016-06-25T06:35:14-07:00",
    "tomatometer" : {
      "state" : "fresh",
      "value" : 91
    },
    "year" : 2016,
    "releaseScope" : "limited",
    "studioName" : "Partizan Films",
    "dvdWindow" : "NA",
    "heroImage" : {
      "id" : "n-1102807",
      "thumborId" : "v1.bjsxMTAyODA3O2o7MTcwMjI7MTIwMDsxMTQwOzY0MQ",
      "height" : 641,
      "width" : 1140,
      "format" : "JPG"
    },
    "synopsis" : "Microbe, a shy, aspiring artist, has trouble making friends at school until he meets Gasoline, a likeminded outcast. Together they hatch a plan to build a car and spend their summer on an epic road trip across France. This charming adventure from Michel Gondry (MOOD INDIGO, BE KIND REWIND) has been called his \"most satisfying movie since ETERNAL SUNSHINE OF THE SPOTLESS MIND,\" reminding us how friendships can help us reach our true potential. Also starring Audrey Tautou (AMELIE, DA VINCI CODE).",
    "releaseDates" : {
      "theater" : "2016-07-01"
    },
    "runningTime" : 103,
    "creationDate" : "2015-07-20T06:56:31-07:00",
    "title" : "Microbe and Gasoline (Microbe et Gasoil)",
    "posterImage" : {
      "id" : "m-11913465",
      "thumborId" : "v1.bTsxMTkxMzQ2NTtqOzE3MDEyOzEyMDA7MTM4NjsyMDQ4",
      "height" : 2048,
      "width" : 1386,
      "format" : "JPG"
    },
    "vanity" : "microbe_and_gasoline",
    "officialUrl" : null,
    "cummulativeBoxOffice" : null,
    "mainTrailer" : {
      "id" : "11247813",
      "title" : "Microbe and Gasoline",
      "sourceId" : "189775",
      "thumbUrl" : "https://content.internetvideoarchive.com/content/photos/10304/189775_177.jpg",
      "duration" : 122,
      "clipType" : "TRL",
      "source" : "VDD"
    },
    "boxOffice" : null,
    "mpaaRating" : "R",
    "openingWindow" : "opening"
  }, {
    "id" : "771434703",
    "type" : "movie",
    "advisory" : null,
    "lastModifiedDate" : "2016-06-25T06:25:24-07:00",
    "tomatometer" : {
      "state" : "fresh",
      "value" : 67
    },
    "year" : 2016,
    "releaseScope" : "limited",
    "studioName" : "Diablo Entertainment",
    "dvdWindow" : "new-on-dvd",
    "heroImage" : {
      "id" : "n-1134655",
      "thumborId" : "v1.bjsxMTM0NjU1O2o7MTcwMjM7MTIwMDsyMDQ4Ozg1OA",
      "height" : 858,
      "width" : 2048,
      "format" : "JPG"
    },
    "synopsis" : "This pure-pulp thrill ride jumps between past and present as it pieces together the puzzle of a shocking crime. It's 1978 and a bank robbery gone wrong leaves Vivian (The Last Exorcism's Ashley Bell) the hostage of two criminals on the run. But things go from bad to off-the-rails berserk when she and her captors wind up on the sun-baked desert outpost of a deranged ex-military sniper (Pat Healy), who ensnares them in his deadly game of cat and mouse. Rising horror auteur Mickey Keating (Pod, Darling) directs this gritty, grisly homage to the glory days of grindhouse cinema.",
    "releaseDates" : {
      "dvd" : "2016-07-01",
      "theater" : "2016-07-01"
    },
    "runningTime" : 81,
    "creationDate" : "2015-11-25T02:03:39-08:00",
    "title" : "Carnage Park",
    "posterImage" : {
      "id" : "m-11952150",
      "thumborId" : "v1.bTsxMTk1MjE1MDtqOzE3MDEzOzEyMDA7NTAwOzc0MQ",
      "height" : 741,
      "width" : 500,
      "format" : "JPG"
    },
    "vanity" : "carnage_park",
    "officialUrl" : "",
    "cummulativeBoxOffice" : null,
    "mainTrailer" : {
      "id" : "11250164",
      "title" : "Carnage Park",
      "sourceId" : "675567",
      "thumbUrl" : "https://content.internetvideoarchive.com/content/photos/9982/675567_133.jpg",
      "duration" : 105,
      "clipType" : "TRL",
      "source" : "VDD"
    },
    "boxOffice" : null,
    "mpaaRating" : "NR",
    "openingWindow" : "opening"
  } ],
  "topRentals" : [ {
    "id" : "771442118",
    "type" : "movie",
    "advisory" : "for strong violence and language.",
    "lastModifiedDate" : "2016-06-25T06:35:42-07:00",
    "tomatometer" : {
      "state" : "rotten",
      "value" : 17
    },
    "year" : 2016,
    "releaseScope" : "limited",
    "studioName" : "Lionsgate Premiere",
    "dvdWindow" : "new-on-dvd",
    "heroImage" : {
      "id" : "n-1133604",
      "thumborId" : "v1.bjsxMTMzNjA0O2o7MTcwMjM7MTIwMDsxMjU4OzUyNQ",
      "height" : 525,
      "width" : 1258,
      "format" : "JPG"
    },
    "synopsis" : "THE DUEL stars Liam Hemsworth as a Texas Ranger who investigates a series of murders in a small town led by a charismatic preacher played by Woody Harrelson. However, the routine undercover investigation soon turns personal for the ranger who must solve the case before he loses everything to the mysterious town.",
    "releaseDates" : {
      "dvd" : "2016-06-24",
      "theater" : "2016-06-24"
    },
    "runningTime" : 110,
    "posterImage" : {
      "id" : "m-11869259",
      "thumborId" : "v1.bTsxMTg2OTI1OTtwOzE3MDEyOzEyMDA7NDY4OzY5NQ",
      "height" : 695,
      "width" : 468,
      "format" : "PNG"
    },
    "title" : "The Duel",
    "creationDate" : "2016-04-27T02:39:12-07:00",
    "vanity" : "the_duel_2016",
    "officialUrl" : null,
    "cummulativeBoxOffice" : null,
    "mainTrailer" : {
      "id" : "11245275",
      "title" : "The Duel",
      "sourceId" : "860754",
      "thumbUrl" : "https://content.internetvideoarchive.com/content/photos/10268/860754_005.jpg",
      "duration" : 115,
      "clipType" : "TRL",
      "source" : "VDD"
    },
    "boxOffice" : null,
    "openingWindow" : "in-theaters",
    "mpaaRating" : "R"
  }, {
    "id" : "771435751",
    "type" : "movie",
    "advisory" : null,
    "lastModifiedDate" : "2016-06-25T06:26:21-07:00",
    "tomatometer" : {
      "state" : "fresh",
      "value" : 70
    },
    "year" : 2016,
    "releaseScope" : "wide",
    "studioName" : "Worldwide Pants",
    "dvdWindow" : "new-on-dvd",
    "heroImage" : {
      "id" : "n-1117772",
      "thumborId" : "v1.bjsxMTE3NzcyO2o7MTcwMjI7MTIwMDs1NzYwOzM4NDA",
      "height" : 3840,
      "width" : 5760,
      "format" : "JPG"
    },
    "synopsis" : "An 18-year-old with muscular dystrophy (Craig Roberts) goes on a road trip with his caregiver (Paul Rudd), and the pair learn about life from the people they meet along the way. Written and directed by Rob Burnett, The Fundamentals of Caring made its world premiere at the 2016 Sundance Film Festival.",
    "releaseDates" : {
      "dvd" : "2016-06-24"
    },
    "runningTime" : 93,
    "posterImage" : {
      "id" : "m-12033115",
      "thumborId" : "v1.bTsxMjAzMzExNTtqOzE3MDE0OzEyMDA7MTUwMDsyMjIy",
      "height" : 2222,
      "width" : 1500,
      "format" : "JPG"
    },
    "title" : "The Fundamentals of Caring",
    "creationDate" : "2015-12-25T19:10:13-08:00",
    "vanity" : "the_fundamentals_of_caring",
    "officialUrl" : "",
    "cummulativeBoxOffice" : null,
    "mainTrailer" : null,
    "boxOffice" : null,
    "openingWindow" : "NA",
    "mpaaRating" : "NR"
  }, {
    "id" : "771441659",
    "type" : "movie",
    "advisory" : null,
    "lastModifiedDate" : "2016-06-25T06:33:48-07:00",
    "tomatometer" : {
      "state" : "fresh",
      "value" : 86
    },
    "year" : 2016,
    "releaseScope" : "limited",
    "studioName" : "Bron Capital Partners",
    "dvdWindow" : "new-on-dvd",
    "heroImage" : {
      "id" : "n-1134247",
      "thumborId" : "v1.bjsxMTM0MjQ3O2o7MTcwMjM7MTIwMDs1MzkwOzM2MDA",
      "height" : 3600,
      "width" : 5390,
      "format" : "JPG"
    },
    "synopsis" : "When major-league rookie pitcher Hopper Gibson (Johnny Simmons) can't find the plate, he's sent down to the minor leagues and begins sessions with an unorthodox sports psychologist (Paul Giamatti). In the process, hidden conflicts with his overbearing father (Ethan Hawke) are brought to light.",
    "releaseDates" : {
      "dvd" : "2016-06-24",
      "theater" : "2016-06-24"
    },
    "runningTime" : 88,
    "posterImage" : {
      "id" : "m-11922523",
      "thumborId" : "v1.bTsxMTkyMjUyMztqOzE3MDEyOzEyMDA7NTcwOzg0MA",
      "height" : 840,
      "width" : 570,
      "format" : "JPG"
    },
    "title" : "The Phenom",
    "creationDate" : "2016-04-22T08:25:52-07:00",
    "vanity" : "the_phenom_2016",
    "officialUrl" : "",
    "cummulativeBoxOffice" : null,
    "mainTrailer" : {
      "id" : "11248690",
      "title" : "The Phenom",
      "sourceId" : "190086",
      "thumbUrl" : "https://content.internetvideoarchive.com/content/photos/10318/190086_165.jpg",
      "duration" : 148,
      "clipType" : "TRL",
      "source" : "VDD"
    },
    "boxOffice" : null,
    "openingWindow" : "in-theaters",
    "mpaaRating" : "NR"
  }, {
    "id" : "771444017",
    "type" : "movie",
    "advisory" : null,
    "lastModifiedDate" : "2016-06-25T06:43:04-07:00",
    "tomatometer" : {
      "state" : "rotten",
      "value" : 20
    },
    "year" : 2016,
    "releaseScope" : "limited",
    "studioName" : "Stormchaser Films",
    "dvdWindow" : "new-on-dvd",
    "heroImage" : {
      "id" : "n-1129882",
      "thumborId" : "v1.bjsxMTI5ODgyO2o7MTcwMjM7MTIwMDsxOTIwOzEwODA",
      "height" : 1080,
      "width" : 1920,
      "format" : "JPG"
    },
    "synopsis" : "A young woman's quiet night in becomes a free-fall into fear in this disturbing home invasion thriller. After she lands her dream job, a young cellist (Louise Linton) settles in for a relaxing few days holed up in her apartment-but as a violent storm rages outside, she can't shake the feeling that someone is watching her every move. Cleverly toying with the rules of suspense, director Travis Z wrings maximum terror from everyone's worst nightmare: you may not be alone.",
    "releaseDates" : {
      "dvd" : "2016-06-24",
      "theater" : "2016-06-24"
    },
    "runningTime" : 91,
    "posterImage" : {
      "id" : "m-12027346",
      "thumborId" : "v1.bTsxMjAyNzM0NjtqOzE3MDE0OzEyMDA7MTY5MDsyNTAw",
      "height" : 2500,
      "width" : 1690,
      "format" : "JPG"
    },
    "title" : "Intruder",
    "creationDate" : "2016-05-26T19:29:53-07:00",
    "vanity" : "intruder_2016",
    "officialUrl" : "http://www.ifcfilms.com/films/intruder",
    "cummulativeBoxOffice" : null,
    "mainTrailer" : null,
    "boxOffice" : null,
    "openingWindow" : "in-theaters",
    "mpaaRating" : "NR"
  }, {
    "id" : "771443837",
    "type" : "movie",
    "advisory" : null,
    "lastModifiedDate" : "2016-06-24T22:43:37-07:00",
    "tomatometer" : {
      "state" : "NA"
    },
    "year" : 2016,
    "releaseScope" : "limited",
    "studioName" : null,
    "dvdWindow" : "new-on-dvd",
    "heroImage" : {
      "id" : "n-1117896",
      "thumborId" : "v1.bjsxMTE3ODk2O2o7MTcwMjI7MTIwMDsxMjgwOzcyMA",
      "height" : 720,
      "width" : 1280,
      "format" : "JPG"
    },
    "synopsis" : "Seattle Road explores the paradox of a couple's love and the resentment that forms between two ambitious people. Eve is a beautiful but wounded woman, the product of an affluent and sophisticated background. Adam a sheltered, vulnerable man raised in a cult-like commune with his mother and younger brother who only recently escaped his confining background. Early in their relationship, Eve suffers from the loss of her estranged father and convinces Adam to move into her father's abandoned country home. She hides the fact that the property is actually not left to her in the will, and that they will basically be squatting at the home. Together they unknowingly embark on a journey that will be tumultuous to their relationship, leading to a great sense of impending doom. Exploring the ideas of serendipity and predestination, Adam and Eve are on a romantic collision course that's part of a larger design - that they're fated to be partners and to go through stages in their relationship that mirror their archetypal story from Genesis. Relying on the use of imperfect fragments of memory, this film deconstructs a relationship in a painful, realistic and ultimately hopeful journey.",
    "releaseDates" : {
      "dvd" : "2016-06-24",
      "theater" : "2016-06-24"
    },
    "runningTime" : 83,
    "posterImage" : {
      "id" : "m-11949608",
      "thumborId" : "v1.bTsxMTk0OTYwODtwOzE3MDEzOzEyMDA7MzE1OzQ2Nw",
      "height" : 467,
      "width" : 315,
      "format" : "PNG"
    },
    "title" : "Seattle Road",
    "creationDate" : "2016-05-23T05:13:42-07:00",
    "vanity" : "seattle_road_2016",
    "officialUrl" : "",
    "cummulativeBoxOffice" : null,
    "mainTrailer" : {
      "id" : "11250058",
      "title" : "Seattle Road",
      "sourceId" : "829656",
      "thumbUrl" : "https://content.internetvideoarchive.com/content/photos/10317/829656_074.jpg",
      "duration" : 60,
      "clipType" : "TRL",
      "source" : "VDD"
    },
    "boxOffice" : null,
    "openingWindow" : "NA",
    "mpaaRating" : "NR"
  }, {
    "id" : "771362417",
    "type" : "movie",
    "advisory" : "for some violence and action",
    "lastModifiedDate" : "2016-06-25T08:12:18-07:00",
    "tomatometer" : {
      "state" : "certified_fresh",
      "value" : 83
    },
    "year" : 2016,
    "releaseScope" : "limited",
    "studioName" : "Warner Bros. Pictures",
    "dvdWindow" : "new-on-dvd",
    "heroImage" : {
      "id" : "n-1049439",
      "thumborId" : "v1.bjsxMDQ5NDM5O2o7MTcwMjI7MTIwMDs0MDk2OzE1NDQ",
      "height" : 1544,
      "width" : 4096,
      "format" : "JPG"
    },
    "synopsis" : "Michael Shannon, Joel Edgerton, and Kirsten Dunst star in writer/director Jeff Nichols' drama about a father and his eight-year-old son who go on the lam upon discovering that the boy possesses mysterious powers. ~ Jason Buchanan, Rovi",
    "releaseDates" : {
      "dvd" : "2016-06-21",
      "theater" : "2016-03-18"
    },
    "runningTime" : 111,
    "posterImage" : {
      "id" : "m-11708091",
      "thumborId" : "v1.bTsxMTcwODA5MTtqOzE3MDEwOzEyMDA7NDA1MDs2MDAw",
      "height" : 6000,
      "width" : 4050,
      "format" : "JPG"
    },
    "title" : "Midnight Special",
    "creationDate" : "2013-08-15T01:45:15-07:00",
    "vanity" : "midnight_special_2015",
    "officialUrl" : "http://www.midnightspecialmovie.com/",
    "cummulativeBoxOffice" : null,
    "mainTrailer" : {
      "id" : "11232640",
      "title" : "Midnight Special",
      "sourceId" : "871053",
      "thumbUrl" : "https://content.internetvideoarchive.com/content/photos/10020/871053_111.jpg",
      "duration" : 125,
      "clipType" : "TRL",
      "source" : "VDD"
    },
    "boxOffice" : 70052,
    "openingWindow" : "NA",
    "mpaaRating" : "PG13"
  }, {
    "id" : "771381397",
    "type" : "movie",
    "advisory" : "for some suggestive material",
    "lastModifiedDate" : "2016-06-25T08:36:38-07:00",
    "tomatometer" : {
      "state" : "rotten",
      "value" : 29
    },
    "year" : 2016,
    "releaseScope" : "wide",
    "studioName" : "Gold Circle Films",
    "dvdWindow" : "new-on-dvd",
    "heroImage" : {
      "id" : "n-1064568",
      "thumborId" : "v1.bjsxMDY0NTY4O2o7MTcwMjI7MTIwMDsyMzcxOzE1MDA",
      "height" : 1500,
      "width" : 2371,
      "format" : "JPG"
    },
    "synopsis" : "Gold Circle Entertainment and HBO present a Playtone production of My Big Fat Greek Wedding 2, the long-awaited follow-up to the highest-grossing romantic comedy of all time. Written by Academy Award (R) nominee Nia Vardalos, who stars alongside the entire returning cast of favorites, the film reveals a Portokalos family secret that will bring the beloved characters back together for an even bigger and Greeker wedding. Kirk Jones (Nanny McPhee, Waking Ned Devine) directs the next chapter of the film that will be once again produced by Rita Wilson and Playtone partners Tom Hanks and Gary Goetzman. Paul Brooks and Steven Shareshian return to executive produce alongside Vardalos and Scott Niemeyer. Universal Pictures will distribute the comedy domestically and in select international territories.",
    "releaseDates" : {
      "dvd" : "2016-06-21",
      "theater" : "2016-03-25"
    },
    "runningTime" : 94,
    "posterImage" : {
      "id" : "m-11564384",
      "thumborId" : "v1.bTsxMTU2NDM4NDtqOzE3MDk4OzEyMDA7Mjg0OzQwNQ",
      "height" : 405,
      "width" : 284,
      "format" : "JPG"
    },
    "title" : "My Big Fat Greek Wedding 2",
    "creationDate" : "2014-05-31T01:53:24-07:00",
    "vanity" : "my_big_fat_greek_wedding_2",
    "officialUrl" : "http://www.mybigfatgreekweddingmovie.com/",
    "cummulativeBoxOffice" : 59573085,
    "mainTrailer" : {
      "id" : "11232322",
      "title" : "My Big Fat Greek Wedding 2",
      "sourceId" : "530904",
      "thumbUrl" : "https://content.internetvideoarchive.com/content/photos/10241/530904_007.jpg",
      "duration" : 136,
      "clipType" : "TRL",
      "source" : "VDD"
    },
    "boxOffice" : 1108820,
    "openingWindow" : "NA",
    "mpaaRating" : "PG13"
  }, {
    "id" : "771433283",
    "type" : "movie",
    "advisory" : "for strong crude sexual content, graphic nudity, violence, language, and some drug use",
    "lastModifiedDate" : "2016-06-25T08:31:57-07:00",
    "tomatometer" : {
      "state" : "rotten",
      "value" : 37
    },
    "year" : 2016,
    "releaseScope" : "wide",
    "studioName" : "Big Talk Productions",
    "dvdWindow" : "new-on-dvd",
    "heroImage" : {
      "id" : "n-957062",
      "thumborId" : "v1.bjs5NTcwNjI7ajsxNzAyMTsxMjAwOzEyODA7NzIw",
      "height" : 720,
      "width" : 1280,
      "format" : "JPG"
    },
    "synopsis" : "Nobby (Sacha Baron Cohen), a sweet but dimwitted English football hooligan, reunites with his long-lost brother Sebastian (Mark Strong), a deadly MI6 agent, to prevent a massive global terror attack and prove that behind every great spy is an embarrassing sibling. Nobby has everything a man from Grimsby could want, including 11 children and the most gorgeous girlfriend in the northeast of England (Rebel Wilson). There's only one thing missing: his little brother, Sebastian, who Nobby has spent 28 years searching for after they were separated as kids. Nobby sets off to reunite with Sebastian, unaware that not only is his brother MI6's deadliest assassin, but he's just uncovered plans for an imminent global terrorist attack. On the run and wrongfully accused, Sebastian realizes that if he is going to save the world, he will need the help of its biggest idiot.",
    "releaseDates" : {
      "dvd" : "2016-06-21",
      "theater" : "2016-03-11"
    },
    "runningTime" : 83,
    "posterImage" : {
      "id" : "m-11644966",
      "thumborId" : "v1.bTsxMTY0NDk2NjtqOzE3MDk5OzEyMDA7MTM1ODsyMDEy",
      "height" : 2012,
      "width" : 1358,
      "format" : "JPG"
    },
    "title" : "The Brothers Grimsby",
    "creationDate" : "2015-10-30T08:06:56-07:00",
    "vanity" : "the_brothers_grimsby",
    "officialUrl" : "",
    "cummulativeBoxOffice" : 0,
    "mainTrailer" : {
      "id" : "11231917",
      "title" : "The Brothers Grimsby",
      "sourceId" : "950765",
      "thumbUrl" : "https://content.internetvideoarchive.com/content/photos/9901/950765_069.jpg",
      "duration" : 173,
      "clipType" : "TRL",
      "source" : "VDD"
    },
    "boxOffice" : null,
    "openingWindow" : "NA",
    "mpaaRating" : "R"
  }, {
    "id" : "771428953",
    "type" : "movie",
    "advisory" : null,
    "lastModifiedDate" : "2016-06-25T08:11:38-07:00",
    "tomatometer" : {
      "state" : "certified_fresh",
      "value" : 99
    },
    "year" : 2016,
    "releaseScope" : "limited",
    "studioName" : "Buffalo Films",
    "dvdWindow" : "new-on-dvd",
    "heroImage" : {
      "id" : "n-1007034",
      "thumborId" : "v1.bjsxMDA3MDM0O2o7MTcwMjE7MTIwMDsxMjgwOzcyMA",
      "height" : 720,
      "width" : 1280,
      "format" : "JPG"
    },
    "synopsis" : "Embrace of the Serpent features the encounter, apparent betrayal and finally life-affirming friendship between an Amazonian shaman (the last survivor of his people) and two foreign scientists.",
    "releaseDates" : {
      "dvd" : "2016-06-21",
      "theater" : "2016-02-17"
    },
    "runningTime" : 123,
    "posterImage" : {
      "id" : "m-11314106",
      "thumborId" : "v1.bTsxMTMxNDEwNjtqOzE3MDk1OzEyMDA7NDMyOzY0MA",
      "height" : 640,
      "width" : 432,
      "format" : "JPG"
    },
    "title" : "Embrace Of The Serpent (El Abrazo De La Serpiente)",
    "creationDate" : "2015-09-11T06:46:20-07:00",
    "vanity" : "embrace_of_the_serpent",
    "officialUrl" : "http://embraceoftheserpent.oscilloscope.net/",
    "cummulativeBoxOffice" : 1320005,
    "mainTrailer" : {
      "id" : "11234643",
      "title" : "Embrace Of The Serpent (US)",
      "sourceId" : "230252",
      "thumbUrl" : "https://content.internetvideoarchive.com/content/photos/9945/230252_010.jpg",
      "duration" : 127,
      "clipType" : "TRL",
      "source" : "VDD"
    },
    "boxOffice" : 19081,
    "openingWindow" : "NA",
    "mpaaRating" : "NR"
  }, {
    "id" : "771260322",
    "type" : "movie",
    "advisory" : "for some nudity, sexuality and language",
    "lastModifiedDate" : "2016-06-25T07:01:18-07:00",
    "tomatometer" : {
      "state" : "rotten",
      "value" : 46
    },
    "year" : 2016,
    "releaseScope" : "limited",
    "studioName" : "Broad Green Pictures",
    "dvdWindow" : "new-on-dvd",
    "heroImage" : {
      "id" : "n-1048803",
      "thumborId" : "v1.bjsxMDQ4ODAzO2o7MTcwMjI7MTIwMDsxOTgwOzEzMzE",
      "height" : 1331,
      "width" : 1980,
      "format" : "JPG"
    },
    "synopsis" : "Knight of Cups follows writer Rick (Christian Bale, The Fighter, American Hustle) on an odyssey through the playgrounds of Los Angeles and Las Vegas as he undertakes a search for love and self. Even as he moves through a desire-laden landscape of mansions, resorts, beaches and clubs, Rick grapples over complicated relationships with his brother (Wes Bentley) and father (Brian Dennehy). His quest to break the spell of his disenchantment takes him on a series of adventures with six alluring women: rebellious Della (Imogen Poots); his physician ex-wife, Nancy (Cate Blanchett); a serene model Helen (Freida Pinto); a woman he wronged in the past Elizabeth (Natalie Portman); a spirited, playful stripper Karen (Teresa Palmer); and an innocent Isabel (Isabel Lucas), who helps him see a way forward. Rick moves in a daze through a strange and overwhelming dreamscape -- but can he wake up to the beauty, humanity and rhythms of life around him? The deeper he searches, the more the journey becomes his destination. The 7th film from director Terrence Malick (The Thin Red Line, Tree of Life), Knight of Cups (the title refers to the Tarot card depicting a romantic adventurer guided by his emotions) offers both a vision of modern life and an intensely personal experience of memory, family, and love. Knight of Cups is produced by Nicolas Gonda, Sarah Green and Ken Kao. Prominent crew includes cinematographer Emmanuel Lubezki (Gravity, Birdman), production designer Jack Fisk, costume designer Jacqueline West, and composer Hanan Townshend (To The Wonder). The film's ensemble cast also includes Antonio Banderas, Cherry Jones and Armin Mueller-Stahl.",
    "releaseDates" : {
      "dvd" : "2016-06-21",
      "theater" : "2016-03-04"
    },
    "runningTime" : 118,
    "posterImage" : {
      "id" : "m-11510773",
      "thumborId" : "v1.bTsxMTUxMDc3MztqOzE3MDk4OzEyMDA7NTY3Ozg0MA",
      "height" : 840,
      "width" : 567,
      "format" : "JPG"
    },
    "title" : "Knight of Cups",
    "creationDate" : "2011-11-04T01:21:25-07:00",
    "vanity" : "knight_of_cups",
    "officialUrl" : "http://www.theknightofcupsmovie.com/",
    "cummulativeBoxOffice" : 558402,
    "mainTrailer" : {
      "id" : "11223182",
      "title" : "Knight Of Cups",
      "sourceId" : "230816",
      "thumbUrl" : "https://content.internetvideoarchive.com/content/photos/7531/230816_095.jpg",
      "duration" : 141,
      "clipType" : "TRL",
      "source" : "VDD"
    },
    "boxOffice" : 4005,
    "openingWindow" : "NA",
    "mpaaRating" : "R"
  } ],
  "newOnDvd" : [ {
    "id" : "771434703",
    "type" : "movie",
    "advisory" : null,
    "lastModifiedDate" : "2016-06-25T06:25:24-07:00",
    "tomatometer" : {
      "state" : "fresh",
      "value" : 67
    },
    "year" : 2016,
    "releaseScope" : "limited",
    "studioName" : "Diablo Entertainment",
    "dvdWindow" : "new-on-dvd",
    "heroImage" : {
      "id" : "n-1134655",
      "thumborId" : "v1.bjsxMTM0NjU1O2o7MTcwMjM7MTIwMDsyMDQ4Ozg1OA",
      "height" : 858,
      "width" : 2048,
      "format" : "JPG"
    },
    "synopsis" : "This pure-pulp thrill ride jumps between past and present as it pieces together the puzzle of a shocking crime. It's 1978 and a bank robbery gone wrong leaves Vivian (The Last Exorcism's Ashley Bell) the hostage of two criminals on the run. But things go from bad to off-the-rails berserk when she and her captors wind up on the sun-baked desert outpost of a deranged ex-military sniper (Pat Healy), who ensnares them in his deadly game of cat and mouse. Rising horror auteur Mickey Keating (Pod, Darling) directs this gritty, grisly homage to the glory days of grindhouse cinema.",
    "releaseDates" : {
      "dvd" : "2016-07-01",
      "theater" : "2016-07-01"
    },
    "runningTime" : 81,
    "title" : "Carnage Park",
    "creationDate" : "2015-11-25T02:03:39-08:00",
    "posterImage" : {
      "id" : "m-11952150",
      "thumborId" : "v1.bTsxMTk1MjE1MDtqOzE3MDEzOzEyMDA7NTAwOzc0MQ",
      "height" : 741,
      "width" : 500,
      "format" : "JPG"
    },
    "vanity" : "carnage_park",
    "officialUrl" : "",
    "cummulativeBoxOffice" : null,
    "mainTrailer" : {
      "id" : "11250164",
      "title" : "Carnage Park",
      "sourceId" : "675567",
      "thumbUrl" : "https://content.internetvideoarchive.com/content/photos/9982/675567_133.jpg",
      "duration" : 105,
      "clipType" : "TRL",
      "source" : "VDD"
    },
    "boxOffice" : null,
    "openingWindow" : "opening",
    "mpaaRating" : "NR"
  }, {
    "id" : "771444253",
    "type" : "movie",
    "advisory" : null,
    "lastModifiedDate" : "2016-06-24T18:40:49-07:00",
    "tomatometer" : {
      "state" : "NA"
    },
    "year" : 2016,
    "releaseScope" : "limited",
    "studioName" : "Marvista Entertainment",
    "dvdWindow" : "new-on-dvd",
    "heroImage" : {
      "id" : "n-1121595",
      "thumborId" : "v1.bjsxMTIxNTk1O2o7MTcwMjI7MTIwMDsyMDQ4OzExNTI",
      "height" : 1152,
      "width" : 2048,
      "format" : "JPG"
    },
    "synopsis" : "SATANIC follows a van full of young, college-aged coeds who are visiting old Satanic Panic-era sites in Los Angeles. They end up following the creepy owner of an occult store home, only to find themselves saving a suspicious girl from an apparent human sacrifice. Only this \"victim\" turns out to be much more dangerous than the cult from which she escaped.",
    "releaseDates" : {
      "dvd" : "2016-07-01",
      "theater" : "2016-07-01"
    },
    "runningTime" : 80,
    "title" : "Satanic",
    "creationDate" : "2016-06-01T03:39:27-07:00",
    "posterImage" : {
      "id" : "m-11985118",
      "thumborId" : "v1.bTsxMTk4NTExODtqOzE3MDEzOzEyMDA7NTc1Ozg1MQ",
      "height" : 851,
      "width" : 575,
      "format" : "JPG"
    },
    "vanity" : null,
    "officialUrl" : "http://www.magnetreleasing.com/satanic/",
    "cummulativeBoxOffice" : null,
    "mainTrailer" : {
      "id" : "11250342",
      "title" : "Satanic",
      "sourceId" : "596558",
      "thumbUrl" : "https://content.internetvideoarchive.com/content/photos/10355/596558_078.jpg",
      "duration" : 119,
      "clipType" : "TRL",
      "source" : "VDD"
    },
    "boxOffice" : null,
    "openingWindow" : "opening",
    "mpaaRating" : "R"
  }, {
    "id" : "771442628",
    "type" : "movie",
    "advisory" : null,
    "lastModifiedDate" : "2016-06-24T23:06:07-07:00",
    "tomatometer" : {
      "state" : "NA"
    },
    "year" : 2016,
    "releaseScope" : "limited",
    "studioName" : null,
    "dvdWindow" : "new-on-dvd",
    "heroImage" : {
      "id" : "n-1098487",
      "thumborId" : "v1.bjsxMDk4NDg3O3A7MTcwMjI7MTIwMDsxNDk0Ozg0MA",
      "height" : 840,
      "width" : 1494,
      "format" : "PNG"
    },
    "synopsis" : "A movie about a movie theater? In a culture where digital movie presentation is taking over, OUT OF PRINT is a unique documentary which explores the importance of revival cinema and 35mm film exhibition as seen through the lens of the patrons of the New Beverly Cinema - an independent revival cinema in Los Angeles. The film features interviews with a who's who of influential independent film creatives including Joe Carnahan, Joe Dante, Seth Green, Rian Johnson, John Landis, Patton Oswalt, Kevin Smith and many more. OUT OF PRINT celebrates the world of Revival and Art House Cinema where 35mm film prints are still going strong, making a strong case for why 35mm presentation should be allowed to coexist with digital forever.",
    "releaseDates" : {
      "dvd" : "2016-07-01",
      "theater" : "2016-06-03"
    },
    "runningTime" : 89,
    "title" : "Out of Print",
    "creationDate" : "2016-05-04T03:41:18-07:00",
    "posterImage" : {
      "id" : "m-11890914",
      "thumborId" : "v1.bTsxMTg5MDkxNDtqOzE3MDEyOzEyMDA7OTUxOzE0MDA",
      "height" : 1400,
      "width" : 951,
      "format" : "JPG"
    },
    "vanity" : "out_of_print_2016",
    "officialUrl" : "http://outofprintfilm.com/",
    "cummulativeBoxOffice" : null,
    "mainTrailer" : {
      "id" : "11246471",
      "title" : "Out of Print",
      "sourceId" : "809929",
      "thumbUrl" : "https://content.internetvideoarchive.com/content/photos/10287/809929_172.jpg",
      "duration" : 154,
      "clipType" : "TRL",
      "source" : "VDD"
    },
    "boxOffice" : null,
    "openingWindow" : "in-theaters",
    "mpaaRating" : "NR"
  }, {
    "id" : "771416924",
    "type" : "movie",
    "advisory" : null,
    "lastModifiedDate" : "2016-06-25T06:41:03-07:00",
    "tomatometer" : {
      "state" : "NA"
    },
    "year" : 2016,
    "releaseScope" : "limited",
    "studioName" : "Sundance Selects",
    "dvdWindow" : "new-on-dvd",
    "heroImage" : {
      "id" : "n-1134677",
      "thumborId" : "v1.bjsxMTM0Njc3O2o7MTcwMjM7MTIwMDsyMzMzOzEyODA",
      "height" : 1280,
      "width" : 2333,
      "format" : "JPG"
    },
    "synopsis" : "Follow comedy legend Roseanne Barr as she embarks on a wild, hilarious, and impassioned campaign for the highest office in the land. It's 2012 and Barr, fed up with corporate influence in politics, takes matters into her own hands when she launches a third party presidential bid founded on grassroots activism. Hitting the campaign trail, the sarcastic, opinionated, and outspoken Barr makes for a candidate unlike any other as she brings her message to the people. Featuring appearances from Michael Moore, Sandra Bernhard, Rosie O'Donnell, and others close to Barr, Roseanne for President! is both a rousing David vs. Goliath tale and a revealing portrait of a cultural icon.",
    "releaseDates" : {
      "dvd" : "2016-07-01",
      "theater" : "2016-07-01"
    },
    "runningTime" : 98,
    "title" : "Roseanne for President!",
    "creationDate" : "2015-04-12T22:37:14-07:00",
    "posterImage" : {
      "id" : "m-12027705",
      "thumborId" : "v1.bTsxMjAyNzcwNTtqOzE3MDE0OzEyMDA7NjQ5Ozk2MA",
      "height" : 960,
      "width" : 649,
      "format" : "JPG"
    },
    "vanity" : "roseanne_for_president",
    "officialUrl" : "http://www.ifcfilms.com/films/roseanne-for-president",
    "cummulativeBoxOffice" : null,
    "mainTrailer" : {
      "id" : "11250928",
      "title" : "Roseanne For President",
      "sourceId" : "548728",
      "thumbUrl" : "https://content.internetvideoarchive.com/content/photos/9497/548728_173.jpg",
      "duration" : 142,
      "clipType" : "TRL",
      "source" : "VDD"
    },
    "boxOffice" : null,
    "openingWindow" : "opening",
    "mpaaRating" : "NR"
  }, {
    "id" : "771315831",
    "type" : "movie",
    "advisory" : "for martial arts action and some mild rude humor",
    "lastModifiedDate" : "2016-06-25T08:19:54-07:00",
    "tomatometer" : {
      "state" : "certified_fresh",
      "value" : 86
    },
    "year" : 2016,
    "releaseScope" : "wide",
    "studioName" : "DreamWorks Animation",
    "dvdWindow" : "new-on-dvd",
    "heroImage" : {
      "id" : "n-818649",
      "thumborId" : "v1.bjs4MTg2NDk7ajsxNzAxOTsxMjAwOzEyODA7NzIw",
      "height" : 720,
      "width" : 1280,
      "format" : "JPG"
    },
    "synopsis" : "In 2016, one of the most successful animated franchises in the world returns with its biggest comedy adventure yet, KUNG FU PANDA 3. When Po's long-lost panda father suddenly reappears, the reunited duo travels to a secret panda paradise to meet scores of hilarious new panda characters. But when the supernatural villain Kai begins to sweep across China defeating all the kung fu masters, Po must do the impossible-learn to train a village full of his fun-loving, clumsy brethren to become the ultimate band of Kung Fu Pandas! (C) Fox",
    "releaseDates" : {
      "dvd" : "2016-06-28",
      "theater" : "2016-01-29"
    },
    "runningTime" : 94,
    "title" : "Kung Fu Panda 3",
    "creationDate" : "2012-09-12T07:00:50-07:00",
    "posterImage" : {
      "id" : "m-11488237",
      "thumborId" : "v1.bTsxMTQ4ODIzNztqOzE3MDk3OzEyMDA7MjAyNTszMDAw",
      "height" : 3000,
      "width" : 2025,
      "format" : "JPG"
    },
    "vanity" : "kung_fu_panda_3",
    "officialUrl" : "https://www.facebook.com/kungfupanda",
    "cummulativeBoxOffice" : 143403643,
    "mainTrailer" : {
      "id" : "11227397",
      "title" : "Kung Fu Panda 3",
      "sourceId" : "717613",
      "thumbUrl" : "https://content.internetvideoarchive.com/content/photos/9918/717613_024.jpg",
      "duration" : 145,
      "clipType" : "TRL",
      "source" : "VDD"
    },
    "boxOffice" : null,
    "openingWindow" : "NA",
    "mpaaRating" : "PG"
  }, {
    "id" : "771428818",
    "type" : "movie",
    "advisory" : "for some violence images and language.",
    "lastModifiedDate" : "2016-06-25T08:30:08-07:00",
    "tomatometer" : {
      "state" : "certified_fresh",
      "value" : 95
    },
    "year" : 2016,
    "releaseScope" : "wide",
    "studioName" : "Eone Films",
    "dvdWindow" : "new-on-dvd",
    "heroImage" : {
      "id" : "n-1056760",
      "thumborId" : "v1.bjsxMDU2NzYwO2o7MTcwMjI7MTIwMDsxMzIyOzc0NA",
      "height" : 744,
      "width" : 1322,
      "format" : "JPG"
    },
    "synopsis" : "The moral implications of modern warfare are confronted in Bleecker Street's powerful drama, Eye in the Sky, coming to Digital HD on June 14, 2016 and Blu-ray(TM), DVD and On Demand on June 28, 2016, from Universal Pictures Home Entertainment. Tackling an ethical dilemma in a thought-provoking suspenseful story, the gritty film stars Academy Award (R) Winner, Helen Mirren (Trumbo, The Queen), Aaron Paul (\"Breaking Bad,\" Need for Speed), Academy Award (R) Nominee Barkhad Abdi (Captain Philips), Iain Glen (\"Game of Thrones,\" Lara Croft: Tomb Raider) and the late Alan Rickman (Die Hard, Harry Potter) in his final on-screen performance. Eye in the Sky \"holds us in a vise and keeps squeezing\" according to Peter Travers of Rolling Stone. Directed by Academy Award (R) Winner Gavin Hood (Tsotsi, Ender's Game) and written by Guy Hibbert (\"Complicit,\" Five Minutes of Heaven), Eye in the Sky follows Colonel Katherine Powell (Helen Mirren), a UK-based military officer in command of a top secret drone operation to capture terrorists in Kenya. Using remote surveillance and on-the-ground intelligence, Powell discovers the targets are planning a suicide bombing and the mission escalates from \"capture\" to \"kill.\" But as American pilot Steve Watts (Aaron Paul) is about to engage, a nine-year-old girl enters the kill zone triggering an international dispute, reaching the highest levels of American and British government, over the moral, political and personal implications of modern military operations.",
    "releaseDates" : {
      "dvd" : "2016-06-28",
      "theater" : "2016-04-01"
    },
    "runningTime" : 102,
    "title" : "Eye In The Sky",
    "creationDate" : "2015-09-10T23:03:09-07:00",
    "posterImage" : {
      "id" : "m-11434449",
      "thumborId" : "v1.bTsxMTQzNDQ0OTtwOzE3MDk3OzEyMDA7NDEzOzYxMw",
      "height" : 613,
      "width" : 413,
      "format" : "PNG"
    },
    "vanity" : "eye_in_the_sky",
    "officialUrl" : "http://www.bleeckerstreetmedia.com/eyeinthesky",
    "cummulativeBoxOffice" : 18581987,
    "mainTrailer" : {
      "id" : "11233069",
      "title" : "Eye In The Sky",
      "sourceId" : "788690",
      "thumbUrl" : "https://content.internetvideoarchive.com/content/photos/9815/788690_086.jpg",
      "duration" : 150,
      "clipType" : "TRL",
      "source" : "VDD"
    },
    "boxOffice" : null,
    "openingWindow" : "in-theaters",
    "mpaaRating" : "R"
  }, {
    "id" : "771375638",
    "type" : "movie",
    "advisory" : "for pervasive language, some sexual content, drug use and violent war images",
    "lastModifiedDate" : "2016-06-24T23:06:27-07:00",
    "tomatometer" : {
      "state" : "fresh",
      "value" : 68
    },
    "year" : 2016,
    "releaseScope" : "wide",
    "studioName" : "Paramount Pictures",
    "dvdWindow" : "new-on-dvd",
    "heroImage" : {
      "id" : "n-985372",
      "thumborId" : "v1.bjs5ODUzNzI7ajsxNzAyMTsxMjAwOzEyODA7NzIw",
      "height" : 720,
      "width" : 1280,
      "format" : "JPG"
    },
    "synopsis" : "SNL alumni Tina Fey steps into the well worn shoes of journalist Kim Barker in Paramount Pictures' adaptation of Barker's memoir The Taliban Shuffle: Strange Days in Afghanistan and Pakistan, which details her years as a reporter in Pakistan and Afghanistan beginning in 2002.",
    "releaseDates" : {
      "dvd" : "2016-06-28",
      "theater" : "2016-03-04"
    },
    "runningTime" : 111,
    "title" : "Whiskey Tango Foxtrot",
    "creationDate" : "2014-02-25T00:52:19-08:00",
    "posterImage" : {
      "id" : "m-11372217",
      "thumborId" : "v1.bTsxMTM3MjIxNztqOzE3MDk2OzEyMDA7MTg1NjsyODk3",
      "height" : 2897,
      "width" : 1856,
      "format" : "JPG"
    },
    "vanity" : "whiskey_tango_foxtrot",
    "officialUrl" : "http://www.whiskeytangofoxtrotthemovie.com/",
    "cummulativeBoxOffice" : null,
    "mainTrailer" : {
      "id" : "11233665",
      "title" : "Whiskey Tango Foxtrot",
      "sourceId" : "820935",
      "thumbUrl" : "https://content.internetvideoarchive.com/content/photos/9879/820935_055.jpg",
      "duration" : 150,
      "clipType" : "TRL",
      "source" : "VDD"
    },
    "boxOffice" : null,
    "openingWindow" : "NA",
    "mpaaRating" : "R"
  }, {
    "id" : "771433558",
    "type" : "movie",
    "advisory" : null,
    "lastModifiedDate" : "2016-06-25T08:33:38-07:00",
    "tomatometer" : {
      "state" : "certified_fresh",
      "value" : 85
    },
    "year" : 2016,
    "releaseScope" : "limited",
    "studioName" : "Idéale Audience",
    "dvdWindow" : "new-on-dvd",
    "heroImage" : {
      "id" : "n-1056029",
      "thumborId" : "v1.bjsxMDU2MDI5O2o7MTcwMjI7MTIwMDsxMjgwOzcyMA",
      "height" : 720,
      "width" : 1280,
      "format" : "JPG"
    },
    "synopsis" : "A tour of the Louvre serves as a meditation on art. The film also explores how the museum avoided being plundered during the Nazi occupation of France, and depicts the ghost of Napoleon wandering among the exhibits. Directed by Alexander Sokurov.",
    "releaseDates" : {
      "dvd" : "2016-06-28",
      "theater" : "2016-04-01"
    },
    "runningTime" : 88,
    "title" : "Francofonia",
    "creationDate" : "2015-11-04T05:54:03-08:00",
    "posterImage" : {
      "id" : "m-11748143",
      "thumborId" : "v1.bTsxMTc0ODE0MztqOzE3MDEwOzEyMDA7NTUxOzgxNg",
      "height" : 816,
      "width" : 551,
      "format" : "JPG"
    },
    "vanity" : "francofonia",
    "officialUrl" : "http://www.musicboxfilms.com/francofonia",
    "cummulativeBoxOffice" : 290055,
    "mainTrailer" : {
      "id" : "11237465",
      "title" : "Francofonia (US)",
      "sourceId" : "583689",
      "thumbUrl" : "https://content.internetvideoarchive.com/content/photos/10081/583689_008.jpg",
      "duration" : 112,
      "clipType" : "TRL",
      "source" : "VDD"
    },
    "boxOffice" : null,
    "openingWindow" : "in-theaters",
    "mpaaRating" : "NR"
  }, {
    "id" : "771417349",
    "type" : "movie",
    "advisory" : null,
    "lastModifiedDate" : "2016-06-25T06:24:03-07:00",
    "tomatometer" : {
      "state" : "fresh",
      "value" : 89
    },
    "year" : 2016,
    "releaseScope" : "limited",
    "studioName" : "Gravitas Ventures",
    "dvdWindow" : "new-on-dvd",
    "heroImage" : {
      "id" : "n-1045527",
      "thumborId" : "v1.bjsxMDQ1NTI3O2o7MTcwMjI7MTIwMDsxMjgwOzcyMA",
      "height" : 720,
      "width" : 1280,
      "format" : "JPG"
    },
    "synopsis" : "Hank Aaron and Derek Jeter, with Kevin Costner narrating, lead a cast of baseball legends & scientists who explore the magic within the 396 milliseconds it takes a fastball to reach home plate, and decipher who threw the fastest pitch ever.",
    "releaseDates" : {
      "dvd" : "2016-06-28",
      "theater" : "2016-03-25"
    },
    "runningTime" : 85,
    "title" : "Fastball",
    "creationDate" : "2015-04-19T03:04:25-07:00",
    "posterImage" : {
      "id" : "m-11604959",
      "thumborId" : "v1.bTsxMTYwNDk1OTtqOzE3MDk5OzEyMDA7NTQ3OzgxMA",
      "height" : 810,
      "width" : 547,
      "format" : "JPG"
    },
    "vanity" : "fastball",
    "officialUrl" : "http://fastballmovie.com/",
    "cummulativeBoxOffice" : null,
    "mainTrailer" : {
      "id" : "11236577",
      "title" : "Fastball",
      "sourceId" : "725354",
      "thumbUrl" : "https://content.internetvideoarchive.com/content/photos/9497/725354_057.jpg",
      "duration" : 126,
      "clipType" : "TRL",
      "source" : "VDD"
    },
    "boxOffice" : null,
    "openingWindow" : "NA",
    "mpaaRating" : "NR"
  }, {
    "id" : "771437496",
    "type" : "movie",
    "advisory" : "for language throughout, some violence and sexual material",
    "lastModifiedDate" : "2016-06-25T06:27:59-07:00",
    "tomatometer" : {
      "state" : "rotten",
      "value" : 0
    },
    "year" : 2016,
    "releaseScope" : "limited",
    "studioName" : "Grindstone Entertainment Group",
    "dvdWindow" : "new-on-dvd",
    "heroImage" : {
      "id" : "n-1075357",
      "thumborId" : "v1.bjsxMDc1MzU3O2o7MTcwMjI7MTIwMDsxOTIwOzEyODA",
      "height" : 1280,
      "width" : 1920,
      "format" : "JPG"
    },
    "synopsis" : "After a botched heist, Eddie (Bruce Willis), a murderous crime boss, hunts down the seductive thief Karen (Claire Forlani) who failed him. In order to win back Eddie's trust, Karen recruits her ex-lover and premier thief Jack (Mark-Paul Gosselaar) to steal a cargo of rare precious gems. But when the job goes down, allegiances are betrayed and lines are crossed as Jack, Karen, and Eddie face off in a fateful showdown.",
    "releaseDates" : {
      "dvd" : "2016-06-28",
      "theater" : "2016-04-22"
    },
    "runningTime" : 90,
    "title" : "Precious Cargo",
    "creationDate" : "2016-02-07T05:54:19-08:00",
    "posterImage" : {
      "id" : "m-11630052",
      "thumborId" : "v1.bTsxMTYzMDA1MjtqOzE3MDk5OzEyMDA7NTE5OzgwMA",
      "height" : 800,
      "width" : 519,
      "format" : "JPG"
    },
    "vanity" : "precious_cargo_2016",
    "officialUrl" : "",
    "cummulativeBoxOffice" : null,
    "mainTrailer" : {
      "id" : "11236975",
      "title" : "Precious Cargo",
      "sourceId" : "400017",
      "thumbUrl" : "https://content.internetvideoarchive.com/content/photos/10047/400017_074.jpg",
      "duration" : 124,
      "clipType" : "TRL",
      "source" : "VDD"
    },
    "boxOffice" : null,
    "openingWindow" : "in-theaters",
    "mpaaRating" : "R"
  } ],
  "most-popular-tv" : [ {
    "link" : "https://www.rottentomatoes.com/tv/orange-is-the-new-black/s04/",
    "score" : 100,
    "showId" : 15200,
    "rating" : "certified",
    "showTitle" : "Orange is the New Black: Season 4",
    "title" : "Orange is the New Black: Season 4",
    "tomatometer" : {
      "state" : "certified_fresh",
      "value" : 100
    }
  }, {
    "link" : "https://www.rottentomatoes.com/tv/voltron-legendary-defender/s01/",
    "score" : 100,
    "showId" : 16402,
    "rating" : "fresh",
    "showTitle" : "Voltron: Legendary Defender: Season 1",
    "title" : "Voltron: Legendary Defender: Season 1",
    "tomatometer" : {
      "state" : "fresh",
      "value" : 100
    }
  }, {
    "link" : "https://www.rottentomatoes.com/tv/outcast/s01/",
    "score" : 79,
    "showId" : 14135,
    "rating" : "certified",
    "showTitle" : "Outcast: Season 1",
    "title" : "Outcast: Season 1",
    "tomatometer" : {
      "state" : "certified_fresh",
      "value" : 79
    }
  }, {
    "link" : "https://www.rottentomatoes.com/tv/preacher/s01/",
    "score" : 91,
    "showId" : 12261,
    "rating" : "certified",
    "showTitle" : "Preacher: Season 1",
    "title" : "Preacher: Season 1",
    "tomatometer" : {
      "state" : "certified_fresh",
      "value" : 91
    }
  }, {
    "link" : "https://www.rottentomatoes.com/tv/unreal/s02/",
    "score" : 94,
    "showId" : 15425,
    "rating" : "certified",
    "showTitle" : "UnReal: Season 2",
    "title" : "UnReal: Season 2",
    "tomatometer" : {
      "state" : "certified_fresh",
      "value" : 94
    }
  }, {
    "link" : "https://www.rottentomatoes.com/tv/game-of-thrones/s06/",
    "score" : 93,
    "showId" : 15349,
    "rating" : "certified",
    "showTitle" : "Game of Thrones: Season 6",
    "title" : "Game of Thrones: Season 6",
    "tomatometer" : {
      "state" : "certified_fresh",
      "value" : 93
    }
  }, {
    "link" : "https://www.rottentomatoes.com/tv/wynonna-earp/s01/",
    "score" : 86,
    "showId" : 16163,
    "rating" : "fresh",
    "showTitle" : "Wynonna Earp: Season 1",
    "title" : "Wynonna Earp: Season 1",
    "tomatometer" : {
      "state" : "fresh",
      "value" : 86
    }
  }, {
    "link" : "https://www.rottentomatoes.com/tv/cleverman/s01/",
    "score" : 88,
    "showId" : 16225,
    "rating" : "fresh",
    "showTitle" : "Cleverman: Season 1",
    "title" : "Cleverman: Season 1",
    "tomatometer" : {
      "state" : "fresh",
      "value" : 88
    }
  }, {
    "link" : "https://www.rottentomatoes.com/tv/animal-kingdom/s01/",
    "score" : 72,
    "showId" : 16167,
    "rating" : "fresh",
    "showTitle" : "Animal Kingdom: Season 1",
    "title" : "Animal Kingdom: Season 1",
    "tomatometer" : {
      "state" : "fresh",
      "value" : 72
    }
  }, {
    "link" : "https://www.rottentomatoes.com/tv/orphan-black/s04/",
    "score" : 97,
    "showId" : 15230,
    "rating" : "certified",
    "showTitle" : "Orphan Black: Season 4",
    "title" : "Orphan Black: Season 4",
    "tomatometer" : {
      "state" : "certified_fresh",
      "value" : 97
    }
  } ],
  "new-tv-tonight" : [ {
    "link" : "https://www.rottentomatoes.com/tv/outlander/s02/",
    "score" : 97,
    "showId" : 11634,
    "rating" : "certified",
    "showTitle" : "Outlander: Season 2",
    "title" : "Outlander: Season 2",
    "tomatometer" : {
      "state" : "certified_fresh",
      "value" : 97
    }
  }, {
    "link" : "https://www.rottentomatoes.com/tv/hell-on-wheels/s05/",
    "score" : -1,
    "showId" : 12087,
    "rating" : "rotten",
    "showTitle" : "Hell on Wheels: Season 5",
    "title" : "Hell on Wheels: Season 5",
    "tomatometer" : {
      "state" : "NA",
      "value" : null
    }
  } ],
  "certified-fresh-tv" : [ {
    "link" : "https://www.rottentomatoes.com/tv/catastrophe/s02/",
    "score" : 100,
    "showId" : 15683,
    "rating" : "certified",
    "showTitle" : "Catastrophe: Series 2",
    "title" : "Catastrophe: Series 2",
    "tomatometer" : {
      "state" : "certified_fresh",
      "value" : 100
    }
  }, {
    "link" : "https://www.rottentomatoes.com/tv/the-detour/s01/",
    "score" : 82,
    "showId" : 16022,
    "rating" : "certified",
    "showTitle" : "The Detour: Season 1",
    "title" : "The Detour: Season 1",
    "tomatometer" : {
      "state" : "certified_fresh",
      "value" : 82
    }
  }, {
    "link" : "https://www.rottentomatoes.com/tv/full-frontal-with-samantha-bee/s01/",
    "score" : 100,
    "showId" : 16038,
    "rating" : "certified",
    "showTitle" : "Full Frontal With Samantha Bee: Season 1",
    "title" : "Full Frontal With Samantha Bee: Season 1",
    "tomatometer" : {
      "state" : "certified_fresh",
      "value" : 100
    }
  }, {
    "link" : "https://www.rottentomatoes.com/tv/game-of-thrones/s06/",
    "score" : 93,
    "showId" : 15349,
    "rating" : "certified",
    "showTitle" : "Game of Thrones: Season 6",
    "title" : "Game of Thrones: Season 6",
    "tomatometer" : {
      "state" : "certified_fresh",
      "value" : 93
    }
  }, {
    "link" : "https://www.rottentomatoes.com/tv/lady-dynamite/s01/",
    "score" : 93,
    "showId" : 16258,
    "rating" : "certified",
    "showTitle" : "Lady Dynamite: Season 1",
    "title" : "Lady Dynamite: Season 1",
    "tomatometer" : {
      "state" : "certified_fresh",
      "value" : 93
    }
  }, {
    "link" : "https://www.rottentomatoes.com/tv/orange-is-the-new-black/s04/",
    "score" : 100,
    "showId" : 15200,
    "rating" : "certified",
    "showTitle" : "Orange is the New Black: Season 4",
    "title" : "Orange is the New Black: Season 4",
    "tomatometer" : {
      "state" : "certified_fresh",
      "value" : 100
    }
  }, {
    "link" : "https://www.rottentomatoes.com/tv/outcast/s01/",
    "score" : 79,
    "showId" : 14135,
    "rating" : "certified",
    "showTitle" : "Outcast: Season 1",
    "title" : "Outcast: Season 1",
    "tomatometer" : {
      "state" : "certified_fresh",
      "value" : 79
    }
  }, {
    "link" : "https://www.rottentomatoes.com/tv/outlander/s02/",
    "score" : 97,
    "showId" : 11634,
    "rating" : "certified",
    "showTitle" : "Outlander: Season 2",
    "title" : "Outlander: Season 2",
    "tomatometer" : {
      "state" : "certified_fresh",
      "value" : 97
    }
  }, {
    "link" : "https://www.rottentomatoes.com/tv/preacher/s01/",
    "score" : 91,
    "showId" : 12261,
    "rating" : "certified",
    "showTitle" : "Preacher: Season 1",
    "title" : "Preacher: Season 1",
    "tomatometer" : {
      "state" : "certified_fresh",
      "value" : 91
    }
  }, {
    "link" : "https://www.rottentomatoes.com/tv/unreal/s02/",
    "score" : 94,
    "showId" : 15425,
    "rating" : "certified",
    "showTitle" : "UnReal: Season 2",
    "title" : "UnReal: Season 2",
    "tomatometer" : {
      "state" : "certified_fresh",
      "value" : 94
    }
  } ]
}